Today is my birthday! Yey! But this is not the cake I'm going to be eating for my birthday. Why – you ask? Well, this is the cake I made last week, for my father's birthday. And since I'm the only one who likes making cakes in my family, there's no one to make me a cake for my birthday. It sounds a bit sad, but don't worry they did promise many presents to make up for it. So all should be well! And this gluten-free blueberry ombre cake was amazing! One of the most delicious cakes I've tried in my life!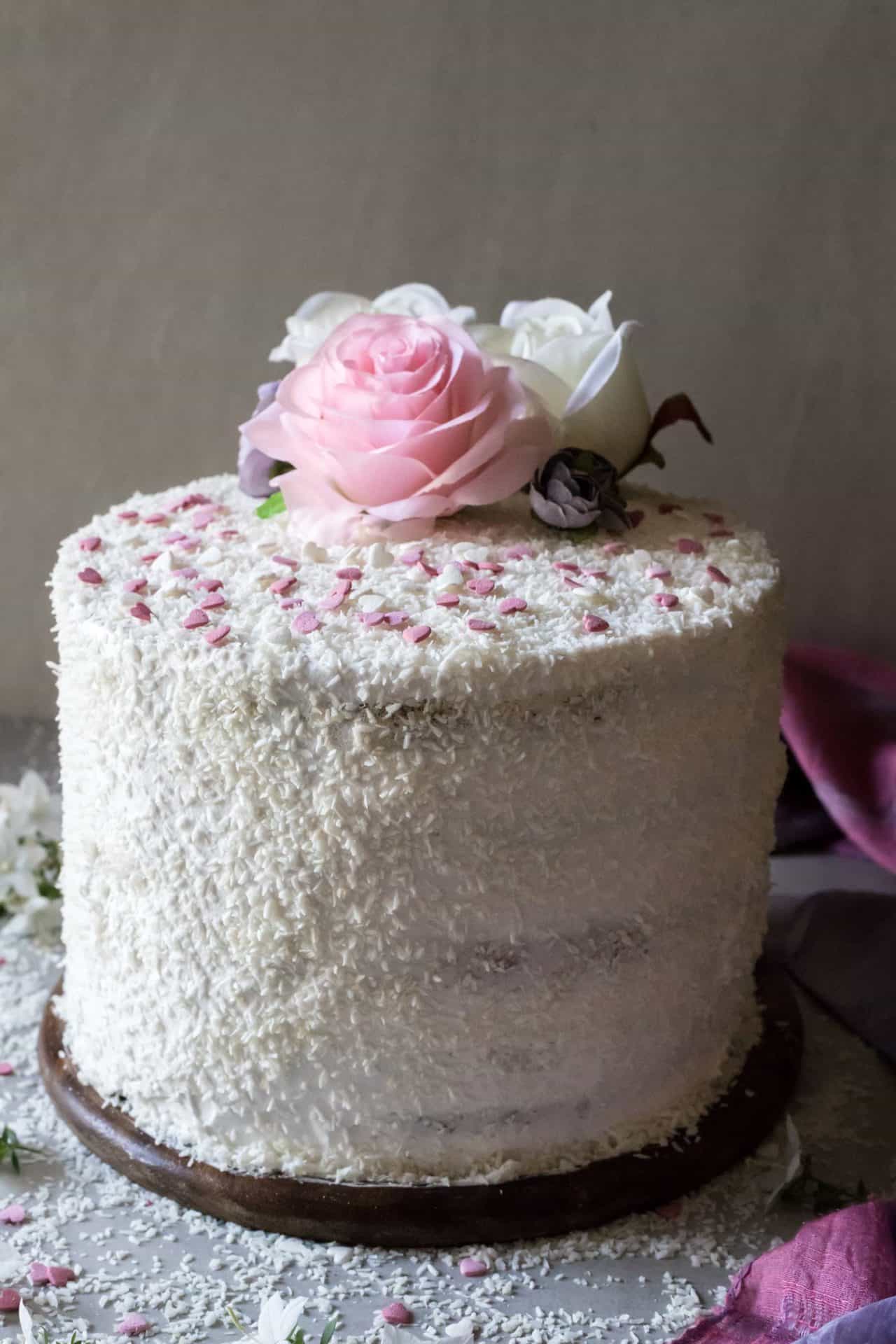 Gluten-Free Blueberry Ombre Cake Recipe.
This cake is so luxurious, super pretty and beyond delicious. The great thing about this cake is that to achieve those color shade you don't need to use artificial colors. Yes, that's why it is called blueberry ombre cake, the blueberries are used to get those purple shades, plus they add some much flavor to the cake! The texture is super tender, soft and moist and the frosting is super silky and creamy! I know the slices are quite huge :), but it's hard not to go for the second one.
How to make this Gluten-Free Blueberry Ombre Cake?
I know all those layers may fool you to think that this cake is very difficult to make. But believe it or not, it is a quite easy and simple cake. Scroll at the end of this page for the step-by-step instructions.
what flour to use to make it?
I like to use my universal homemade gluten-free flour blend. Which is a mix of the following flours :
3. Sweet Rice Flour (Glutinous Rice aka Sticky Rice)
4. Tapioca Flour (tapioca starch is the same as tapioca flour)
5. Xanthan Gum
If you can't make that one, you can try with any gluten-free flour mix (just make sure it contains xanthan gum because that helps in binding the dough). The final result using different flour mix might vary slightly, depending on what flours your mix contains.
To find the recipe for my gluten-free flour mix click, HERE.
*FODMAP Tip:
*To make sure that your flour mix is fodmap friendly I recommend that you make your own gluten-free flour mix, I always make this one. Or always read the ingredients of the store-bought gluten-free flour mixes. Make sure your mix doesn't contain soy flour, chickpea/besan/gram/garbanzo bean flour, lentil flour, coconut flour, amaranth flour, or lupin flour.
*As a general rule always read the labels of the ingredients that you use as there can be sneaky FODMAP's in any product. To educate yourself of which foods are high in FODMAP's I'd strongly recommend downloading Monash Unversity FODMAP Diet App
*gluten-free tip:
If you are celiac or highly sensitive to gluten, buy certified gluten-free baking powder. Baking powder is naturally gluten-free, however, depending on the manufacturing place and process it could be cross-contaminated.
Gluten Free Blueberry Ombre Cake
This Gluten-Free Blueberry Ombre Cake is so luxurious, super pretty and beyond delicious. With a perfectly soft and tender texture and silky frosting.
Ingredients  
For the Gluten-free cakes
150

g

unsalted butter

120

g

vegetable shortening

450

g

granulated sugar

520

g

gluten-free flour

20

g

baking powder

3

tsp

Vanilla Extract

8

egg whites

150

ml

full fat lactose-free milk

88

g

lactose-free sour cream

400

g

blueberries

(fresh or frozen)
For the Frosting
580

g

unsalted butter

softened

1

kg

powdered sugar

170

ml

lactose-free whipping cream

4

tsp

Vanilla Extract

pinch of salt
Instructions 
Place the blueberries in a saucepan over low heat and cook for about 10 to 15min, mixing occasionally.

While the blueberries cook start preparing the batter.

Preheat the oven to 180C degrees. And grease an 8-inch cake pan.

In a big bowl mix together on a low-speed the butter, shortening, and sugar until very light and fluffy, for about 5 minutes. Add the egg whites, one at a time. Allow each egg white to incorporate before adding the next. After adding the last egg white, add the vanilla extract. Mix the batter for about a minute. It should appear very light and fluffy

Reduce speed to low. Add about 1/3 of the flour, followed by the sour cream. Then, alternate between the remaining flour and milk, allowing each to almost incorporate before adding the next. After the last addition of milk, mix the batter until smooth, about a minute.

By this time the blueberries should already be cooked. Sive them and set it aside. That's your natural color for coloring the batter.

Divide the batter among 5 medium bowls. In the first bowl add 4 tablespoons of the sieved blueberries. In the second bowl add 3 tablespoons of the sieved blueberries, in the 3rd bowl add 2 tablespoons of the sieved blueberries, in the 4th bowl add 1 tablespoon of the sieved blueberries and in the last bowl don't add anything.

Bake them in the same order.

While the cakes are baking. Start preparing the frosting
For the Frosting
In a large bowl, beat the butter until light an creamy, about 2 minutes on medium speed with a handheld or stand mixer. Stop the mixer. Add powdered sugar, heavy cream, vanilla extract, and salt. Turn mixer to low and allow the ingredients to incorporate. Increase speed to medium-high speed and mix until light and fluffy, about 2 minutes. If frosting seems too thin, add an additional two tablespoons powdered sugar. If frosting seems too thick, add an additional tablespoon cream
Assemble and Frost the Cake
Place one cake layer on your cake stand (starting with the darkest layer as the first bottom layer and ending it with the lightest uncolored layer). Like how you see it on the pictures. Spread a generous amount of frosting over top of the first layer. Repeat the same with remaining layers. Spread a layer of frosting evenly on top of the cake. Then, frost the sides. 

I added some desiccated coconut on the sides as decoration, but that's optional. You can decorate it any way you prefer.