My favorite types of cakes are the ones with that perfect balance of sweetness and tardiness preferably contain some fruits and feel light to eat. Well, this Gluten-Free Cranberry Cake with Cream Cheese Frosting checks all the boxes!????????This cake is perfect because it's so easy to digest, so I can easily eat 2 pieces without feeling full or heavy!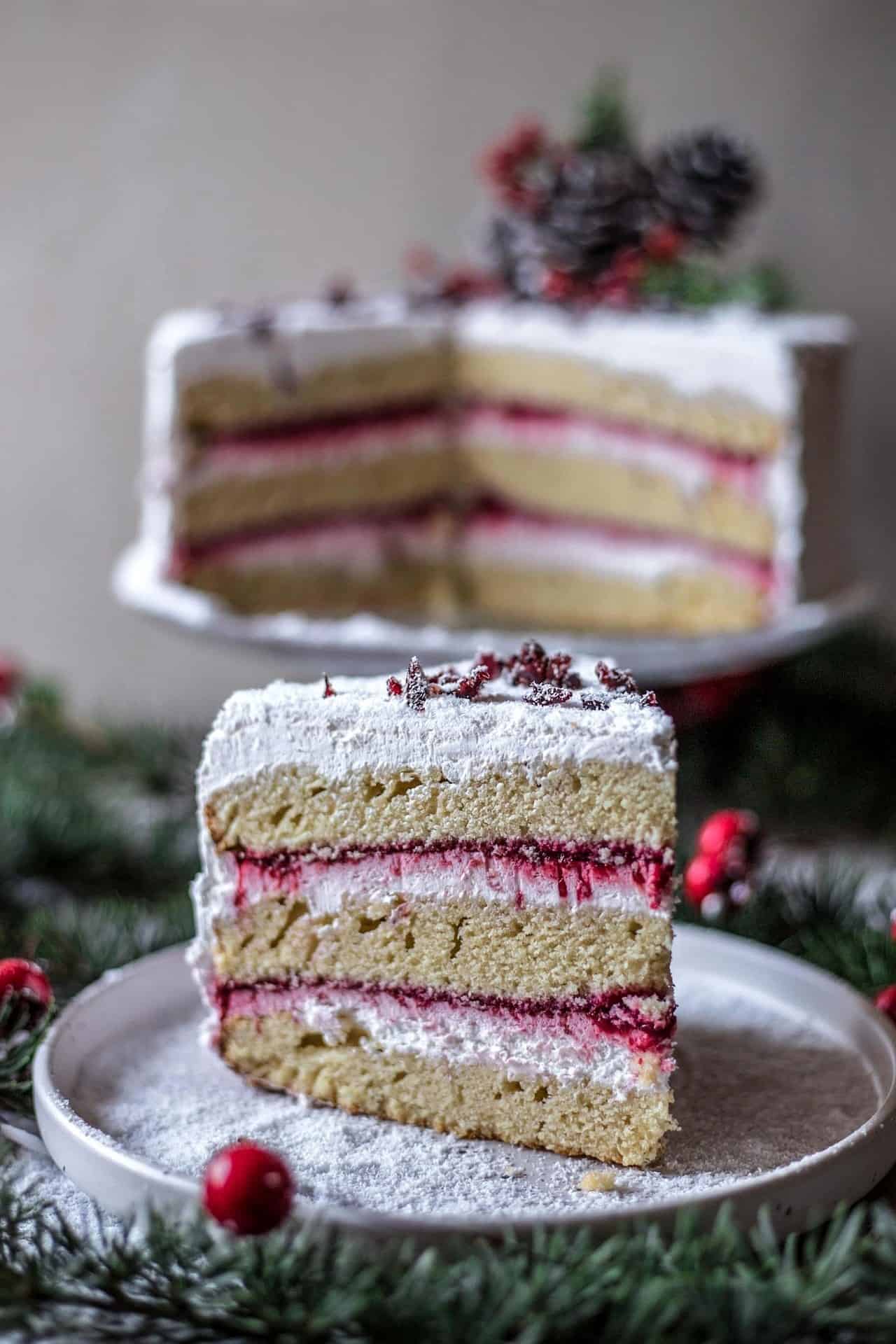 Gluten-Free Cranberry Cake with Cream Cheese Frosting Recipe.
This cake is super flavorful, layered with cranberry compote, light, fluffy, creamy, perfectly sweetened and so delicious. Plus it is low FODMAP and easy on the stomach.
How to make this Gluten-Free Cranberry Cake with Cream Cheese Frosting?
It is actually very simple and easy to make. And it doesn't require many ingredients.
To read the step-by-step instructions scroll at the end of this page.
what flour to use to make this cake?
I like to use my universal homemade gluten-free flour blend. Which is a mix of the following flours :
3. Sweet Rice Flour (Glutinous Rice aka Sticky Rice)
4. Tapioca Flour (tapioca starch is the same as tapioca flour)
5. Xanthan Gum
If you can't make that one, you can try with any gluten-free flour mix (just make sure it contains xanthan gum because that helps in binding the dough). The final result using different flour mix might vary slightly, depending on what flours your mix contains.
To find the recipe for my gluten-free flour mix click, HERE.
* fodmap tip:
*To make sure that your flour mix is fodmap friendly I recommend that you make your own gluten-free flour mix, I always make this one. Or always read the ingredients of the store-bought gluten-free flour mixes. Make sure your mix doesn't contain soy flour, chickpea/besan/gram/garbanzo bean flour, lentil flour, coconut flour, amaranth flour, or lupin flour.
*Monash University has not officially tested fresh cranberries, however, they have released a statement saying, "9g dried cranberries (is the equivalent to around 130gram fresh cranberries) is low FODMAP and should be well tolerated by most". In this cake, I use 250g fresh cranberries, but this cake serves 8 portions.
*As a general rule always read the labels of the ingredients that you use as there can be sneaky FODMAP's in any product. To educate yourself of which foods are high in FODMAP's I'd strongly recommend downloading Monash Unversity FODMAP Diet App
*gluten-free tip:
If you are celiac or highly sensitive to gluten, buy certified gluten-free baking soda. Baking soda is naturally gluten-free, however, depending on the manufacturing place and process it could be cross-contaminated.
Gluten-Free Cranberry Cake with Cream Cheese Frosting
This Gluten-Free Cranberry Cake with Cream Cheese Frosting is super flavorful, light, fluffy, creamy, perfectly sweetened and so delicious.
Ingredients  
115

g

unsalted butter

(8 tablespoons )

100

g

vegetable shortening

250

g

Sugar

400

g

gluten-free flour

2

tsp

Vanilla Extract

6

large egg whites

115

g

full fat lactose-free milk

(1/2 cup)

60

g

lactose-free sour cream

(1/3 cup)
Cream Cheese Frosting
420

g

lactose-free cream cheese

230

g

butter

600

g

confectioners sugar

2

tsp

pure vanilla extract

1/8

tsp

salt
For the Cranberry Compote
250

g

cranberries

( 2 cups ) * see FODMAP Tips above

60

ml

water

(1/4 cup)

60

ml

freshly squeezed orange juice

(1/4 cups) or sub more water

50

g

sugar

(1/4 cup) or more to taste

1

tsp

Cornstarch

(dissolved in 2 Tbsp water)

1

tsp

cinnamon
Instructions 
To make the cakes
Preheat oven to 325 degrees F (150 C Degrees). Grease three 8-inch round cake pans.

In a medium bowl whisk together the gluten-free flour, baking powder, and salt.

In the bowl of a stand mixer, cream together butter, shortening, and sugar until very light and fluffy, about 5 minutes. Add the egg whites, one at a time. Allow each egg white to incorporate before adding the next. After adding the last egg white, add the vanilla extract. Mix the batter for about 50 seconds. It should appear very light and fluffy–almost like frosting.

Reduce speed to low. Add about 1/3 of the flour, followed by the sour cream. Then, alternate between the remaining flour and milk, allowing each to almost incorporate before adding the next. After the last addition of milk, mix the batter until smooth, about 50 seconds.

Divide the batter evenly among the cake pans. Smooth the batter evenly into each pan with the back of a spoon.

Bake the cakes for about 25min or until a toothpick inserted into the middle comes out with only a few crumbs attached.

Allow cakes to cool in the pan for 10 minutes and turn out onto a wire rack to cool completely before frosting.
To make the cranberry compote
In a pot add the cranberries, water, orange juice, sugar and bring it to boil.

Cook for about 5 minutes until the cranberries get soft, stirring constantly. Then mash with a potato masher or a fork. Stir in the dissolved cornstarch mixture, and bring it to boil again, then remove it from heat and let it cool.
To make Cream Cheese Frosting
Using an electric mixer, beat the cream cheese and butter together until completely smooth, about 3 minutes on medium speed.

Beat in the vanilla extract and the orange zest. With the mixer running on low speed, slowly add in the powdered sugar. Beat on low speed for 30 seconds, then switch to high speed and beat for 2 minutes.
Assemble the cake
Place one cake layer on your cake stand. Spread a generous, about 3/4 cup, frosting over top of the first layer, then spread over the cranberry compote. Put the next sponge on top and repeat the same step. Then put the last sponge on top and spread the remaining cream cheese frosting all over the top and the sides of the cake.