This Gluten-Free Galette with swiss chard and feta is probably one of my favorite savory galettes I've ever tried!
In my early twenties, I lived in a small town in France, Antibes. I moved to France for my studies. And while I was learning courses about business, marketing, and public relations, unintentionally I learned a lot about food. The art of cooking and eating. It is really hard not to learn and start to see and appreciate food differently when you live in a country where 80% of the conversations and daily things people do, revolve around food.
I remember every weekend I would take a stroll through the narrow streets of the old town and window-shop at all the pretty pastry shops. At the time I still wasn't diagnosed with IBS so I was eating pretty much everything. However, each time I ate food that contained gluten, I would get horrible symptoms. It took nearly a year and a half of suffering strange and tortures symptoms before I was diagnosed with IBS.
But that's not the main topic here, here I wanna talk about the good old galette! And how these small pastry shops in the heart of the old town of Antibes were full of it. And how I wasn't able to get enough of them (even though I had to go through horrible symptoms every time I ate them). Not long after I moved to France, I was diagnosed with IBS and I had to stop eating gluten. Finding a gluten-free galette or any pie for that matter became a little bit difficult. That's when I figured the only way to have the delicious galettes back in my life, was to make them myself.
Cracking the code for a good, flaky pie crust was crucial for making a good galette. The store-bought gluten-free pie crust was, well quite bad. It took me some years experimenting, but now I can proudly say the code has been cracked, the recipe for a perfect flaky gluten-free pie crust is here! And with that many, many galettes! From savory to sweet with different varieties of fillings. One of them, and probably my favorite at the moment, this gluten-free galette with chard and feta!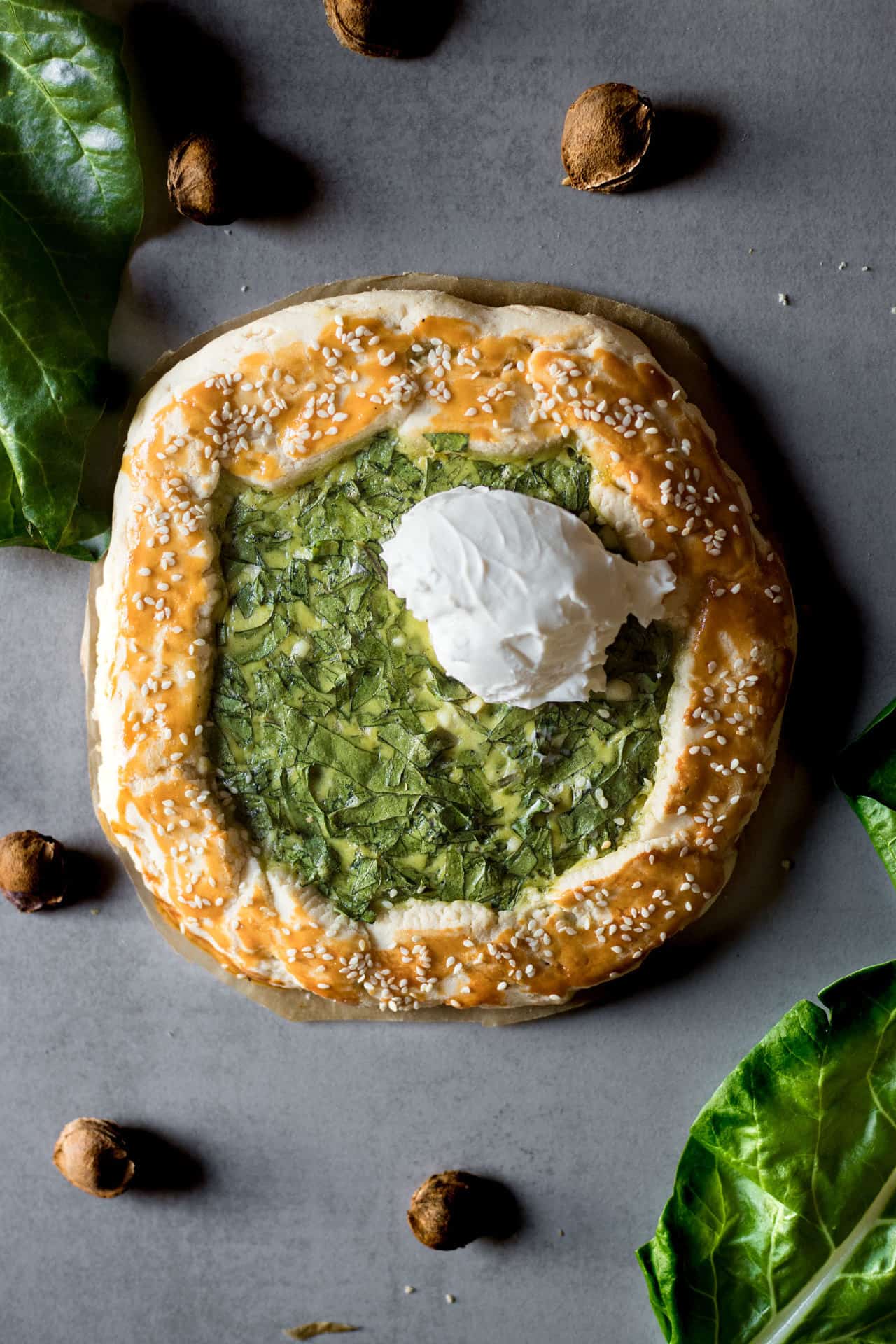 Gluten-Free Galette With Swiss Chard and Feta recipe
Each time I eat this gluten-free galette I feel like I'm back in France. The taste of the pie crust is so flakey and buttery, you can't even tell that it is gluten-free. The combo of swiss chard and feta is just a match made in heaven, they complement each other so well, which makes this galette so delicious!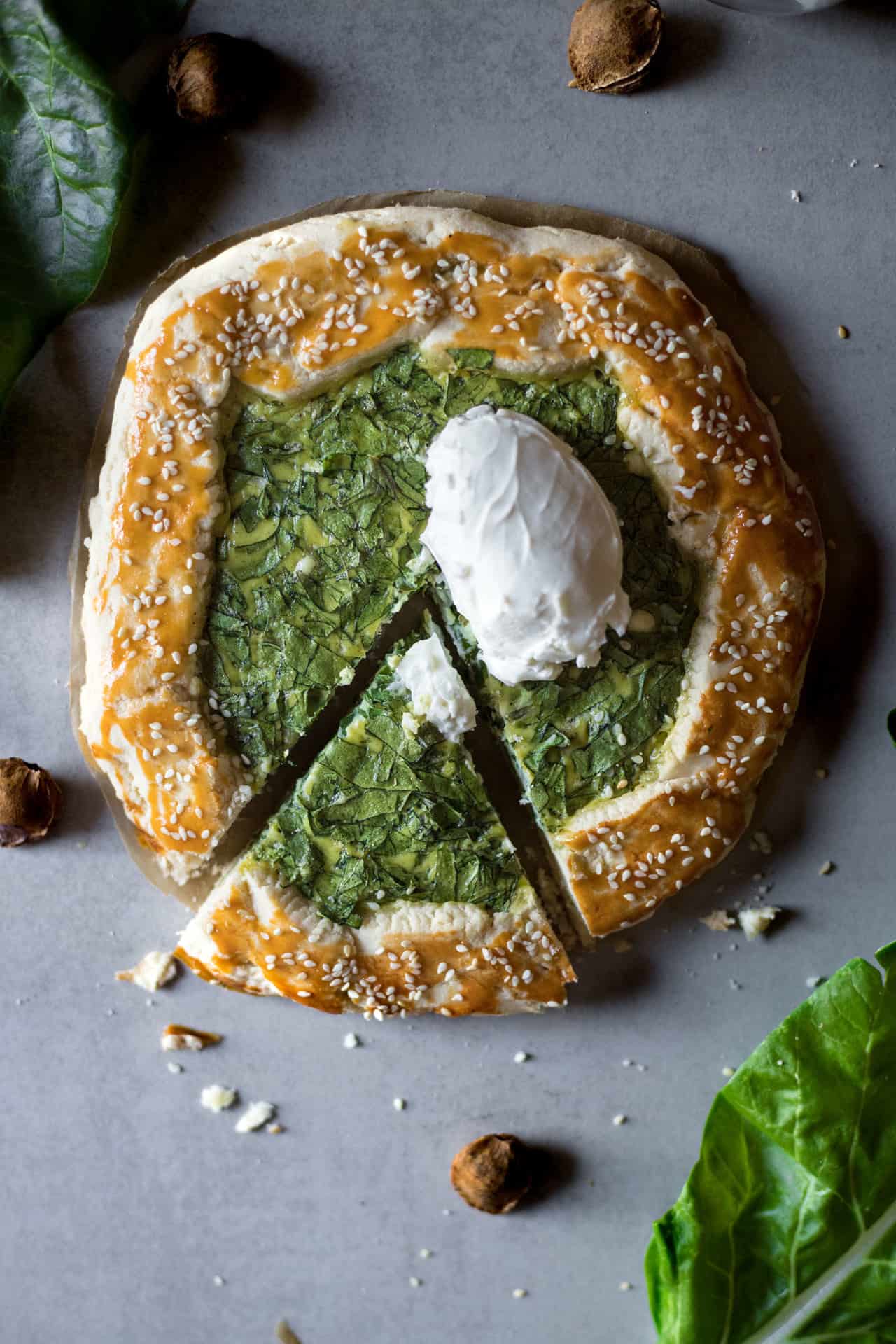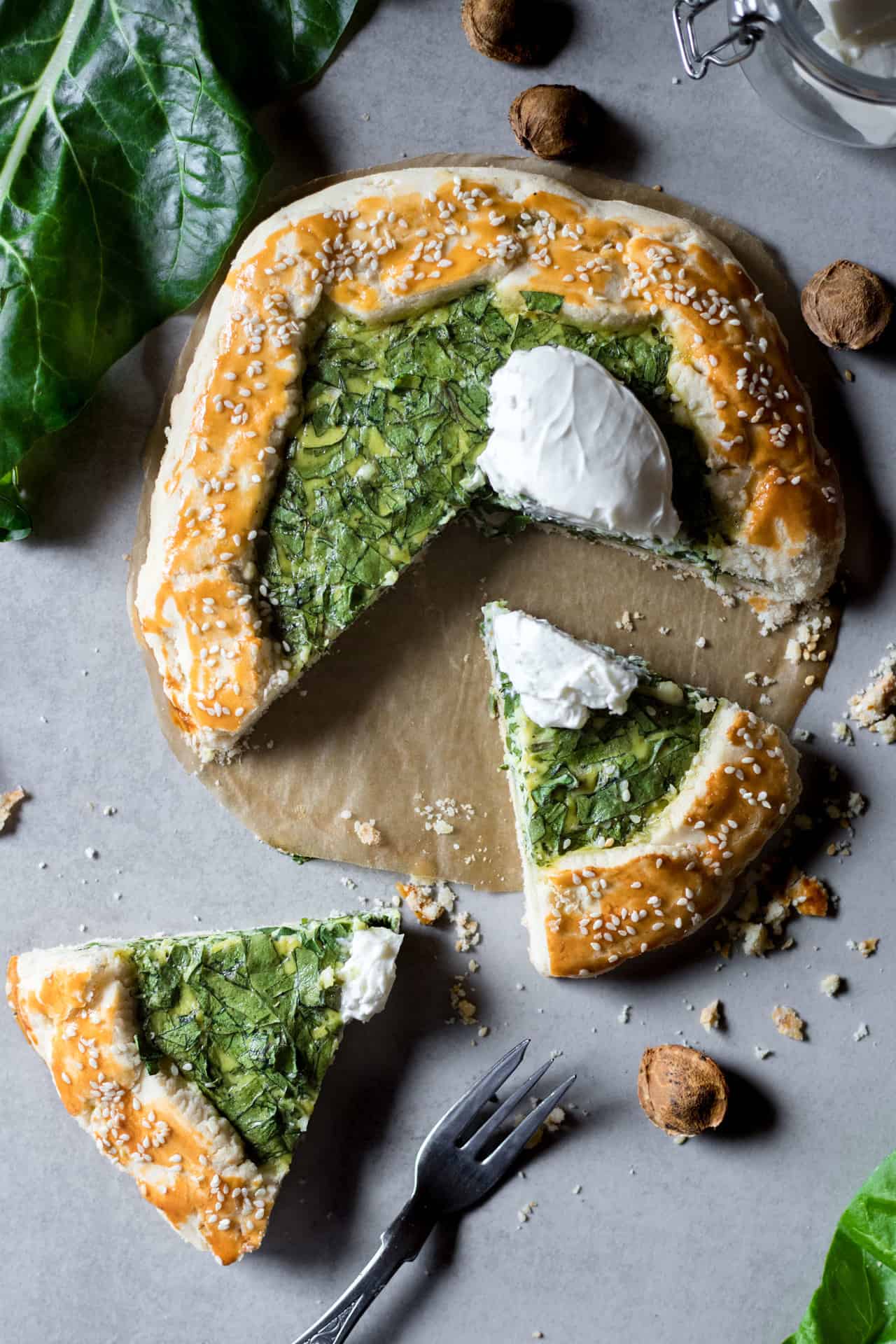 How to make this Gluten-Free Galette With Swiss Chard and Feta?
It is super easy ????! First, you need to make the pie crust dough. While the dough is chilling in the fridge, you can prepare the filling. To make the filling you only need to chop the chard and mix it with feta cheese. Yes, it is that easy! Once the dough is chilled, you roll it out, fill it with the mixture of feta and swiss chard, close it and voila you've got your galette ready to bake!
For the detailed step by step instruction scroll at the end of the page.
Do you wanna cook together? On my Instagram stories, you can find step-by-step instructions, how I'm preparing this galette (search it under Chard & Feta Galette)
*FODMAP Tip:
*To make sure that your flour mix is fodmap friendly I recommend that you make your own gluten-free flour mix, I always like to use my homemade gluten-free flour blend. Or, if you can't make your own then always read the ingredients of the store-bought gluten-free flour mixes. Make sure your mix doesn't contain soy flour, chickpea/besan/gram/garbanzo bean flour, lentil flour, coconut flour, amaranth flour, or lupin flour.
*As a general rule always read the labels of the ingredients that you use as there can be sneaky FODMAP's in any product. To educate yourself of which foods are high in FODMAP's I'd strongly recommend downloading Monash Unversity FODMAP Diet App
Gluten Free Galette With Swiss Chard and Feta
Ingredients  
1

gluten-free pie dough

50

g

chard

80

g

feta cheese

salt

(according to taste)

black pepper

(according to taste)

1

Tbsp

olive oil

1

egg yolk

sesame seeds(for sprinkling)

optional
Instructions 
Make the gluten-free pie dough. Use this recipe for a super flaky gluten-free pie crust.

In a medium bowl mix the chard with the feta cheese and the olive oil, season with salt and black pepper.

Form a circular shape from the pie dough, fill the center with the chard and feta mixture and close it on the sides.

Wisk the egg yolk and brush a thin layer over the dough. Sprinkle with sesame seeds and put it in the oven to bake for 25min on 180C.