I've always been a bread kinda girl. One of the hardest things, when I switched to a gluten-free diet, was, quitting on the bread. A couple of years ago the gluten-free world wasn't as big as today, and there were not many options to buy gluten-free bread. And my first ever homemade gluten-free bread was as good as eating rocks from the ground 🤣. But I've come far since then. I've mastered gluten-free baking, and the bread was back in my life. Recently I was experimenting with making a flourless bread, and I created the recipe for this Gluten-Free Superfood Bread. And it's the yummiest and healthiest bread I've had in my life!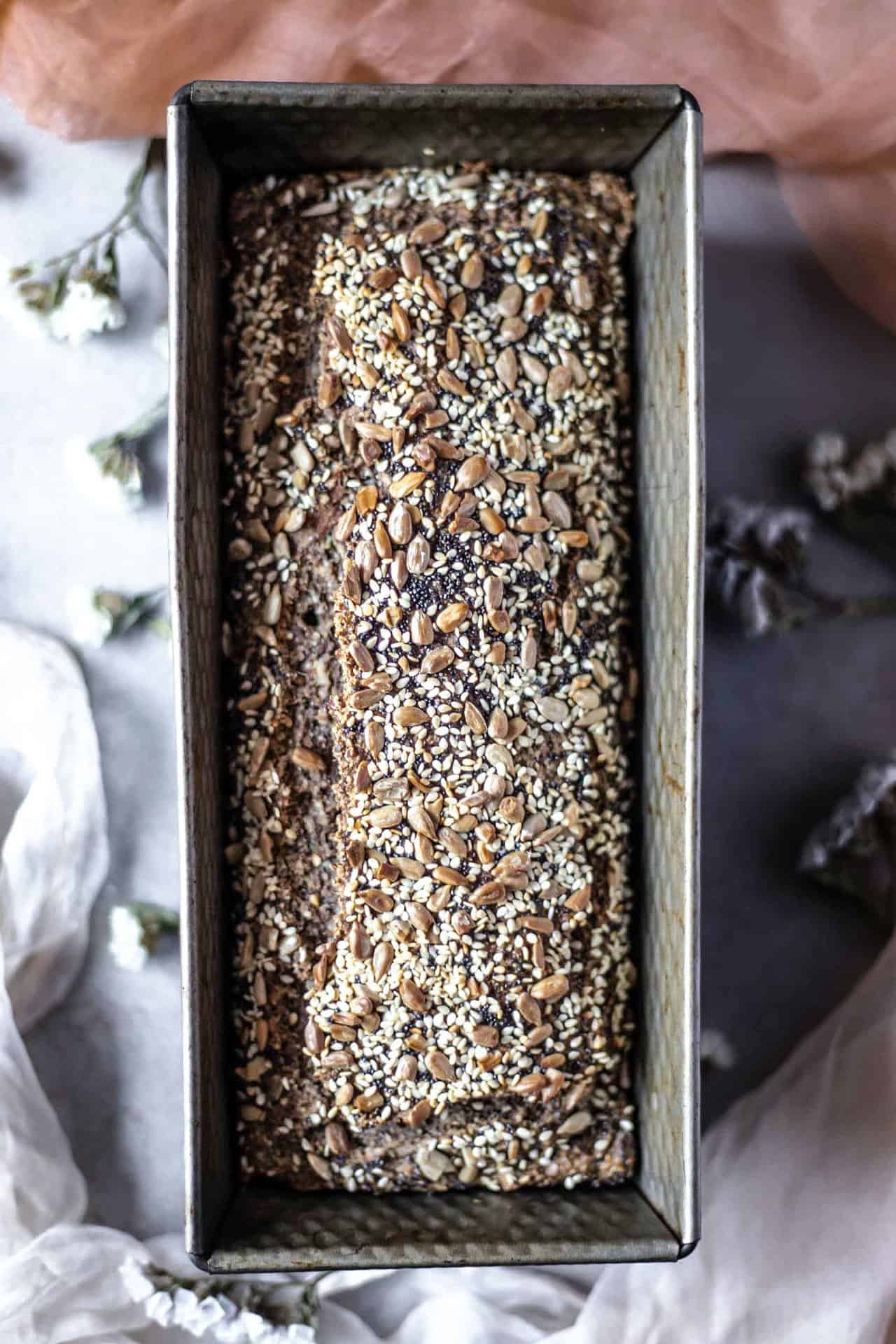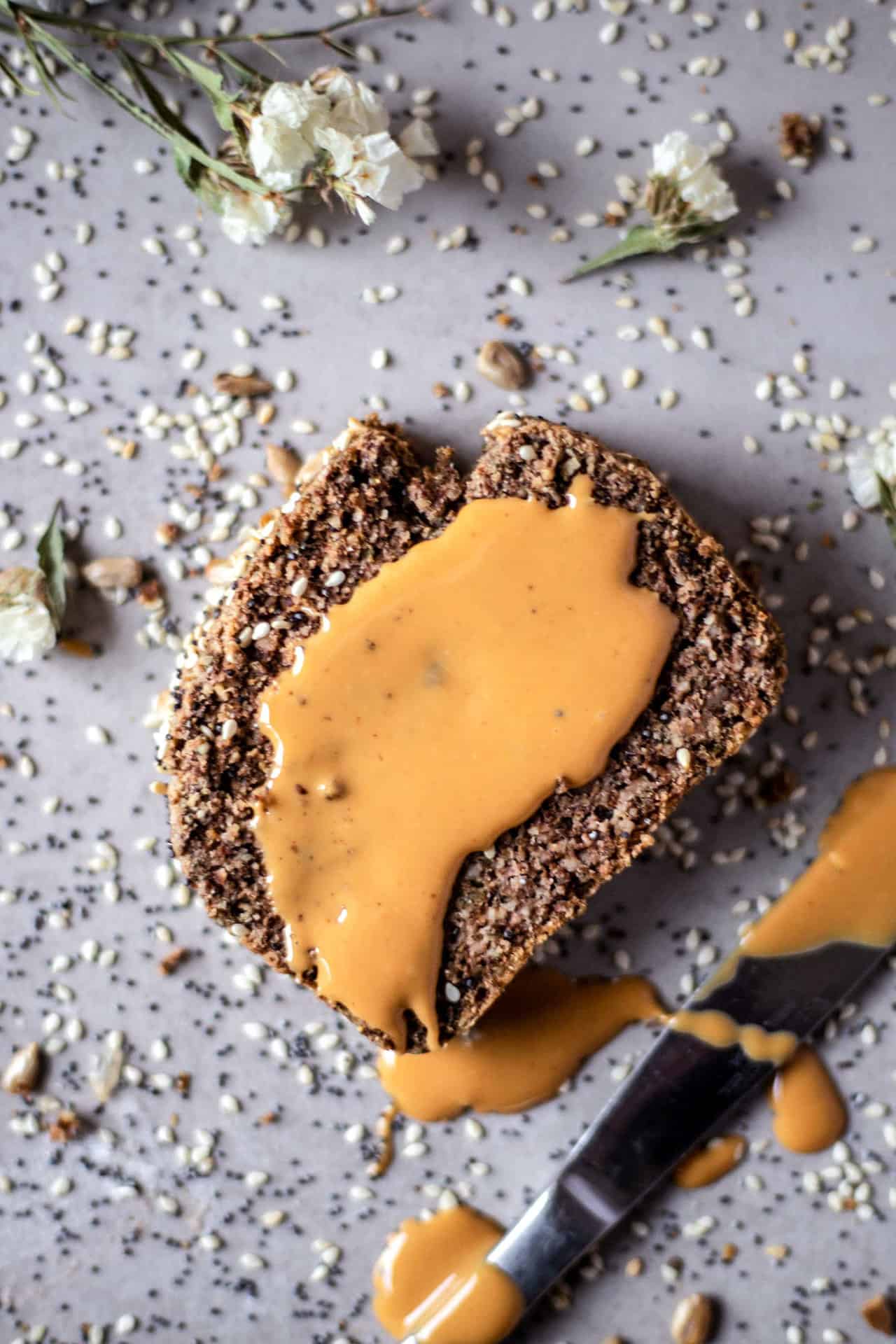 Gluten-Free Superfood Bread Recipe
This bread is rich, wholesome, nutty, flavorful with a wonderfully soft texture. It's perfect for breakfast or mid-day snack. I like to toast it and enjoy it with my favorite sweet or savory toppings.
How to make this Superfood Bread?
It is actually very simple and easy to make. No kneading required! And you can mix using only a spoon or hand mixer!
To read the step-by-step instructions scroll at the end of this page.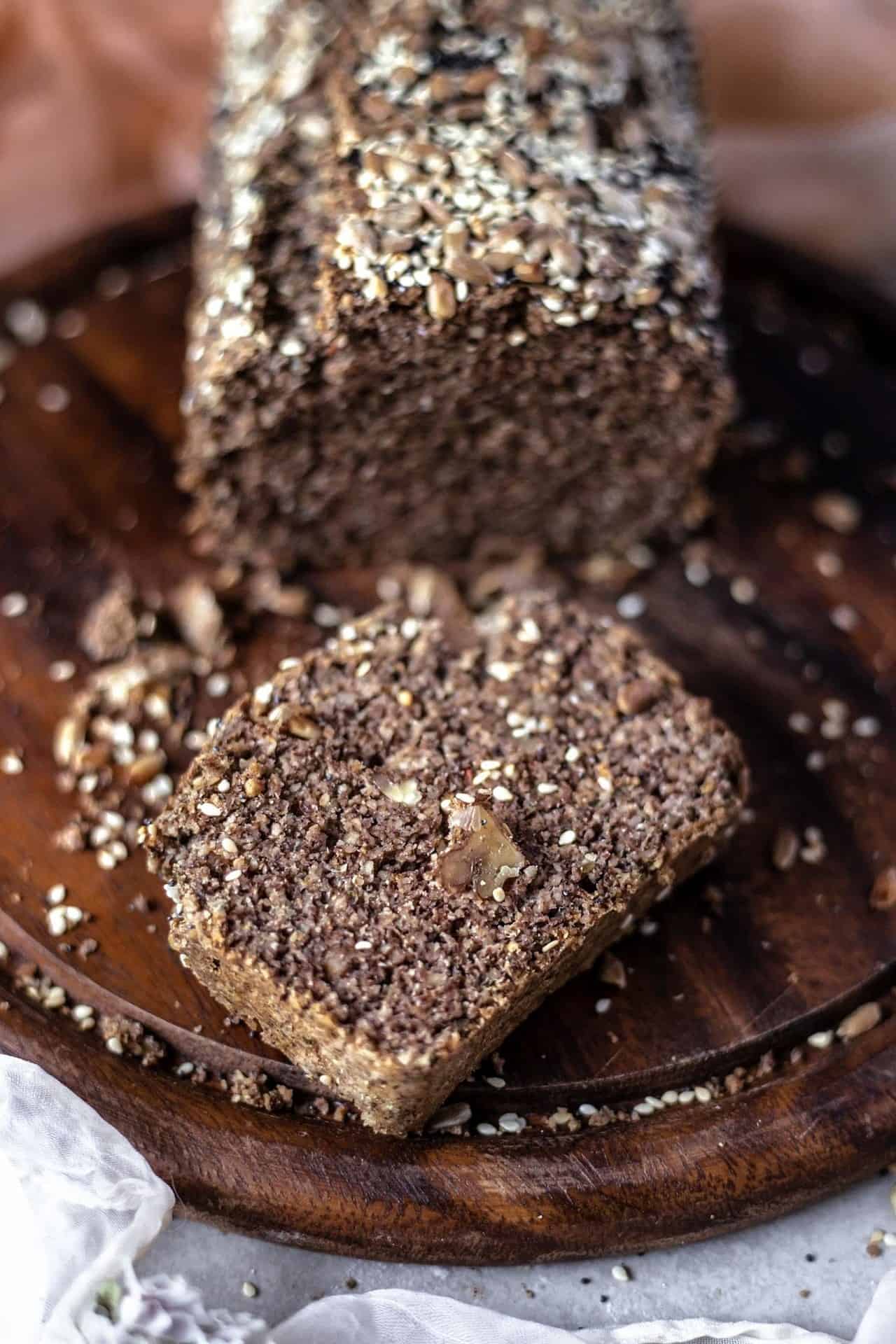 Make-ahead (storing) tip:
This bread freezes well. Once cooled, slice it and put it in your freezer (I use a reusable zip-lock bags to store it). When you want a slice of the bread, just take it out of the freezer and pop it in the oven or your toaster and enjoy it.

*gluten-free tip:
If you are celiac or highly sensitive to gluten, buy certified gluten-free baking powder. Baking powder is naturally gluten-free, however, depending on the manufacturing place and process it could be cross-contaminated.
Looking for more simple and healthy gluten-free bread recipes? Check out my:
Gluten-Free Cornbread With Feta And Spinach
Gluten Free Superfood Bread
This gluten-free superfood bread is rich, wholesome, nutty, flavorful with a wonderfully soft texture. It's perfect for breakfast or mid-day snack.
Ingredients  
4

eggs

100

ml

water

90

g

walnuts

90

g

chia seeds

90

g

sunflower seeds

90

g

Pumpkin seeds

90

g

Sesame seeds

1/2

tsp

baking powder

1/4

tsp

salt

chives, oregano, chili flakes, olives

(optional for savory version)
Instructions 
Place the walnuts, chia seeds, sunflower seeds, pumpkin seeds and sesame seeds in a food processor or high-speed blender and blend until a flour forms.

Place the flour in a big mixing bowl and add the baking powder and the salt.

Add the eggs and the water. And mix it well to combine all the ingredients.

Preheat the oven to 180°C/360°F and grease a loaf tin with coconut or olive oil.

Spoon the mixture into the tin, and press it down firmly using a spoon.

Sprinkle the loaf with any leftover seeds(optional)

Bake the bread for 45-50 minutes, until the top starts to brown and a toothpick inserted comes out clean.

Remove from the oven and let cool completely while still in the loaf tin.

Once cooled cut slices and enjoy them with your favorite toppings.