When I was living in France I discovered these amazing French cakes that soon became my favorite snack and dessert. You could have always found some madeleines in my bag. I was completely obsessed with them. However, when I was diagnosed with IBS and stopped eating gluten finding affordable madeleines in the shops became quite difficult. There were brands that were making gluten-free madeleines but as with many gluten-free products, they were not cheap! So I bought a madeleines baking molds and whipped up some homemade gluten-free French madeleines. And to be honest, there is nothing better than homemade madeleines. Recently I added a little twist to the original classic recipe. And I made these gluten-free lemon poppyseed french madeleines, and I was in heaven!
Gluten-Free Lemon Poppyseed French Madeleines Recipe
These madeleines are so tender, moist, buttery, soft and so flavorful! They perfectly sweetened witch makes them a great dessert but also a perfect mid-day snack. If I have them as a dessert I usually sprinkle some confectioners sugar over them to make them slightly sweeter.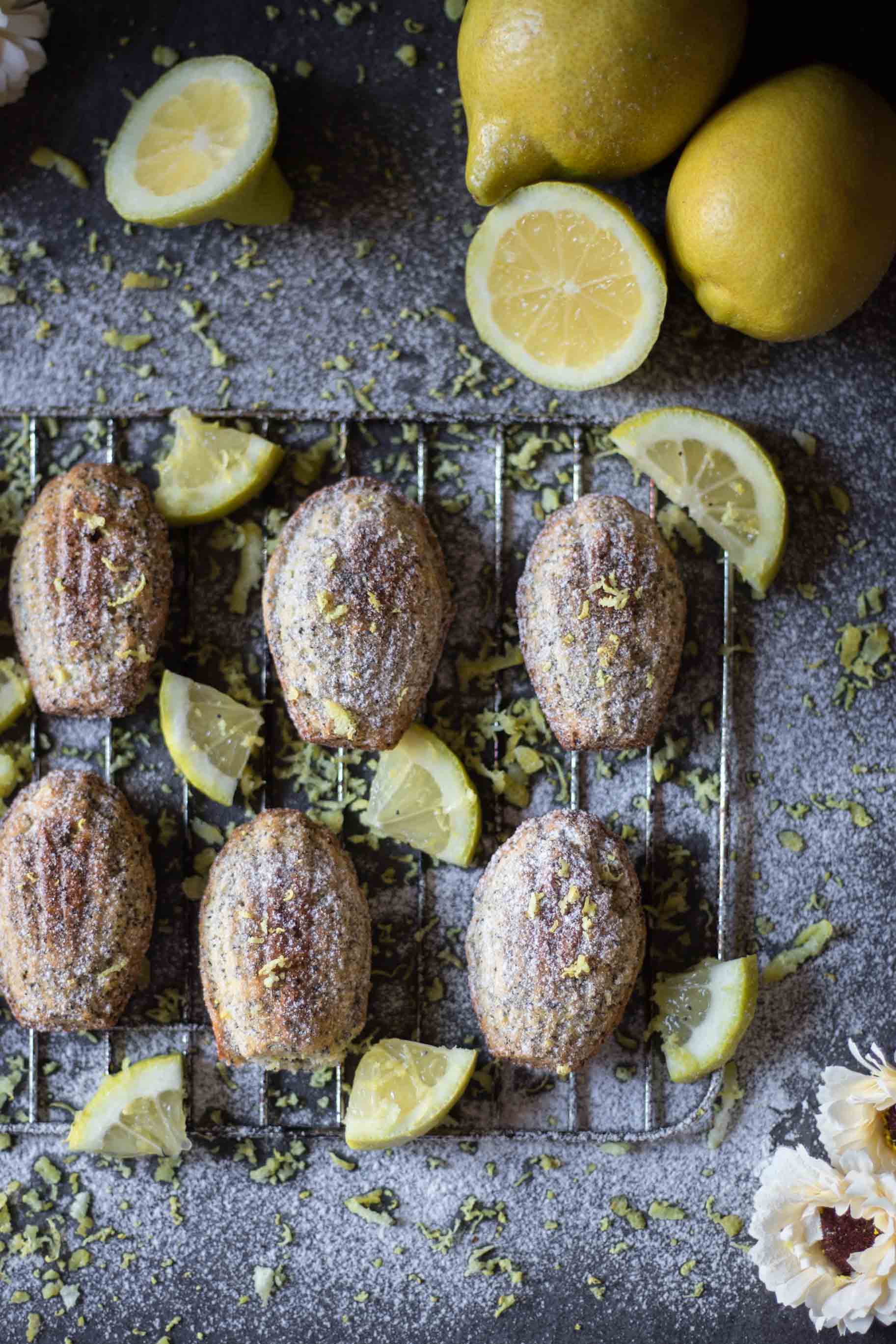 How to make Gluten-Free Lemon Poppyseed French Madeleines?
Do you have 20min of your time? That's all it takes to make this heavenly cakes! They are super simple and easy to take plus very affordable. They require only 7 simple and easily accessible ingredients. Most that you probably already have in your home. The only special kitchen accessory that you will need is madeleine pan.
For the detailed step-by-step instruction scroll at the end of this page.
What flour to use to make this gluten-free Lemon Poppyseed French Madeleines?
I like to use my universal homemade gluten-free flour blend. Which is a mix of the following flours :
3. Sweet Rice Flour (Glutinous Rice aka Sticky Rice)
4. Tapioca Flour (tapioca starch is the same as tapioca flour)
5. Xanthan Gum
If you can't make that one, you can try with any gluten-free flour mix (just make sure it contains xanthan gum because that helps in binding the dough). The final result using different flour mix might vary slightly, depending on what flours your mix contains.
To find the recipe for my gluten-free flour mix click, HERE.
Make-Ahead tip:
You can keep baked madeleines in an airtight container for up to 2-3 days. You can also freeze baked madeleines. To freeze them: First, let them cool down on a cooling rack. Then place them in a freezer bags or airtight container. You can freeze them for up to 2 months. To reheat them: place them in the oven on 180C for 5 to 10min.
*FODMAP Tip:
*To make sure that your flour mix is fodmap friendly I recommend that you make your own gluten-free flour mix, I always make this one. Or always read the ingredients of the store-bought gluten-free flour mixes. Make sure your mix doesn't contain soy flour, chickpea/besan/gram/garbanzo bean flour, lentil flour, coconut flour, amaranth flour, or lupin flour.

*As a general rule always read the labels of the ingredients that you use as there can be sneaky FODMAP's in any product. To educate yourself of which foods are high in FODMAP's I'd strongly recommend downloading Monash Unversity FODMAP Diet App
*gluten-free tip:
If you are celiac or highly sensitive to gluten, buy certified gluten-free baking powder. Baking powder is naturally gluten-free, however, depending on the manufacturing place and process there can be cross-contamination.
Gluten Free Lemon Poppyseed French Madeleines
Low FODMAP Gluten-Free Lemon Poppyseed Madeleines. They are perfectly sweetened, tender, moist, buttery, soft and so flavorful.
Ingredients
100

g

gluten-free flour

80

g

granulated sugar

1/2

tsp

baking powder

70

g

unsalted butter

(melted and slightly cooled)

2

large eggs

(at room temperature)

30

g

poppy seeds

2

tsp

Vanilla extract

grated zest of 1 lemon

oil

(for greasing your pan)
Instructions
In a large bowl mix the flour with the baking powder. And set it aside

In a separate bowl beat together the eggs and the sugar for about 5min or until they triple in volume. Beat in the vanilla extract and the lemon zest. With a rubber spatula, fold in the flour mixture and the poppy seeds, then fold in the butter.

Cover the batter with plastic wrap, making sure the wrap touches the surface of the batter to create an airtight seal.  Chill in the refrigerator for at least 3 hours. ( You can keep the batter chilled in the refrigerator for up to 2 days).

When you're ready to bake the madeleines, preheat the oven to 180C degrees.

Grease the madeleine pan with cooking oil.

Bake for about 10 to 12 minutes. The madeleines are done when the tops spring back after lightly pressed with your finger. Invert the pan onto the counter. Transfer the warm madeleines to a wire rack to cool.

Dust with confectioners' sugar, if desired, before serving. Madeleines are best enjoyed right after baking. However, they would keep well in the refrigerator in an airtight container for up to 2 days. (*Check my make-ahead tips in the post above)