This Gluten-Free Naked Cake with Raspberries and Lemon is the lightest and most refreshing cake I've ever tried!
Naked cakes are such summer cakes. When the supermarkets are filled with fresh berries how can you not be tempted to make a cake out of them? Well I know I am! Making a naked cake is one of my favorite cakes to make. It is a simple cake to make yet it allows your creativity to shine. Starting from the fruit you decide to use to the buttercream, and oh to my favorite part the decorating. This time I opted for a super refreshing and light cake with lemon-infused base, raspberry sauce, and lemon cream cheese frosting.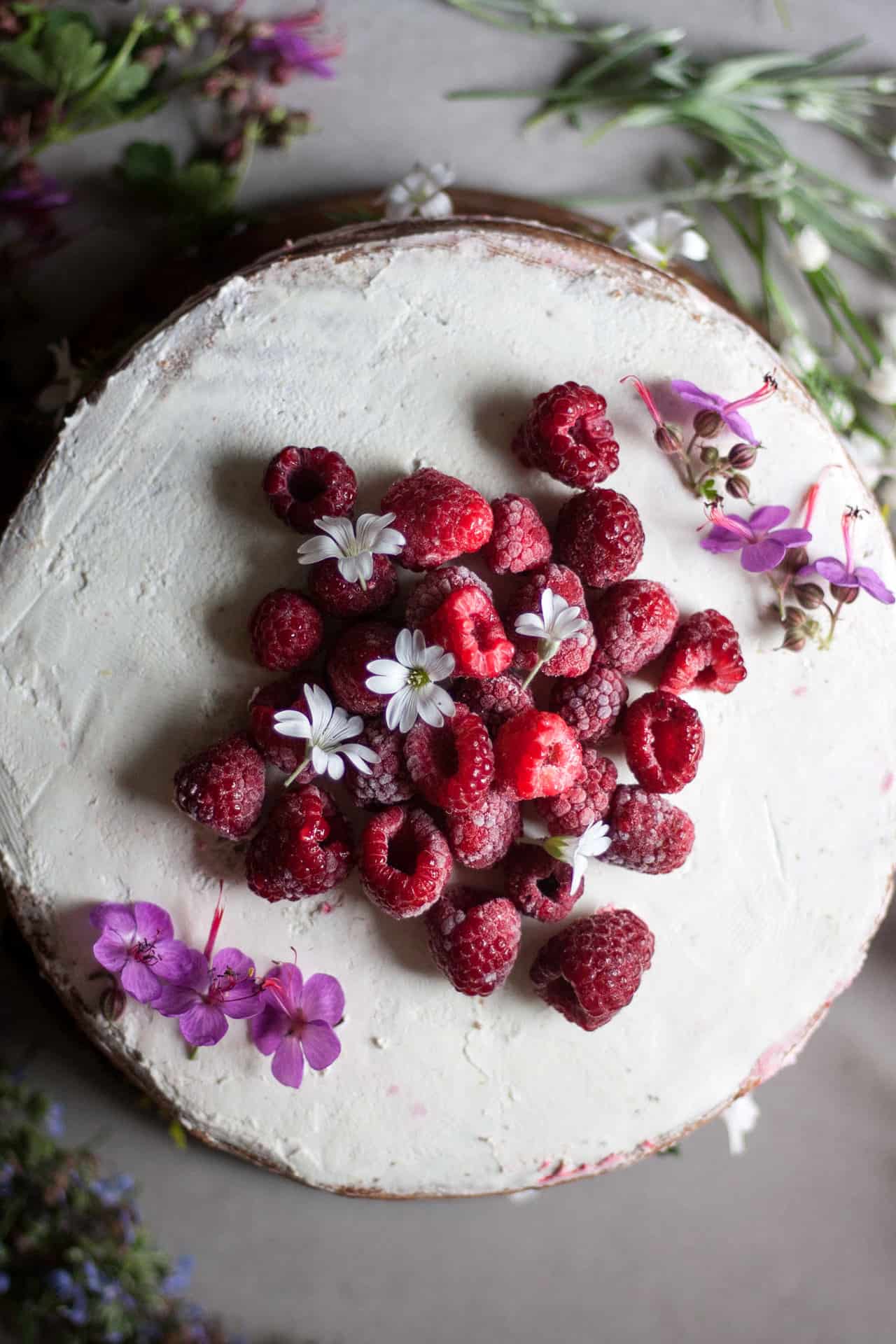 Gluten-Free Naked Cake with Raspberries and Lemon Recipe
This Gluten-free Raspberry lemon naked cake is my favorite cake at the moment. The texture of the cake is so fluffy and soft. You won't be able to tell that it is gluten-free;). The fresh lemon flavor is well carried through the base of the cake and the cream cheese frosting. And last but not least the raspberry sauce is just like the cherry on the top, only this one is in the middle. It's such a refreshing sauce, infusing this cake with that perfect raspberry flavor and taking it to a whole new level. Yes, the raspberry sauce is one of the most important parts of this cake. 
A little tip: be generous with your raspberry sauce layers, they are the real deal of this cake!
Believe me when I say each bite will feel like having a part of the summer in your mouth.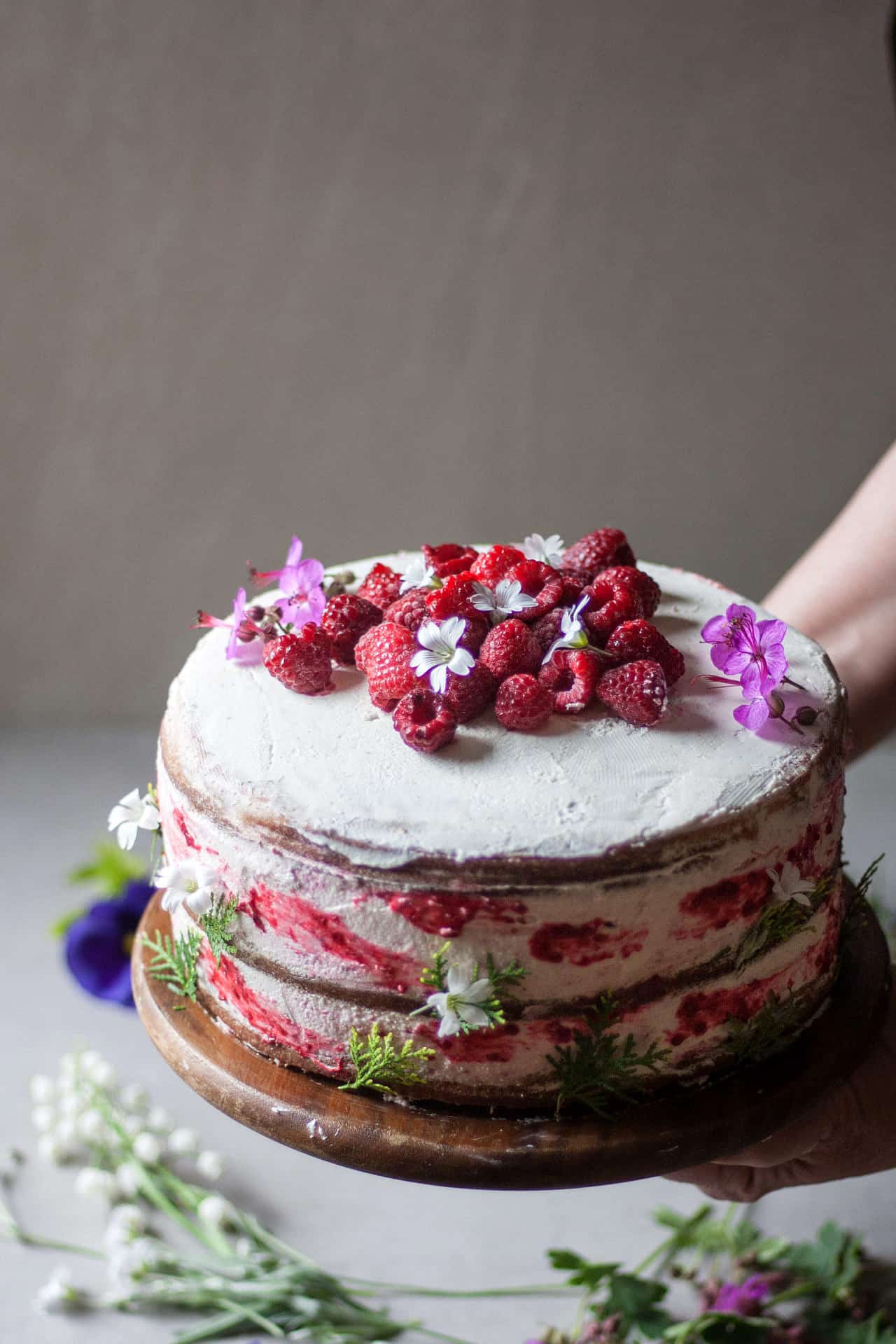 How to make this Gluten-Free Naked Cake with Raspberries and Lemon
It is really not as hard as it might look. You really don't need to be a pastry chef to make this cake. There are only 4 important steps. Make the base, the raspberry sauce, and the lemon cream cheese frosting. Assemble all together and decorate (optional), you also don't need to be an artist to decorate this cake ;). The ingredients used in this cake are all simple ingredients easy to get from your local supermarket.
For the step by step instructions, scroll at the end of this page.
What flour to use to make this Naked Cake?
I like to use my universal homemade gluten-free flour blend. Which is a mix of the following flours :
3. Sweet Rice Flour (Glutinous Rice aka Sticky Rice)
4. Tapioca Flour (tapioca starch is the same as tapioca flour)
5. Xanthan Gum
If you can't make that one, you can try with any gluten-free flour mix (just make sure it contains xanthan gum because that helps in binding the dough). The final result using different flour mix might vary slightly, depending on what flours your mix contains.
To find the recipe for my gluten-free flour mix click, HERE.
Can I Make this Gluten-Free Naked Cake with Raspberries and Lemon completely dairy-free?
I've personally never tried making this cake completely dairy-free. However you can always do an experiment of your own, try replacing the dairy products with dairy-free alternatives.
* Make ahead tip:
The cake layers can be baked ahead one day in advance, covered and stored at room temperature. The frosting can also be made 1 day in advance, covered, and stored in the refrigerator until ready to use. Assemble and frost the cake the next day when you are ready to serve. The leftover cake would keep well in the refrigerator for up to 2 days.  
I've never tried freezing this cake, as I always like having it fresh, however, I've heard good results of some people who have frizzed frosted cakes. If you are freezing it to defrost, just thaw overnight in the fridge.
* Low FODMAP Tip:
*To make sure that your flour mix is FODMAP friendly I recommend that you make your own gluten-free flour mix, I always make my homemade gluten-free flour blend. Or always read the ingredients of the store-bought gluten-free flour mixes. Make sure your mix doesn't contain soy flour, chickpea/besan/gram/garbanzo bean flour, lentil flour, coconut flour, amaranth flour, or lupin flour.
*Buttermilk contains lactose, therefore, is high FODMAP. However, you can make your own buttermilk from lactose-free or dairy-free milk. Check the notes below the recipe to see how to do it.
* Gluten-Free Tip:
If you are celiac or highly sensitive to gluten, buy certified gluten-free baking powder and baking soda. Baking powder and baking soda are naturally gluten-free, however, depending on the manufacturing place and process they could be cross-contaminated. 
Gluten-Free Naked Cake with Raspberries and Lemon
Low FODMAP Gluten-Free Naked Cake with Raspberries and Lemon. This cake is lactose-free, soft, creamy, super light, flavorful and very refreshing.
Ingredients  
For the Cake Layers
430

gr

gluten free flour

1

tsp

baking powder

3/4

tsp

baking soda

1

tsp

salt

345

gr

unsalted butter

(at room temperature)

350

gr

granulated sugar

5

large eggs

(at room temperature)

420

ml

lactose free or dairy free buttermilk*

(see notes)

3

tsp

lemon zest

2

tsp

vanilla extract
For the Raspberry Sauce
500

gr

Raspberries

(fresh or frozen)

2

Tbsp

Lemon Juice

1

tsp

lemon zest

3

Tbsp

sugar

5

Tbsp

Cornstarch

(dissolved in 4Tbsp water)
For the Lemon Cream Cheese Frosting 
120

gr

unsalted butter

(at room temperature)

230

gr

lactose-free cream cheese

(softened)

50

ml

lemon juice

1

tsp

lemon zest

600

gr

confectioners sugar
Instructions 
Preheat the oven to 180C degrees. Grease and lightly flour three 9-inch cake pans.

Make the cake layers: In one large bowl whisk the flour, baking soda, baking powder and salt. Set the bowl aside. In another bowl using a mixer beat the butter and the sugar together on a high speed or until smooth and creamy.Continue mixing on a medium speed and add 1 egg at a time, beating well after each addition.Finish with beating in the vanilla extract and the lemon zest.

Make your buttermilk *( see notes)

With the mixer on a low speed, add the dry ingredients in three additions alternating with the buttermilk. Begin and end with the dry ingredients, and mix each addition just until incorporated. Do not overmix the batter. The batter will be smooth and slightly thick.

Pour the batter the the cake pans. If you are worried for uneven cake layers, use a kitchen scale to measure exact amount of batter in each cake pan.

Bake for around 25min on 180C degrees. Or until the cakes are cooked through. To check if your cakes are done, insert a toothpick into the center of the cake. If it comes out clean, it is done. Let the cakes cool completely before frosting and assembling.

Make the raspberry sauce: Place a big saucepan over a medium heat, add the raspberries, lemon juice, lemon zest and sugar and let it cook over medium heat. Once the sauce begins boiling add the dissolved cornstarch with water. Cook for another 2 or 3min. Let the sauce cool down completely before assembling the cake.

Make the lemon cream cheese frosting: Beat the cream cheese, the butter, the lemon juice and lemon zest with a mixer for 3 min on a medium speed.Add the confectioners sugar, a cup at a time and beat with the mixer on a medium speed. Continue mixing until the sugar is incorporated.

Assemble and decorate the cake : First, using a large serrated knife, slice a thin layer off the tops of the cakes to create a flat surface. Place the 1st cake layer on a cake stand or serving plate. Spread 1 and 1/2 cup of the frosting evenly on the layer, continue by spreading the raspberry sauce( you can be as generous as you want. I personally like to be quite generous with the raspberry sauce.. Continue the same way with the second layer. Top with the third cake layer. Spread the remaining frosting on top and all around the sides using an icing spatula.If you're making a full naked cake, just spread the remaining frosting on top of the cake. Decorate with fresh raspberries on the top.

Cool for 2 hour in the refrigerator before cutting and serving.
Notes
*To make lactose free buttermilk simply mix 420ml lactose free (or dairy-free) milk with 2 tablespoons of lemon juice or apple cider vinegar.