I left Stockholm gazing back, wishing I had a few more days to spend there.
It was my first time in Stockholm and I couldn't have been more pleasantly surprised.
Green fields, blue lakes, chilly summer winds and warm Swedish smiles. Yes, warmth comes in many forms, and sometimes in the most unexpected and unusual ones, such as in a smile.
Whenever I go to a new place it's not the buildings and their façades that impress me but the people and the spirit they give the place. And while Stockholm might be cold, the Swedish definitely have a warm welcome.
Practical information:
1.Best season to visit Stockholm: Summer.
I believe Stockholm is beautiful and worth visiting all year round. However to see everything that Stockholm can offer is best during the summer months.
I went there beginning of September and the weather was already getting colder(so the best months would be July and August).
2. The currency used in Sweden: Swedish krona (K).
1 € = 9,55 k
3.Most restaurants and cafes accept credit cards.
3.Getting around:
Tunnelbana- Stockholm's underground train system.
Bus
Tram
The same tickets are valid on the tunnelbana, local trains, and buses
A single ticket costs 43 SEK and is valid for 75 minutes the best deal is to purchase a reloadable card in advance, (they are not for sale on the buses). They cost 20 SEK and can be filled with as much credit as you need.
Download the Sl app for checking timetables, getting information on disruptions or purchasing tickets.
Tickets can also be purchased at SL Centers, underground ticket booths, newsagent kiosks and via SMS.
Get more information about the fares & tickets on the SL website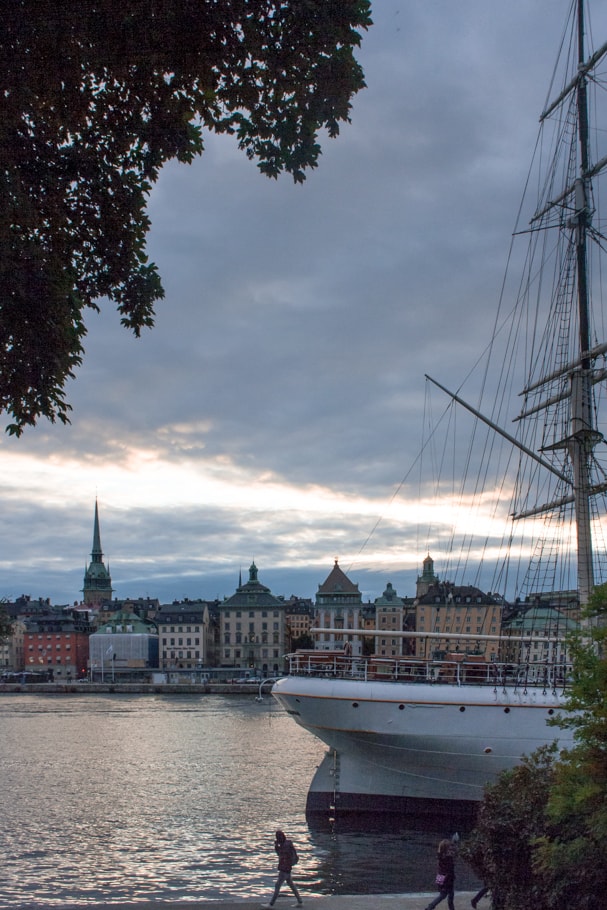 Cafes & Restaurants
Rosendals Tradgard
Relaxed and spacious cafe with a lovely garden that cultivates vegetables, fruits, herbs and flowers.
They serve a variety of teas and coffee, light lunches, pastries, and desserts.
They have gluten-free options as well as vegetarian and vegan.
Mahalo For a complete fruit, experience grabs breakfast or a midday snack in Mahalo. They serve fresh juices, smoothie bowls, fruit shoots and mylkshakes (shakes without dairy products), blueberry pancakes, raw food pizza and spring rolls. Everything of the menu is vegan and made with local and eco-friendly ingredients.
Sally Voltaire & Systr serves vegetarian food complemented by fish and seafood.
Just a glance at their Instagram account will make you hungry.
Where to Stay
Stockholm could be quite expensive, so if you are not as lucky as i'm to have friends there :), I'd recommend finding a place to stay through
Airbnb, or
Couchsurfing
Stay in a Boat Hotel (if you really like boats the famous Swedish boat hotels could be quite an experience for you 😉 )
Wander Around
1. Get lost in the streets of the old town
2. Soak up the sun in some of Stockholm's many parks.
1.Djurgården
2.Långholmen
3.Observatorielunden
Day Trips From Stockholm
1. Mariefred
Lovely picturesque town only an hour drive from Stockholm.

2. Drottningholm Slott
Private residence of the Swedish royal family

3. Sigtuna
A small charming town with wooden houses built by the Lake Mälaren is less than an hour away from Stockholm.