Were you searching for a Veggie Burger that is IBS friendly? Well, you've come to the right place because I've got one for you! This Low FODMAP Veggie Burger is the best veggie burger I've had so far.
Sometimes all you need is a nice big burger, right? But what if you are trying to eat healthier, you follow a vegan diet and on top of that eat a low fodmap diet. Yep, satisfying that burger craving can become quite a challenge.
I'm not a vegan but I'm also not the biggest meat eater, so I'm often looking for plant-based recipes. However, as you might know, the low fodmap diet can be quite restrictive when it comes to many kinds of veggies and beans. And for that reason, I always struggled to find a veggie burger that is low fodmap. Most of the recipes I found were based on beans, and as you may know, beans are not the friendliest thing for your tummy. So recently when I got that burger craving and I didn't want to go for the regular meat version, I decided to do a little experiment in my kitchen and the results were beyond my expectations delicious!
Low FODMAP veggie burger recipe
This low fodmap veggie burger is simple to make, loaded with nutritious ingredients and easy to digest. Plus super flavorful with nice meaty texture and consistency. You can also grill them, and that will enhance their already rich flavor and taste even more! This is a real crowd-pleasing recipe, so satisfying and delicious, great for picnics and celebrations.
P.S even those who aren't vegan or following a plant-based diet are gonna love these burgers!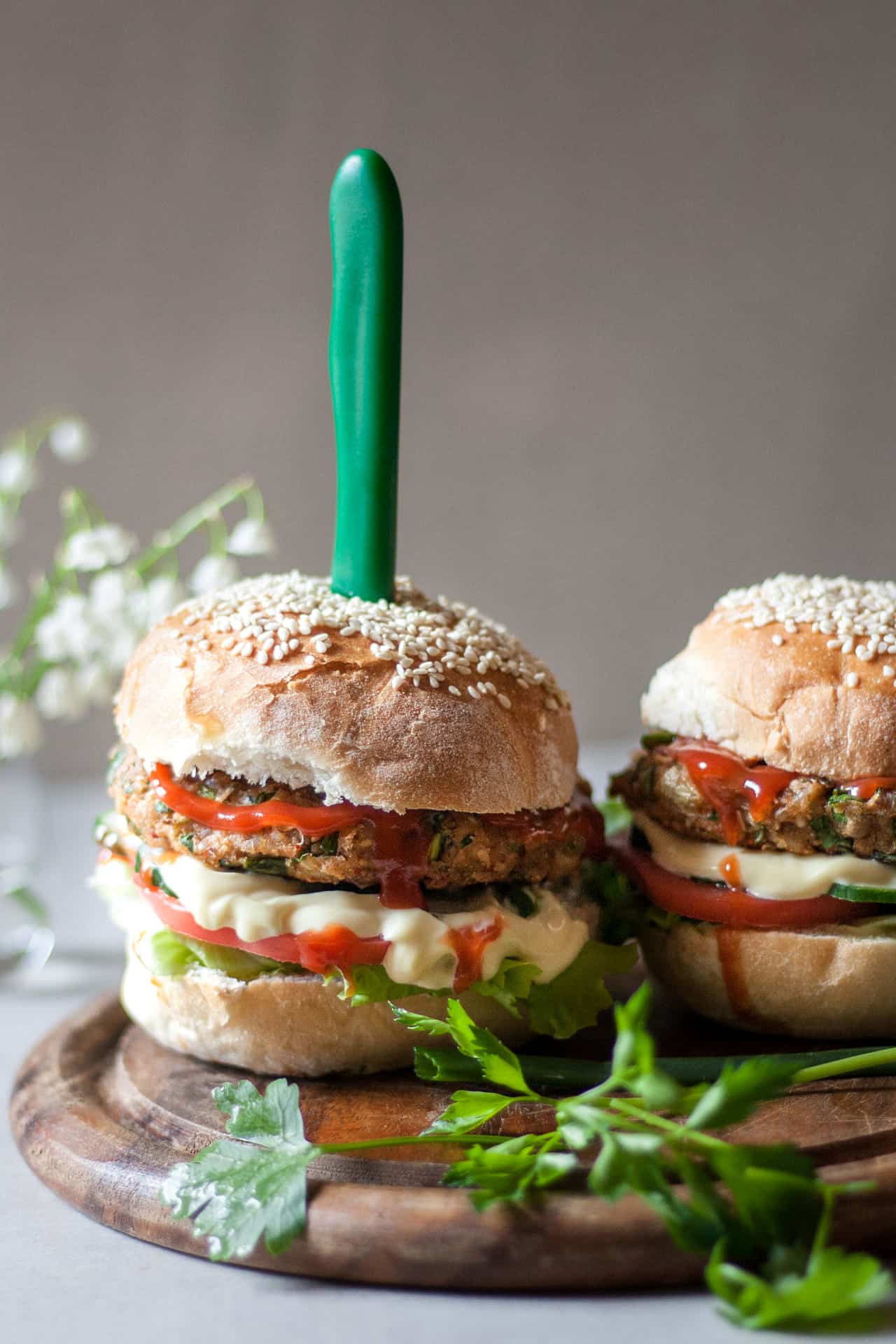 How to make this low FODMAP veggie burger?
It's super simple, you only need one bowl and 10 simple ingredients. You will need a chopping board to chop up your veggies and walnuts, mash your beans, and mix it all up in the bowl. It really can't get any easier.
For the step-by-step instructions scroll at the end of this page.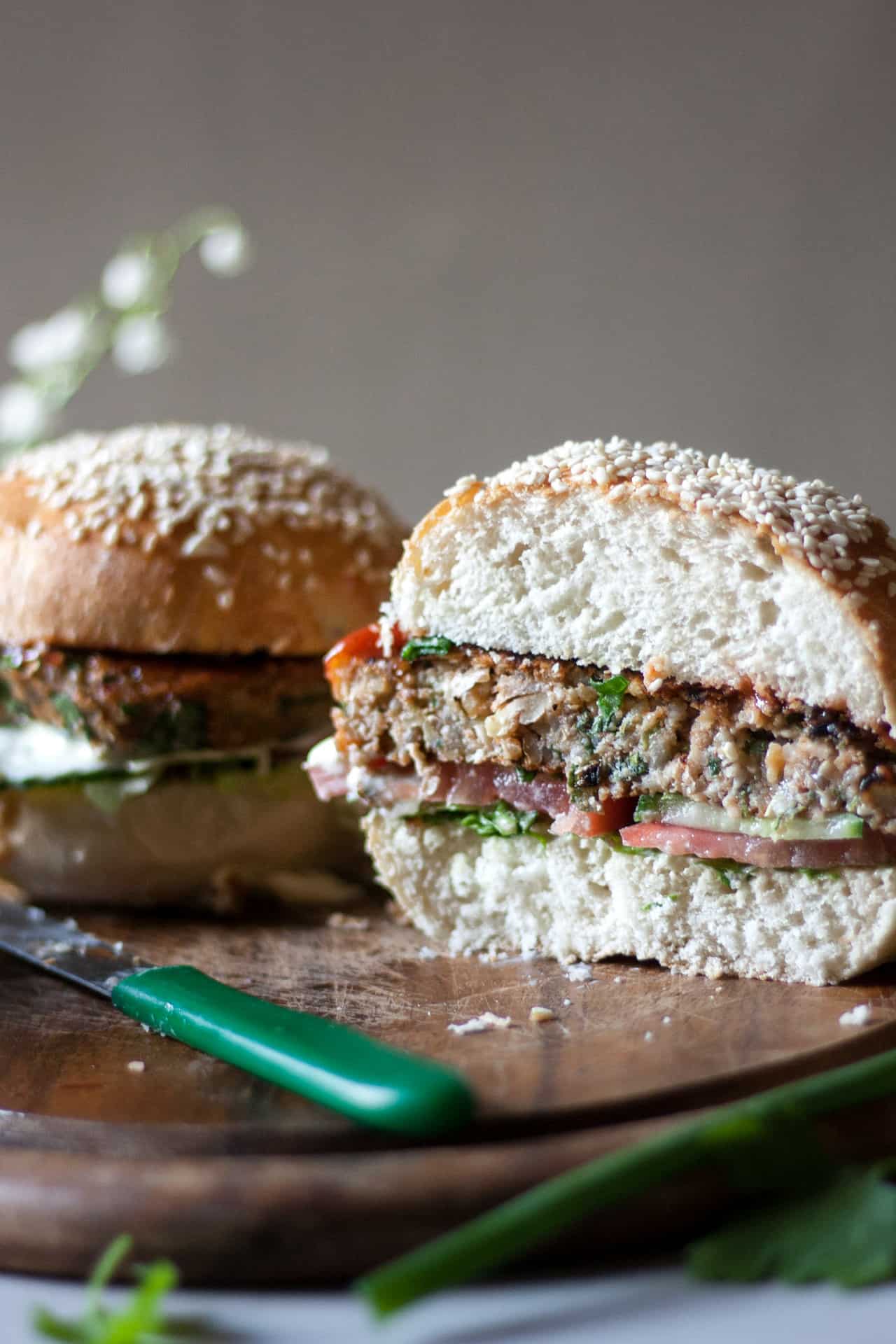 *Make ahead tip:
These Burgers are freezer friendly. Cooked burgers once cooled, you can put in freezer bags and place them in the freezer.
To reheat: Bake them in the oven on 180C degrees for 15min or until heated throughout.
*FODMAP tip:
*Use canned beans and rinse them well before using. The galacto-oligosaccharides or GOS are water-soluble and they will leach out in the water. According to Monash University the low fodmap serving size of canned butter beans is 35g, this recipe uses 140g of canned butter beans but it makes/serves 4 burgers (that is 35g beans per burger/person).
*From the spring onion, use only the green part.
*To assemble the burger patties use ingredients that you know are fodmap friendly. To check which ingredients are low FODMAP, try the Monash University Low FODMAP Diet App . They have the largest FODMAP food database available.
*If using store-bought gluten-free burger patties and slices of bread, make sure to read labels, as there can be sneaky FODMAPs. The hamburger patties and the white bread slice I use are certified low fodmap from the brand Schär. Schär has a wide range of certified low fodmap products.
Recipe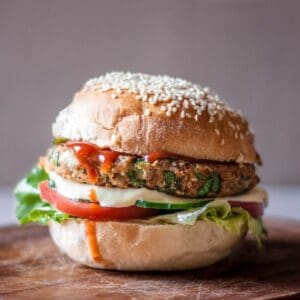 Low FODMAP Veggie Burger
This low fodmap veggie burger is vegan, loaded with nutritious ingredients and easy to digest. Plus flavorful with meaty texture and consistency.
Ingredients
140

gr

canned butter beans

(rinsed and drained)

200

gr

brown rice

(boiled)

50

gr

walnuts

30

gr

sunflower seeds

20

gr

coriander

2

spring onions

(only the green parts)

1

tablespoon

Sesame seeds

1

slice of gluten free bread

3

tablespoon

Olive oil

salt

(according to taste)

black pepper

(according to taste)

½

teaspoon

chilli flakes

½

teaspoon

smoked paprika
Instructions
Start by cooking your brown rice.Use this method for best results.

In a big mixing bowl add the drained butter beans and mash them finely with a fork, leaving only a some lumps.

Heat skillet over medium heat. Once hot, add the raw walnuts and toast for 5-7 minutes, stirring frequently, until fragrant and golden brown. Let cool and move onto the next step.

Chop up the spring onion (about half a centimeter in size) and the coriander and add it to the mixing bowl with the mashed beans.

Soak your bread slice in water, drain it very good and also add it to the mixing bowl with the beans.

Continue by chopping the toasted walnuts. And also add them to the mix.

Next add the cooked rice(but first drain it from any liquid), then add all the spices, salt, oil, sesame and sunflower seeds.

Mix everything well, you can also use your hands to bring all the ingredients together.

Divide the mixture in 4 and start forming your patties. For smaller burgers you can divide it in 5 or 6. (I weighted my burgers and 1 was approximately 130g)

If grilling, heat the grill and brush the grill surface with oil to ease cooking. Otherwise, heat the same skillet you used earlier(to toss your walnuts) to medium heat.

Once skillet is hot, add just enough oil to lightly coat the bottom of your skillet, then add your burgers . Otherwise, add burgers to the grill and close lid.

Cook for 4-5 minutes on one side or until well browned, then flip gently. They aren't as firm as meat burgers, but will definitely hold their shape. Reduce heat if cooking/browning too quickly. Cook for another  3-4 minutes on other side.

Remove burgers from the heat to let them cool slightly. While the burgers are cooling, prepare your toppings and sides and toast your buns.

Serve burgers on their own, or on toasted buns with desired toppings. Leftovers keep in the refrigerator for 2-3 days. For freezing instructions scroll up and read the  "Make ahead tip" part.