What do you think a perfect dessert should be? For me that is something sweet but not too sweet, something indulging, luxurious, flavorful and most importantly easy to make. And this low FODMAP rice pudding with mixed berry sauce checks all the points! It's definitely one of the easiest desserts to make. One thing I love about rice pudding is that it's one of those desserts that you can add different ingredients or toppings and always get different flavors and results. Rice pudding is also one of those desserts that you can have as breakfast, just add your favorite fruit, maybe some nuts and seeds and voilà you got yourself a super yummy and healthy breakfast. And that's why I love rice pudding that much, it could easily be served as a luxurious dessert at a dinner party, be eaten as a midday snack or a super healthy breakfast. In one word it really is a super dessert!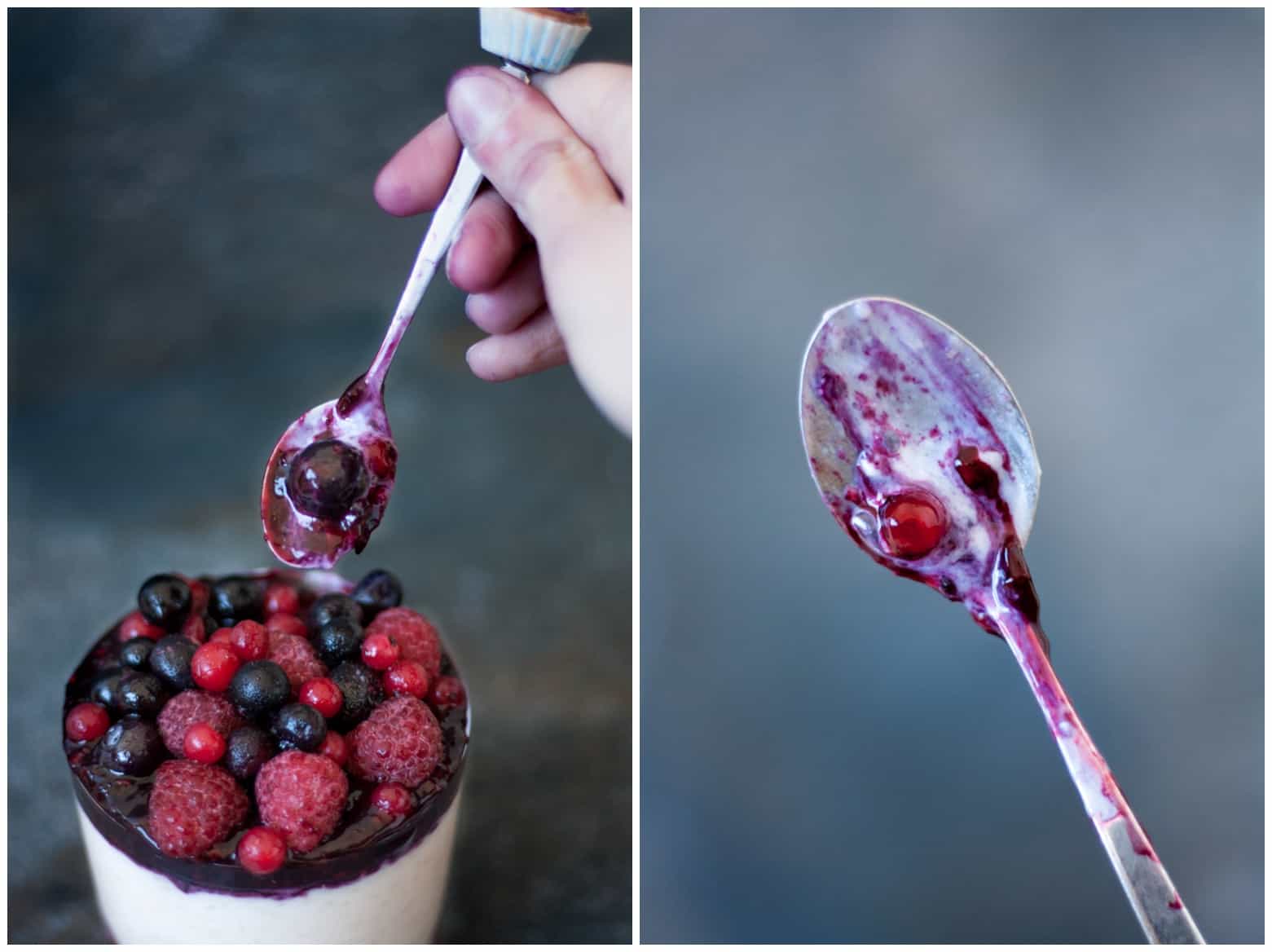 Low FODMAP rice pudding with the mixed berry sauce recipe
This recipe for rice pudding is slightly healthier than the traditional recipe for rice pudding. Firstly because instead of regular white sugar it uses maple syrup and secondly because of the amazing vitamin bomb berry sauce. The pudding has a subtle flavorful sweetness from the maple syrup and the vanilla, and that paired with the freshness and acidity of the berry sauce makes this pudding very rich and extremely delicious.
How to make this Low fodmap Rice Pudding with Mixed Berry Sauce Recipe
This dessert is one of the easiest desserts to make. You don't need to have any special skills, ingredients or kitchen appliances to make it.
You only need 1 hour, 2 pans and 7 simple ingredients!
Scroll at the end of the page for step by step instructions.
Make-ahead tip
This Rice Pudding with mixed berry sauce can be made ahead of time.
While I prefer eating this pudding warm, I also enjoy it as a cold desert. It keeps well in the fridge for up to 3 days so you can make it in advance and enjoy it as a breakfast or a snack for the following days to come. I don't like to reheat it as I like eating it like a refreshing cold dessert, I usually put it in a jar or a glass with layers of berry sauce in between and eat it straight from it.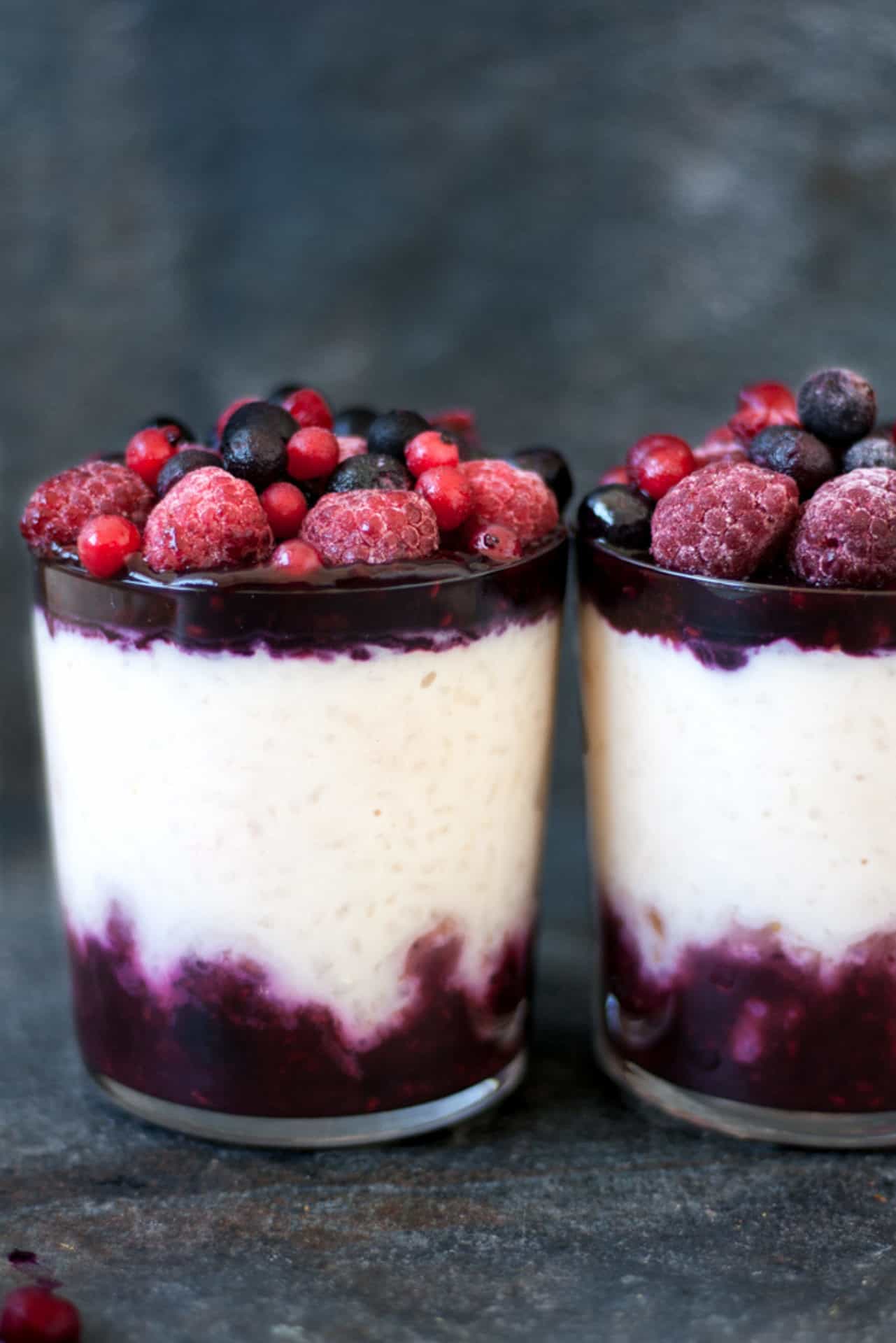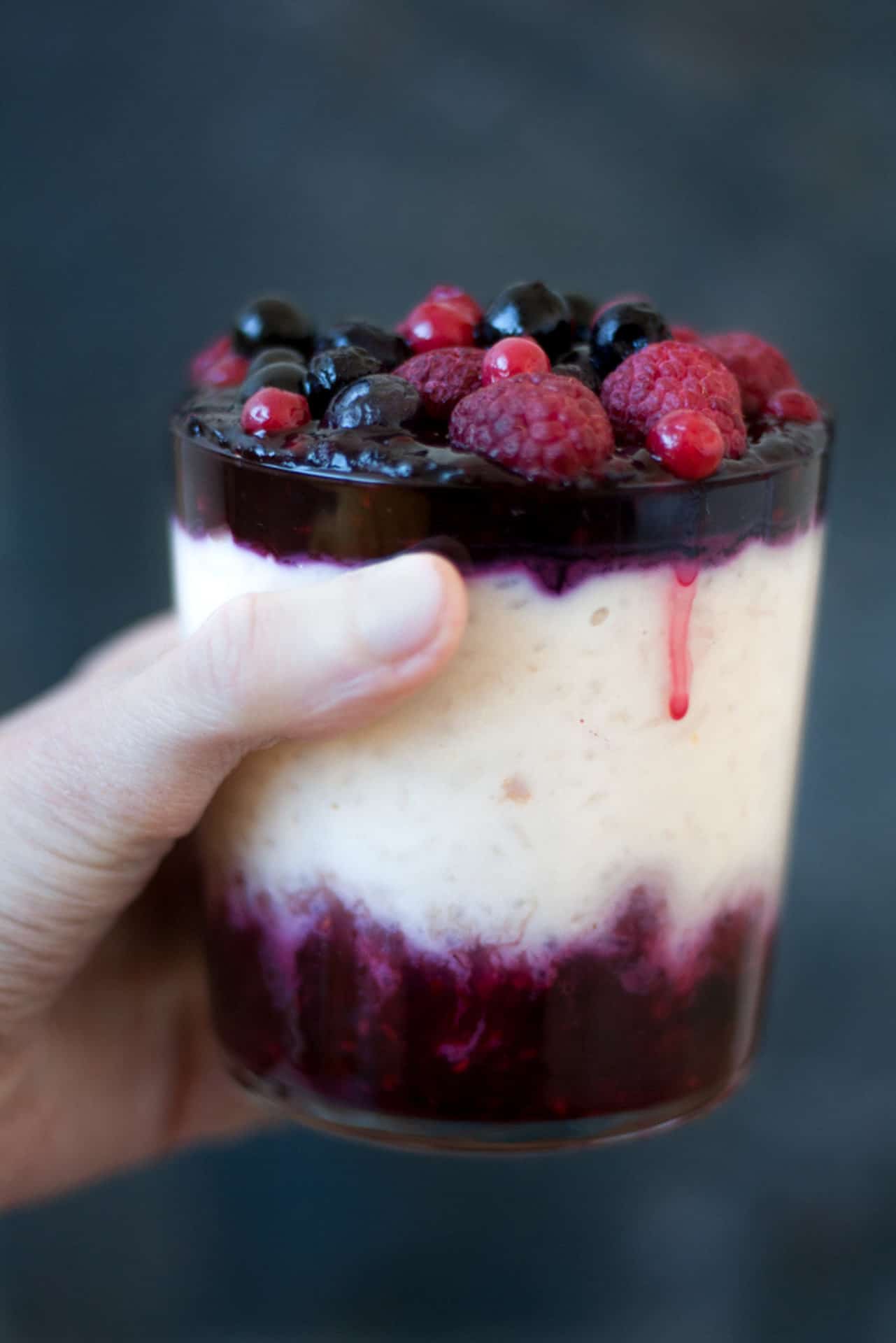 FODMAP tip:
*If you replace the lactose-free milk with non-dairy milk. Stay away from high fodmap milk like Oat or Soy(made from soybeans) milk. Soy milk made from soy protein is low fodmap. So make sure you check the labels.
*For the mixed berries, use the one that is low FODMAP or the specified low fodmap size. According to the Monash University strawberries are low fodmap, blueberries are low fodmap in 40g, raspberries in 60g and boysenberries in 12g.
Low Fodmap Rice Pudding With Mixed Berry Sauce
The best Low FODMAP Rice Pudding recipe, enriched with a flavorful mixed berry sauce. It is super simple, healthy and beyond delicious.
Ingredients
For the rice pudding
120

gr

risotto or pudding rice

900

ml

lactose-free full fat milk

(for dairy free option use unsweetened almond milk)

200

ml

water

4

tablespoon

Maple syrup

1

teaspoon

Vanila extract
For the Mixed Berries Sauce
300

gr

mixed berries

(fresh or frozen)

1

teaspoon

Lemon Juice

1

teaspoon

Lemon Zest

1

teaspoon

Vanilla Extract

3

tablespoon

Water

1

teaspoon

corn starch

3

tablespoon

Maple Syrup

(or caster sugar)
Instructions
To Make the Rice Pudding
In a large pan, put the rice, milk, and the 200ml water, maple syrup and vanilla extract.

Place the pan on a very low heat and give it a good stir

Cook it on low heat for about 50min or until thick and creamy, stirring frequently.

If your rice pudding is too thick you can loosen it with an extra splash of milk.
To Make the Mixed Berry Sauce
In a pan add the mixed berries, together with the lemon juice, lemon zest, vanilla extract and the sweetener of choice.

Put the pan over a low heat and cook by stirring frequently.

Prepare the cornstarch by dissolving it in 3 Tablespoon of water.

Once the sauce starts to bubble add the mixture of water and cornstarch in the pan and stir.

Cook for another 2 to 3min on low heat.

The sauce should start to thicken.

Once ready remove the pan from the heat and let it cool for 5min before serving.

I like serving my rice pudding in jars or glasses with layers of the mixed berries sauce in between.

For decoration, top it with berries or any other fruit of choice. (optional)