When I couldn't decide whether to go for chocolate cake or vanilla cake I went for both. The result was this super delicious, very pretty gluten-free marble bundt cake! Being indecisive isn't always a bad thing huh? 😉
I think bundt cakes have always been my favorite cakes. They always make me feel festive.
There are a few reasons why I love bundt cakes: They are easy to make, they look super luxurious and pretty, they are simple and don't require decorating, you can have them for breakfast or brunch. Probably the latest is my favorite part. Cheating a piece of cake for breakfast, I'm in for it every single time!
Gluten-Free Marble Bundt Cake Recipe
This Gluten-Free Marble Bundt Cake is flavorful, moist and perfectly sweetened. Every bite melts in the mouth. Because it's not over-sweetened, it is quite light and goes perfect with a tea or a coffee for breakfast, brunch or mid-day snack. The two main flavors, chocolate, and vanilla are a match made in heaven. And should I even mention the way it looks? I mean it is a real beauty. You can definitely have it for a celebration or over some holiday. To be honest with you, I can have this cake every day 🙂
How to make this Gluten-Free Marble Bundt Cake?
Even though the marble cake could look quite difficult to make because of its striped pattern, it is actually easier to make than you'd think. You will only need a mixer, a measuring cup, 2 bowls, a spoon, and a baking pan. If you don't have and bundt pan you can make it in a loaf pan. This cake requires only a few simple ingredients that you probably already have in your home and 1hour to make.
This cake is actually made from only one batter. The chocolate part of the cake is made from the vanilla part, which means you will not need to make 2 batters.
For the step-by-step instructions scroll at the end of this page.
How to make the marble look?
To create a zebra pattern you will simply need to layer the batters on top of each other. Start with a spoonful of the vanilla batter in the middle of your pan and then layer a spoonful of the chocolate batter on top. Continue this way until your pan is filled and both batters are finished. The batter will spread out on its own while layering and a marble pattern will begin to form. However, it helps to give the pan a shake every now and then to level the batter off.
What flour to use to make this Gluten-Free Marble Bundt Cake?
I like to use my universal homemade gluten-free flour blend. Which is a mix of the following flours :
3. Sweet Rice Flour (Glutinous Rice aka Sticky Rice)
4. Tapioca Flour (tapioca starch is the same as tapioca flour)
5. Xanthan Gum
If you can't make that one, you can try with any gluten-free flour mix (just make sure it contains xanthan gum because that helps in binding the dough). The final result using different flour mix might vary slightly, depending on what flours your mix contains.
To find the recipe for my gluten-free flour mix click, HERE.
How to make this Gluten-Free Marble Bundt Cake completely dairy-free?
You can replace the butter with vegan butter.
*Make ahead tip:
This cake freezes well, which means you can make it ahead of time or if you have leftovers keep them in the freezer for later.
To freeze it, first let the cake cool down at room temperature, then cut the cake in pieces, place them in freezing bags and put them in the freezer.
To defrost them you can either thaw in the fridge overnight or reheat them in the oven on 180C degrees for 15min, or until heated throughout.
*FODMAP tip:
*To make sure that your flour mix is fodmap friendly I recommend that you make your own gluten-free flour mix, I always make this one. Or always read the ingredients of the store-bought gluten-free flour mixes. Make sure your mix doesn't contain soy flour, chickpea/besan/gram/garbanzo bean flour, lentil flour, coconut flour, amaranth flour, or lupin flour.
*If you replace the lactose-free milk for non-dairy milk. Stay away from high FODMAP milk like Oat or Soy(made from the soybeans) milk. Soy milk made from soy protein is low FODMAP. So make sure you check the label.
*If you replace the butter for a vegan butter read the label as there might be sneaky FODMAPs there.
*Gluten-Free Tip:
If you are celiac or highly sensitive to gluten, buy certified gluten-free baking powder and baking soda. Baking powder and baking soda are naturally gluten-free, however, depending on the manufacturing place and process they could be cross-contaminated.
Recipe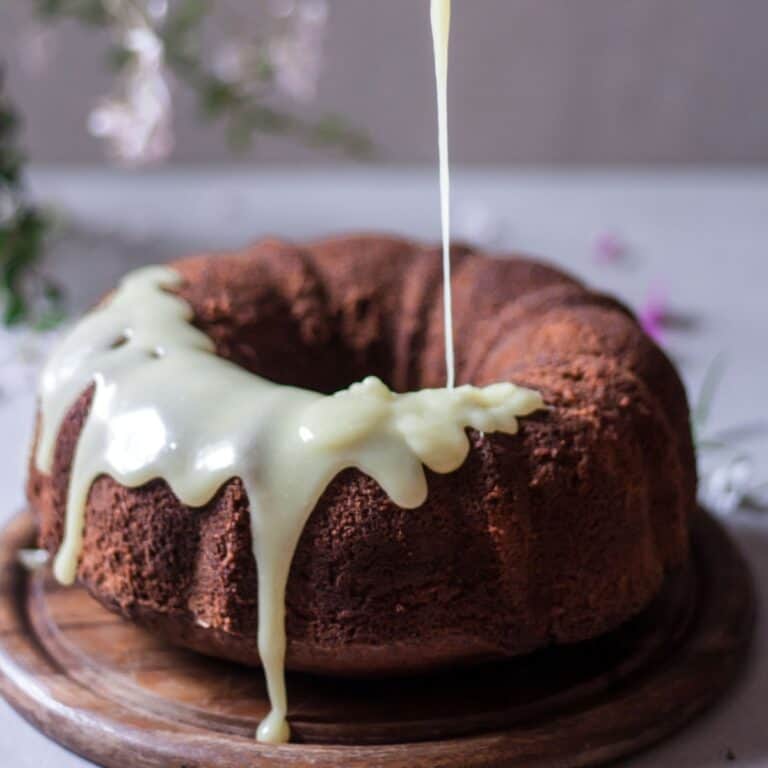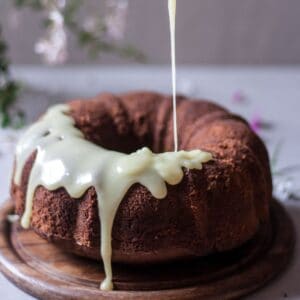 Gluten Free Marble Bundt Cake
Low FODMAP Gluten-Free Marble Bundt Cake. This cake is flavorful, moist and perfectly sweetened. Every bite melts in the mouth.
Ingredients
200

gr

unsalted butter

(at room temperature)

200

gr

white sugar

4

large eggs

(at room temperature)

360

gr

gluten free flour

2

teaspoon

baking powder

1

teaspoon

salt

380

ml

lactose free milk

2

teaspoon

vanilla extract

50

gr

cocoa powder

5

tablespoon

water
For the white chocolate glaze
100

gr

white chocolate

3

tablespoon

lactose free milk

70

gr

white powder sugar
Instructions
Preheat the oven to 180C degrees.

Place melted butter and sugar in a stand mixer bowl fitted with a paddle attachment. Beat on medium speed until mixture is well combined, about 1 minute. Add in vanilla and beat until combined. Add and beat eggs one at time, mixing well after each addition. Once all eggs are added, beat mixture until it becomes light and fluffy.

In a separate medium size bowl add in 3 tablespoon of sugar, the cocoa powder, and water then whisk until mixture is smooth; set aside.

In a separate bowl mix the flour with the baking powder and salt

Gently stir in the milk in the butter and sugar mixture, alternately with the flour mixture, one-third at a time, ending with the flour mixture. Scrape the bowl once more, and gently beat for 1 minute.

Add half of the batter to the cocoa mixture and stir until blended.

Thoroughly grease a standard-size Bundt pan. Using an ice cream scoop or a tablespoon, pour one scoop of vanilla mixture into the pan. Now alternate and pour one scoop of chocolate mixture on top of the vanilla mixture. Continue to alternate between vanilla and chocolate layers until bundt pan is filled.

Bake it for 50 to 55min on 180C degrees or until a cake tester inserted into the center comes out clean. Cool cake in the pan on a wire rack for 15 minutes

While the cake cools prepare the glaze .Place chocolate and milk in a heatproof bowl. Place bowl over a saucepan of simmering water and allow chocolate to melt, stirring regularly.Remove the bowl from the heat and stir in the sugar. Mix until glaze is smooth.

Pour it over your bundt cake while the glaze is still warm.