This is my ultimate gluten-free flour blend, I use it in all of my recipes and it works perfectly. It is by far the best gluten-free flour blend I've tried.
When I first started switching to a gluten-free diet I knew absolutely nothing about it. I remember the first time I wanted to make homemade gluten-free bread, I went to the local supermarket and bought the first gluten-free flour mix I spotted. And well the bread I baked with that mix was probably one of the worst things I have ever tried in my life, I was so disappointed. The bread wasn't even close to the normal bread I was used to, it had a very strong taste and dense texture. I continued trying different gluten-free flour mixes but there was never a perfect one. There was always something that was not completely good, either the taste, the texture or how it affected my digestion.
By that time I learned that all of that had to do with the flours that those flour mixes contain. Like for example if a flour mix uses chickpea or lentil flour that can have a stronger taste but also affect my digestion as both of these flours are not low FODMAP or if the flour mix is made without xanthan gum it will not bind well( because in gluten-free baking, the xanthan gum or guar gum is used as a way to replace the role of the gluten ).
When I started understanding these things I started experimenting by making my own gluten-free flour blend. And to be honest there were many many failures, I had to learn how all these different gluten-free flours taste and react, what ratio to use and etc.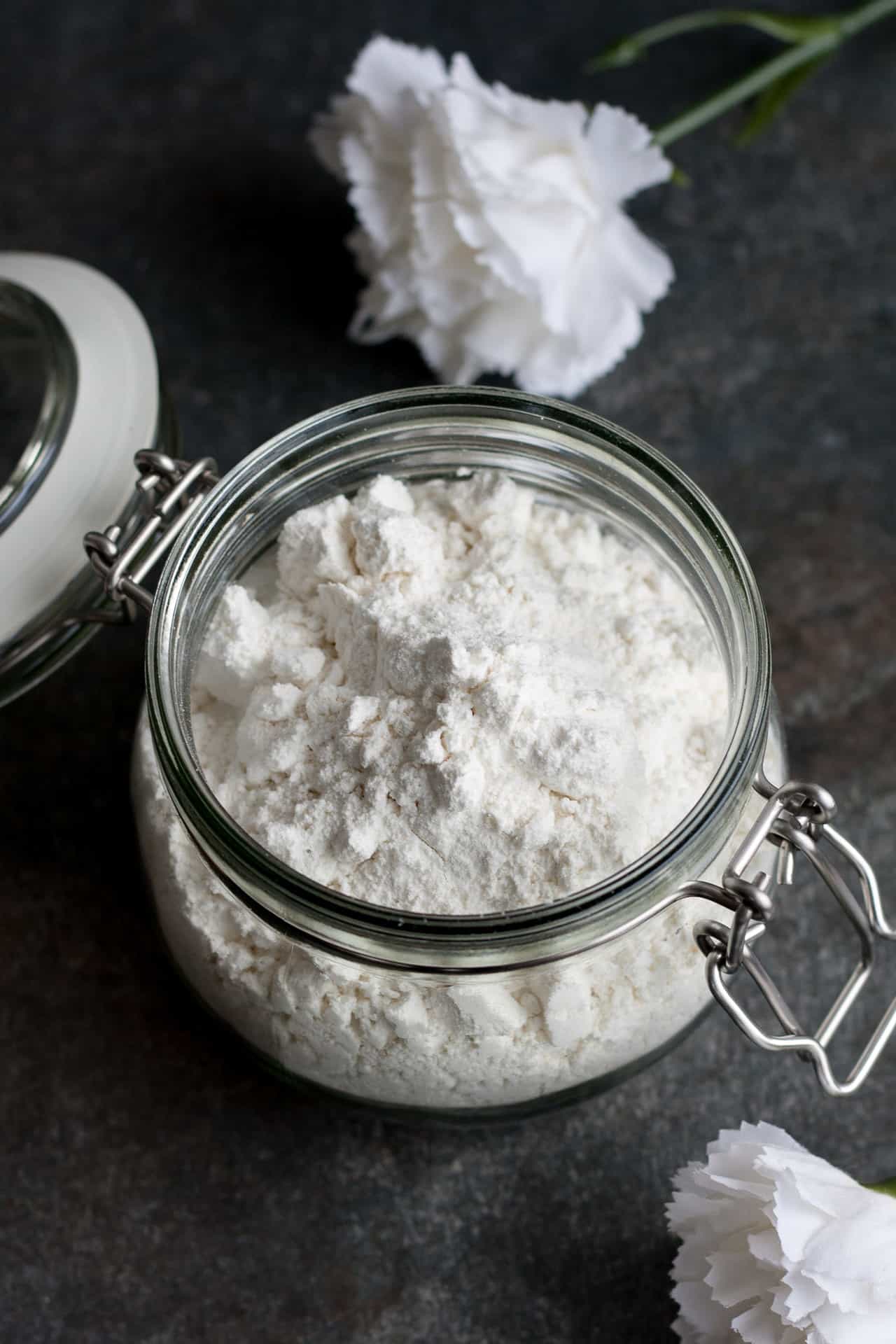 Gluten-Free Flour Blend Recipe
After 1000 trials and errors I think I cracked the code. This gluten-free flour mix is universal and works with a variety of baked goods. From bread and puffed pastry to different kinds of cakes, pancakes, waffles, you can even make homemade gluten-free pasta with it.
All the flours used in this gluten-free flour mix are low FODMAP and easy for the digestion. Moreover, this gluten-free flour mix doesn't have that strong and sometimes bitter taste many gluten-free flour mixes have, and that's mostly because of the flours and the ratio of them in this blend.
How to make this Gluten-Free Flour Blend?
To make this gluten-free flour blend I use the following flours:
3. Sweet Rice Flour (Glutinous Rice aka Sticky Rice)
4. Tapioca Flour (tapioca starch is the same as tapioca flour)
5. Xanthan Gum
For the exact measurements scroll at the end of this page.
Some useful notes regarding substitutes:
*If you don't like using tapioca flour/ starch replace it with potato starch (not potato flour, that is something different) or cornstarch.
*If you don't like or can't find xanthan gum replace it with guar gum. (however, I've found that guar gum is more difficult for my digestion)
*The sweet rice flour you can replace it with potato flour.
Recipe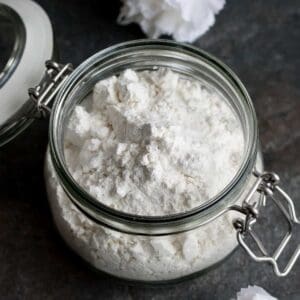 Gluten Free Flour Blend Recipe
My ultimate gluten-free flour blend. Only 5 ingredients, simple and affordable. Moreover, it is Low FODMAP and Dairy- Free.
Ingredients
200

gr

White Rice Flour

(1 ⅓ cup)

200

gr

Brown Rice Flour

(1 ⅓ cup)

150

gr

Tapioca Flour/Starch

( 1 ¼ cup)

150

gr

Sweet Rice Flour (Glutinous" White Rice Flour)

( 1 ¼ cup)

1 ½

teaspoon

Xanthan Gum
Instructions
Simply mix all the flours together and store it in an airtight container (I like to use a mason jar) in a dry, cool and dark place. In the cupboards keeps well for about 7 weeks, in the fridge for up to 3 months and in the freezer for up to 6 months.

Use gram-by-gram (cup-to-cup) in place of all-purpose flour. However, this can be tricky since for some recipes gluten-free flours react differently.