Are you scared to travel because of your IBS symptoms? I know I've been there myself! Traveling with IBS can be unpleasant, to say the least. But I love traveling too much, and I couldn't just give it up altogether. So I continued to travel even with my IBS symptoms. I knew that it is possible, I just needed to learn some new ways! And it was, and I did. In the past 7 years, I have traveled so much and allowed my mistakes and experiences to teach me. And now I'm so excited to finally share these 20 tips on how to travel with IBS!
Food is a big trigger for IBS, but stress and hormones can be triggers as well. In these tips, you will find solutions for all 3 of them. These tips can be applied for any kind of trip, from vacations to business trips, regardless of their duration and means of transportation used.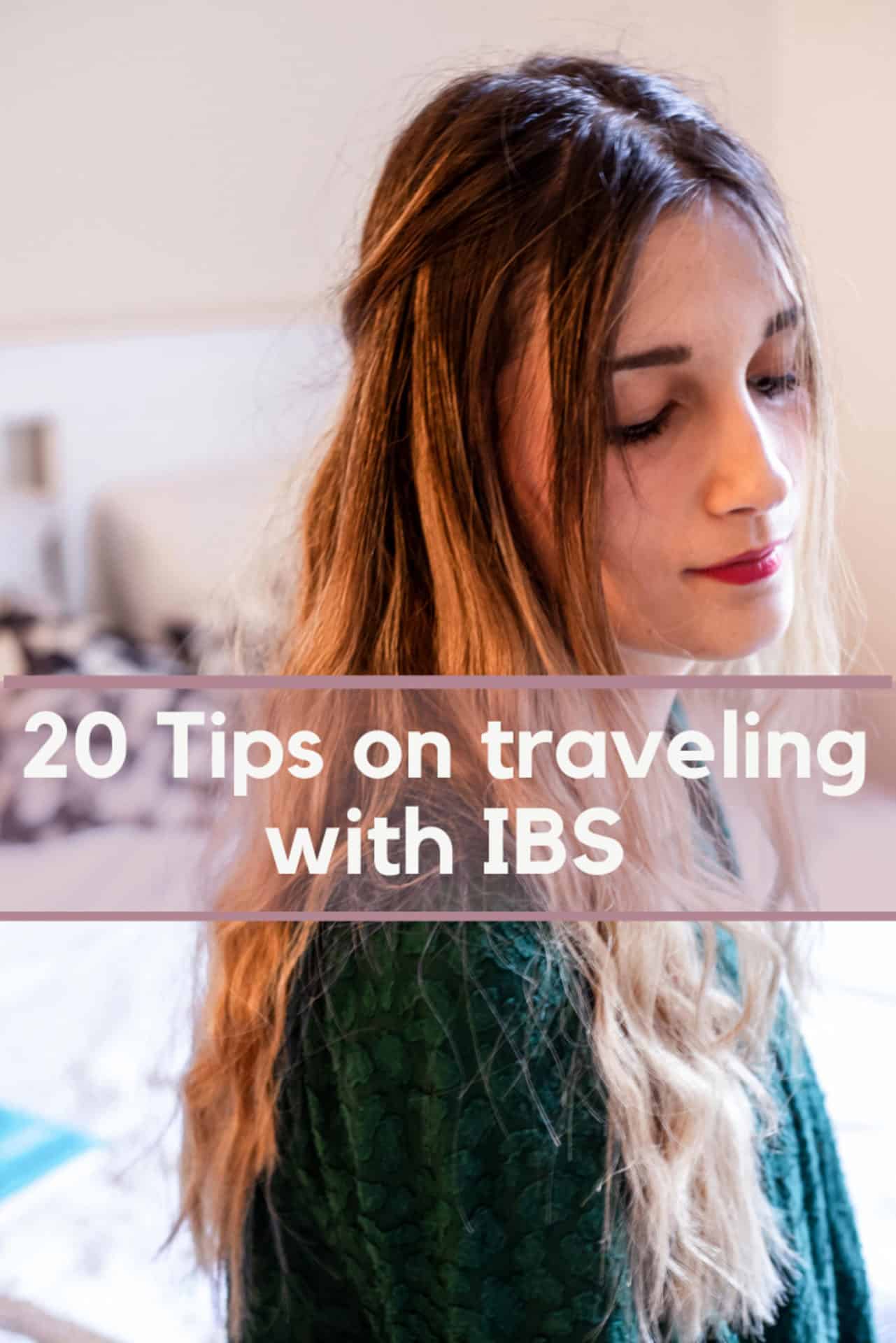 1.Get yourself mentally prepared
For me, getting mentally ready for a trip is as important as making the basic travel arrangements. I do this by using the Visualization Technique. The visualization technique has been used by successful people to visualize their desired outcomes for ages.
In a quiet place, sit, close your eyes, and relax your body. Take deep breathes and walk yourself through the trip. Take mental notes on everything that is concerning you. Open your eyes and develop a plan for handling any "worst-case" scenarios. Close your eyes again and rehearse your plan. Visualize yourself handling all the challenges and "worst-case" scenarios in a calm and confident manner.
I love this technique and I find it very helpful when I prepare for my trips. About a week before each trip I start to visualize myself successfully handling any challenges I might face throughout my trip. And instead of getting anxious and worrying about what might happen or go wrong on the trip, I like to focus on how strong and capable I am to face all the challenges.
2. Research the destination
When you are traveling with IBS it is very important to research your destination before you even book anything. Find out whether you have supermarkets near your accommodation. Moreover, you can go on some forums, and ask whether there are any gluten-free options in the local supermarkets. Find which restaurants serve gluten-free food. If you are staying in a hotel find out if they have a gluten-free option in their restaurant. You need to know all of this because in the case where you are going there are not many gluten-free options you can pack some basic things with you like pasta or bread.
3. Talk to your doctor
You might need to talk with your doctor regarding which medications or supplements could be best to have with you. My doctor has recommended me a few which I always have with me. Those are Immodium, Buscopan which helps me with cramps, Simeticonum which helps me with bloating, and Xanax which I take very occasionally for my anxiety and panic attacks (because there is no worse enemy to IBS symptoms than a full-blown anxiety attack). From supplements, I always have with me peppermint oil capsules and probiotics. These have all been recommended and prescribed to me by my doctor. Traveling with IBS can be unpredictable and some medications might be able to help, however, I can't tell you whether the ones that work for me will work for you as well. That is why my advice is for you to consult yourself with your doctor. Please don't take any of the above-mentioned medications without talking with your doctor first.
4. Know your trigger foods
One of the most important things is to determine which foods are a trigger for your IBS if you don't already know them. For me, those foods are beans, legumes, and almost every fruit. It took a lot of trial and error to learn which foods made my IBS worse. But knowing this has been one of the most helpful things not only for traveling but day-to-day life as well.
5. Carry a "survival kit" with you.
Always make sure to have all the necessary things near you. I always pack them in my backpack or carry on luggage. For me, necessary things are my medication, peppermint oil, tissues, extra clothes, a bottle of water or mint tea, and safe snacks.
6. Bring your own snacks
Trust me! You don't want to be at the mercy of the snacks from the vending machines or the small shops at the gas stations, the airports, or the worst one from the planes!
I have done this mistake 1000 times before I learned that I SHOULD PACK MY OWN SNACKS! That can be snacks that you make yourself at home or from the supermarket. It is important to already know that you can tolerate them. Never experiment with new snacks during your traveling.
I always have these Gluten-Free Wafer Cookies with me, as they are not overly sweet, they keep well, and are perfect for traveling. Plus they are super easy to make!
7. Find accommodation with your own kitchen
The best type of accommodation when traveling with IBS is an apartment with your own kitchen. This way you won't be dependent on whether there are gluten-free or low FODMAP options at the restaurants. The best place for finding apartments is Airbnb
8. Always know where the bathroom is
Knowing ahead of time where bathrooms can be found can certainly help to keep your anxiety level down. There are many helpful bathroom finding apps that you can install on your mobile device. If you are traveling by bus or train find out in advance whether there is a bathroom. In case that there isn't one, consider choosing another means of transportation. If you are making a long drive to get to and from your destination, know how much distance there is between rest areas or gas stations with available restrooms. Map your walking and driving routes ahead of time and determine how to get from point A to point B as quickly and directly as possible. If you are flying always choose the aisle seat. That way if your stomach decides to get all upset you won't need to annoy the people around you by getting up multiple times.
9. Learn some local words and phrases
Knowing some important words and phrases in the local language can really save the day! The ones I always pay attention to are: gluten-free, the FDOMAPs that I can't tolerate such as onion, garlic, beans, lactose-free, and the phrase "where is the restroom?"
10. Confide in your travel companions
IBS is set off by stress, traveling is stressful enough, don't make it worse by creating unnecessary stress by trying to hide your symptoms from the people you are traveling with. IBS is a big part of you, so trying to hide that is going to be energy-consuming which will create stress, which will result in having IBS symptoms. You see the circle here? The best thing you can do is be open with the people you travel with, try to explain IBS, your symptoms, and diet. You will be surprised by how understanding and helpful they might be.
11. Avoid Infection
Infection is bad for anyone, but for someone already suffering digestive issues such as IBS can be absolutely terrible. To protect yourself from infection, do the following: Drink only bottled or boiled water, avoid street vendors or other unhygienic food sources, avoid raw or undercooked vegetables and fruits, avoid raw or undercooked meats and seafood.
12. Don't overdo your schedule on vacations
When traveling to a new country it is understandable that you want to see as much as possible. However, don't forget that you are on a vacation and vacations should be about relaxing as well. Planning every hour of your trip can be extremely stressful, and you know that stress can only make your IBS worse. So just try to keep an open and flexible schedule.
13. Move your body
Whenever you can, engage yourself in some light exercise. If you are having a long journey make sure to stretch your legs at a rest stop or walk around in the train or airplane terminals.
14. Stay away from fatty and very sugary foods.
Even if some foods are low FODMAP, they can still be hard on your tummy to digest. Such foods are fatty foods (that includes deep-fried foods), and very sugary foods. For example, a brownie or a slice of cake might be low FODMAP, but they are harder to digest. And because traveling is stressful enough, and stress already makes your IBS symptoms worse. It is smart to avoid anything else that can burden your digestive system and thus create even worse IBS symptoms.
15. Reduce Stress
Stress is the worst enemy of IBS. Find techniques and things that you can do before and during your trip that will help you relax. I like using techniques such as visualization, Diaphragmatic/Abdominal Breathing, muscle relaxation. Moreover, I like to meditate and for that, I use either Calm or Headspace (both amazing meditation apps). To stay calm and relaxed during my trip I like to listen to some calm music and read a book. It is very important to keep your brain engaged if you suffer from anxiety or panic attacks.
16. Eat Smart
My best advice is to eat a strict low FODMAP diet starting a week before your trip. In this time avoid trying new foods and avoid trigger foods. Stick to the ones that you have already tested and you know that are safe.
17. Keep your portions small but consistent
Try to eat smaller meals throughout the day rather than skipping meals and then eating one or two big meals. Smaller meals are much easier to digest and they will not overwhelm your digestive system.
18. Avoid Local Delicacies
I know I know! Trying the local food is part of the experience! But think of it this way, you can go and try the local food for one day and have the full experience but then be sick with IBS symptoms for the rest of your trip or you can keep to your safe foods and be able to enjoy every day of your trip. The choice is yours! But I'd go with the second one! Unless you are 100% sure that the local delicacies are Low FODMAP and safe for you, consider skipping them!
19. Keep hydrated but avoid certain drinks
It is very important to keep hydrated during your trip. However carbonated beverages, sugary juices, alcohol, and coffee are your tummy's worst enemy. The best thing to drink on your trip is bottled water, homemade lemonade, or homemade mint tea.
20. Stay calm if flare-up happens
Even if you do everything right, if you eat well, take supplements or medication, meditate, and literally follow all these tips, flare-ups can still happen. I know, annoying! But that's the thing with IBS, it's so damn annoying! The important thing to remember is that even if you experience a flare-up, STAY CALM! Try to approach it from a perspective as something you already expected. (Because let's be honest you kinda did, I mean it is IBS we are talking about). So remain calm and relax and carry on with everything as if nothing has happened. Because if you react to your flare up with stress, anger, or anxiety you will only make things worse. All these emotions will keep you on the stress loop and will most likely result in experiencing more flare-ups.