What are you missing most on a gluten-free diet? For me, that is all the baked goods! And I spend a lot of time trying to recreate them in a gluten-free version. My latest success was with these Gluten-Free Soft Pretzels! I've been craving soft pretzels for so long, and now that I finally created this recipe, I feel like I can eat them every day!
Gluten-Free Soft Pretzels Recipe
These soft pretzels are chewy, pillowy soft, flavorful, easy to digest and so delicious! They are great on their own or stuffed with mozzarella. Personally, I prefer them stuffed with mozzarella. The great thing is that they are not only gluten-free but low FODMAP as well!
How to make these Gluten-Free Soft Pretzels?
To make these pretzels you will need only 8 very simple ingredients! They are very easy to make, literally anyone can make these pretzels! You don't need to have any special equipment or baking skills!
what flour to use to make them?
I like to use my universal homemade gluten-free flour blend. Which is a mix of the following flours :
3. Sweet Rice Flour (Glutinous Rice aka Sticky Rice)
4. Tapioca Flour (tapioca starch is the same as tapioca flour)
5. Xanthan Gum
If you can't make that one, you can try with any gluten-free flour mix (just make sure it contains xanthan gum because that helps in binding the dough). The final result using different flour mix might vary slightly, depending on what flours your mix contains.
To find the recipe for my gluten-free flour mix click, HERE.
How to make them dairy free?
Simply replace the butter with dairy-free butter. If you want to stuff them with cheese, use vegan alternatives for mozzarella and parmesan cheese.
*freezing tip:
* These Gluten-Free Soft Pretzels are freezer friendly. To freeze baked bagels simply wrap them in plastic foil and place it in a freezer friendly bag or container. To defrost it, thaw in the fridge or room temperature or warm it up in the oven at 180C (350F) degrees.
* FODMAP tip:
*To make sure that your flour mix is fodmap friendly I recommend that you make your own gluten-free flour mix, I always make this one. Or always read the ingredients of the store-bought gluten-free flour mixes. Make sure your mix doesn't contain soy flour, chickpea/besan/gram/garbanzo bean flour, lentil flour, coconut flour, amaranth flour, or lupin flour.
*All the ingredients used in this recipe are FODMAP friendly, however, As a general rule always read the labels of the ingredients that you use as there can be sneaky FODMAP's in any product. To educate yourself on which foods are high in FODMAP's I'd strongly recommend downloading Monash Unversity FODMAP Diet.
*gluten-free tip:
If you are celiac or highly sensitive to gluten, buy certified gluten-free yeast. Dried instant yeast is naturally gluten-free, however, depending on the manufacturing place and process there can be cross-contamination.
Recipe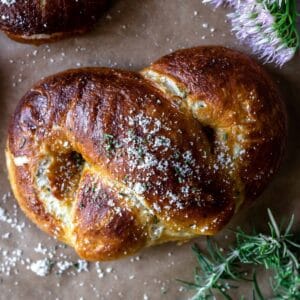 Gluten-Free Soft Pretzels
These Gluten-Free Soft Pretzels are chewy, pillowy soft, flavorful, super delicious plus low FODMAP and easy to digest.
Ingredients
400

g

(2 ⅓ cup) gluten-free flour mix

1

tablespoon

insatnt yeast

2

tablespoon

Sugar

½

teaspoon

salt

50

g

unsalted butter

(melted)

1

egg

220

ml

(1 cup)gluten free beer

110

ml

(½ cup) warm water

fresh rosmary

(optional)
For Stuffing the Pretzels (optional)
100

g

Mozzarella cheese

200

g

grated parmesan cheese
Bath for boiling
Baking soda (6 cups water( + 1 tablespoon baking soda + 1 teaspoon salt)

1

egg (for egg wash)
Instructions
In a mixing bowl, mix the flour with the insant yeast,the sugar and the salt. (If using fresh rosrosmary chop it and add it as well)

In a separte bowl mix all the wet ingredeint. The egg, with the melted butter, beer and warm water.

Pour the wet ingredeints to the dry ingredeints and either with a mixer or your hands, mix well to incorporate all the ingredeints. You should get a dough that is not too wet or sticky but also not too try or ccrumbly If it is too wet add a bit more flour, if it is too crubly and dry add more warm water.

Transfer the dough to a lightly oiled bowl or proofing bucket large enough for the dough to rise to nearly double its size. Spray the top of the dough very lightly with cooking oil spray. Cover the bowl very tightly with an oiled piece of plastic wrap or the oiled top of your proofing bucket. Place it somewhere warm and let it rise for about an hour.

When the dough is ready, line rimmed baking sheets with unbleached parchment paper and set them aside. Divide dough into 6 equal pieces and roll each into a ball. Working with one piece of dough at a time, roll into a thin rope about 12 inches long, pressing down and out with your palms and sprinkling lightly with flour to prevent sticking. 

*(If you are not stuffing them with cheese skip this step)

Roll each rope out so it's 4 inches wide. Add 2 tablespoons of cheese filling evenly along the rope. Tightly close the dough back into a rope, pinching the edges together.

Working with one piece of dough at a time, roll into a thin rope about 12 inches long, pressing down and out with your palms and sprinkling lightly with flour to prevent sticking. Make a U shape with each rope of dough, holding the ends. Cross the ends over each other, pinching ends onto the bottom of the dough.

Preheat the oven to 200°C (400°F)

In a large pot, make the baking soda bath by dissolving the baking soda and salt in approximately 6 cups of water, and bringing it to a rolling boil over medium-high heat. Place pretzels - one at a time - into the boiling cooking water. Cook for 30 seconds each. Remove pretzels with a slotted spoon, allowing any excess water to drip back into the pot before transferring to prepared baking sheet.

Once all pretzels have been boiled, brush the tops of each with egg wash.

Place the baking sheet in the center of the preheated oven. Bake until golden brown all over (about 15-18 minutes).

Allow pretzels to cool on the baking sheet for 5 minutes before serving.