A lamington is an Australian sponge cake dipped in chocolate then coated with coconut. I grew up in Macedonia, but my grandmother was making something very similar to a lamington which she called a cake with jam (that's the direct translation). And now I realized that it is actually very similar (if not the same) with a lamington cake. My grandmother claimed that it is her own recipe, but who would know. It's a small world after all. Nevertheless, what I know is that it is a super delicious cake! So after a lot of trials to make a tummy and celiac friendly version, I'm so happy to share with you my version for these gluten-free lamingtons!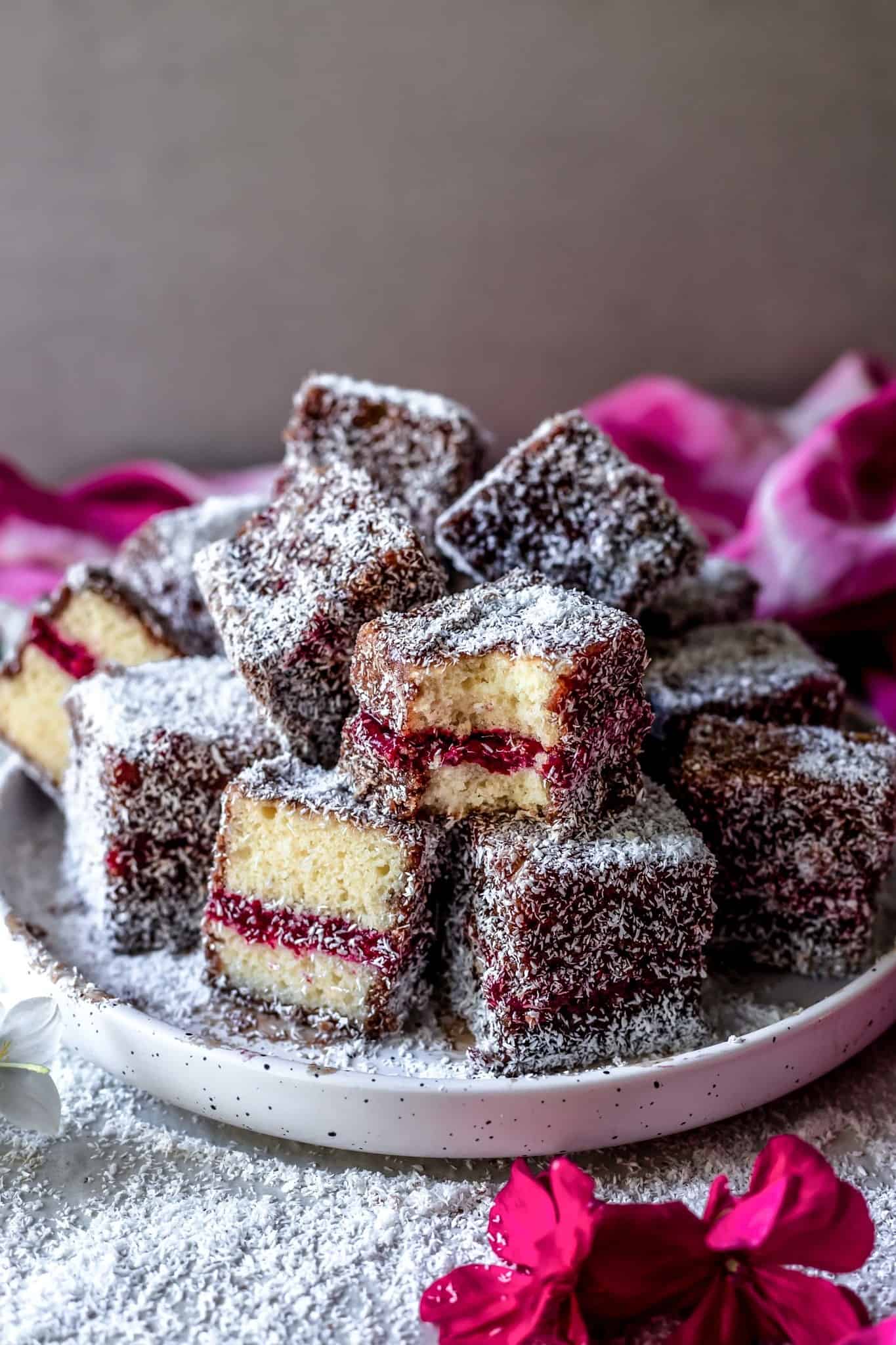 Gluten-Free Lamingtons Recipe
These lamingtons are spongy, soft, buttery, jam-infused, flavorful, perfectly sweetened and so delicious! They are great on their own or served with tea! Plus because they are not overly sweet they are perfect for a mid-day snack!
How to make these Gluten-Free Lamingtons?
To make these lamingtons you will first need to make the cake sponge! The sponge is very easy to make and you will only need 7 simple ingredients. For the jam, I use this recipe because it is fodmap friendly. In the end, you will just need to coat the cakes in chocolate and coconut. A little trick to make the coating easier is to freeze the sponge cake before coating. A firm and semi-frozen piece of cake are much easier to coat in chocolate and coconut than straight from the oven one.
To find the exact amount of the ingredients and step-by-step instructions, scroll at the end of this page.
what flour to use to make them?
I like to use my universal homemade gluten-free flour blend. Which is a mix of the following flours :
3. Sweet Rice Flour (Glutinous Rice aka Sticky Rice)
4. Tapioca Flour (tapioca starch is the same as tapioca flour)
5. Xanthan Gum
If you can't make that one, you can try with any gluten-free flour mix (just make sure it contains xanthan gum because that helps in binding the dough). The final result using different flour mix might vary slightly, depending on what flours your mix contains.
To find the recipe for my gluten-free flour mix click, HERE.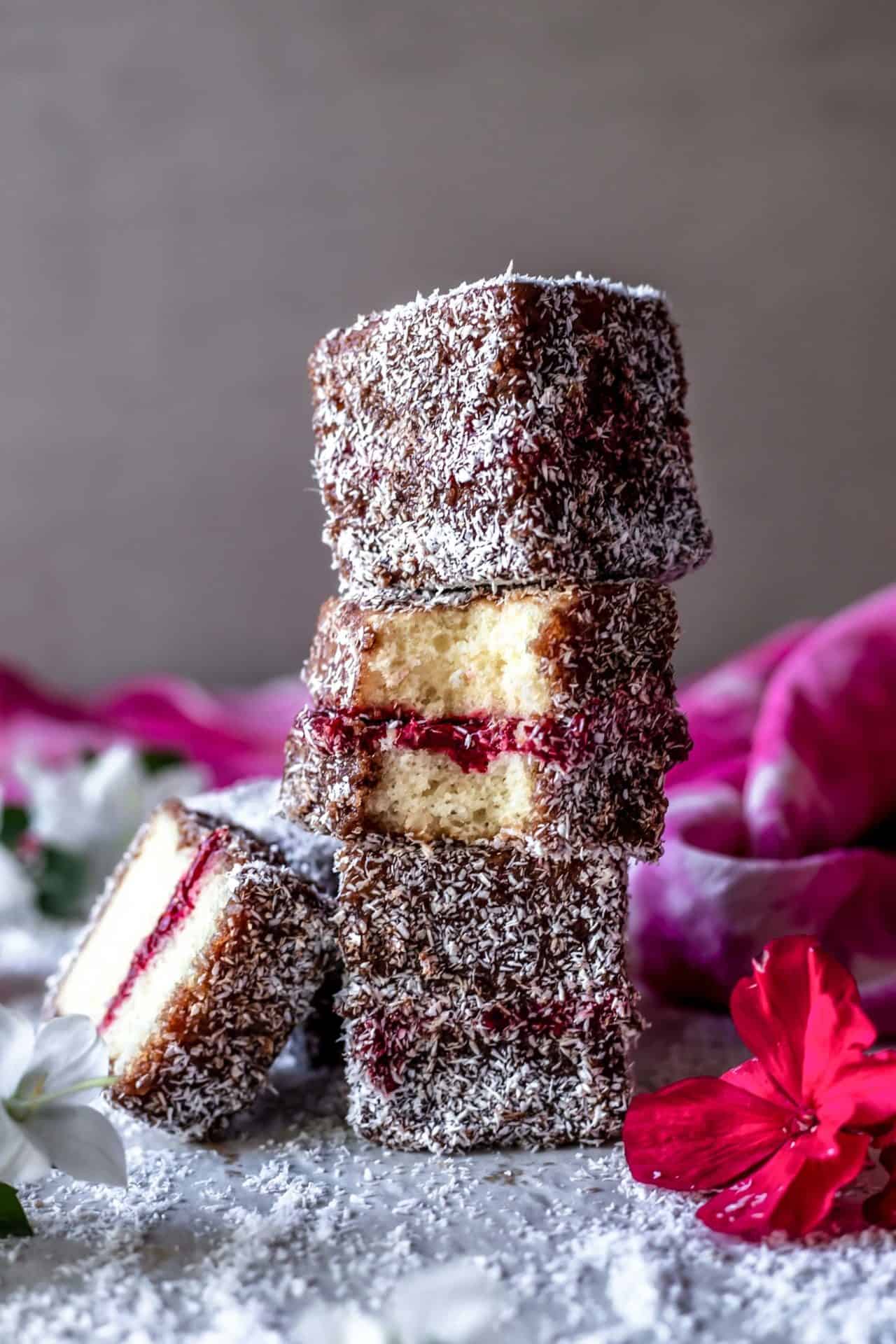 *freezing tip:
These Gluten-Free Lamingtons are freezer friendly. To freeze them simply wrap them in plastic foil and place them in a freezer-friendly bag or container. To defrost it, thaw in the fridge or room temperature.
*FODMAP tips:
*To make sure that your flour mix is fodmap friendly I recommend that you make your own gluten-free flour mix, I always make this one. Or always read the ingredients of the store-bought gluten-free flour mixes. Make sure your mix doesn't contain soy flour, chickpea/besan/gram/garbanzo bean flour, lentil flour, coconut flour, amaranth flour, or lupin flour.
*If you are using a jam, I recommend that you use a homemade one such as this one. Store-bought jams can be high FODMAP
*Shredded coconut is low FODMAP in 30g per serving. Coconut is used to coat the cakes and there is a very little amount of shredded coconut per cake.
*All the ingredients used in this recipe are FODMAP friendly, however, As a general rule always read the labels of the ingredients that you use as there can be sneaky FODMAP's in any product. To educate yourself on which foods are high in FODMAP's I'd strongly recommend downloading Monash Unversity FODMAP Diet.
Recipe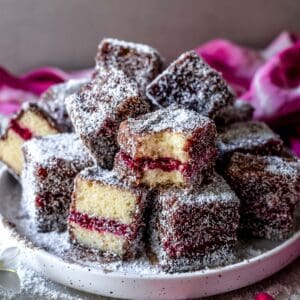 Gluten-Free Lamingtons
These Gluten-Free Lamingtons are spongy, soft, buttery, jam-infused, flavorful, perfectly sweetened and so delicious!
Ingredients
For the Cake Sponge
125

g

unsalted butter(softened)

(½ cup)

180

g

sugar

(1 cup)

½

teaspoon

pure vanilla extract

3

eggs

250

g

gluten-free flour

(1 ¾ cups)

3

teaspoon

baking powder

120

ml

lactose-free milk (or dairy free)

(½ cup)
Low FODMAP Jam or Spread (link of recipe in the instructions)
For the Icing
480

g

Icing sugar

(4 cups)

20

g

cocoa powder

(⅓ cup)

15

g

unsalted butter

1 tablespoon

140

ml

lactose-free milk

(½ cup)
Coating
100

g

 desiccated coconut
Instructions
To make the cake sponge
Preheat oven to 180C/350F (or fan forced 160C/320F).

Grease a 20 cm x 30 cm / 8" x 12" cake pan. Line with baking paper (parchment paper), leaving an overhang on all sides (to make it easy to remove).

In a large mixing bowl, whisk together flour and baking bowder.

In a separate mixing bowl, combine butter, vanilla and sugar and beat with an electric hand mixer until pale and fluffy.

Add eggs 1 at a time, beating well after each addition so the batter is smooth, not curdled.

Add half the flour and gently fold to combine, then stir in half the milk. Repeat with remaining flour and milk.

Pour the batter into the prepared pan and bake for 25 minutes until a skewer inserted into the centre comes out clean.

Leave the cake to cool in the tin for 10 minutes, then turn out onto a wire rack (leave the baking paper attached). 

Cut cake in half horizontally, then each half into 15 squares (5 x 3), or 18 rectangles. Freeze for 1 to 1.5 hours or leave it in the fridge overnight
To make the icing
Sift the icing sugar and cocoa powder into a large bowl. Warm the milk and butter in a small pan until the butter has melted. Add to the icing sugar and cocoa powder and stir until smooth. Leave to cool for a few minutes.

Place coconut in a shallow bowl or pan with a largish surface area.

Take the sponge out from the fridge or freezer, spread jam on one side and sandwich with another piece of cake.

Place a piece of cake in the icing and roll to coat using 2 forks. Transfer it into the coconut and quickly roll to coat all over in coconut. Transfer to tray.

Repeat with remaining sponges. Leave for 1-2 hours or until set.The finished lamingtons will keep in an airtight container for up to 2 days.