I absolutely love carrot cake! The rich texture of the cake, combined with the creaminess of the cream cheese frosting makes this cake so luxurious and irresistible. Don't you agree? One thing I'm the proudest of is that I created a gluten-free and low FODMAP Carrot Cake that tastes so good that no one can tell that it is gluten-free! I mean for anyone who has tried baking with gluten-free flour knows how this is the ultimate success. And to celebrate my success I had the whole cake for my self. (just kidding) but I did had a few pieces (ok maybe half of the cake, please don't judge me). Once you try this cake you will know what I'm talking about.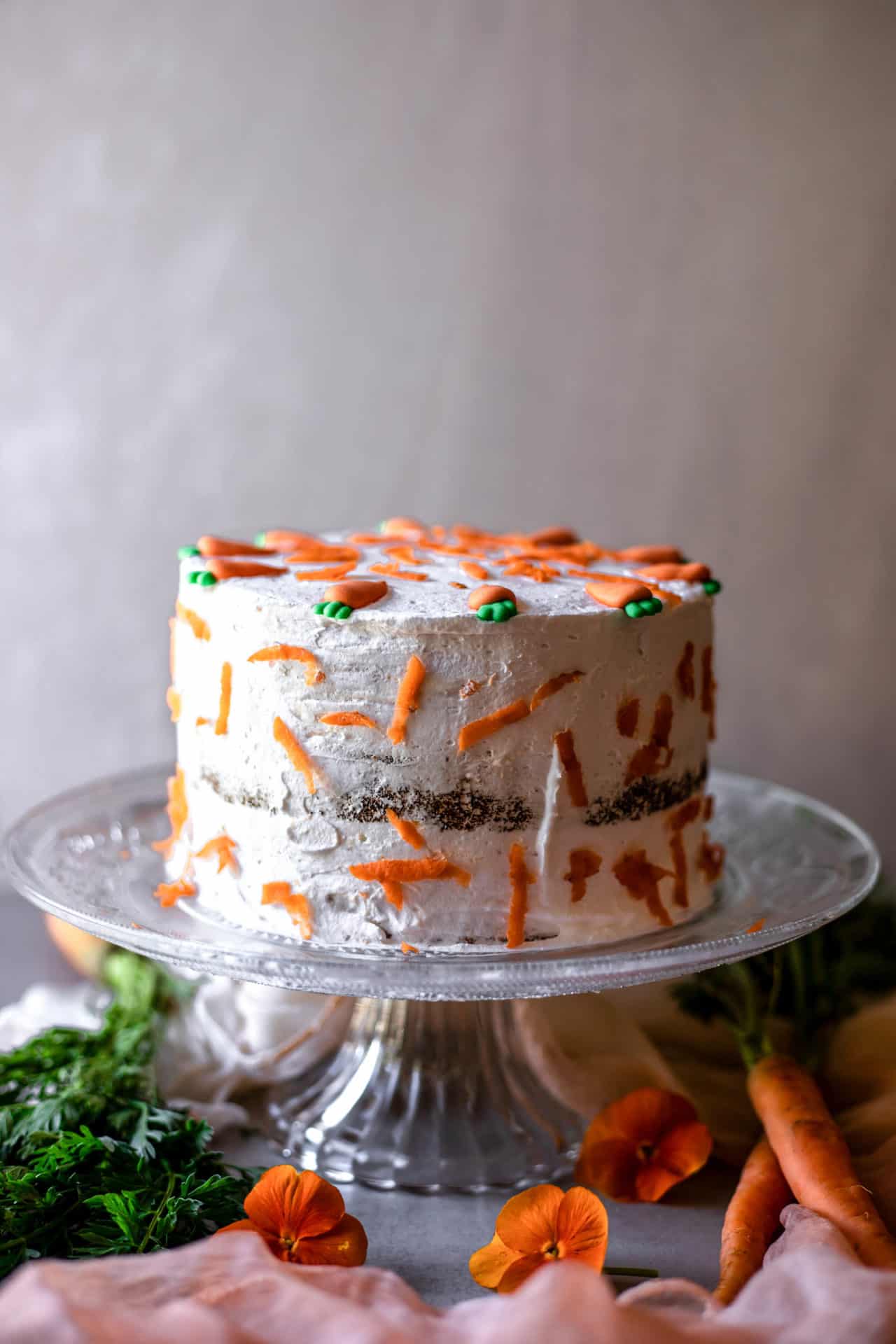 Low FODMAP Carrot Cake Recipe
This carrot cake is perfectly sweetened, flavorful, super tender and fluffy, moist, carrot packed and so delicious! The rich texture and flavor make this cake so festive and the perfect choice for any occasion. But if you are like me, you can also just make it for yourselves (no judgment from me)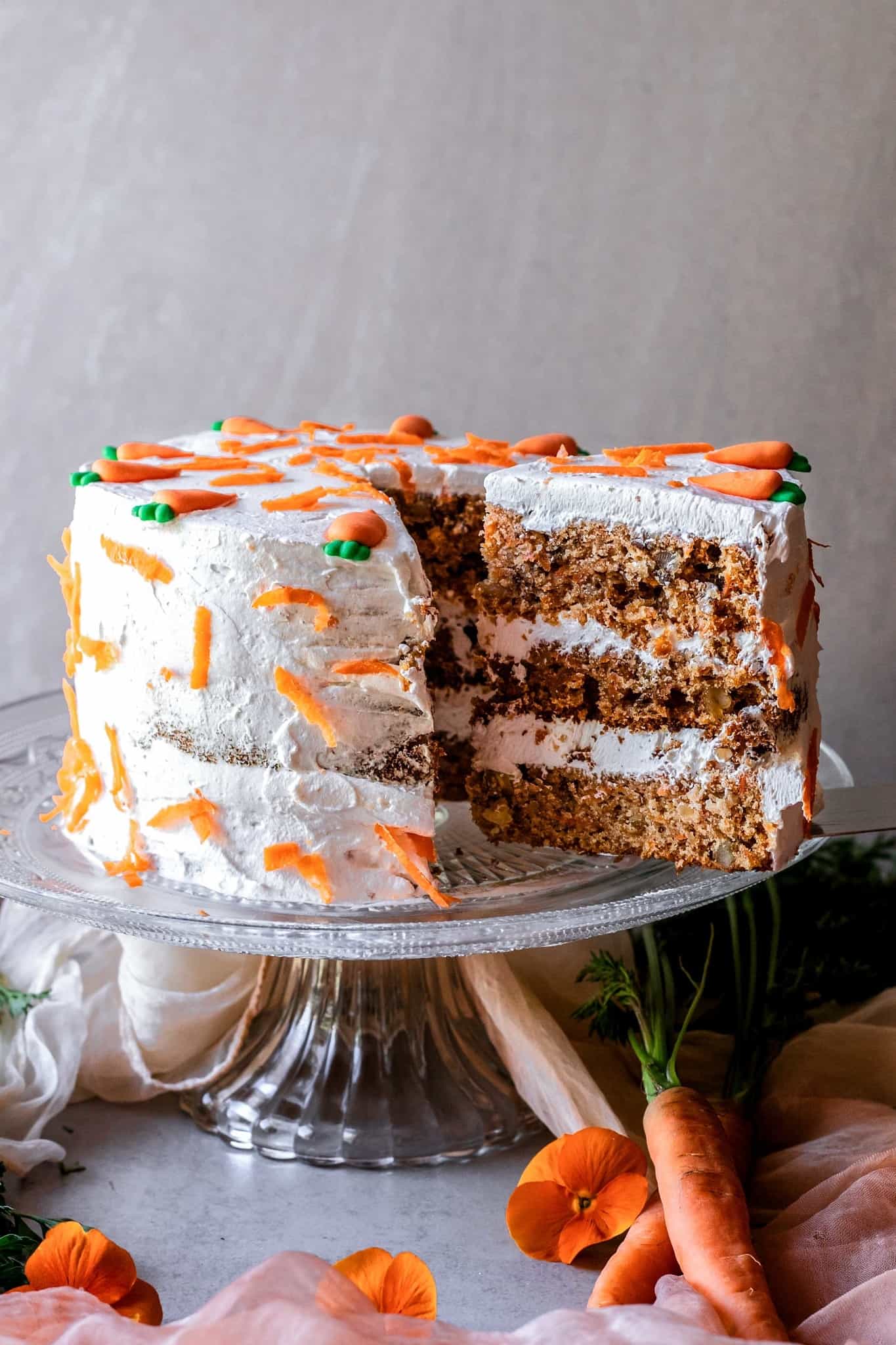 How to make this Low FODMAP Carrot Cake.
Even though it looks very festive and luxurious, this carrot cake is very simple and easy to make. It takes only 1h to make and there are 3 simple steps that you will need to do:
1.Make the cakes
2.Make the frosting
3.Assemble the cake
To find the exact amount of the ingredients and step-by-step instructions, scroll at the end of this page.
what flour to use to make it?
I like to use my universal homemade gluten-free flour blend. Which is a mix of the following flours :
3. Sweet Rice Flour (Glutinous Rice aka Sticky Rice)
4. Tapioca Flour (tapioca starch is the same as tapioca flour)
5. Xanthan Gum
If you can't make that one, you can try with any gluten-free flour mix (just make sure it contains xanthan gum because that helps in binding the dough). The final result using different flour mix might vary slightly, depending on what flours your mix contains.
To find the recipe for my gluten-free flour mix click, HERE.
how to freeze this low FODMAP carrot cake.
Frosted cake or unfrosted cake layers can be frozen up to 2-3 months. Thaw overnight in the refrigerator and bring to room temperature before decorating/serving.
* fodmap tip:
*To make sure that your flour mix is FODMAP friendly I recommend that you make your own gluten-free flour mix, I always make this one. Or always read the ingredients of the store-bought gluten-free flour mixes. Make sure your mix doesn't contain soy flour, chickpea/besan/gram/garbanzo bean flour, lentil flour, coconut flour, amaranth flour, or lupin flour.
*As a general rule always read the labels of the ingredients that you use as there can be sneaky FODMAP's in any product. To educate yourself which foods are high in FODMAP's, I strongly recommend downloading Monash Unversity FODMAP Diet App
*gluten-free tip:
If you are celiac or highly sensitive to gluten, buy certified gluten-free baking powder. Baking powder is naturally gluten-free, however, depending on the manufacturing place and process there can be cross-contamination.
Recipe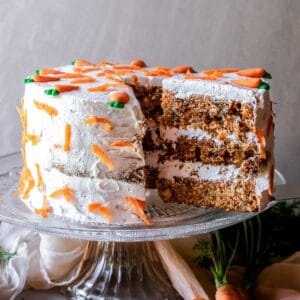 Low FODMAP Carrot Cake (Gluten-Free)
This Low FODMAP Carrot Cake is perfectly sweetened, flavorful, super tender and fluffy, moist, carrot packed and so delicious!
Ingredients
For the carrot cakes
150

g

crushed walnuts

250

g

brown sugar

160

g

light cooking oil

3

eggs

zest from one orange

80

g

crushed pineapple

(from fresh pineapple)

210

g

gluten free flour

1

teaspoon

baking powder

½

teaspoon

baking soda

1

teaspoon

cinnamon

½

teaspoon

ground ginger

¼

teaspoon

ground nutmeg

1

teaspoon

Vanilla Extract

170

g

grated carrots
For the cream cheese forsting
300

g

lactose-free full-fat block cream cheese 

(softened to room temperature)

150

g

unsalted butter

((softened to room temperature)

370

g

confectioners sugar 

1

teaspoon

pure
Instructions
To make the cakes
Preheat the oven to 350F (175C ) degrees and grease and flour three 6-inch cake pans. Set aside. 

In a large bowl, whisk the brown sugar, oil, eggs,crused pineaapple, vanilla, and orange zest together until combined.

In another large bowl, whisk the flour, baking powder, baking soda, salt, cinnamon, ginger, and nutmeg, until everything is well combined.

Pour the wet ingredients into the dry ingredients and using a spatula, fold the ingredients together until combined.Then, fold in the carrots and crushed walnuts.

Divide the batter evenly among the cake pans. Smooth the batter evenly into each pan with the back of a spoon. 

Bake the cakes on 350F (175C ) for about 25 minutes, or until a toothpick inserted into the middle comes out with only a few crumbs attached. 

Allow cakes to cool in the pan for 10 minutes and turn out onto a wire rack to cool completely before frosting. 
To make the cream cheese frosting
In a large bowl using a handheld or stand mixer fitted with a paddle or whisk attachment, beat the cream cheese and butter together on high speed until smooth and creamy. Add the confectioners' sugar and vanilla. Beat on low speed for 30 seconds, then switch to high speed and beat for 2 minutes. 

If you want the frosting a little thicker, add an extra of ¼ cup confectioners sugar. 
To assamble the cake
Place one cake layer on your cake stand. Spread a generous, about ¾ cup, frosting over top of the first layer. Place the next sponge on top and repeat the same step. Then place the last sponge on top and spread the remaining frosting all over the top and the sides of the cake. 

Decorate with sugar carrots, fresly grated caroot or crushed walnuts.Refrigerate cake for at least 15-20 minutes before slicing. This helps the cake hold its shape when cutting.

Cover leftover frosted cake tightly and store in the refrigerator for up to 5 days.