I tried Khachapuri for a first time a few weeks ago when scrolling through Pinterest I saw a very delicious picture of this bread and decided that I needed to make a gluten-free version of it. And wow was I pleasantly surprised! This gluten-free Khachapuri (Georgian Cheese Bread) turned out to be one of the most delicious bread that I've recently tired!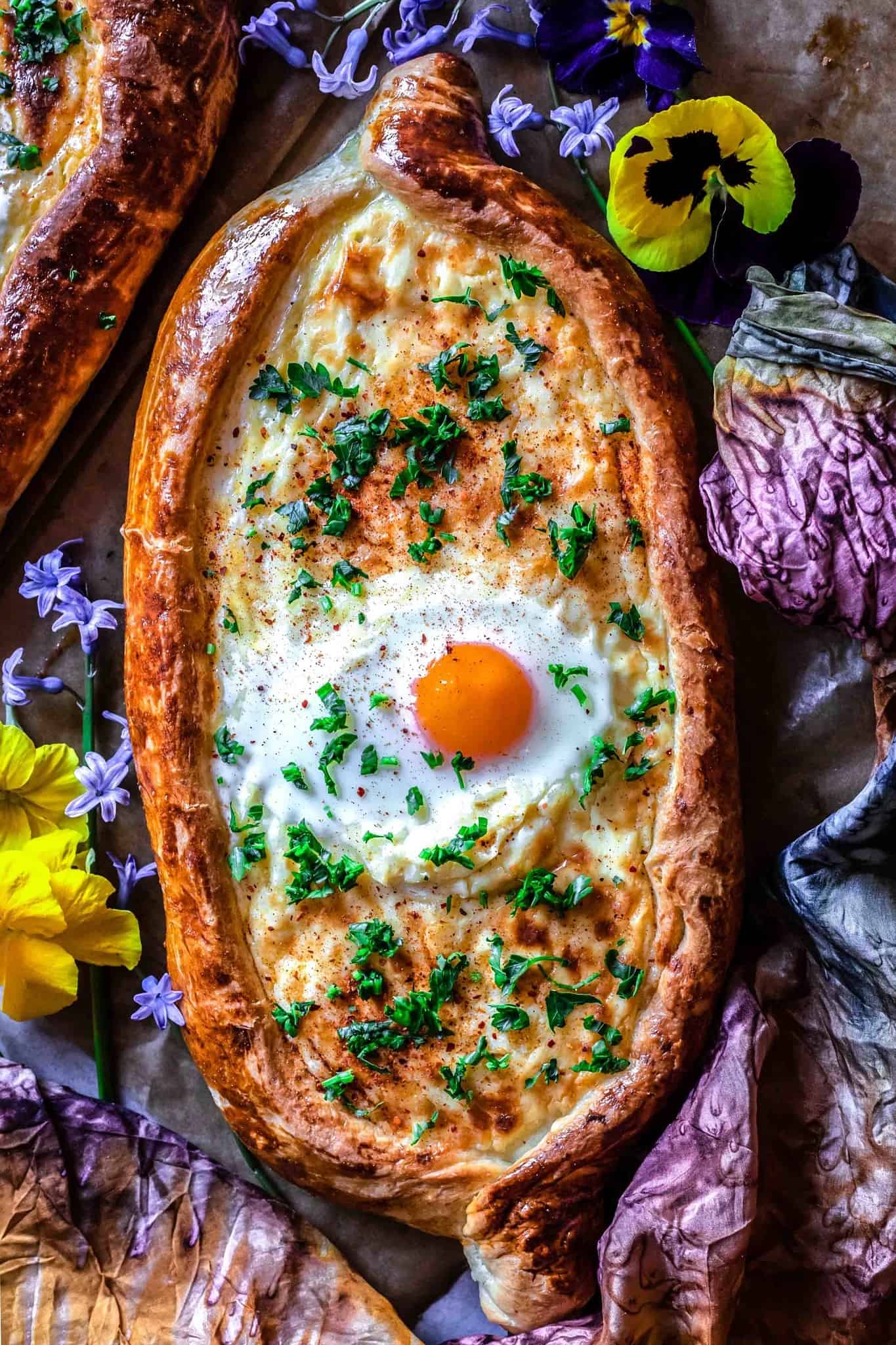 Gluten Free Khachapuri (Georgian Cheese Bread) Recipe.
This Georgian cheese bread is so cheesy, super flavorful, savory, comforting, satisfying, soft, and so delicious!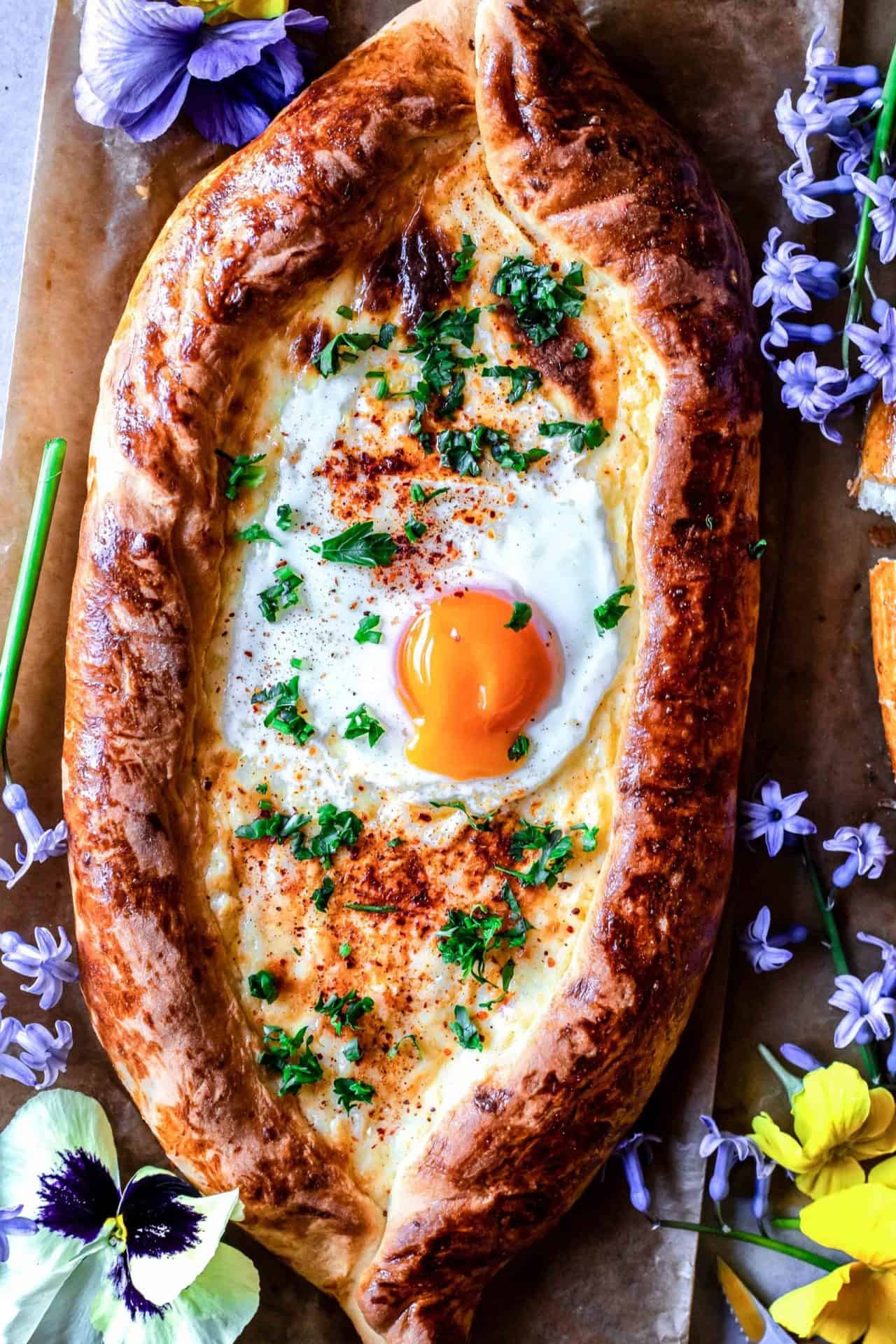 How to make this Gluten Free Khachapuri (Georgian Cheese Bread)?
This bread is very simple to make, the reason it takes longer time is that you need to wait for the dough to rise. There are 4 simple steps in making this bread:
1.Make the dough
2.Make the cheese filling
3.Form and fill the bread
4.Bake
To find the exact amount of the ingredients and step-by-step instructions, scroll at the end of this page.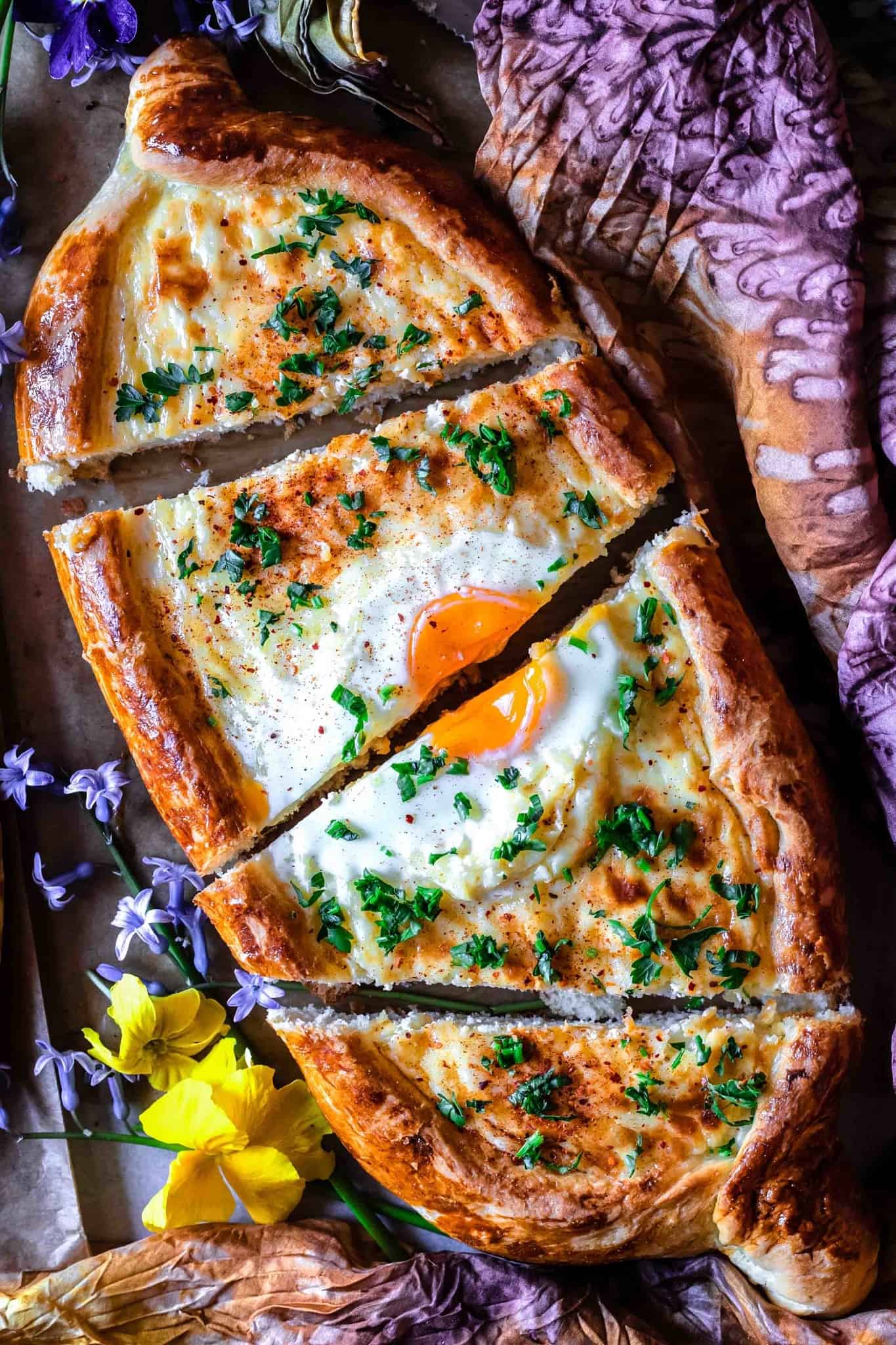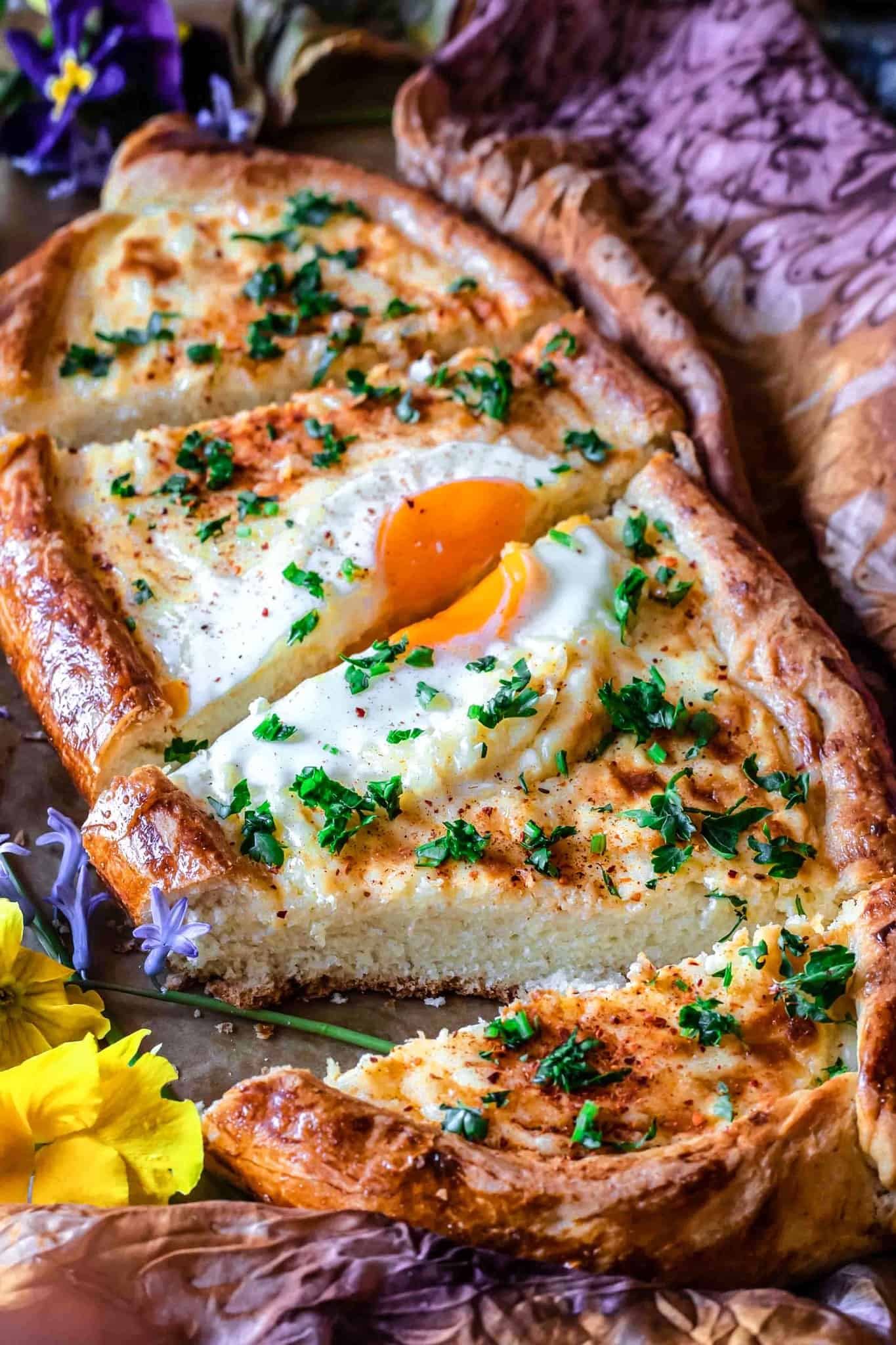 what flour to use to make it?
I like to use my universal homemade gluten-free flour blend. Which is a mix of the following flours :
3. Sweet Rice Flour (Glutinous Rice aka Sticky Rice)
4. Tapioca Flour (tapioca starch is the same as tapioca flour)
5. Xanthan Gum
If you can't make that one, you can try with any gluten-free flour mix (just make sure it contains xanthan gum because that helps in binding the dough). The final result using different flour mix might vary slightly, depending on what flours your mix contains.
To find the recipe for my gluten-free flour mix click, HERE.
* fodmap tip:
*To make sure that your flour mix is fodmap friendly I recommend that you make your own gluten-free flour mix, I always make this one. Or always read the ingredients of the store-bought gluten-free flour mixes. Make sure your mix doesn't contain soy flour, chickpea/besan/gram/garbanzo bean flour, lentil flour, coconut flour, amaranth flour, or lupin flour.
*As a general rule always read the labels of the ingredients that you use as there can be sneaky FODMAP's in any product. To educate yourself of which foods are high in FODMAP's I'd strongly recommend downloading Monash Unversity FODMAP Diet App
*gluten-free tip:
If you are celiac or highly sensitive to gluten, buy certified gluten-free baking powder. Baking powder is naturally gluten-free, however, depending on the manufacturing place and process there can be cross-contamination.
Recipe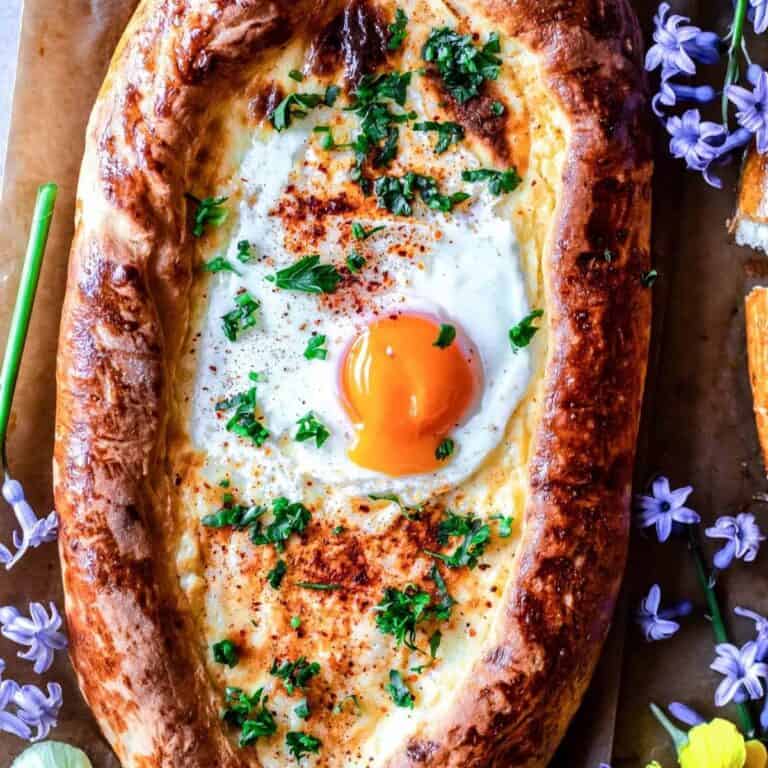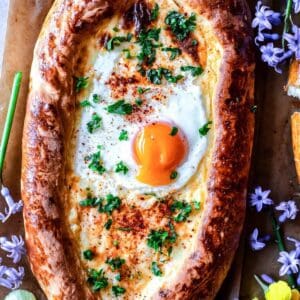 Gluten Free Khachapuri (Georgian Cheese Bread)
This Gluten Free Khachapuri (Georgian cheese bread) is so cheesy, super flavorful, savory, comforting, satisfying, soft, and so delicious!
Ingredients
To make the dough
8

g

instant yeast

2

tablespoon

sugar

500

g

gluten-free flour

½

teaspoon

salt

2

eggs

100

g

unsalted butter

(room temperature)

250

ml

lactose-free milk (full-fat)

(lukewarm)
For the cheese filling
300

g

lactose-free cream cheese

80

g

feta cheese

100

g

mozarella cheese

3

eggs

salt & pepper according to taste

2

tablespoon

unsalted butter

1

egg (for egg wash)
Instructions
To make the dough
Add 1 teaspoon of sugar over the yeast and ⅓ cup of the milk. Stir to dissolve.

In a large bowl combine flour, rest of the sugar, salt. Add melted butter, dissolved yeast, eggs and the rest of the milk.

Stir to combine and knead until the dough is soft, a bit sticky but quite elastic and pulls away from the side of the bowl. If it feels too soft, you can add extra flour and if it is not soft enough add a bit milk

Cover the dough with a plastic wrap, place it in a warm place and let it rise for about 40min or until double in size.
To make the cheese filling
In a medium bowl combine the cream cheese with the feta cheese, mozzarella and one egg.
To Assemble
Remove the dough from the bowl and place it onto a floured parchment paper(easier to do it over parchment paper, because the gluten-free dough is very fragile and this way you won't need to transfer it and risk breaking it in the process). Then cut it into 2 equal pieces. (for smaller bread cut into 4 equal pieces)

Spread each piece of the dough into a circle. Then roll 2 opposite sides of the circle towards the center so it ends up have a boat like shape. Then pinch the corners together.

Stuff each khachapuri with the cheese mixture. Beat 1 egg with a teaspoon of water, then brush the dough with egg wash.

Bake in a preheated 450°F (230°C ) oven for about 15 minutes or until the crust becomes golden brown.

Make a well in the center of each khachapuri with the back of a spoon (about 3 inches in diameter) and drop 1 egg into each well. Then stick a few small pieces of butter into the cheese.

Return the khachapuri back into the oven and bake for another 5-6 minutes. Cooking time may vary depending on your oven. The egg white should be white but still pretty runny. It will cook further as it sits in the hot cheese.