Galettes make perfect stylish breakfast and brunch, don't you agree? They are just so pretty and taste so luxurious! Lately, I've been absolutely obsessed with this mushroom and egg galette! It's a real savory treat!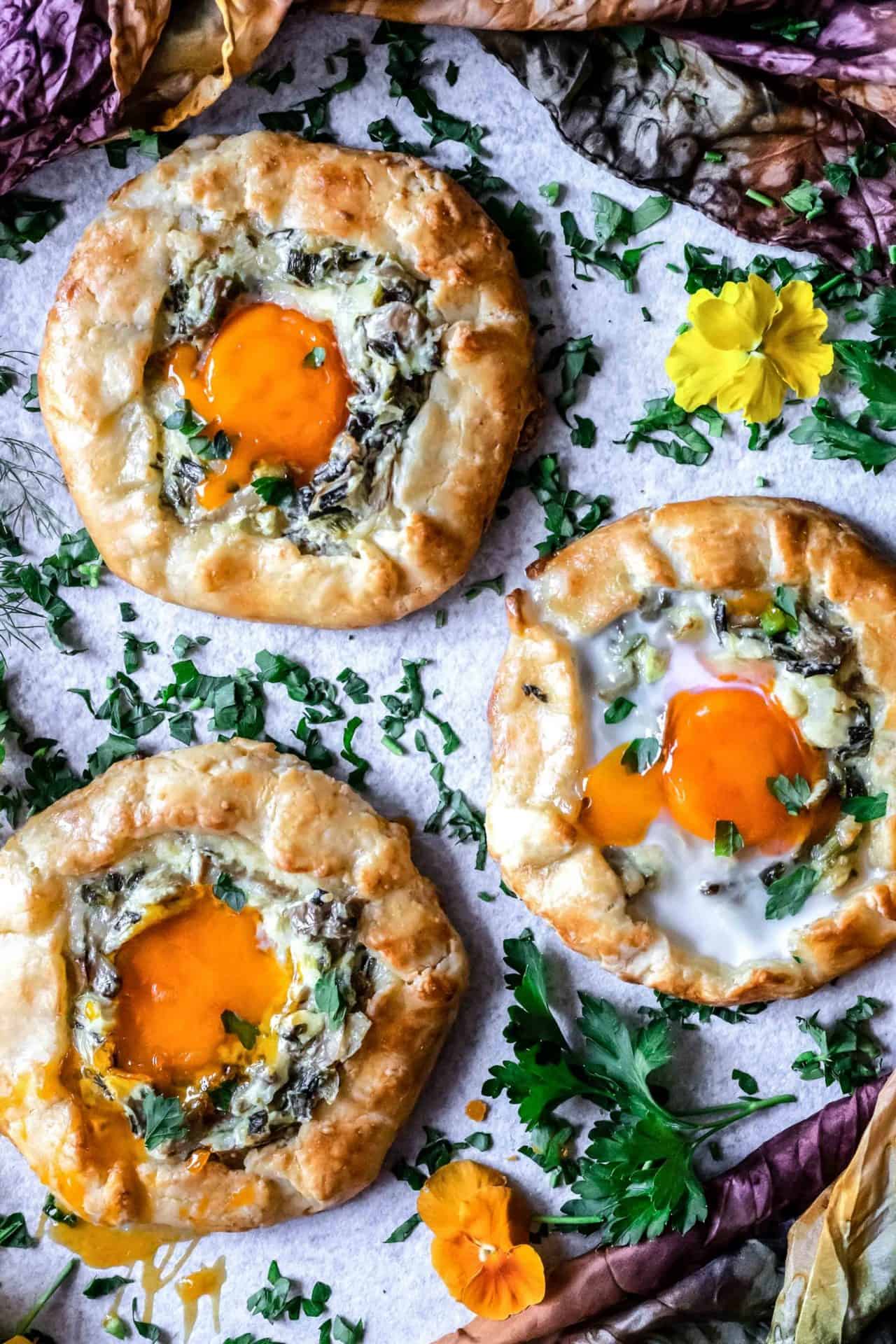 Mushroom and Egg Galette Recipe.
This Mushroom and Egg Galette is low FODMAP and Gluten-Free! Plus it is very simple to make, savory, cheesy and so delicious!
How to make this Mushroom and Egg Galette?
There are only 3 steps to make this Mushroom and Egg Galette:
1.First you need to make the gluten-free pie crust dough. And let it chill in the fridge for at least 1h.
2. In the meantime prepare the filling. For the filling, you will only need 4 ingredients.
3. In the end, take out the chilled pie crust dough. Roll it out, spread the filling, and they are ready to bake. You can either divide the dough and make 3 or 4 smaller or 1 or 2 bigger ones.
*FODMAP tip:
*To make sure that your flour mix is fodmap friendly I recommend that you make your own gluten-free flour mix, I always like to use my homemade gluten-free flour blend. Or, if you can't make your own then always read the ingredients of the store-bought gluten-free flour mixes. Make sure your mix doesn't contain soy flour, chickpea/besan/gram/garbanzo bean flour, lentil flour, coconut flour, amaranth flour, or lupin flour.
*In this recipe I use canned mushrooms. Canned mushrooms are low FODMAP, just make sure to rinse them well before using.
*Use only the green parts of the Scallions (spring onions). Because only the green parts are low FODMAP.
*As a general rule always read the labels of the ingredients that you use as there can be sneaky FODMAP's in any product. To educate yourself on which foods are high in FODMAP's I'd strongly recommend downloading Monash University FODMAP Diet App
Recipe
Mushroom and Egg Galette (Gluten-Free & Low FODMAP)
This Mushroom and Egg Galette is low FODMAP and Gluten-Free! Plus it is very simple to make, savory, cheesy and so delicious!
Ingredients
1

gluten-free pie crust

*link of the recipe in the instructions

2

tablespoon

olive oil

200

g

lactose-free cream cheese

3

spring onions (only the green parts)

(chopped)

150

g

canned mushrooms

(sliced)

150

g

gruyere cheese

salt & pepper

(according to taste)

4

eggs
For Brushing
1

small egg (beaten)

(optional)
Instructions
Make the gluten-free pie dough. Use this recipe for a super flaky gluten-free pie crust.
To make the filling
Heat a skillet over medium heat. Add the olive oil, the green parts of the spring onion, and canned mushrooms. And cook over medium heat for a few minutes, stirring constantly.

Once they start to soften add the cream cheese, and season with salt and pepper.

Cook for a minute or two, until the cream cheese melts.

On a lightly floured surface roll each piece of dough into a 8 inch (20cm) circle.

Place each onto a parchment paper lined baking sheet.

Spread cheese over each dough leaving about ½ inch (2cm) around the edge.

Spread mushroom & cream cheese mixture on top of cheese.

Fold dough over the filling. And brush with beaten egg.

Bake for about 20 minutes until slightly golden.

Remove from oven and make a well into the center of each galette.

Crack 4 eggs into 4 small different bowls. If eggs are too large remove some of the whites. Add an egg on each galette and bake for 10 minutes more until eggs are cooked.