Pavlova must be one of the prettiest cakes. I always feared to make it because I thought that it is a difficult cake to make. Recently I stumbled on a cooking channel where they were making Pavlova and I was surprised how easy the steps of making this cake were. So I braved up and I made my very first Pavlova Cake, and it wasn't just any pavlova cake. Because it's a cherry season I made Black Forest Pavlova and it was so good!
Black Forest Pavlova Recipe
This Pavlova cake is crunchy on the top, soft and marshmallowy in the middle, perfectly sweetened, chocolaty, cherry-infused and so delicious!
How to make this Black Forest Pavlova?
Pavlova cake is actually one of the easiest cakes I've ever made. There are only 4 steps to make this Black Forest Pavlova:
1. Make the meringue.
2. Make the chocolate whipping cream
3. Make the cherry sauce
4. Assemble and decorate
To find the exact amount of the ingredients and step-by-step instructions, scroll at the end of this page.
* FODMAP tip:
*Cherries are low FODMAP only in 20 grams per serving. This cake requires 180g cherries and serves 10.
*As a general rule always read the labels of the ingredients that you use as there can be sneaky FODMAP's in any product. To educate yourself of which foods are high in FODMAP's I'd strongly recommend downloading Monash Unversity FODMAP Diet App
*gluten-free tip:
If you are celiac or highly sensitive to gluten, buy certified gluten-free cornstarch. Cornstarch is s naturally gluten-free, however, depending on the manufacturing place and process there can be cross-contamination.
Looking for more low FODMAP cherry desserts?
Check out my Cherry Liqueur Chocolate Cups
Recipe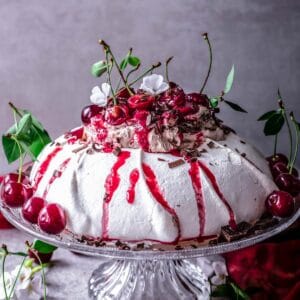 Black Forest Pavlova (Low FODMAP)
This Pavlova cake is crunchy on the top, soft and marshmallowy in the middle, perfectly sweetened, chocolaty, cherry-infused and so delicious.
Ingredients
For the Pavlova
4

large egg whites

220

g

superfine white sugar

(1 cup)

1

teaspoon

pure vanilla extract

½

teaspoon

cream of tartar

1

teaspoon

Cornstarch
For the Chocolate Whipping Cream
240

ml

lactose-free whipping cream

(1 cup)

1

tablespoon

confectioners sugar

½

teaspoon

pure vanilla extract

100

g

dark chocolate

(melted)
For the cherry sauce
150

g

cherries fresh or frozen

50

ml

water
Instructions
Preheat the oven to 180°C (350°F). Using a plate, bowl or cake pan to draw a circle between 7 and 8 inches (18-20cm) on a sheet of parchment paper. Place the paper drawn side down on a baking sheet and set aside.

Add the egg whites, cream of tartar and vanilla to the bowl of a clean stand mixer fitted with a whisk attachment and mix on medium-low. You can also use an electric hand mixer but if will require some patience.

Once the egg whites are frothy you can begin sprinkling in the sugar a tablespoon at a time.TIt is very important not to dump the sugar in but to add it very slowly. This way you will get a thick, glossy meringue with a marshmallowy texture.

Sprinkle the cornstarch onto the meringue and fold in using a spatula.

Mix on high speed until glossy stiff peaks form, about 2 more minutes. The peaks should be stiff enough that you can hold the whisk upright and the peaks won't move.

Transfer the meringue to your prepared baking sheet .You can make decorative peaks with the back of a large spoon if desired. Make sure the edges are relatively tall and there is a nice dip in the center.

Place pavlova in the oven. As soon as you close the oven door, reduce heat to 90°C (200°F). Bake until the pavlova is firm and dry, about 90 minutes total. Turn the oven off and let the pavlova cool inside the oven

In the meantime prepare the chocolate whipping cream and the cherry sauce.
To Make the Chery Sauce:
In a saucepan, place 150g pitted cherries, add a little bit of water (about 50ml) and let them simmer over medium heat.

Once the water starts to evaporate and it starts to thicken, place it in a blender (or use a hand blender) to blend it into a sauce.

Strain the blended sauce, to get a nice liquidy sauce.
To make the chocolate whipping cream
Using a hand mixer or a stand mixer fitted with a whisk attachment, whip the heavy cream, sugar, and vanilla extract on medium-high speed. Once peaks start to form, add the melted chocolate and mix for another minute or two.
To assemble the Cake
Place the cooled Pavlova on a cake stand, top with chocolate whipped cream, cherry sauce and the leftover fresh cherries.Slice and serve.

Keep decorated pavlova in the fridge for up to 2 days.