The first time I tried Swedish meatballs was in IKEA, cliché I know! I've tried meatballs before, but usually on their own or in tomato sauce, never in gravy. And oh my god! that gravy! I fell in love with that gravy! The best thing that I've tried in my life! Because I'm not the biggest meat fan, I decided to try to make Vegetarian Swedish Meatballs and they turned out heavenly!
Vegetarian Swedish Meatballs Recipe
These meatballs are savory, flavorful, luscious, healthy, tossed in creamy gravy and so delicious.
They go great over pasta, mashed potatoes, sweet potatoes, rice, or even quinoa. My favorite, however, is pasta and mashed potatoes.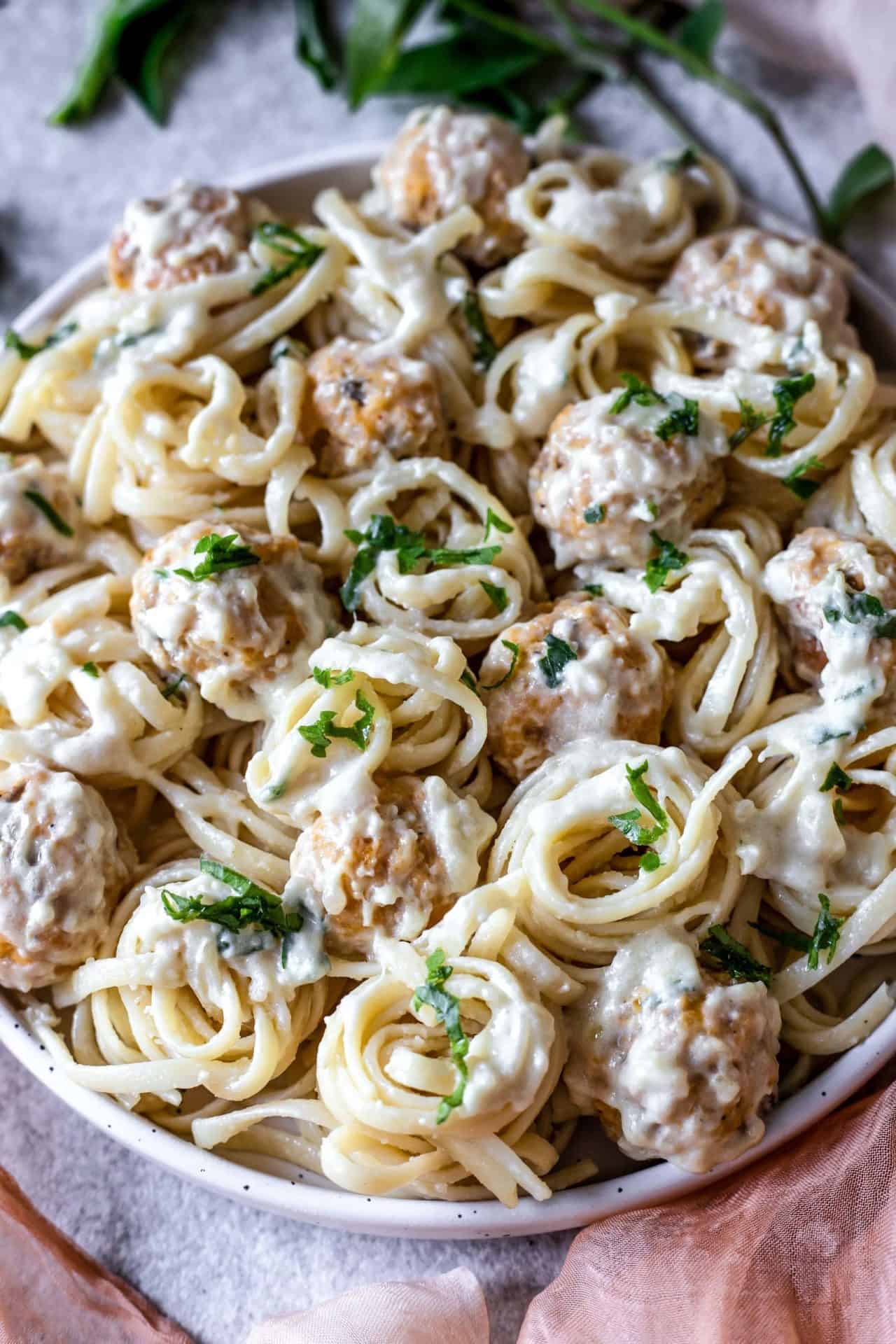 How to make these Vegetarian Swedish Meatballs?
These meatballs are very easy to make, simply mix all the ingredients together, form the balls and bake!
While they are baking prepare the super simple classic gravy, for which you will only need 6 ingredients and 10min to make!
what flour to use to make it?
I like to use my universal homemade gluten-free flour blend. Which is a mix of the following flours :
3. Sweet Rice Flour (Glutinous Rice aka Sticky Rice)
4. Tapioca Flour (tapioca starch is the same as tapioca flour)
5. Xanthan Gum
If you can't make that one, you can try with any gluten-free flour mix (just make sure it contains xanthan gum because that helps in binding the dough). The final result using different flour mix might vary slightly, depending on what flours your mix contains.
To find the recipe for my gluten-free flour mix click, HERE.
Storing / Freezing tip:
Cooked meatballs can be stored in the fridge for up to 3 days. (just make sure to store them separately from the gravy, otherwise, the meatballs will get soft and mushy)
Uncooked meatballs can be frozen for up to 3 months. Place the meatballs in freezing containers, when ready to use, take out and bake as instructed.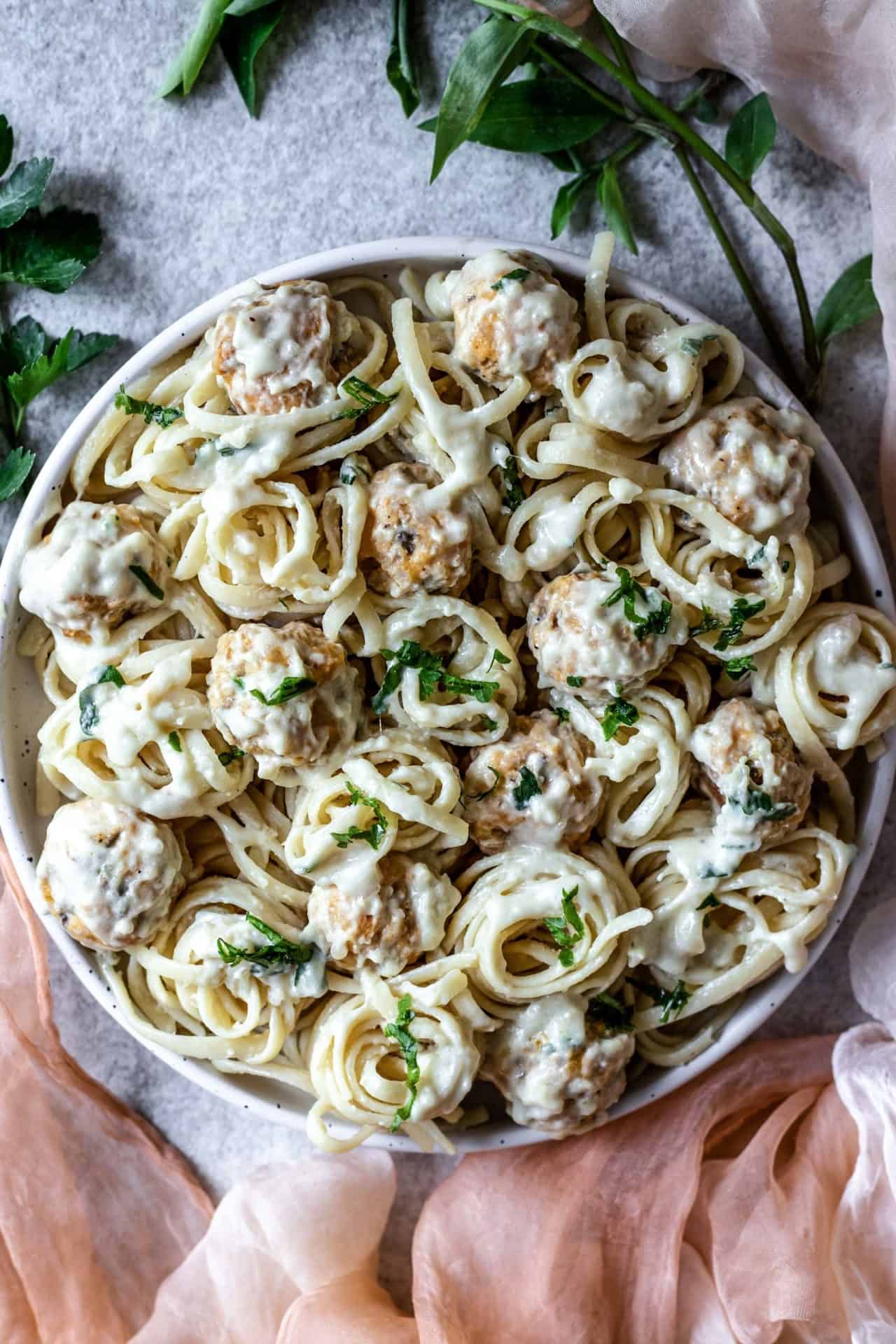 *FODMAP tip:
*In this recipe I use canned mushrooms. Canned mushrooms are low FODMAP, just make sure to rinse them well before using.
*Ricotta cheese is low FODMAP in 40g per serving. This recipe uses 125g ricotta cheese, however it serves 4. 125g divided by 4 is 31g per serving.
*Garlic is not low FODMAP. In the gravy recipe, there is 1 clove of garlic, However, the garlic is only used to make garlic-infused gravy. After frying the garlic in the butter you take out all the garlic bits. This way you get tasty garlicky gravy without any garlic in it.
*As a general rule always read the labels of the ingredients that you use as there can be sneaky FODMAP's in any product. To educate yourself of which foods are high in FODMAP's I'd strongly recommend downloading Monash Unversity FODMAP Diet App
Looking for more meatball recipes?
Check out my recipe for Low FODMAP Meatballs
Recipe
Vegetarian Swedish Meatballs
These Vegetarian Swedish Meatballs are low FODMAP, savory, flavorful, luscious, healthy, tossed in creamy gravy and so delicious.
Ingredients
For the Meatballs
200

g

cooked rice

(1 cup)

150

g

canned mushrooms

(1 cup)

125

g

ricotta cheese

(½ cup)

30

g

crushed cornflakes (or gluten free breadcrumbs)

2

eggs

½

teaspoon

smoked paprika

2

tablespoon

garlic infused olive oil

salt & pepper accoring to taste
For the gravy
3

tablespoon

salted butter

1

clove of garlic

*see FODMAP tips above

3

tablespoon

gluten free flour

370

ml

vegetable broth

*see FODMAP tips above

150

g

lactose free sour cream

(½ cup)

slat and pepper to taste
Instructions
To make the meatballs
Preheat the oven to 200°C (400°F).

Mix the meatball ingredients together. Roll into balls and place on a parchment-lined baking sheet. Bake for 15-20 minutes or until firm when you press them.
To make the gravy
Melt butter in a large skillet. Chop the garlic clove roughly and add it in the pan. Fry over low heat, stirring frequently. Once the garlic starts to soften. Take out the garlic bits (make sure you take all of them, as garlic is not low FODMAP). Add the gluten free flour and let it bubble for a few minutes to remove any floury taste.

Slowly add the broth, whisking after each addition, to make a smooth sauce.

In the end stir in the lactosr-free sour cream. Adjust consistency to taste with more broth. Season with salt and pepper to taste

Serve over pasta, mashed potatoes, cooked veggies. And enjoy! 🙂