Pancakes and Sunday mornings go perfect together. Am I right? But honestly, I'd take pancakes on any day. They can brighten up any morning. Lately, I've been obsessed with these gluten-free chocolate banana pancakes. Since I'm a chocoholic I like adding chocolate on almost anything. But in these pancakes, the chocolate together with the banana flavor is a match made in heaven.
Gluten-Free Chocolate Banana Pancakes Recipe.
These pancakes are so flavorful, chocolaty and super delicious. The texture is so soft and fluffy you will be addicted to them at the first bite. For extra chocolaty flavor, you can add chocolate chips or once they are done pour some melted chocolate over them.
How to make these Gluten-Free Chocolate Banana Pancakes?
They might look super fancy and luxurious but they are actually super simple to make. You will only need 8 simple ingredients and 15 minutes of your time.
For the detailed step-by-step instruction scroll at the end of this page.
what flour to use to make them?
For this recipe, you will need to use a gum-free gluten-free flour blend. If you wanna make your own for this recipe mix: (70g white rice flour, 20g potato starch, and 10 tapioca flour/starch.)
* fodmap tip:
*To make sure that your flour mix is fodmap friendly I recommend that you make your own gluten-free flour mix. Or always read the ingredients of the store-bought gluten-free flour mixes. Make sure your mix doesn't contain soy flour, chickpea/besan/gram/garbanzo bean flour, lentil flour, coconut flour, amaranth flour, or lupin flour.
*Use common bananas, not sugar bananas. Use firm bananas (green to just yellow), very ripe bananas are high FODMAP.
*As a general rule always read the labels of the ingredients that you use as there can be sneaky FODMAP's in any product. To educate yourself of which foods are high in FODMAP's I'd strongly recommend downloading Monash Unversity FODMAP Diet App
*gluten-free tip:
If you are celiac or highly sensitive to gluten, buy certified gluten-free baking soda and baking powder. Both are naturally gluten-free, however, depending on the manufacturing place and process there can be cross-contamination.
Recipe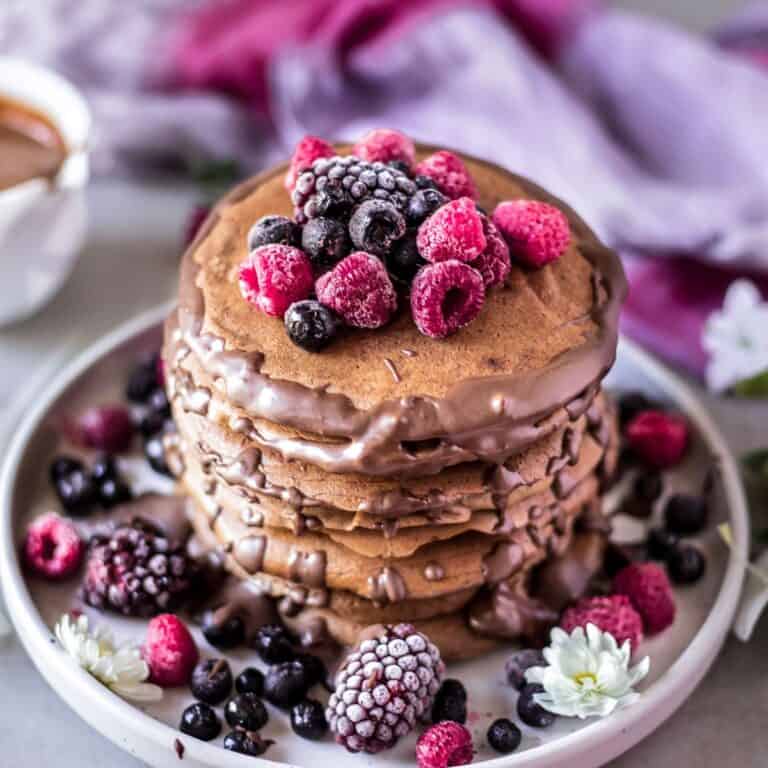 Gluten Free Chocolate Banana Pancakes
These gluten-free chocolate banana pancakes are vegan and low FODMAP. They are so fluffy, flavorful, chocolaty and super delicious.
Ingredients
1

banana

(unripe)

240

ml

almond milk

(or another non-dairy milk)

200

g

gluten-free flour

(gum-free)

2 ½

tablespoon

melted coconut oil

3

tablespoon

pure maple syrup

2

tablespoon

cocoa powder

1

teaspoon

baking powder

¼

teaspoon

baking soda
Instructions
In a mixing bowl whisk together the flour, baking powder, baking soda, and cocoa powder. And set aside.

In a separate bowl mash the banana with a fork and then add the oil, sweetener of choice and milk. Mix to combine all the ingredients. (You can adjust the sweetness according to taste )

Combine the wet and dry ingredients together. (you can adjust the thickens of the batter, if too thick add a tablespoon or two of milk).

If you wanna make it more chocolaty add some chocolate chips in the batter. (optional)

Heat a little oil in a non-stick pan over medium heat.

Pour about 2 tablespoons per pancake and fry on one side until bubbles appear, then flip on the other side and fry for another 3 minutes.

Serve them with melted chocolate and fresh berries or any other fruit of choice (optional)