Gyro always reminds of carefree summers and holidays. That's because gyro was something I always ate when I went on holiday to Greece. We never made gyro at home. That was mainly because we thought that making a homemade naan bread is difficult. When I started eating gluten-free, I figured I'll probably never have a gyro in my life again. I mean I was thinking a normal naan bread is difficult to make, can you then imagine making a gluten-free one. That really seemed impossible. And it was until about a month ago when I braved up and tried to make my first homemade gluten-free naan bread. I have an entirely different post about how silly I was and how incredibly easy it is to make your own gluten-free naan. But once I succeeded and had that warm gluten-free naan in front of me. I knew immediately what I had to make with it. Yes, the first thought I had was a Gluten-Free Chicken Gyro. And life was good once again.
Gluten-Free Chicken Gyro.
This gyro is super flavorful, light, easy to digest and beyond delicious. The taste is very Mediterranean and each bite brings me back to Greece. This gyro is definitely one of my favorite recipes I've done and I'm so happy to share it with you.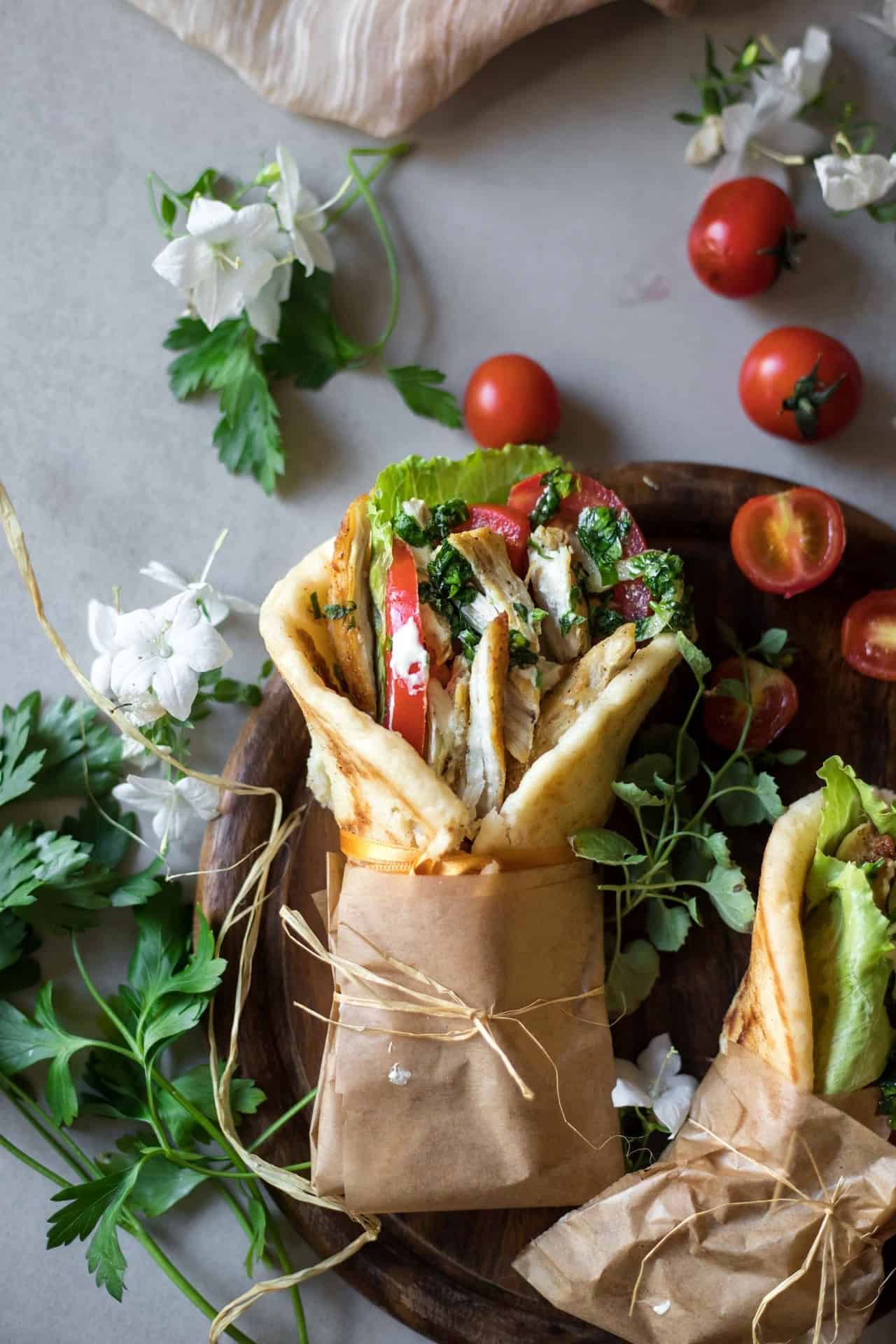 How to make this Gluten-Free Chicken Gyro.
If you are like how I was in the past and believe that homemade gyro is very difficult to make. I have news for you! IT REALLY ISN'T! In fact, it is super super easy! First, you need to make the bread, use this recipe for best gluten-free naan bread. Once your bread is ready, prepare the chicken fingers, the tzatziki sauce, and the fresh veggies.
For the detailed step-by-step instructions scroll at the end of this page.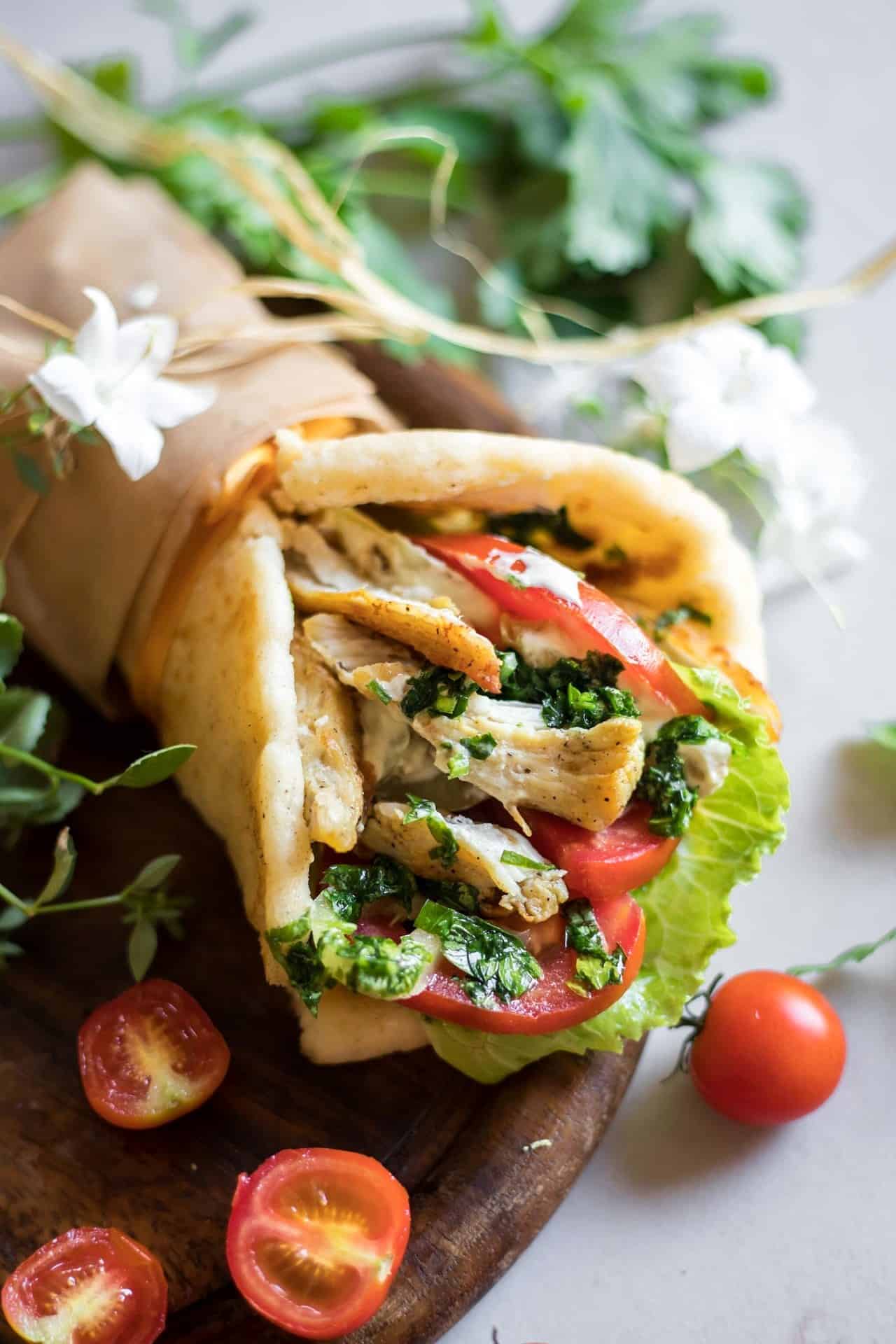 * fodmap tip:
*As a general rule always read the labels of the ingredients that you use as there can be sneaky FODMAP's in any product. To educate yourself of which foods are high in FODMAP's I'd strongly recommend downloading Monash Unversity FODMAP Diet App
Recipe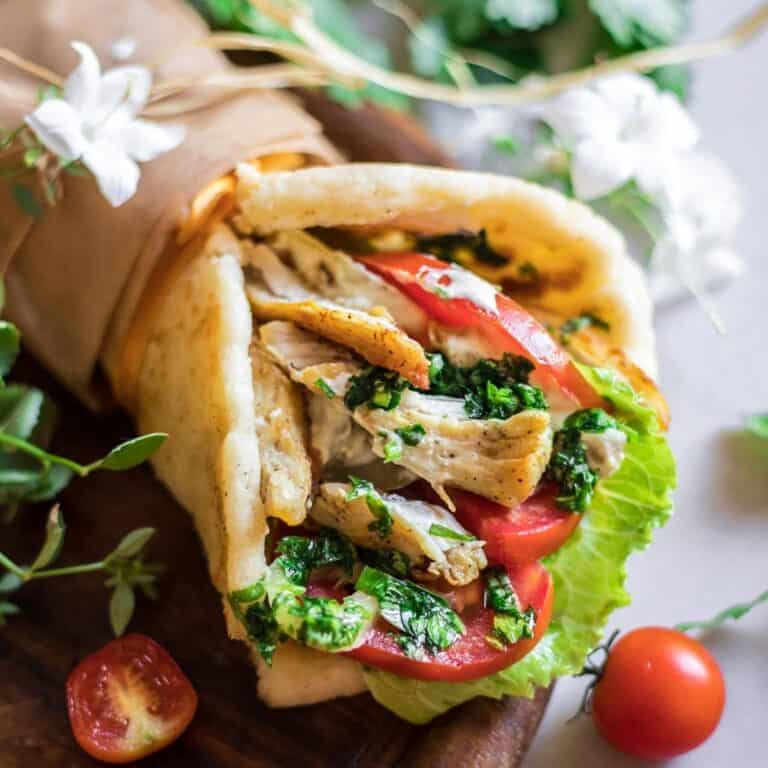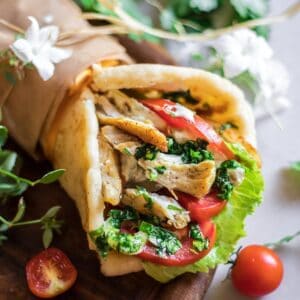 Gluten Free Chicken Gyro (Low FODMAP)
Ingredients
4

gluten-free naan bread

(there is a link of the recipe in the instructions)
For the Chicken fingers
400

g

chicken breast

(cut lengthwise for chicken fingers)

2

tablespoon

Dijon Mustartd

3

tablespoon

garlic-infused olive oil

1

teaspoon

Italian herbs mix

¼

teaspoon

black pepper

½

smoked paprika

salt

(according to taste)
For the Tzatziki Sauce
1

medium cucumber

(grated)

350

g

lactose-free Greek Yogurt

2

tablespoon

garlic-infused olive oil

2

tablespoon

chopped dill

2

tablespoon

chopped mint

2

tablespoon

chopped chives

1

tablespoon

Lemon Juice

salt

(according to taste)
The rest of the ingredients
1

fresh tomato

sliced

1

bell pepper

sliced

4

lettuce leafs

100

g

feta cheese
Instructions
To prepare the chicken fingers
Put the already cut chicken breasts in a big bowl to marinate them with the mustard, garlic-infused olive oil and the rest of the herbs and spices. Cover the bowl with a plastic wrap and place it in the fridge for 1 hour.

In the meantime make the naan bread. Follow this recipe to make them.

Once the bread is ready, take out the bowl with the chicken breast. Either place them in a baking dish and bake them for about 25min on 200C or fry them in a pan with cooking oil.
To prepare the Tzatziki Sauce
Lightly squeeze the grated cucumber between your palms over the sink to remove excess moisture. Transfer the squeezed cucumber to a serving bowl, and repeat with the remaining cucumber.

Add the yogurt, olive oil, herbs, lemon juice, and salt to the bowl, and stir to blend. Let the mixture rest for 5 minutes to allow the flavors to meld. Taste and add additional chopped fresh herbs, lemon juice, and/or salt, if necessary.

Serve tzatziki immediately or chill for later. Leftover tzatziki keeps well, chilled, for about 4 days.
To assemble
Take one naan bread, start by adding one lettuce leaf. Then add a few pieces of the sliced tomatoes, bell pepper, chicken fingers, feta cheese,and in the end Tzatziki Sauce (according to taste). Fold the bread in half and serve.