Chocolate + Waffles, you really can't go wrong there! My relationship with Waffles was love at the first bite! And that was years back when I first time tried Belgium waffles in one of those local shops on the streets of Brugge. But since my other big love is chocolate. I decided to combine the two of them together and get this amazing Gluten-Free Chocolate Waffles.
Gluten-Free Chocolate Waffles Recipe.
These Waffles are so flavorful, chocolatey, with the best fluffy texture. They are Low FODMAP and with an option to be made dairy-free. I love having them topped with fresh berries and maple syrup as the acidity of the berries and the sweetness of the maple syrup go perfectly with the chocolatey flavor of the waffles. They make a great breakfast or brunch.
How to make this Gluten-Free Chocolate Waffles?
They are super simple and quick. It takes 20min to make them from start to finish. The only extra kitchen appliance you will need is a Waffel toaster.
For the detailed step-by-step instructions scroll at the end of this page.
How to make this Gluten-Free Chocolate completely dairy-free?
To make it completely dairy-free just replace the lactose-free milk, yogurt, and butter with a dairy-free alternative.
What flour to use to make it?
I like to use my universal homemade gluten-free flour blend. Which is a mix of the following flours :
3. Sweet Rice Flour (Glutinous Rice aka Sticky Rice)
4. Tapioca Flour (tapioca starch is the same as tapioca flour)
5. Xanthan Gum
If you can't make that one, you can try with any gluten-free flour mix (just make sure it contains xanthan gum because that helps in binding the dough). The final result using different flour mix might vary slightly, depending on what flours your mix contains.
To find the recipe for my gluten-free flour mix click, HERE.

*Make ahead tip:
These waffles are freezer friendly so you can make them ahead of time.
To freeze them: Once completely cooled, place them in freezer bags or airtight container and place them in the freezer.
To reheat them: Place them in the oven on 180C for 10min or in a toaster until thoroughly heated.
*low fodmap tip:
*To make sure that your flour mix is fodmap friendly I recommend that you make your own gluten-free flour mix, I always make this one. Or always read the ingredients of the store-bought gluten-free flour mixes. Make sure your mix doesn't contain soy flour, chickpea/besan/gram/garbanzo bean flour, lentil flour, coconut flour, amaranth flour, or lupin flour.
*If you are making it dairy-free, choose milk that is low fodmap, (the ones to avoid are, soy milk (made from the soybeans) or oat milk.
*As a general rule always read the labels of the ingredients that you use as there can be sneaky FODMAP's in any product. To educate yourself of which foods are high in FODMAP's I'd strongly recommend downloading Monash Unversity FODMAP Diet App
*gluten-free tip:
If you are celiac or highly sensitive to gluten, buy certified gluten-free baking powder. Baking powder is naturally gluten-free, however, depending on the manufacturing place and process it could be cross-contaminated.
Recipe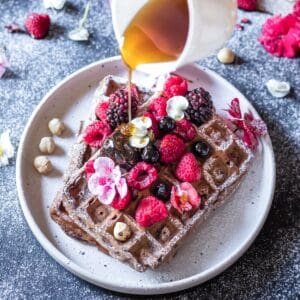 Gluten Free Chocolate Waffles (Low FODMAP)
Low FODMAP and Gluten-Free Chocolate Waffles. Only 10 ingredients, simple, flavorful, fluffy, chocolatey and so yum. Perfect indulging breakfast or brunch.
Ingredients
120

g

gluten-free flour

2

teaspoon

baking powder

½

teaspoon

baking soda

2

large eggs

250

ml

lactose-free milk

or dairy-free milk

60

ml

lactose-free yogurt

or dairy-free yogurt

3

tablespoon

melted butter

2

tablespoon

unsweetened cocoa powder

4

tablespoon

white sugar

2

teaspoon

vanilla extract
Instructions
Turn on your waffle maker, with the setting on medium. In a large bowl, whisk together the flour, baking powder, baking soda, cocoa powder and set it aside.

In a separate bowl beat the eggs with the sugar until it becomes fluffy and triple in volume.

In a separate bowl mix all the liquid ingredients.

Combine the wet and the dry ingredients together. And fold the egg and sugar mixture in.

When your waffle maker is ready, grease it with butter or oil and pour or spoon the batter into the wells, until they almost come to the edge. You will know if you've over-filled it because the batter will spill out of the waffle maker. As you make the batches, the batter may thicken while it sits. If you want, thin it out a bit with some water.

Cook until the waffle maker indicator indicates that the waffles are ready, or wait until steam stops rising out of the waffle maker. Gently pull the waffles out with a fork.

Serve while they are warm.