The best gluten-free churros! They are crispy on the outside, soft and tender on the inside and they have a flavor no one can resist! These churros are gluten-free, but no one is going to be able to tell that!
There is nothing better than freshly baked churros! The good news is that I finally perfected the recipe for gluten-free churros!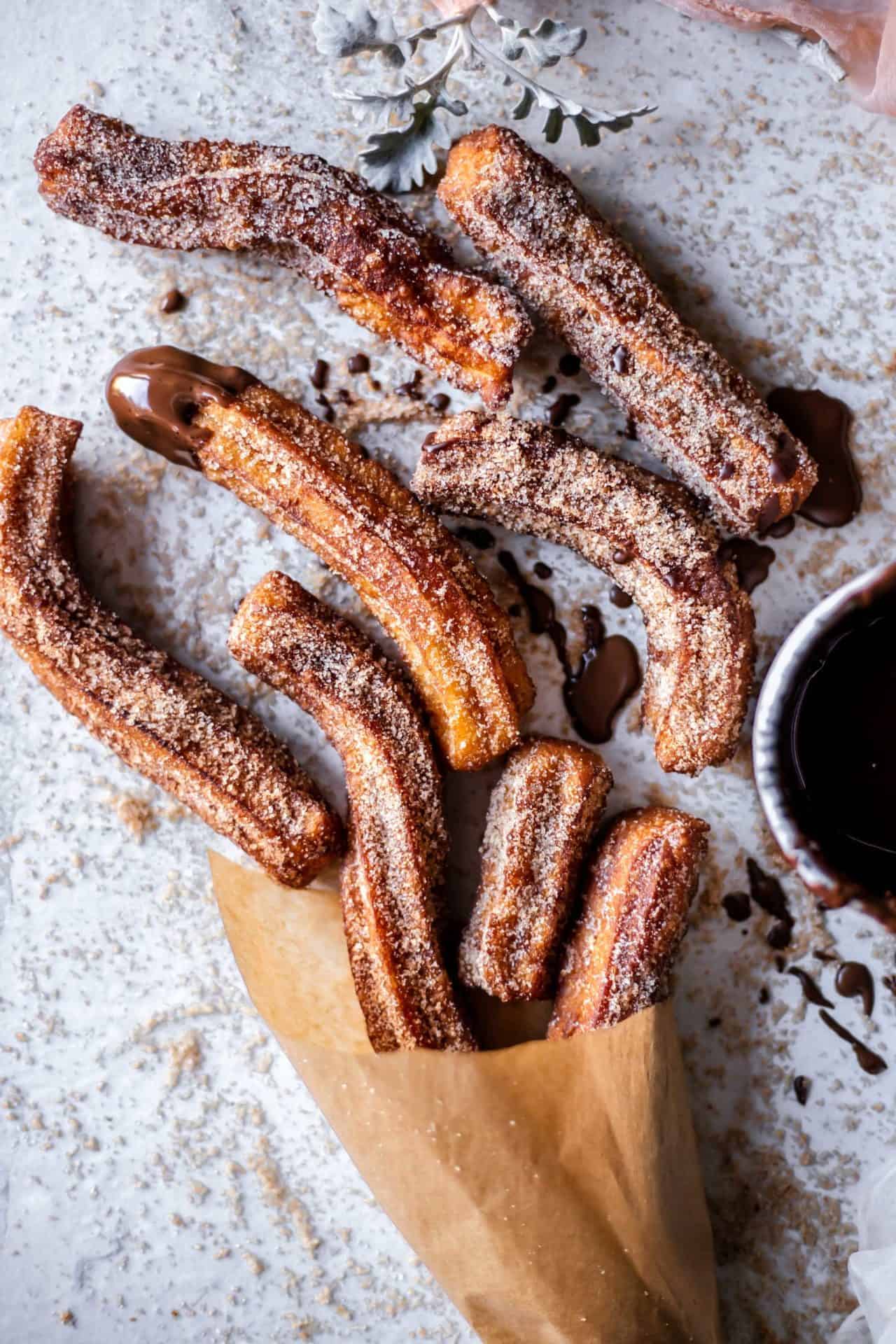 Gluten-Free Churros Recipe
These gluten-free churros are light, airy, tender on the inside and crispy on the outside, perfectly sweetened, flavorful, and just so delicious! Don't skip the part where you dip them in hot chocolate sauce! That's literally the yummiest thing ever!
What ingredients you will need to make these gluten-free churros?
Churros require only a handful of ingredients:
Water

Butter (or dairy-free

alternative)
Gluten-Free Flour

sugar

ground cinnamon
eggs
pure vanilla extract
vegetable oil for frying
sugar & cinnamon for coating
How to make these Gluten-Free Churros?
Churros are made from choux pastry – a light pastry dough also used to make fun things like gluten-free profiteroles and eclairs. They are piped into a long line, fried, coated in cinnamon sugar, and served with chocolate sauce!
There are only 2 steps in making churros:
STEP 1 - MAKE THE CHOUX PASTRY
In a large mixing bowl mix gluten free flour with baking powder, salt, cinnamon and. sugar.
In a large saucepan, heat water, butter, sugar, and salt. Bring to a boil and then reduce heat to low.
Pour mixture into a large mixing bowl with flour. Stir until combined, either with a wooden spoon or using an electric mixer.
Allow to cool for 5 minutes, then add the egg and the vanilla, mix until incorporated. The dough should be thick and sticky with air pockets but not so thick that it cannot be piped through the bag. If it is too thick, add more water, 2 tablespoons at a time. And if it's too thin, whisk in more Gluten-Free Flour, 2 tablespoons at a time.
If the batter is more like pancake batter and very thin it will still come out delicious but won't hold its shape from being piped through the star-shaped tip. You can fry the batter immediately or cover it and let it rest in the refrigerator for up to 24 hours.
STEP 2 - FRY THEM
Fill a deep saucepan (at least 10 inches wide) with three inches of oil. Heat until it reaches 175°(350°F) on a candy thermometer. Cover a wire rack or tray with paper towels.
In a small bowl, mix the remaining sugar and cinnamon.
Fit a 1M star tip to a piping bag or a large plastic bag and cut the corner out to fit the tip. Fill with the dough, then pipe directly into the pan, cutting off each dough strip with a knife.
Fry until light brown and crisp – approximately 1 to 2 minutes per side -- then remove with a slotted spoon and drain on the paper towel-covered rack. I always test with a small amount of batter first to be sure the oil is at the right temperature and get the timing down right before using all the batter.
Pipe more churros into the oil and then transfer the cooked churros to a tray with the sugar and cinnamon mixture. Toss gently when slightly cooled, then remove to parchment to finish cooling.
Tips to making the best churros
Make sure to use a candy thermometer, if your oil is too hot it will burn them on the outside and leave them uncooked on the inside.
Use a wider piping tip, I recommend this 1M star tip, if your tip is too thin, the churros will not come out or they will break as you try to pipe them.
what flour to use to make them?
I like to use my universal homemade gluten-free flour blend. Which is a mix of the following flours :
3. Sweet Rice Flour (Glutinous Rice aka Sticky Rice)
4. Tapioca Flour (tapioca starch is the same as tapioca flour)
5. Xanthan Gum
If you can't make that one, you can try with any gluten-free flour mix (just make sure it contains xanthan gum because that helps in binding the dough). The final result using different flour mix might vary slightly, depending on what flours your mix contains.
To find the recipe for my gluten-free flour mix click, HERE.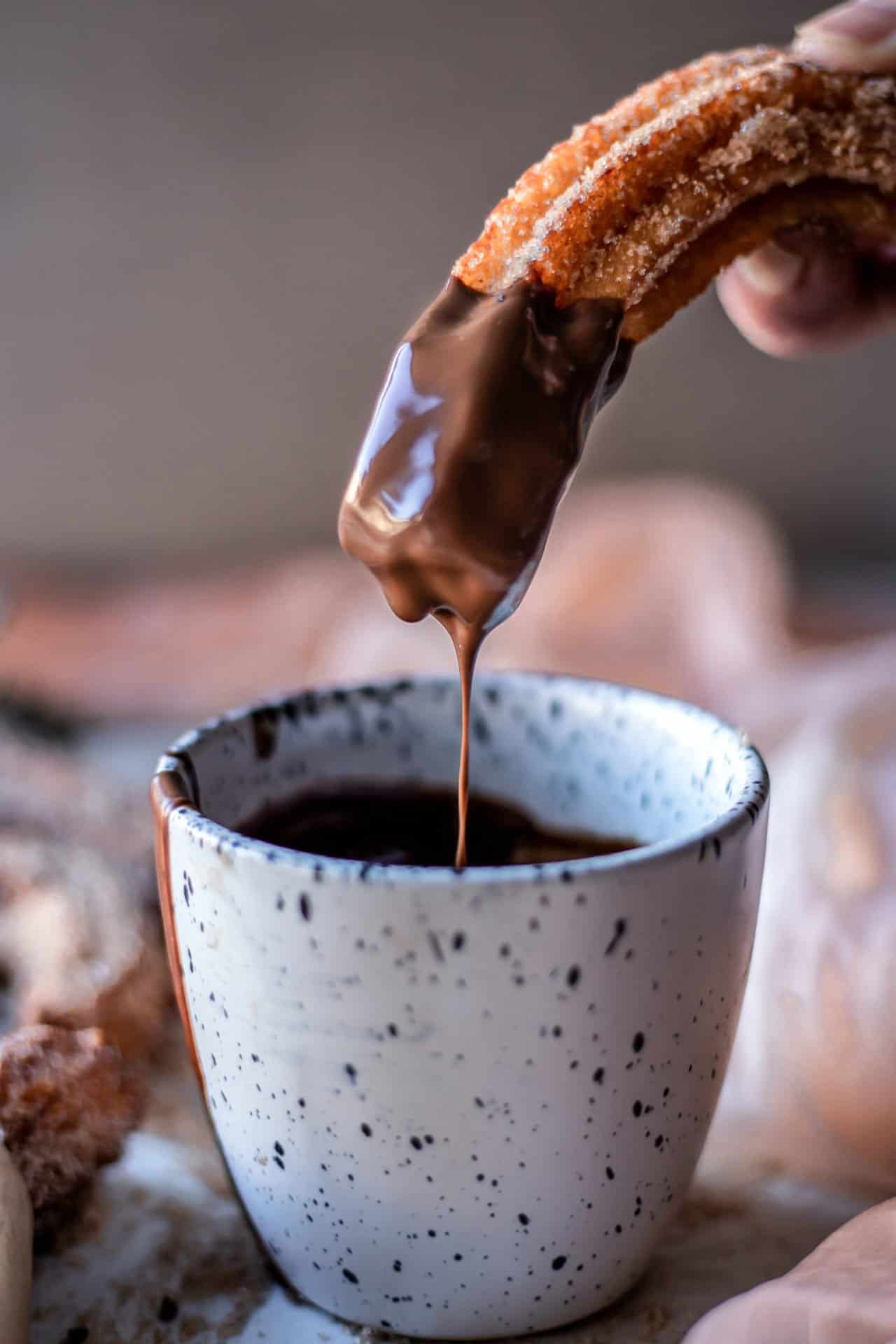 * fodmap tip:
*To make sure that your flour mix is fodmap friendly I recommend that you make your own gluten-free flour mix, I always make this one. Or always read the ingredients of the store-bought gluten-free flour mixes. Make sure your mix doesn't contain soy flour, chickpea/besan/gram/garbanzo bean flour, lentil flour, coconut flour, amaranth flour, or lupin flour.
*As a general rule always read the labels of the ingredients that you use as there can be sneaky FODMAP's in any product. To educate yourself on which foods are high in FODMAP's I'd strongly recommend downloading Monash Unversity FODMAP Diet App
*gluten-free tip:
If you are celiac or highly sensitive to gluten, buy certified gluten-free baking powder. Baking powder is naturally gluten-free, however, depending on the manufacturing place and process there can be cross-contamination.
Recipe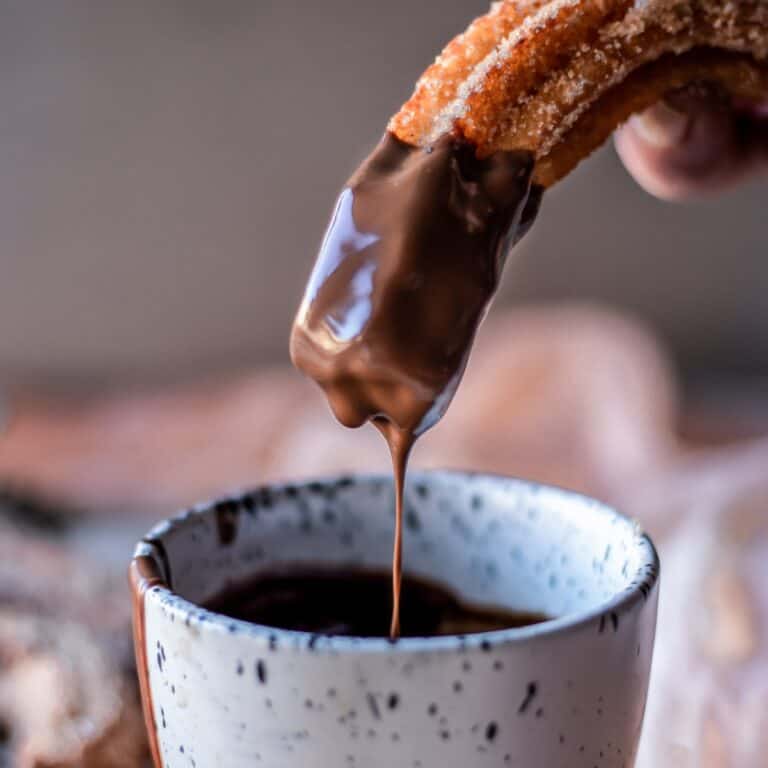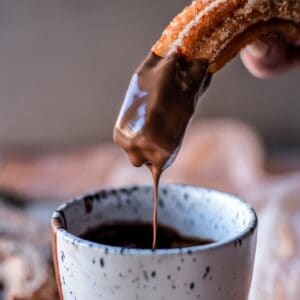 Gluten-Free Churros
These gluten-free churros are light, airy, tender on the inside and crispy on the outside, perfectly sweetened, flavorful, and just so delicious!
Ingredients
250

ml

(1 cup) water

56

g

(¼ cup) butter (or vegan for dairy-free version)

1

tablespoon

sugar

¼

teaspoon

salt

¼

teaspoon

ground cinnamon

140

g

(1 cup) gluten free flour

1

large egg

½

tsp

pure vanilla extract
For frying and coating
light vegetable oil for frying

¼

teaspoon

ground cinnamon

(for coating)

100

g

(½ cup) sugar
For the chocolate sauce
100

g

dark chocolate

120

ml

(½ cup) heavy cream
Instructions
Heat 1-2 inches vegetable oil in a deep skillet over medium high heat.

In a separate large saucepan, heat water, butter, sugar, and salt. Bring to a boil and then reduce heat to low.

Stir in the flour and stir constantly until combined and mostly smooth. Turn off heat.

Pour flour mixture into a stand mixer and allow to sit/cool for 2-3 minutes.

Add egg and vanilla and mix on high until smooth.

Transfer mixture to a piping bag with a star tip.

For the coating whisk together ½ cup sugar and cinnamon in a shallow dish, set aside.

Once the oil heats to 175°C (350°F) (use a candy thermometer), you're ready to pipe the mixture in to make the churros!

Carefully pipe a 5-6 inch length into the oil, using a sharp knife or scissors to cut off from the star tip.

Allow to fry 2minutes per side, or until golden brown. Transfer to a paper towel lined plate.

Allow to dry for about 1 minute, then roll in the cinnamon/sugar mixture.

Repeat with the rest of the dough, frying 3 at a time.
To Make the Chocolate Sauce
Place the chopped chocolate in the bottom of a heat safe bowl.

Heat the heavy cream over medium high heat until starting to bubble. Pour the cream over the chocolate and stir to combine/melt the chocolate.

Serve with the warm churros.