Recently I discovered that my favorite childhood chocolate candy M&Ms were actually gluten-free (the chocolate version of M&Ms). That's for sure, one of the best food-related news I've heard since I went gluten-free. And since I love cookies and I love M&Ms I decided to make these super yummy Gluten-Free M&M Cookies.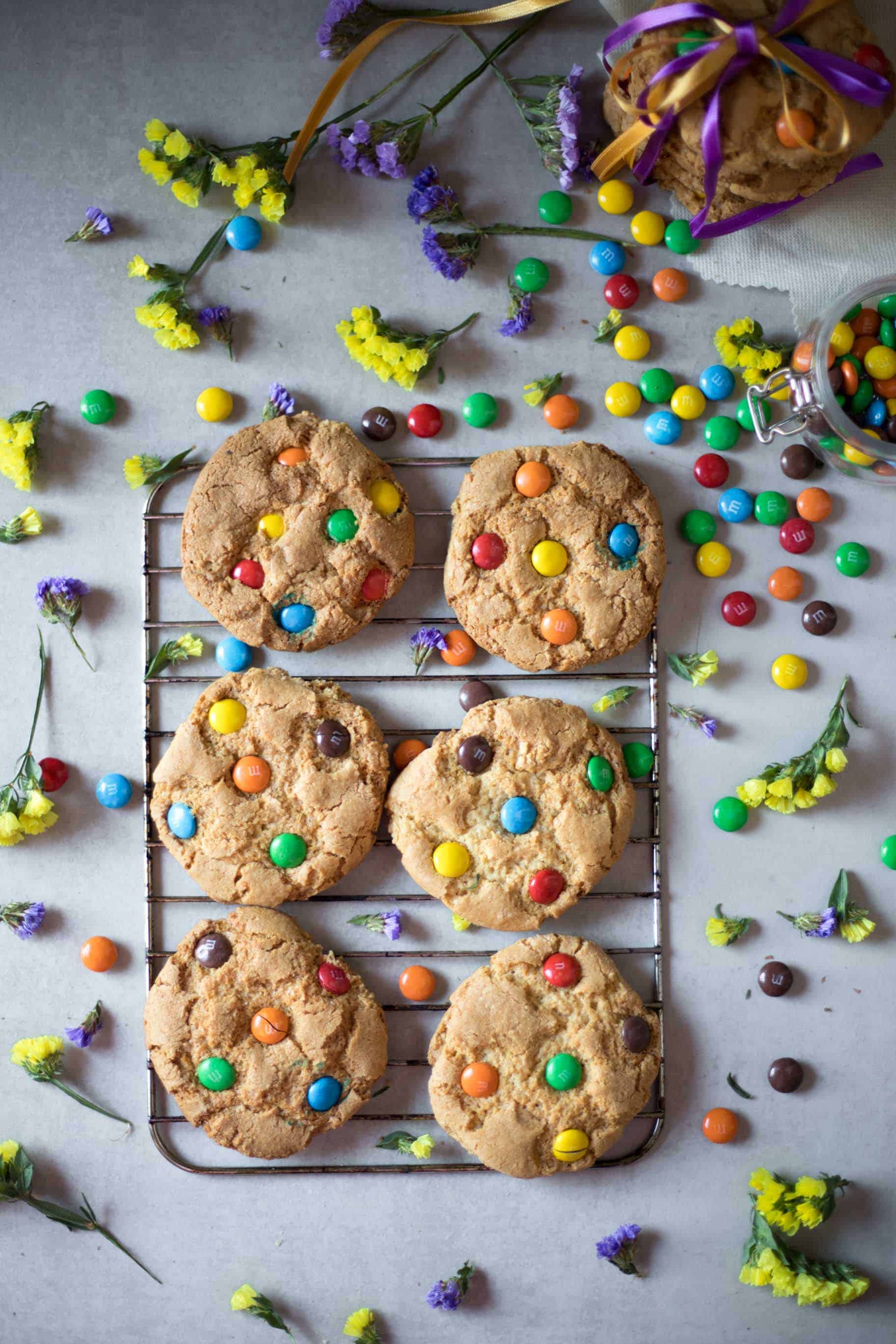 Gluten-Free M&M Cookies Recipe.
These cookies are perfectly sweetened, super chewy, tender on the inside and slightly crispy on the outside. They are so easy to make and so delicious! These cookies are a great mid-day(or late night 😉 ) snack. I personally don't like super sweet desserts, (sugar is not very IBS friendly) so I always try to make desserts that are not overly sweetened.
How to make these Gluten-Free M&M Cookies?
Do you have 15min of your time? That's the total amount of time you need to prepare these cookies. They are super simple to make, require only 9 easily accessible ingredients( that you probably already have in your home) and no special kitchen appliances.
You can read the detailed step-by-step instruction at the end of this page.
What flour to use to make this Gluten-Free M&M Cookies?
I like to use my universal homemade gluten-free flour blend. Which is a mix of the following flours :
3. Sweet Rice Flour (Glutinous Rice aka Sticky Rice)
4. Tapioca Flour (tapioca starch is the same as tapioca flour)
5. Xanthan Gum
If you can't make that one, you can try with any gluten-free flour mix (just make sure it contains xanthan gum because that helps in binding the dough). The final result using different flour mix might vary slightly, depending on what flours your mix contains.
To find the recipe for my gluten-free flour mix click, HERE.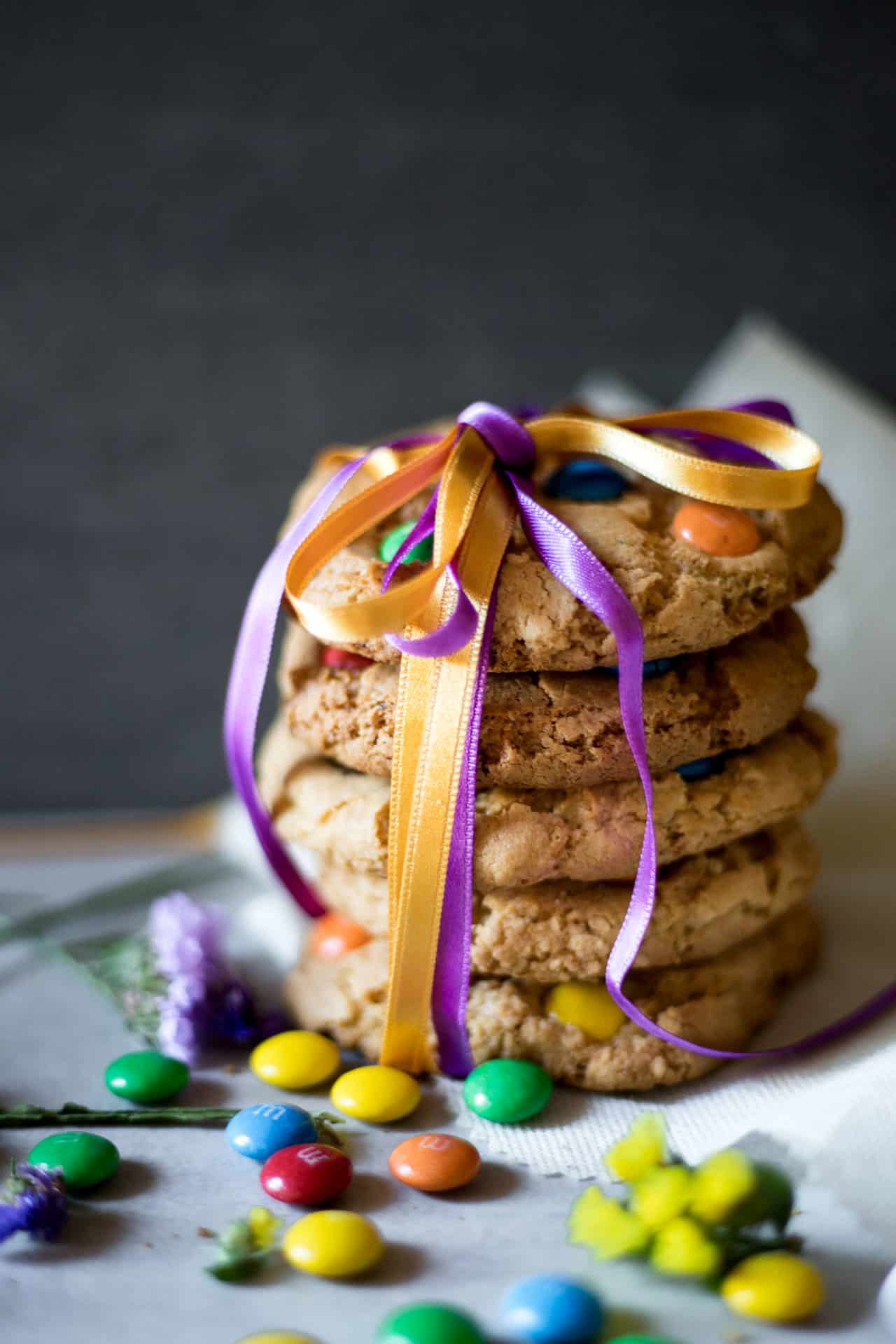 *Make-Ahead Tip:
You can prepare the dough (without adding the M&Ms) and keep it chilled in the fridge for up to 3 days.
Freezing Baked Cookies: You can freeze already baked cookies. Just place them in an airtight zip bags or containers and place them in the freezer. You can keep them for up to 3 months.
To defrost them: Just place them in the oven for 10min on 180C or until thoroughly heated.
Freezing the Cookie Dough: You can also freeze the cookie dough. Form the dough in balls (as you would when preparing to bake them0. Place them on a silicone- or parchment-lined sheet. Freeze for an hour (or until solid) and transfer to an airtight freezer bag or container. When you want to bake them, place them over a baking tray lined up with a baking paper. Follow the instruction on how long you will need to bake them (give the cookies a couple of extra minutes in the oven to make up for their frozen start.)
*FODMAP Tip:
*The Monash Univerity App doesn't have information yet whether M&Ms are low FODMAP. However, they do say that milk chocolate is low FODMAP in 20g. Since the main ingredient in the chocolate M&Ms is milk chocolate I would apply the same rule. I only use 4 to 5 M&Ms per cookie, and I don't have any issues.
*To make sure that your flour mix is fodmap friendly I recommend that you make your own gluten-free flour mix, I always make this one. Or always read the ingredients of the store-bought gluten-free flour mixes. Make sure your mix doesn't contain soy flour, chickpea/besan/gram/garbanzo bean flour, lentil flour, coconut flour, amaranth flour, or lupin flour.

*As a general rule always read the labels of the ingredients that you use as there can be sneaky FODMAP's in any product. To educate yourself of which foods are high in FODMAP's I'd strongly recommend downloading Monash Unversity FODMAP Diet App
*gluten-free tip:
If you are celiac or highly sensitive to gluten, buy certified gluten-free baking soda. Baking soda is naturally gluten-free, however, depending on the manufacturing place and process there can be cross-contamination.
Gluten-Free M&M Cookies
These Gluten-Free M&M Cookies perfectly sweetened, super chewy, tender on the inside and slightly crispy on the outside.Plus easy to make and so delicious!
Ingredients  
300

g

gluten-free flour

1

tsp

baking soda

60

g

lactose-free cream cheese

(room temperature)

180

g

butter

(melted)

2

egg yolks

100

g

brown sugar

50

g

white sugar

2

tsp

Vanilla extract

chocolate M&M candy

(as much as you prefer) or * check the recommended FODMAP amount in the text above, under FODMAP Tips*

pinch of salt
Instructions 
In a medium bowl, whisk together gluten-free flour, baking soda, and salt. Set aside.

In a separate bowl place the cream cheese, pour the melted butter over it. Add the brown and white sugar and mix it all together with a mixer on medium speed.

Add the vanilla extract and the egg yolks (one at a time) mixing on low-medium speed until well mixed.

Add the flour mixture that you set aside earlier, beating on low until just combined

Cover the bowl with plastic wrap and refrigerate for about 4 hours. You can keep the dough in the fridge for up to 3 days.

When you are ready to bake, remove from refrigerator and let sit for about 15 minutes to soften enough for easier scooping.

Preheat the oven to 180C.

Line up a baking tray with parchment paper and start to scoop the cookie dough. Leave a few centimeters space between each scoop.

Place the M&Ms over the scooped cookie dough balls. I usually put about 5 candies per cookie, but you can put as many as you'd like. (I don't put the M&Ms earlier when mixing the cookie dough because they will leach out the color onto the dough)

Place the cookies to bake for about 10 to 15min on 180C. Remove when edges are set and just browning. The centers will look undercooked but will continue cooking as they cool.

After a few minutes place the cookies on a cooling rack to finish cooling.