Gluten-Free Linzer Cookies. These cookies are made with ground hazelnuts and are sandwiched between a thick layer of strawberry jam. To make them you will need only 9 ingredients and 15min of your time! Make them for someone special and thank the Austrians.
Linzer Cookies are believed to originate in the city of Linz, in Austria, and are usually very popular around Christmas time. However, after trying them I think they will become staple cookies in my house. I won't be able to wait until Christmas to have them.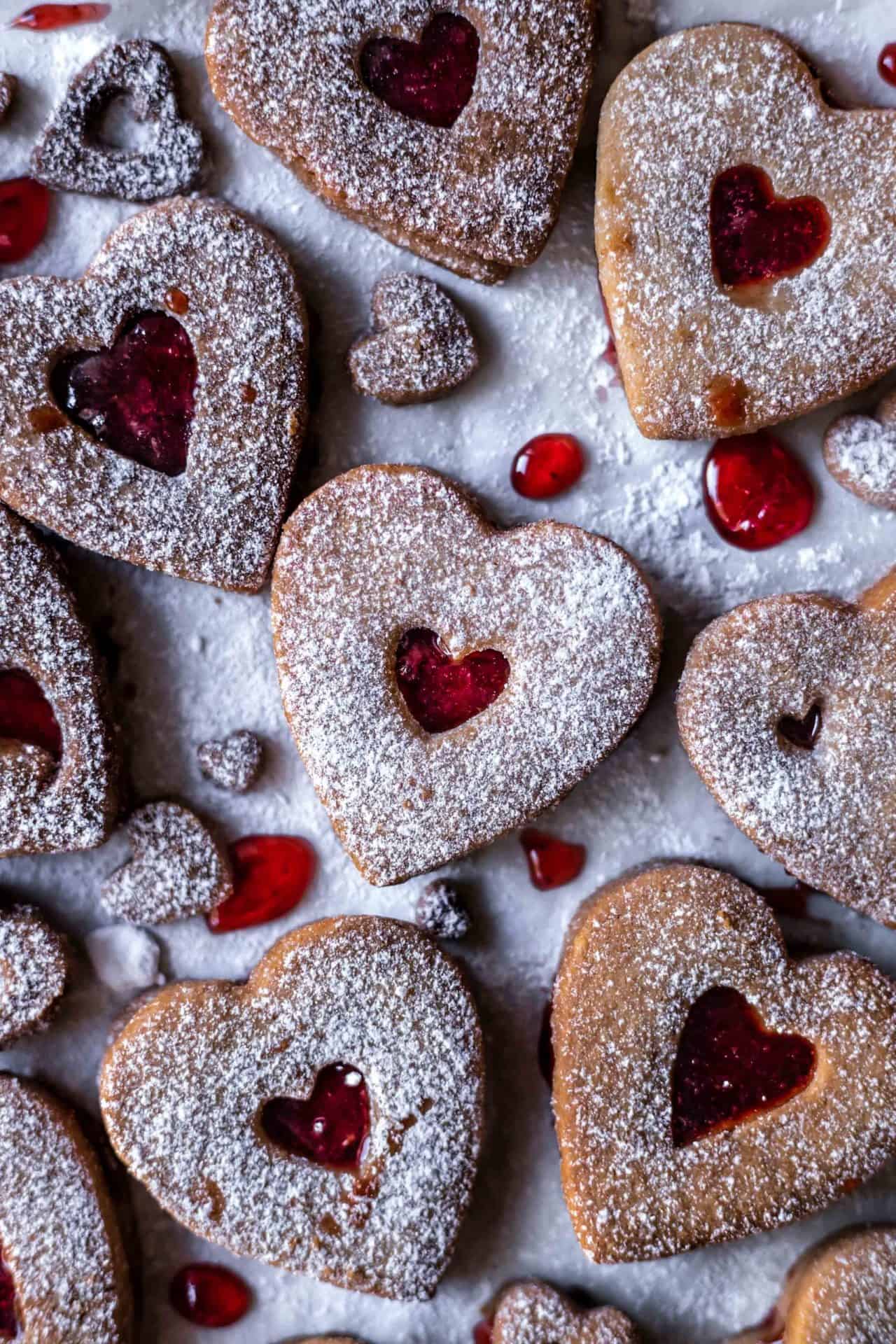 Gluten-Free Linzer Cookies Recipe
These cookies are perfectly tender, not too sweet, jam infused and the best part super simple to make.
They are great as a dessert or a mid-day snack!
How to make these Gluten-Free Linzer Cookies?
They are incredibly easy to make. These cookies are made with ground hazelnuts or almonds. So first you will need to roast the nuts, rub off the skins and grind them in a blender or food processor. Next, mix butter with sugar until light and fluffy, then add the rest of the ingredients. Chill the cookie dough in the fridge for 1h, then roll it out on a floured surface, cut the desired shapes, and bake them for about 12minutes. Let them cool down, then sandwich together with a layer of jam in between.
To find the exact amount of the ingredients and step-by-step instructions, scroll to the end of this page.
Tips to making the best Linzer Cookies:
1. Don't press down on the cookies when you assemble the tops. You'll break the cookies. They are very tender cookies!
2.Watch out to not grind the roasted nuts into butter. If you over grind them they will become a paste, and then butter.
what flour to use to make them?
I like to use my universal homemade gluten-free flour blend. Which is a mix of the following flours :
3. Sweet Rice Flour (Glutinous Rice aka Sticky Rice)
4. Tapioca Flour (tapioca starch is the same as tapioca flour)
5. Xanthan Gum
If you can't make that one, you can try with any gluten-free flour mix (just make sure it contains xanthan gum because that helps in binding the dough). The final result using different flour mix might vary slightly, depending on what flours your mix contains.
To find the recipe for my gluten-free flour mix click, HERE.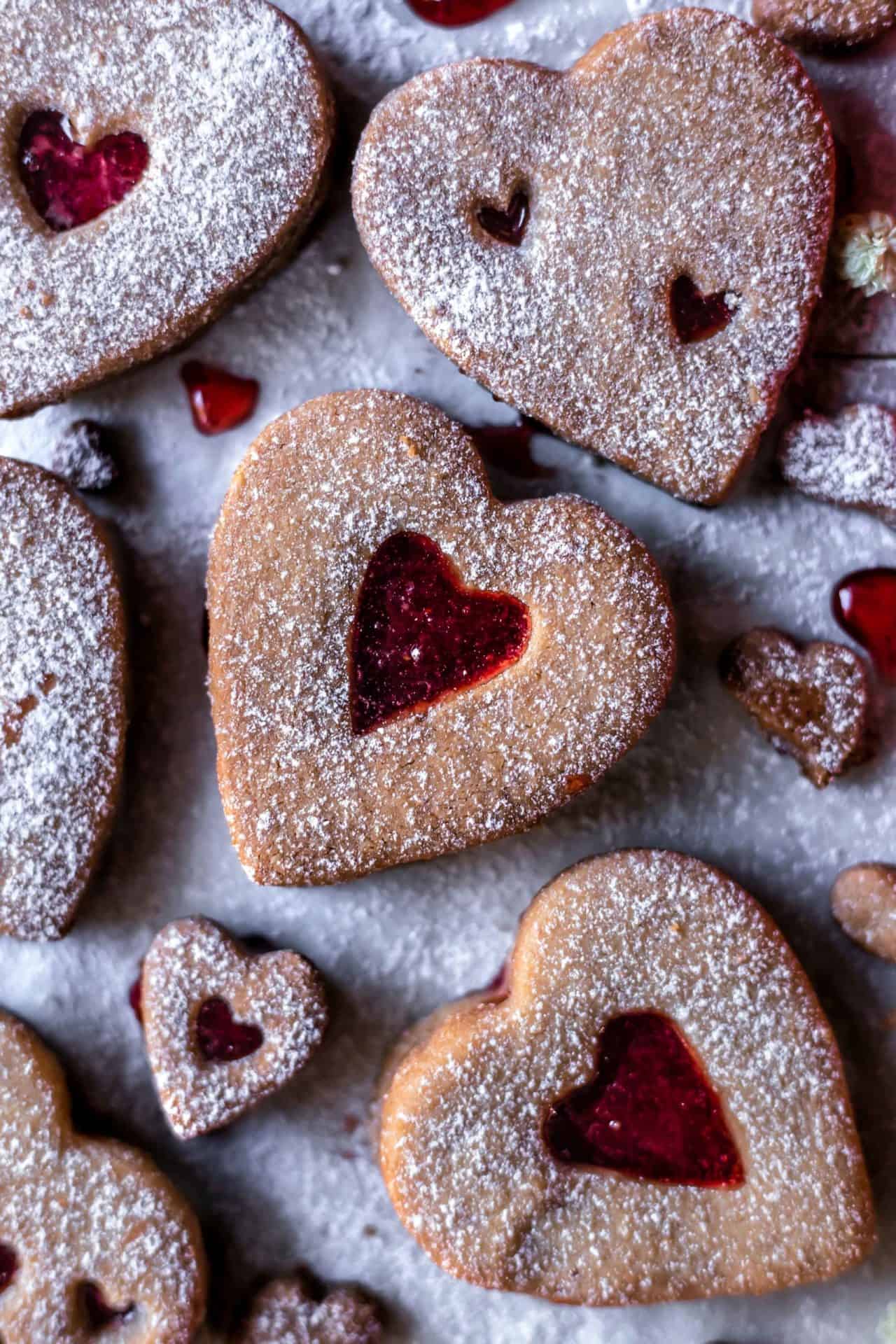 Make-ahead tip:
These cookies are freezer friendly. You can freeze baked (unassembled) cookies. Before you want to have them, defrost at room temperature. You can also make the dough up to a week ahead of time, wrap it well in plastic and stash it in the refrigerator. About 20 minutes before you're ready to bake, place the dough on the counter to soften, and then follow the rest of the recipe as written.
FODMAP Tips:
*According to Monash University, hazelnuts are low FODMAP in 15g per serving. This recipe requires 100g of hazelnuts, but it makes 24 sandwich cookies. That is 4g per cookie.
*For the jam, I recommend that you use a homemade one such as this one. Store-bought jams can be high FODMAP.
*All the ingredients used in this recipe are FODMAP friendly, however, As a general rule always read the labels of the ingredients that you use as there can be sneaky FODMAP's in any product. To educate yourself on which foods are high in FODMAP's I'd strongly recommend downloading Monash Unversity FODMAP Diet.
Gluten-Free Tips:
*If you are celiac or highly sensitive to gluten, buy certified gluten-free baking powder. Baking powder is naturally gluten-free, however, depending on the manufacturing place and process there can be cross-contamination.
Recipe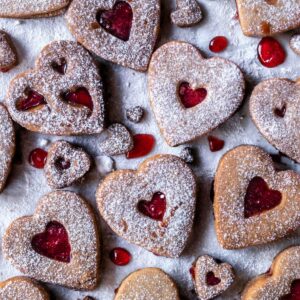 Gluten-Free Linzer Cookies
These Gluten-Free Linzer Cookies are perfectly tender, not too sweet, jam infused and the best part super simple to make.
Ingredients
170

g

(1 ½ sticks) unsalted butter

(at room temperature)

70

g

(¾ cup) granulated sugar

1

egg yolk

70

g

(¾ cup) ground hazelnuts

(you can also use raw almonds or almond flour)

200

g

(1 ½ cup) gluten-free flour mix

½

teaspoon

salt

½

teaspoon

ground cinnamon

1

teaspoon

pure vanilla extract

½

cup

strawberry or Raspberry jam

*link for homemade jam in the instruction

confectioners sugar for dusting
Instructions
Preheat your oven to (175°C) 350°F and set aside a clean tea towel. Place hazelnuts in a single layer on a rimmed baking sheet, and place in the center of the preheated oven. Roast for 10 minutes, or until fragrant. Remove the hazelnuts from the oven and place them immediately in the center of the tea towel, cover the hazelnuts with the towel and rub vigorously from the outside of the towel to remove the skins of the hazelnuts. Place the peeled and roasted hazelnuts in the bowl of a food processor along with ¼ cup (50 grams) white sugar, and process until finely ground. Adding the sugar will help prevent from proccesing the hazulnuts into a paste or a butter.

In the bowl of your electric mixer (or with a hand mixer), beat the butter and remaining 50g of sugar until light and fluffy (about 2-3 minutes). Beat in the vanilla extract and egg yolks. Finally, beat in the ground almonds and then the flour mixture. Divide the dough in half, cover each half with plastic wrap, and refrigerate until firm (for about 1 hour) .

Preheat oven to 175° C (350°F). Line two baking sheets with parchment paper.

Remove one ball of dough from the refrigerator. On a lightly floured surface roll out the dough until it is about ¼ inch (.5 cm) thick. Using the desired cookie cutter, cut the cookies. Place the cookies about 1 inch (2.5 cm) apart on the prepared baking sheet. Use a smaller cookie cutter to cut out the centers of half of the cookies on the baking shee.t
To Assamble the cookies
If you want to make a homemade strawberry jam. Check out this recipe.

Once the cookies are completely cooled, place the cookie tops (with the cutout centers) face up on a clean sheet of parchment paper. Sprinkle evenly with confectioners' sugar. On a separate sheet of parchment paper, place the whole, bottom cookies, face down, and place 1 teaspoon of jam on the underside of each cookie, spreading the jam into an even layer. Top with the sugared cookies. Do not use much pressure in assembling the cookies or the tops will break.