Biting into crispy hollow pastry balls filled with pastry cream or custard then drizzled with chocolate is my idea of heaven! When I was young I lived near a pastry shop so I had profiteroles and eclairs almost every day (I know not the healthiest diet) but it was delicious! So when I finally made Gluten-Free Profiteroles I was over the moon. But I'm not going to lie, it took me a lot of failed Choux pastries to perfect the recipe for light and crispy Gluten-Free Choux Pastry. And I'm so happy to share it with you together with all my tricks and tips that I've learned in my journey for the best Gluten-Free Profiteroles
Using this recipe, you can also make gluten-free eclairs, you just need to make them in eclair shape.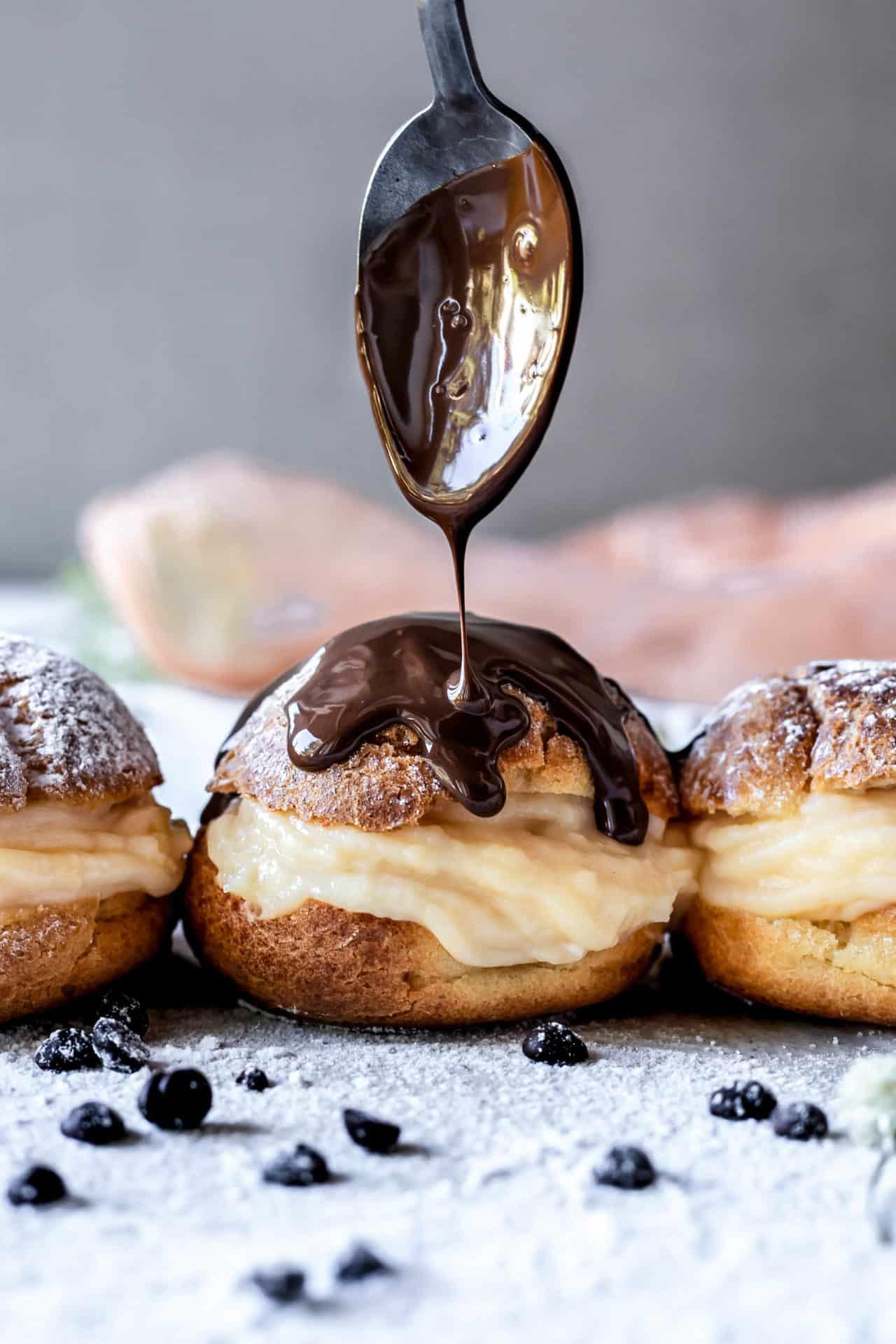 Gluten-Free Profiteroles Recipe
These Profiteroles are crispy, light, perfectly sweetened, bursting with creamy pastry cream and so delicious!
Plus they are low FODMAP and tummy friendly!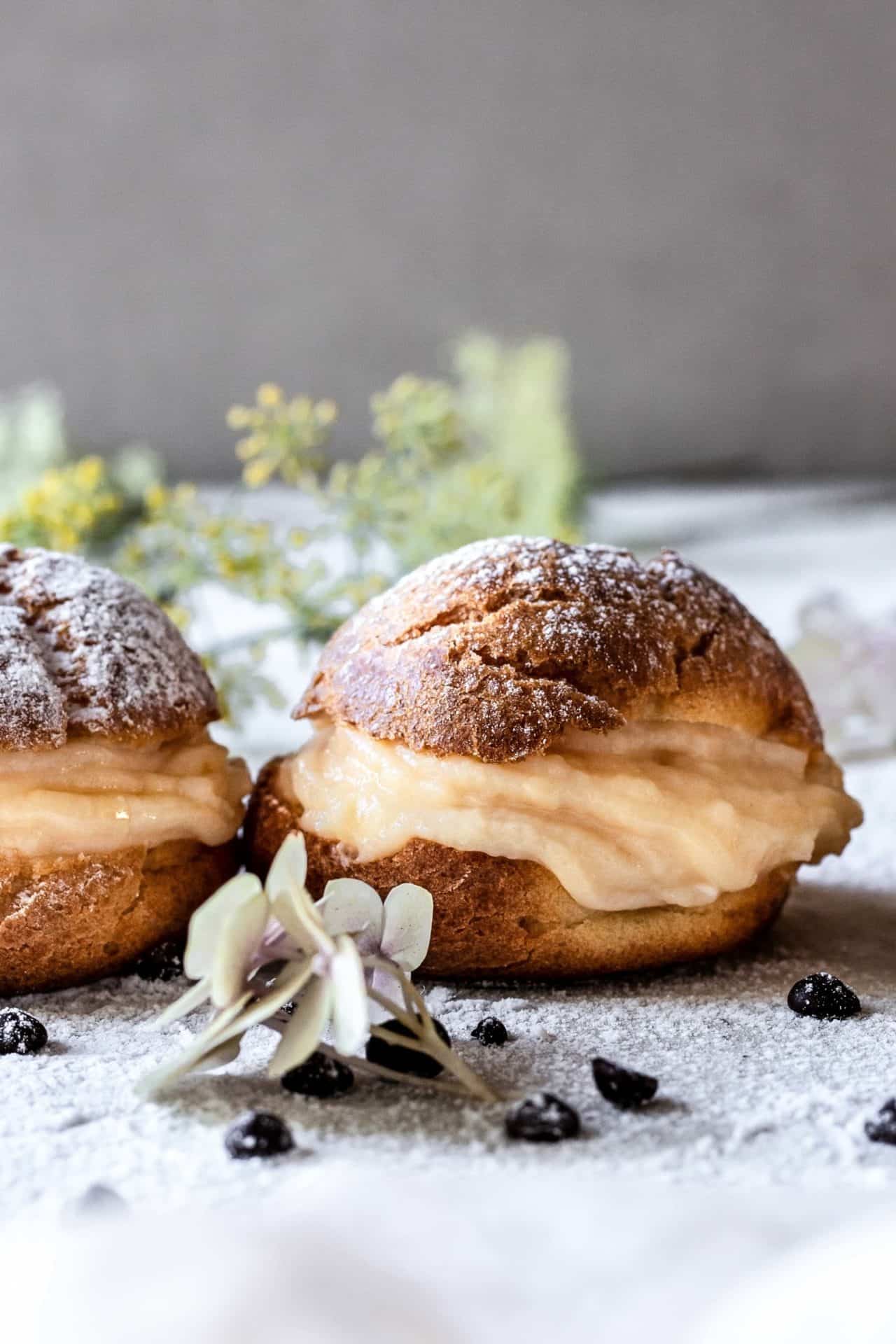 How to make these Gluten-Free Profiteroles?
You might think profiteroles are hard to make, I thought that as well, until I made them and saw how incredibly EASY they are to make! There are only 2 things that you will need to make.
1. Make the French Choux pastry ( don't get scared, it is very easy to make!) You need only 4 simple ingredients: butter, water, egg, and flour. Mix, pipe (or even dollop), bake.
2. Make the pastry cream, or you can also fill them with whipped cream, custard, or even ice cream.
Once you have those 2 things ready, you only need to fill the Choux pastry (you can do that either by piping the filling directly inside or by firstly cutting them in half). In the end, you can top them with chocolate sauce or powdered sugar.
To find the exact amount of the ingredients and step-by-step instructions, scroll at the end of this page.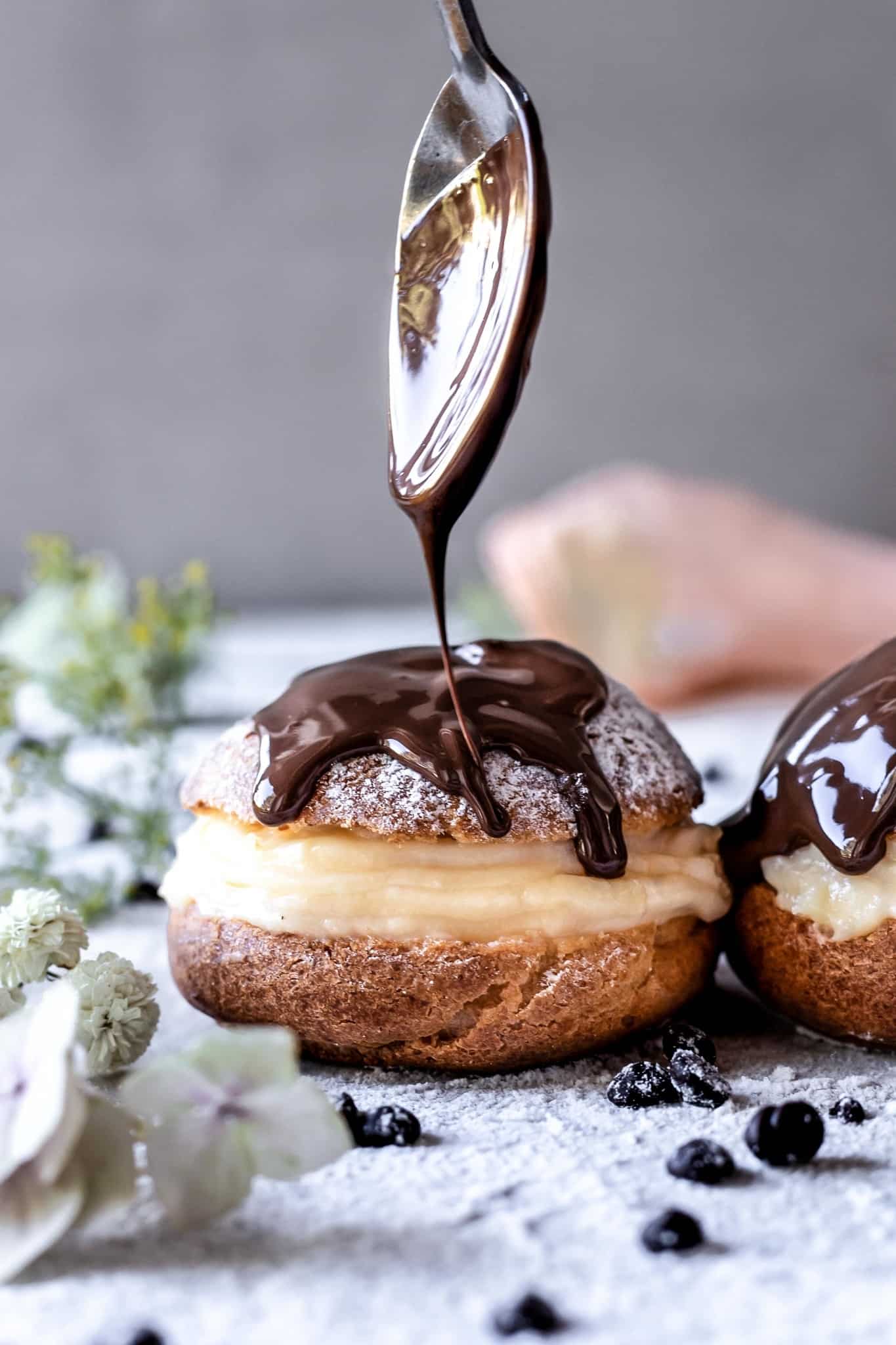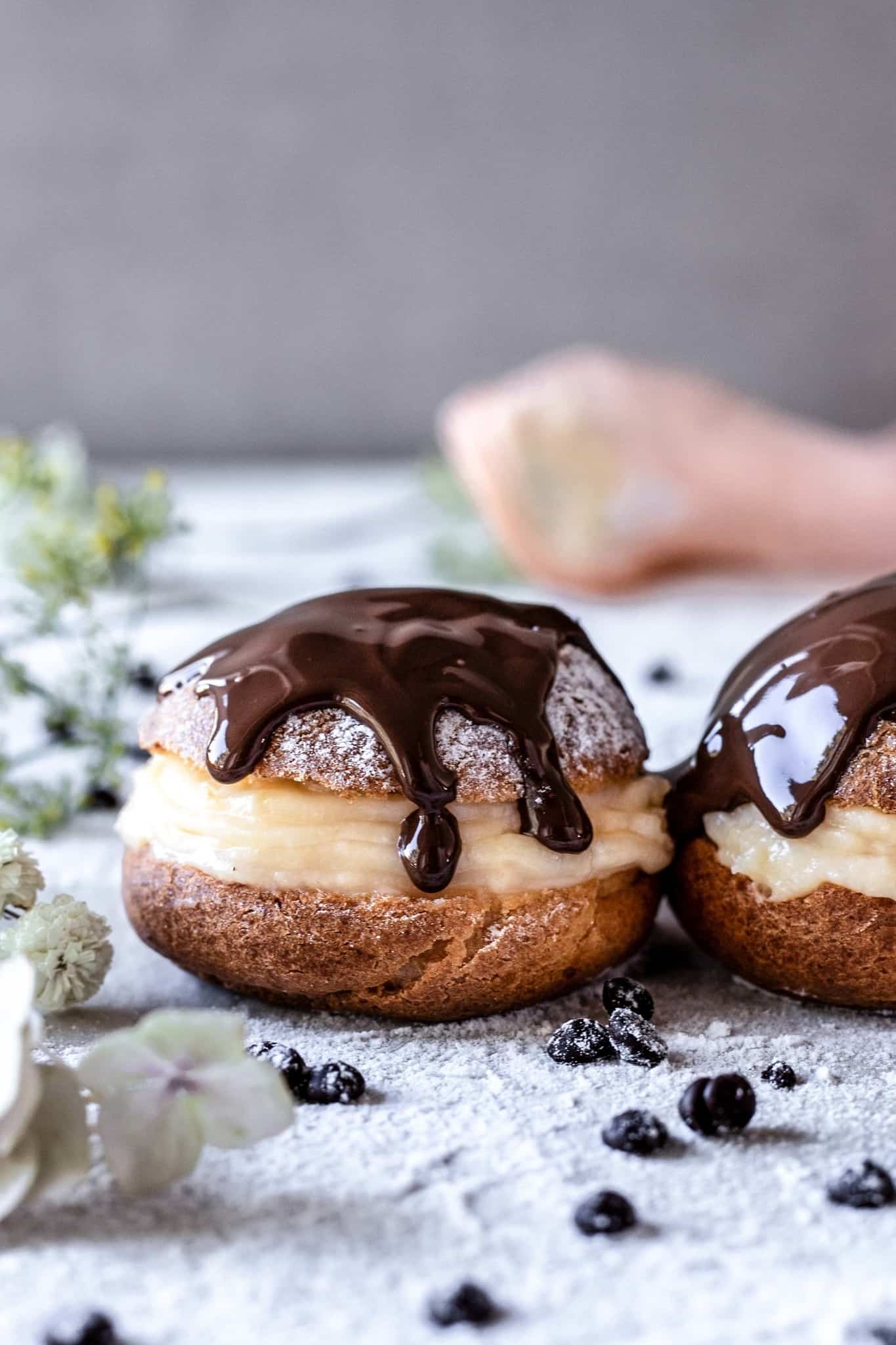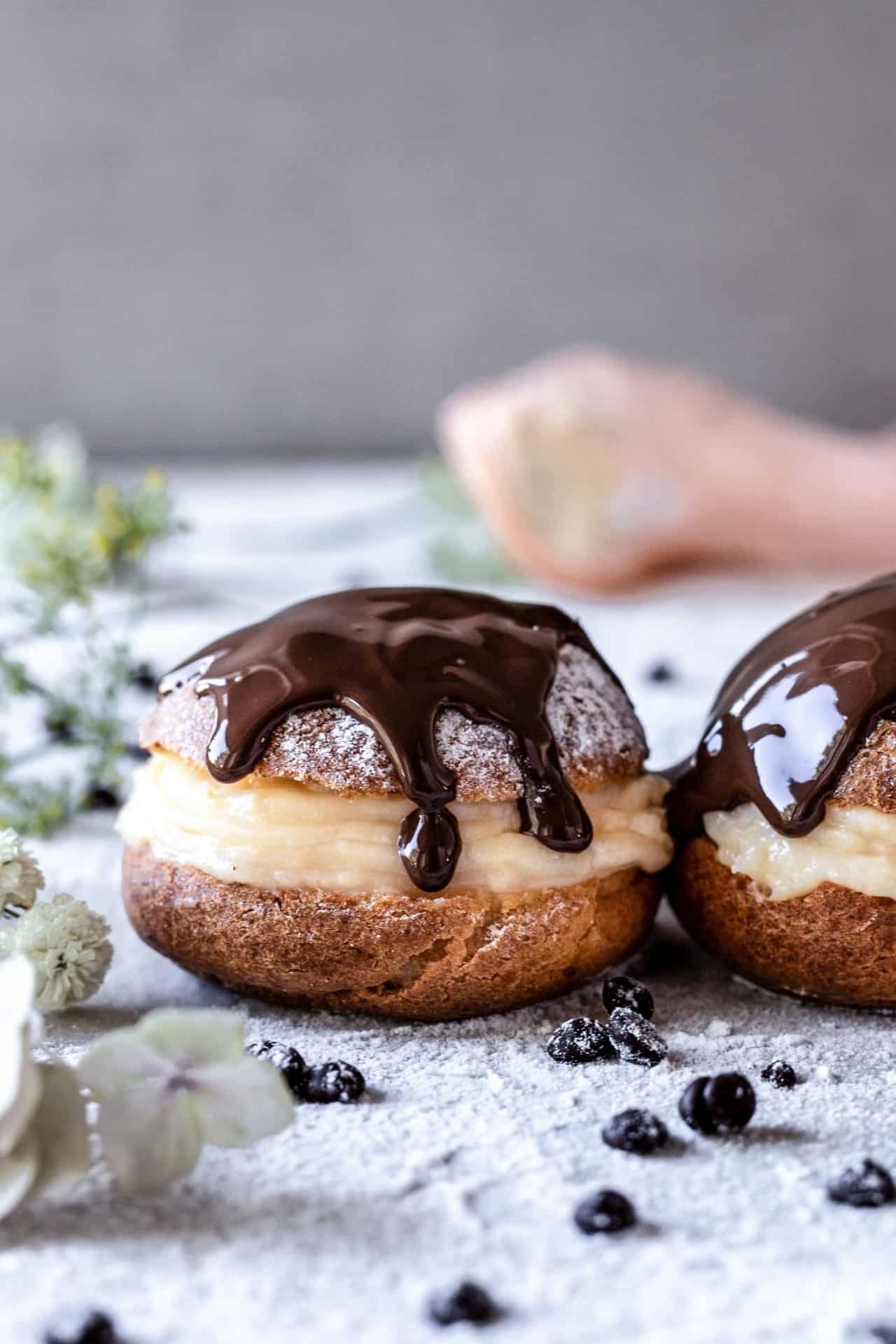 How to bake Choux Pastry for profiteroles?
There are two simple rules for Choux pastry:
1.Stick to the ingredients and measurements
2.Don't open the oven while it bakes
Another key step in making light, airy, crispy pastry is the double bake of the pastry balls. The pastry balls cook through and puff up in the first bake. Then the balls are pierced and returned to the oven for a second bake to dry out the inside. You need to prick the shells towards the end of the baking time, to allow the shells to dry out. If you don't, the hot humid air will collapse the soft shell as it cools down.
what flour to use to make them?
I like to use my universal homemade gluten-free flour blend. Which is a mix of the following flours :
3. Sweet Rice Flour (Glutinous Rice aka Sticky Rice)
4. Tapioca Flour (tapioca starch is the same as tapioca flour)
5. Xanthan Gum
If you can't make that one, you can try with any gluten-free flour mix (just make sure it contains xanthan gum because that helps in binding the dough). The final result using different flour mix might vary slightly, depending on what flours your mix contains.
To find the recipe for my gluten-free flour mix click, HERE.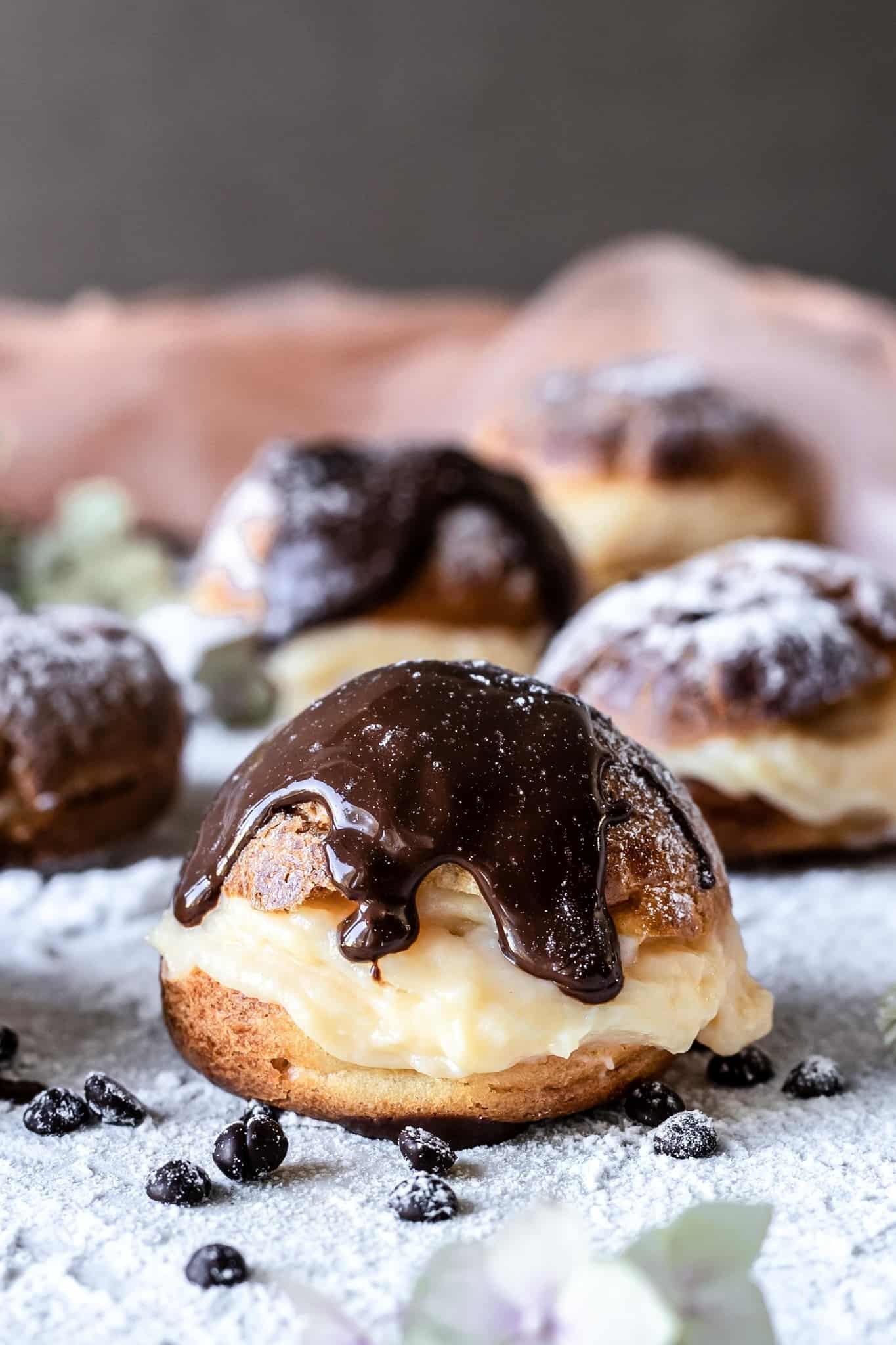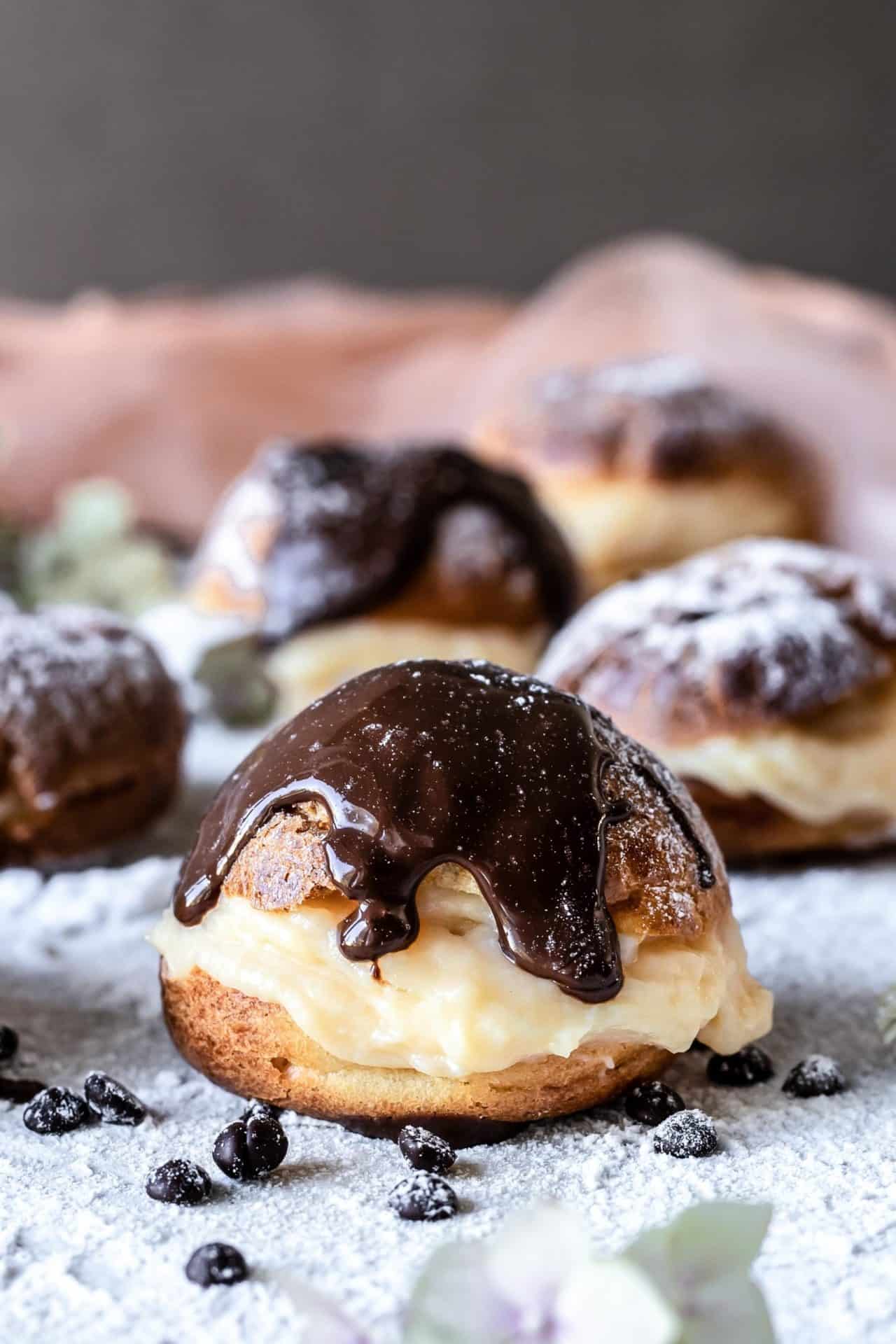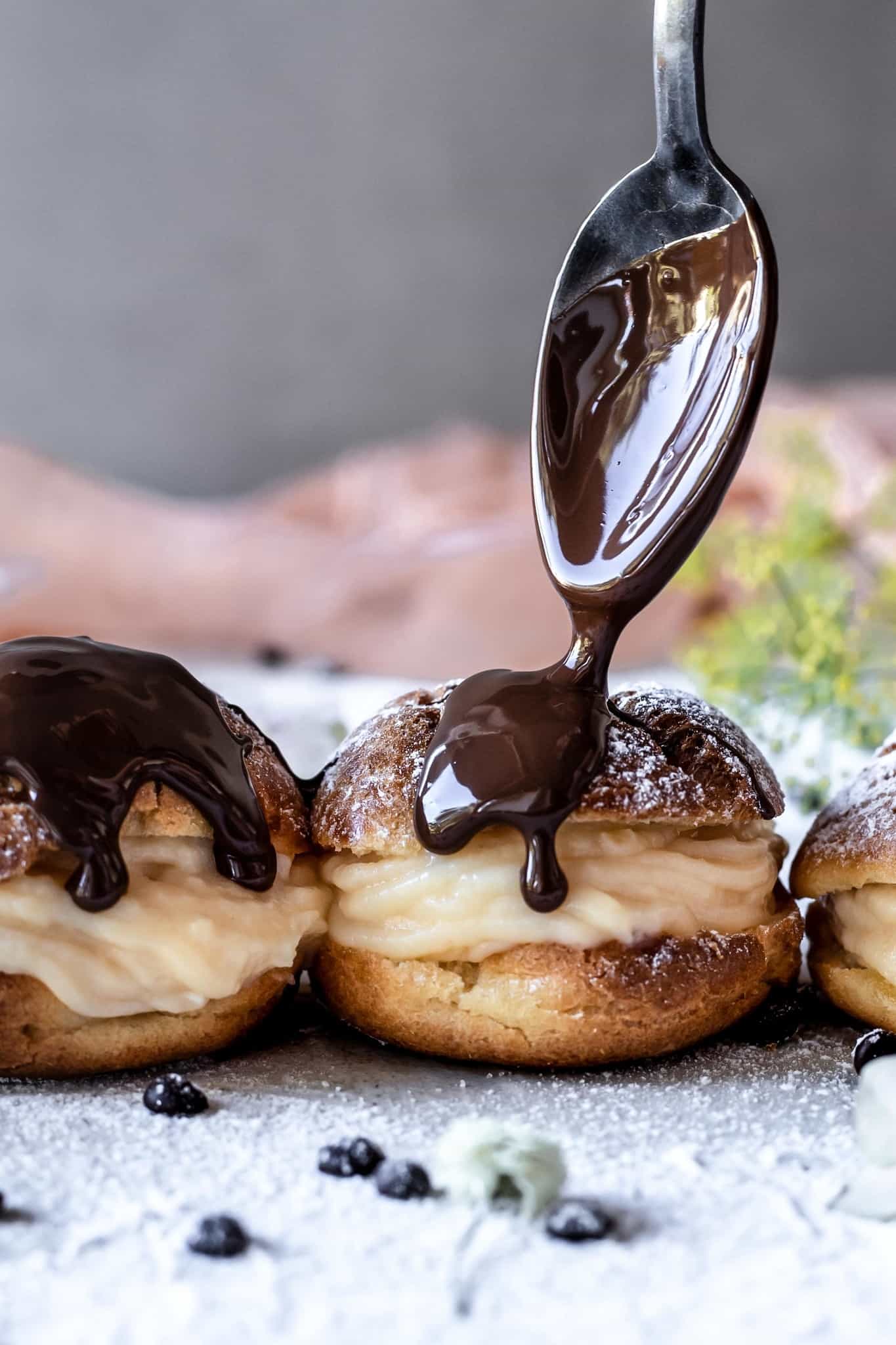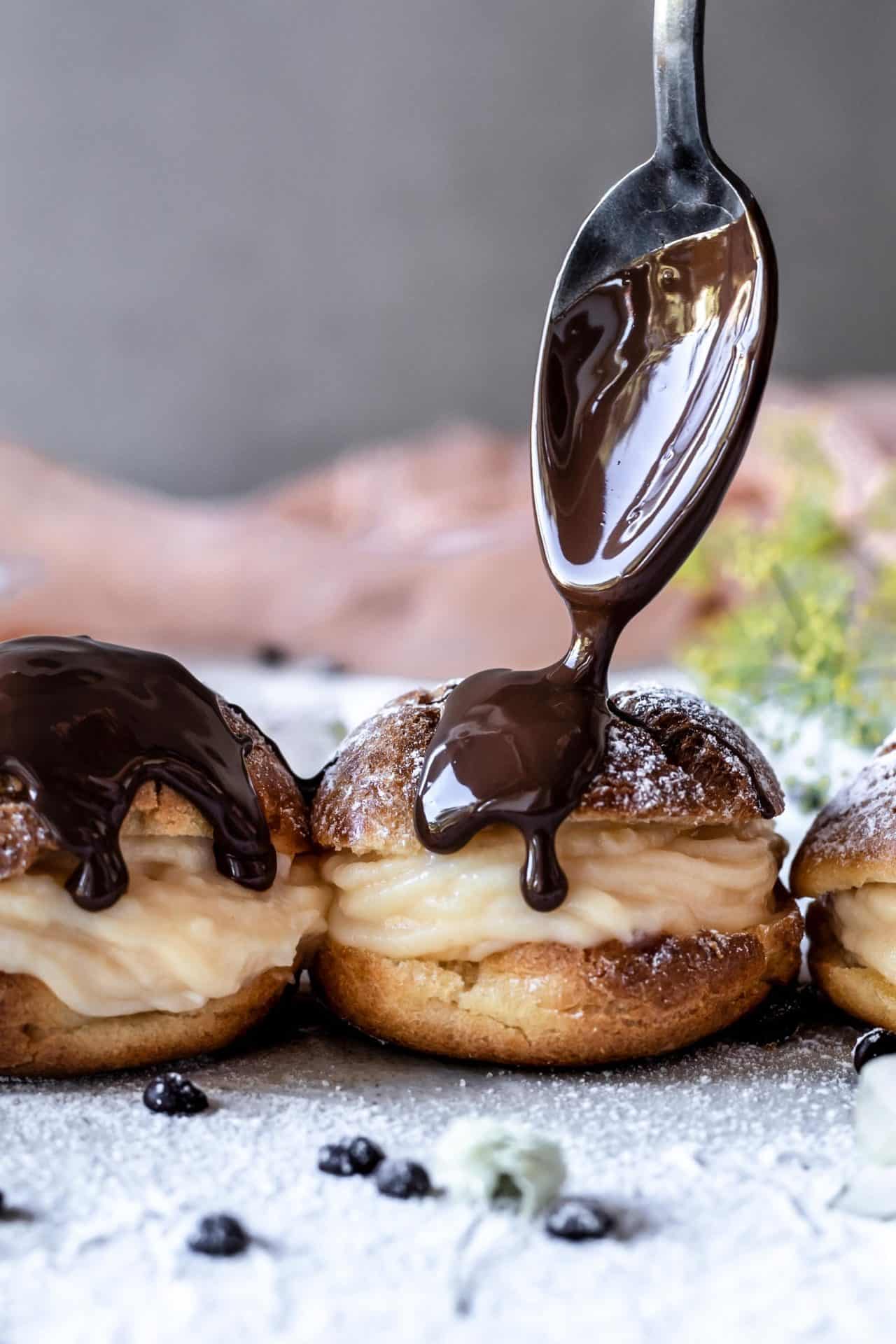 * FODMAP tip:
*To make sure that your flour mix is fodmap friendly I recommend that you make your own gluten-free flour mix, I always make this one. Or always read the ingredients of the store-bought gluten-free flour mixes. Make sure your mix doesn't contain soy flour, chickpea/besan/gram/garbanzo bean flour, lentil flour, coconut flour, amaranth flour, or lupin flour.
*All the ingredients used in this recipe are FODMAP friendly, however, As a general rule always read the labels of the ingredients that you use as there can be sneaky FODMAP's in any product. To educate yourself on which foods are high in FODMAP's I'd strongly recommend downloading Monash Unversity FODMAP Diet.
Recipe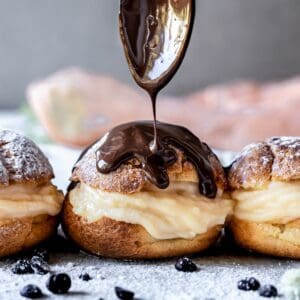 Gluten-Free Profiteroles
These Gluten Free Profiteroles are crispy, light, perfectly sweetened, bursting with creamy pastry cream and so delicious!
Ingredients
For the Gluten-Free Choux Pastry (Pâte à Choux)
55

g

unsalted butter

(¼ cup)

60

ml

water

(¼ cup)

60

ml

lactose-free milk

(¼ cup)

1

tablespoon

granulated sugar

pinch of salt

60

g

gluten-free flour

(½ cup)

2

large eggs

egg wash (1 egg beaten with tablespoon milk or water)
For the Pastry Cream
480

ml

milk

(2 cups)

70

g

sugar

(6 Tbsp)

30

g

Cornstarch

(3 Tbsp)

2

teaspoon

pure vanilla extract / vanilla bean paste or 1 vanilla bean pod

3

large egg yolks

1

large egg

40

g

butter

(3 Tbsp)

pinch of slat
For the Chocolate Sauce
100

g

dark chocolate

100

ml

lactose free heavy cream
Instructions
To make the Gluten-Free Choux Pastry (Pâte à Choux)
Preheat oven to 200°C (400°F). Line a baking sheet with parchment paper.

Combine the butter, water, milk, salt, and granulated sugar together in a medium saucepan over medium heat. Stir until the butter has melted. Bring mixture to a simmer. Once simmering, reduce heat to low and add the flour all at once. Stir until the flour is completely incorporated and a thick dough clumps into a ball. 

Mash the dough ball against the bottom and sides of the pan for 1 minute to gently cook the flour.

Remove from heat and transfer to the bowl of a stand mixer fitted with a paddle attachment or, if using a handheld mixer, a large mixing bowl. Allow to cool down for a few minutes before adding the eggs.

Beat the eggs separatly and gradually add it to the dough, in 3-4 separate additions mixing for 30 seconds between each. Stop adding when the choux pastry has reached the desired texture: shiny, thick, and smooth with a pipeable consistency. 

Transfer your dough into a piping bag (I use a 1A nozzle). Pipe small balls onto your baking sheet with a little space between each ball. I make about 12 with this amount

If you don't want to use it immedietly. Cover and refrigerate for up to 3 days.

Once they've all been piped, wet your finger and dab the top of each ball to help with the shape. Gently flatten any pointy bits.

Gently brush with egg wash. (optional, if you don't have any of the whisked eggs left you can omit this step as it's not necessary.)

Bake in the prehetead oven 200°C (400°F) for 20min. Then 10 more minutes on 175°C (350°F).  Do not open the oven in this 30min as the pastries cook, as cool air will prevent them from properly puffing up. Once this 30min have passed open the oven, prick each shell with a skewer or toothpick and let them dry out in the oven for 5 more minutes. 

Remove from the oven and transfer to a cooling rack. Allow to cool completely before filling.
To make the pastry cream
Heat the milk over medium high heat and bring it to a simmer, almost to a boil. While the milk is being heated, place the vanilla, sugar, egg and yolks, cornstarch and salt in a bowl. Whisk until you have a thick, smooth mix.

As soon as the milk starts to bubble, remove it from the heat. Slowly pour about a half of the hot milk in a thin stream, into the egg mix (WHISKING CONSTANTLY) to temper the egg mix. When the eggs have been tempered, add the egg mix back into the hot milk in the saucepan.

Heat the custard base, over medium heat, while whisking vigorously until it starts to thicken (it takes about 1-2 minutes)

While whisking, let the custard come to a boil. Lower the heat and cook for a further 1-2 minutes after you see the first bubbles break the surface. Remove from the heat and add the butter. Whisk in the butter, until it's completely mixed in.

Pour the custard into a bowl and immediately cover the surface with plastic wrap, making sure the plastic wrap is touching the whole surface. This is to prevent a custard skin from forming on top.

Let the custard cool down to room temperature and then let it chill in the fridge for at least 2 hours or until it's completely chilled.
Chocolate Suace
Heat the cream in a small saucepan. When the cream just begins to boil at the edges, remove from heat and pour over the chopped chocolate. Let sit one minute, then stir until smooth.
To assamlbe
Spoon into piping bag fitting with a very fine nozzle. Then pipe into profiteroles (use the hole pierced during bake, or make a new hole). You can also cut the profiteroles in half and pipe them that way. Pour the chocolate soauce on top and let them cool in thefridge for 1 to 2h before serving.