These Gluten-Free Bagels are one of the best things that I've baked lately. Nothing beats freshly home-baked bagels, and this is simply the best Homemade New York Style Gluten-Free bagels recipe, that I've tried lately!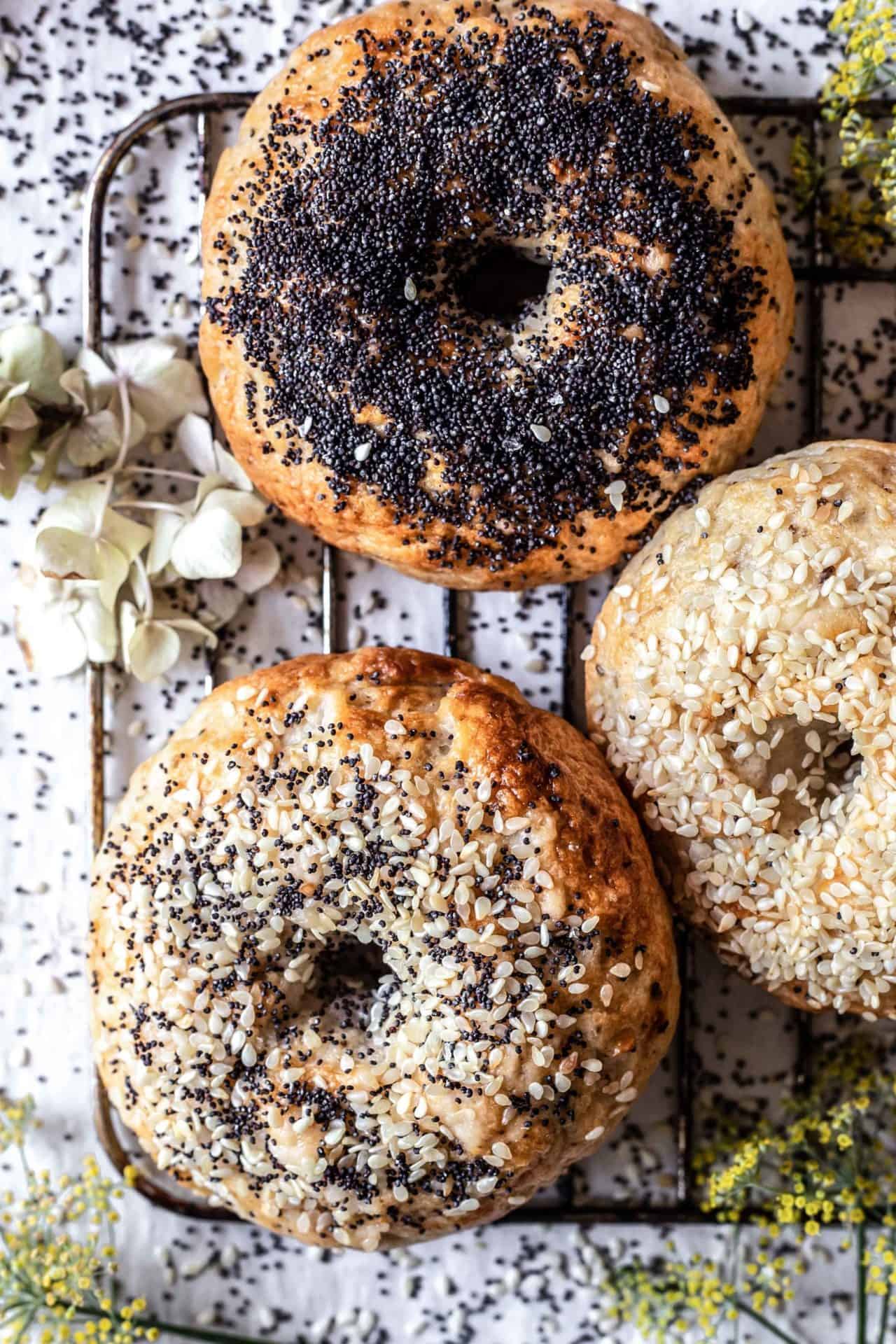 Gluten-Free Bagels Recipe
These bagels are extra chewy, simple, savory, tender and so delicious! They have the most perfect texture, dense yet soft and tender in the middle, and slightly browned and crisp on the outside. These bagels are low FODMAP and easy to digest!
How to make these Gluten-Free Bagels?
You might be thinking that bagels are difficult to make, at least I was thinking that until I made them. And I guarantee you, homemade bagels are so easy to make! There are literally 3 things that you will need to do!
1. Make the dough
2.Once it rises, knead and shape the bagels.
3.Boil. Because real bagels are boiled. I really don't recommend you to skip this step. It takes only a few extra minutes to do it and makes all the difference. When bagels are boiled they get that chewiness and perfect bagel texture.
To make this recipe you will only need 10 simple ingredients, that you most likely already have in your house.
To find the exact amount of the ingredients and step-by-step instructions, scroll at the end of this page.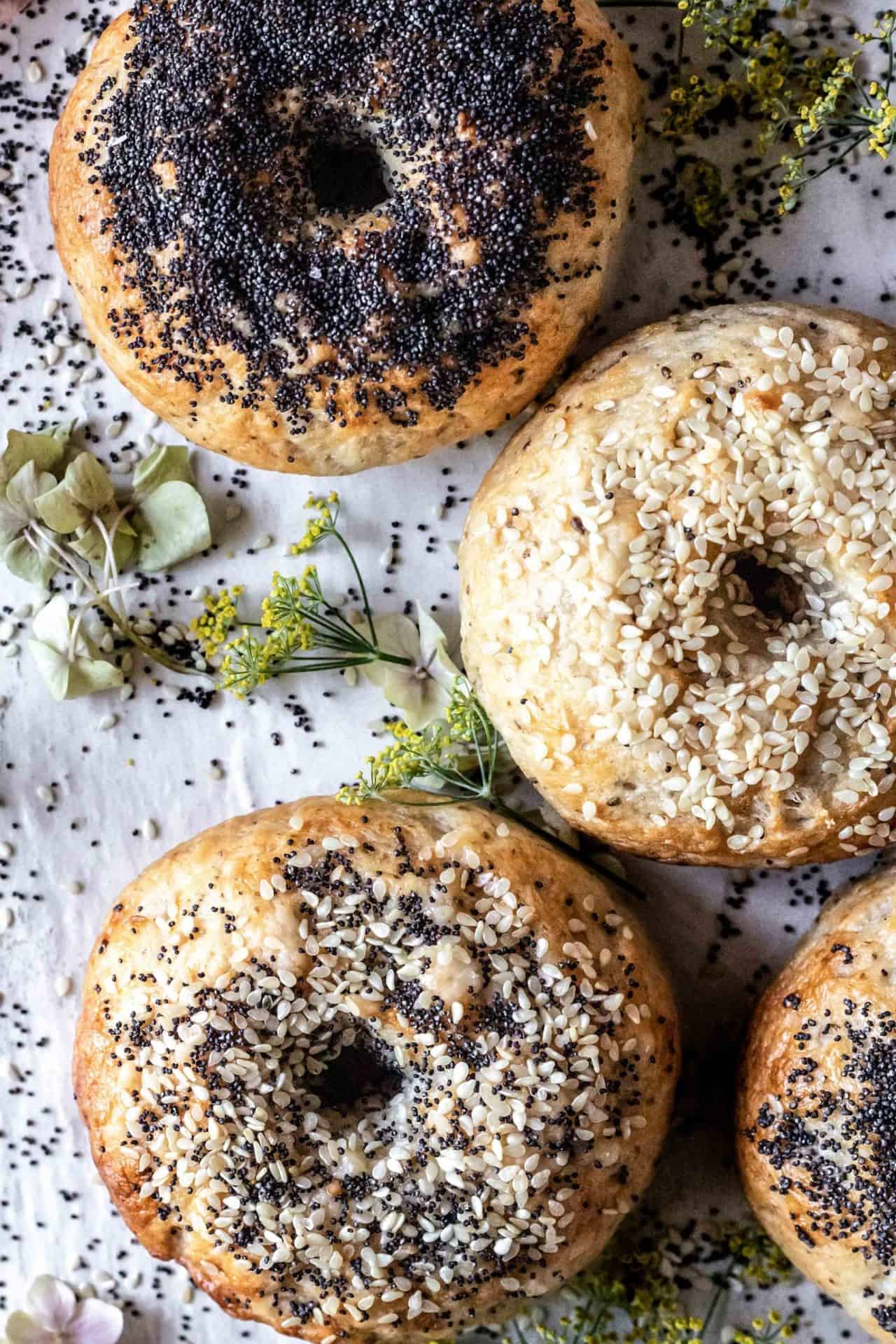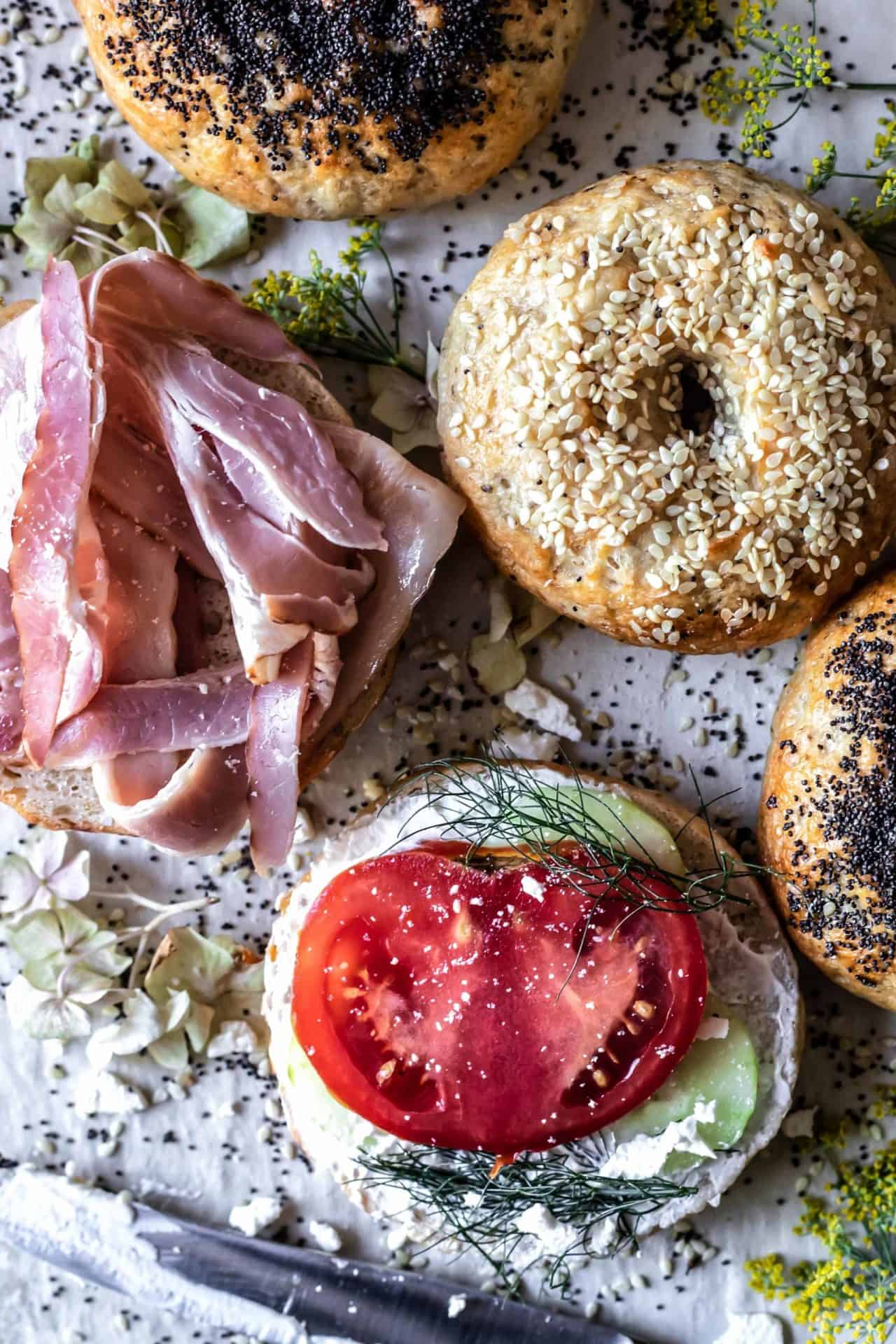 How to make these gluten-free bagels vegan?
You can easily make these bagels vegan. Just substitute the butter for vegan butter, the yogurt for a dairy-free alternative yogurt, and for egg wash use only dairy-free milk.
what flour to use to make them?
I like to use my universal homemade gluten-free flour blend. Which is a mix of the following flours :
3. Sweet Rice Flour (Glutinous Rice aka Sticky Rice)
4. Tapioca Flour (tapioca starch is the same as tapioca flour)
5. Xanthan Gum
If you can't make that one, you can try with any gluten-free flour mix (just make sure it contains xanthan gum because that helps in binding the dough). The final result using different flour mix might vary slightly, depending on what flours your mix contains.
To find the recipe for my gluten-free flour mix click, HERE.
*freezing tip:
* These Gluten-Free Bagels are freezer friendly. To freeze baked bagels simply wrap them in plastic foil and place it in a freezer friendly bag or container. To defrost it, thaw in the fridge or room temperature or warm it up in the oven at 180C (350F) degrees.
* FODMAP tip:
*To make sure that your flour mix is fodmap friendly I recommend that you make your own gluten-free flour mix, I always make this one. Or always read the ingredients of the store-bought gluten-free flour mixes. Make sure your mix doesn't contain soy flour, chickpea/besan/gram/garbanzo bean flour, lentil flour, coconut flour, amaranth flour, or lupin flour.
*All the ingredients used in this recipe are FODMAP friendly, however, As a general rule always read the labels of the ingredients that you use as there can be sneaky FODMAP's in any product. To educate yourself on which foods are high in FODMAP's I'd strongly recommend downloading Monash Unversity FODMAP Diet.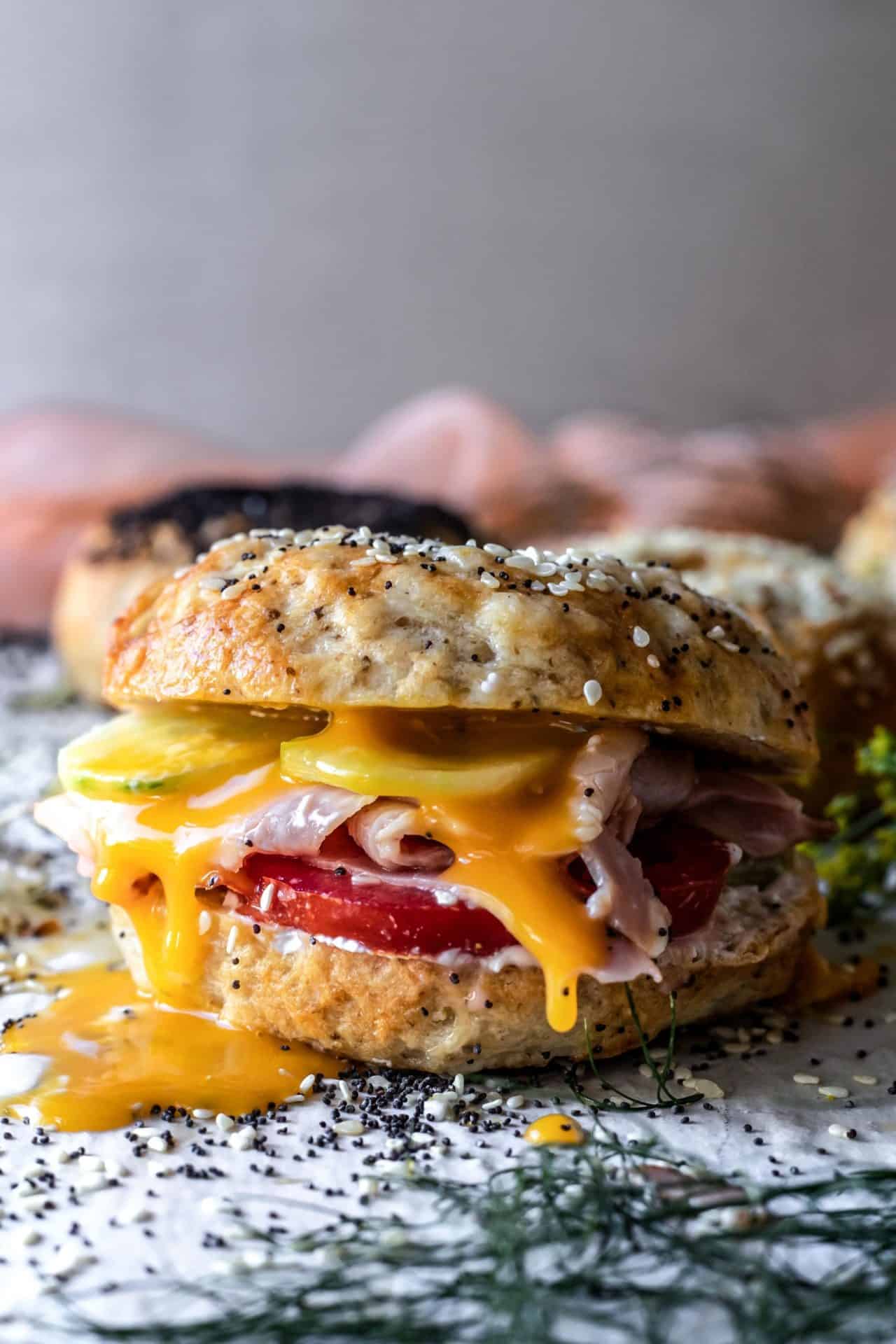 *gluten-free tip:
If you are celiac or highly sensitive to gluten, buy certified gluten-free yeast and baking powder. Dried instant yeast and baking powder are naturally gluten-free, however, depending on the manufacturing place and process there can be cross-contamination.
Recipe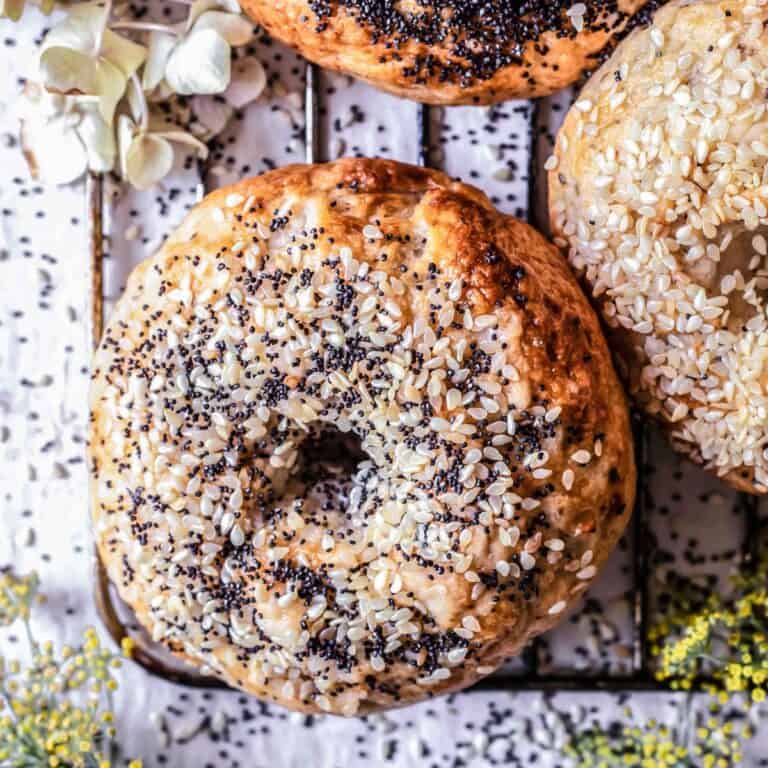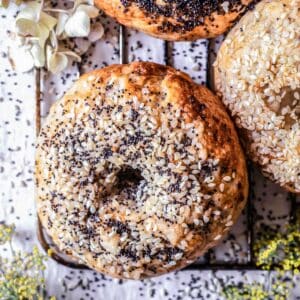 Gluten-Free Bagels
These Gluten-Free Bagels are extra chewy, simple, savoury, tender and so delicious. Plus they are easy to digest and low FODMAP.
Ingredients
400

g

gluten-free flour mix

3

tablespoon

psylium husk powder

2

teaspoon

baking powder

1

tablespoon

Instant Yeast

1

tablespoon

sugar

1

tablespoon

chia meal

250

ml

lactose-free yogurt (at room temperature)

for vegan version sub for dairy-free yogurt

320

ml

warm water

80

g

unsalted butter

(melted) for vegan version subfor vegan butter

egg wash (1 egg beaten with tablespoon milk or water)

for vegan version use only water or dairy free milk
For boiling
2

quarts

water

80

ml

Maple Syrup
Instructions
In a medium bowl add all the dry infredients and mix. Then conutine by adding the melted butter, warm water and yogurt. Beat the dough with a mixer on medium for 5 minutes or until the dough is sticky and stiff. (you can also mix the dough with hands)

Lightly grease a large bowl with oil or nonstick spray. Place the dough in the bowl, turning it to coat all sides in the oil. Cover the bowl with plastic wrap or a clean kitchen towel.  Allow the dough to rise at room temperature for 60-90 minutes or until double in size.

Line a baking sheet with parchment paper or silicone baking mats.

When the dough is ready, punch it down to release any air bubbles. Divide the dough into 6 to 7 equal pieces. Shape each piece into a ball. Press your index finger through the center of each ball to make a hole about 1.5 – 2 inches in diameter. Loosely cover the shaped bagels with kitchen towel and rest for a few minutes as you prepare the water bath.

Preheat oven to 220°C (425°F).
To prepare the water bath:
Fill a large, wide pot with 2 quarts of water. Whisk in the maple syrup. Bring water to a boil, then reduce heat to medium-high.

Drop bagels in, 2-3 at a time, making sure they have enough room to float around. Cook the bagels for 1 minute on each side.

Using a pastry brush, brush the egg wash on top and around the sides of each bagel, top with sesame seeds, sea salt and/or poppy seeds. Place the bagels on a baking sheet.

Bake for 20-25 minutes or until the bagels start to get dark golden brown. Remove from the oven and allow bagels to cool on the baking sheets for 20 minutes, then transfer to a wire rack to cool completely.

The completely cooled bagels can be stored in an air-tight container at room temperature for up to 3 days or in the fridge for up to a week.