Gluten-Free Raspberry Yogurt Bars. Refreshing, fruity, and so delicious! Perfect for anyone looking for a quick and easy dessert! They require only 10 ingredients and 10min prep time!
I'm always looking for simple and light desserts that can pass as breakfast or mid-day snacks, and these bars are just that!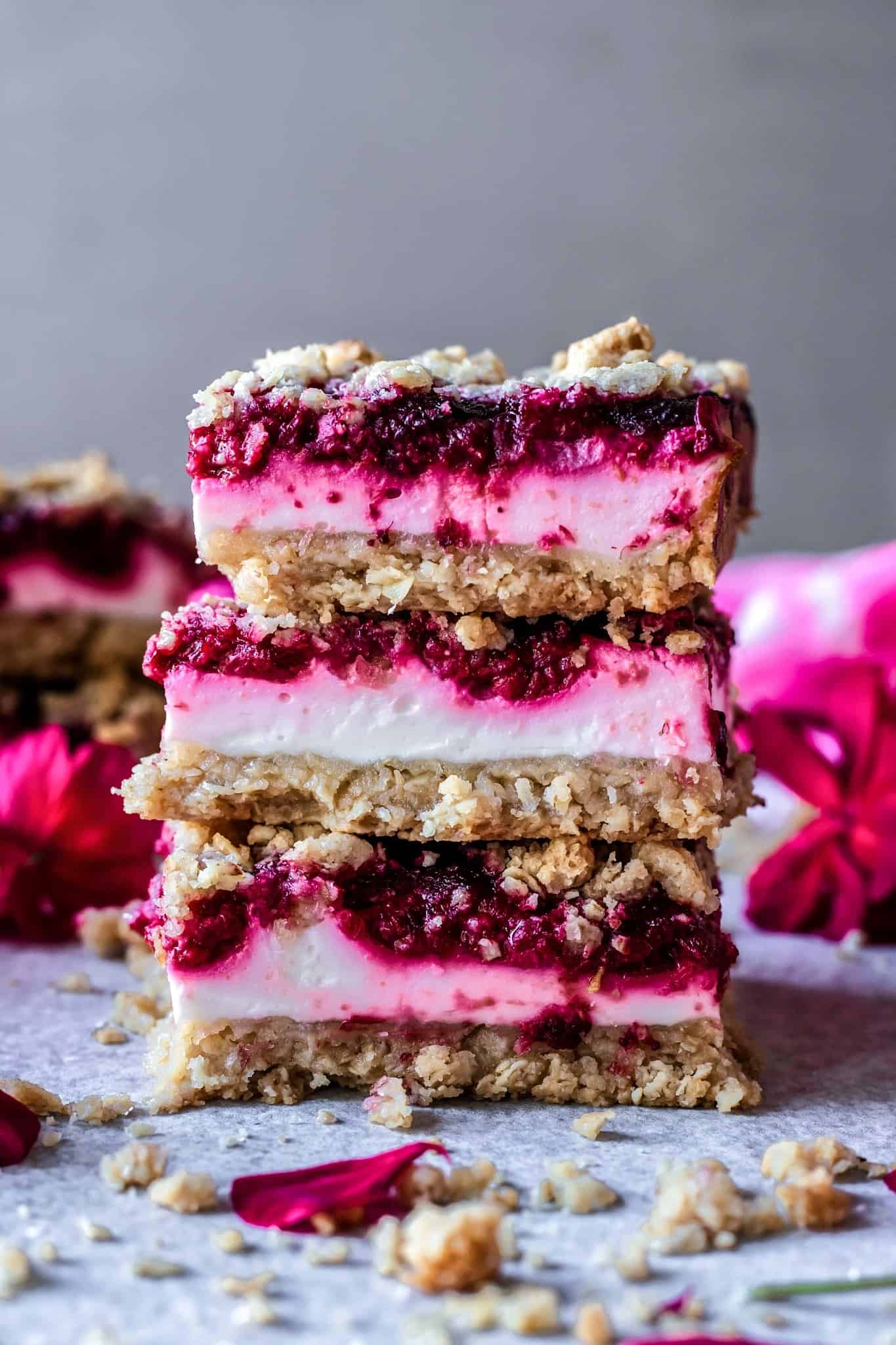 Gluten-Free Raspberry Yogurt Bars Recipe
These bars are simple to make, fruity, perfectly sweetened, refreshing, and just so good!
Raspberries and yogurt and a hint of lemon is just the best combo!
I enjoy having them on their own or with tea as breakfast or mid-day snack.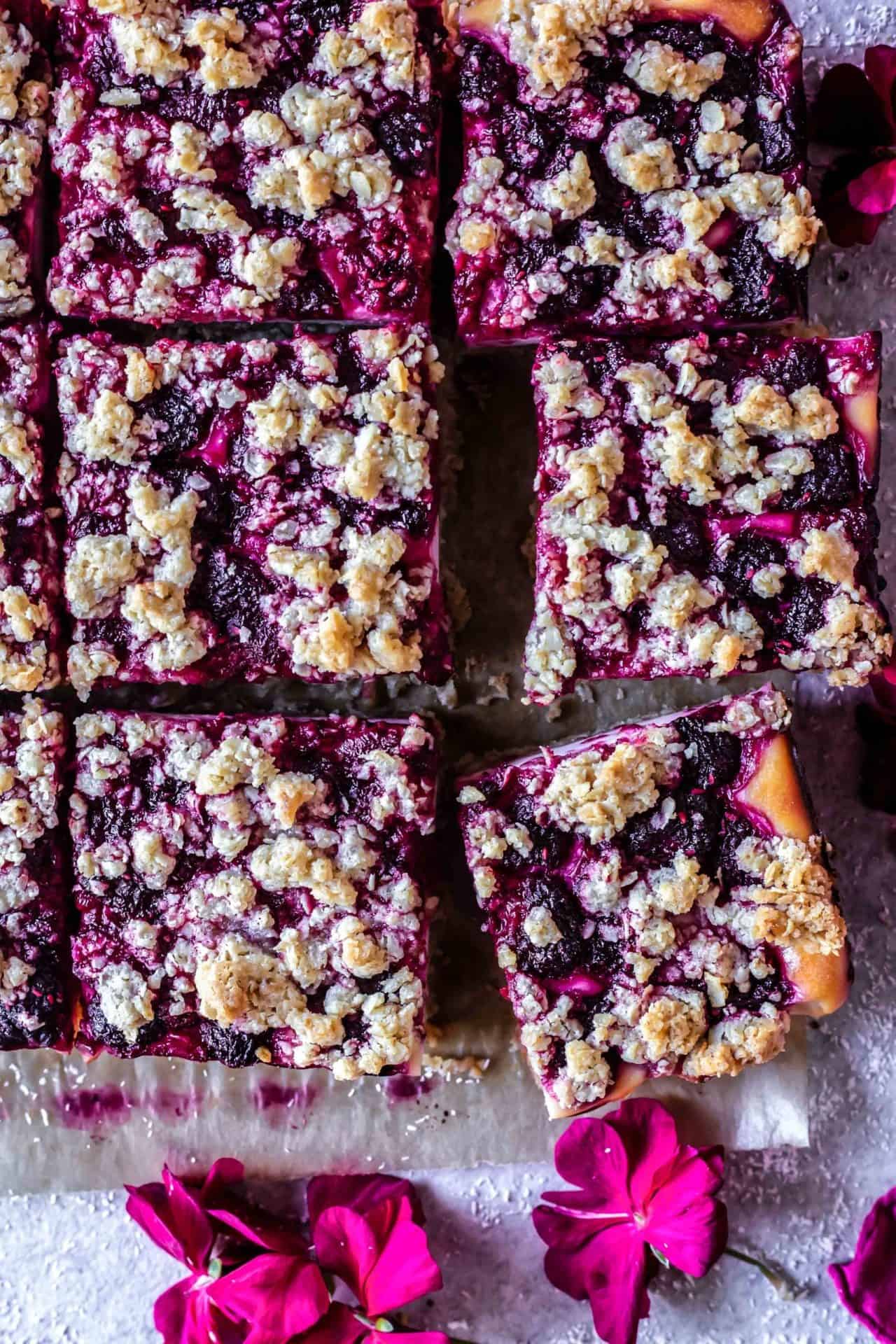 How to make these Gluten-Free Raspberry Yogurt Bars?
This is the EASIEST recipe to make!
There are only 2 things that you will need to make: the crust and the filling. And they both take no more than 10 min to prepare them!
To find the exact amount of the ingredients and step-by-step instructions, scroll to the end of this page.
what flour to use to make it?
I like to use my universal homemade gluten-free flour blend. Which is a mix of the following flours :
3. Sweet Rice Flour (Glutinous Rice aka Sticky Rice)
4. Tapioca Flour (tapioca starch is the same as tapioca flour)
5. Xanthan Gum
If you can't make that one, you can try with any gluten-free flour mix (just make sure it contains xanthan gum because that helps in binding the dough). The final result using different flour mix might vary slightly, depending on what flours your mix contains.
To find the recipe for my gluten-free flour mix click, HERE.
*fodmap tips:
*To make sure that your flour mix is fodmap friendly I recommend that you make your own gluten-free flour mix, I always make this one. Or always read the ingredients of the store-bought gluten-free flour mixes. Make sure your mix doesn't contain soy flour, chickpea/besan/gram/garbanzo bean flour, lentil flour, coconut flour, amaranth flour, or lupin flour.
*All the ingredients used in this recipe are FODMAP friendly, however, As a general rule always read the labels of the ingredients that you use as there can be sneaky FODMAP's in any product. To educate yourself on which foods are high in FODMAP's I'd strongly recommend downloading Monash Unversity FODMAP Diet.
*gluten-free tip:
If you are celiac or highly sensitive to gluten, buy certified gluten-free oats. Oats are naturally gluten-free, however, depending on the manufacturing place and process they could be cross-contaminated.
Recipe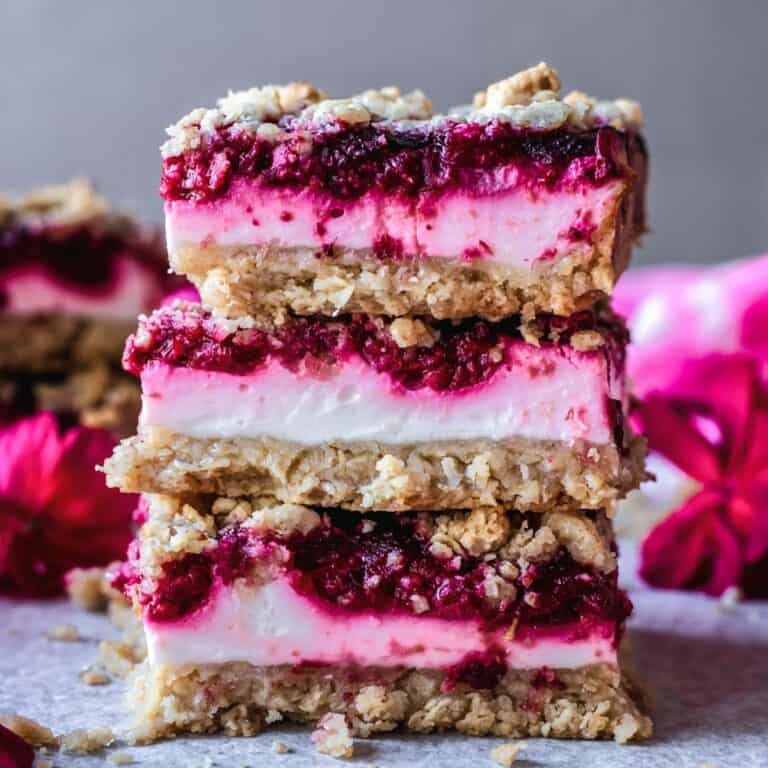 Gluten-Free Raspberry Yogurt Bars
These Gluten-Free Raspberry Yogurt Bars are simple to make, fruity, perfectly sweetened, refreshing, and just so good!
Ingredients
For the crust
120

g

(1 cup) gluten-free flour blend

100

g

(1 cup) oats

130

g

(¾ cup) sugar

½

teaspoon

baking powder

120

g

(½ cup) butter

(unsalted)

1

teaspoon

pure vanilla extract

zest from one lemon
For the filling
430

g

(1½ cup) lactose-free Greek Yogurt or normal thick yogurt

3

tablespoon

(40g) sugar

2

tablespoon

(16g) cornstarch

300

g

(10oz) raspberries

(fresh or frozen)
Instructions
Preheat the oven to 350F (180C). Slightly grease a 8x8 inch (20x20cm) square pan and line with parchment paper, in such a way that some edges are longer to make it easy to lift it up once it's set.

In a bowl mix brown sugar, lemon zest, flour, oats, baking powder and salt. Add butter and vanilla and stir until combined and crumbly.

Set aside about 1 cup of crumble mixture. Press remaining crumb mixture into the bottom of the pan.

In a medium bowl mix yogurt with sugar and cornstarch. Spread the yogurt mixture over the crust.

Spread the raspberries over the yogurt. If using frozen raspberries, thaw the raspberries and squeeze out the liquid before using.

Sprinkle the reserved cup of crumb mixture over the raspberries.

Bake for 40-45 minutes or until lightly browned. Cool completely and then refrigerate for about 2 hours before serving.