Every snickers lover should try this Gluten-Free Snickers Cupcakes!
A couple of weeks ago I came to visit my parents in Macedonia. For those who don't know, I live in the Netherlands but I originally come from Macedonia and my parents still live there. So during my visit, I wanted to make/ bake something nice for my parents. I came up with an idea to make my father's favorite chocolate bar in a cupcake form. Yes, the chocolate bar I'm talking about is snickers. My father absolutely loves snickers, but who doesn't love snickers?!
But of course, how can I make cupcakes and not be able to have one or a few for myself. Therefore I had to make them gluten-free and low FODMAP.
And my experiment once again was a success! No one was able to tell that that they were gluten-free 😉
Gluten Free Snickers cupcakes recipe
This gluten-free snickers cupcakes are super chocolatey, infused with peanuts and caramel sauce and frosted with the yummiest peanut butter frosting! The texture is fluffy and moist with a crunch of the peanuts from the caramel/peanut filling and the frosting is so creamy and silky. They are perfectly sweetened, super indulging and delicious and yes they taste like snickers!
Sounds tempting?
They are a perfect treat for celebration parties or just for yourself because we all sometimes need a little sweet treat for ourselves!
How to make the gluten-free snickers cupcakes?
To make these gluten-free snickers cupcakes there are 3 things you will need to make: Bake the cupcakes, make the low FODMAP caramel sauce and make the frosting. All of the 3 things are easy to make and require only simple and easily accessible ingredients.
For the detailed step-by-step instructions scroll at the end of this page.
What flour to use for this gluten-free snickers cupcakes?
I like to use my universal homemade gluten-free flour blend. Which is a mix of the following flours :
3. Sweet Rice Flour (Glutinous Rice aka Sticky Rice)
4. Tapioca Flour (tapioca starch is the same as tapioca flour)
5. Xanthan Gum
If you can't make that one, you can try with any gluten-free flour mix (just make sure it contains xanthan gum because that helps in binding the dough). The final result using different flour mix might vary slightly, depending on what flours your mix contains.
To find the recipe for my gluten-free flour mix click, HERE.
How to make these cupcakes completely dairy free?
I've personally never made them completely dairy free. But you can always do an experiment of your own.
For the cupcakes, it would be fine to replace the lactose-free milk for any dairy-free milk (like almond or rice milk)
For the caramel sauce, I've never made a dairy free version of it however you may try replacing the cream with full-fat coconut milk. And for the frosting, you can try replacing the butter with a dairy free butter and the heavy cream with plant-based whipping cream. However, as I said, I've never done this myself so I can't guarantee what the results would be.
Make-ahead tip:
The cupcakes can be made ahead 1 day in advance, covered and stored at room temperature. The frosting can also be made 1 day in advance, covered, and stored in the refrigerator until ready to use. It is best to assemble and decorate the cupcakes immediately before serving.
Leftover cupcakes would keep well in the refrigerator for up to 3 days.
I've never tried freezing frosted or unfrosted cupcakes as I always like having them fresh. However, I've heard good results from some people who have done that. If you are freezing them to defrost, just thaw overnight in the fridge.
FODMAP tip :
*To make sure that your flour mix is FODMAP friendly I recommend that you make your own gluten-free flour mix. I always make this one. Or always read the ingredients of the store-bought gluten-free flour mixes. Make sure your mix doesn't contain soy flour, chickpea/besan/gram/garbanzo bean flour, lentil flour, coconut flour, amaranth flour, or lupin flour.
*If you are making it dairy-free, choose milk that is low fodmap, (like rice or almond milk). If you use soy milk, look for the ones made of soy protein and not of soybeans, as the one made of soybeans is high in Oligosaccharides)
*As a general rule always read the labels of the ingredients that you use as there can be sneaky FODMAP's in any product. To educate yourself of which foods are high in FODMAP's I'd strongly recommend downloading Monash Unversity FODMAP Diet App
Gluten-free tip:
If you are celiac or highly sensitive to gluten, buy certified gluten-free baking powder. Baking powder is naturally gluten-free, however, depending on the manufacturing place and process it could be cross-contaminated.
Recipe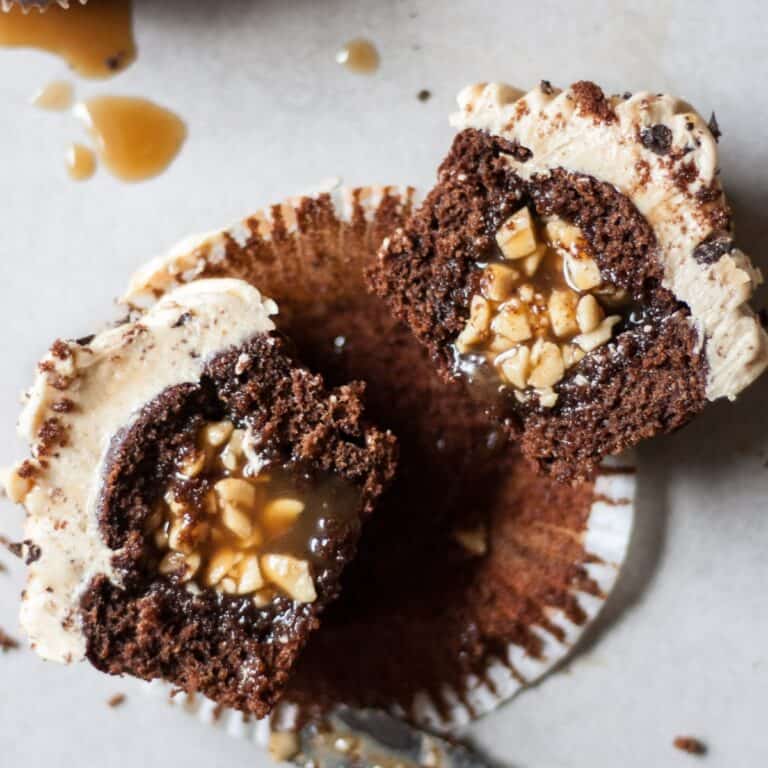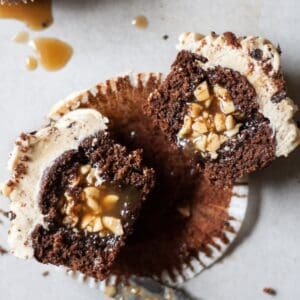 Gluten-Free Snickers Cupcake
This gluten-free snickers cupcakes are low FODMAP, perfectly sweetened, indulging, delicious and yes they taste like the all-time favorite snickers bars!
Ingredients
For the Cupcakes
100

gr

gluten free flour

40

gr

unsweetened coca powder

¾

teaspoon

baking powder

¼

tsp

baking soda

pinch of salt

140gr

granulated sugar

4

tablespoon

Sunflower oil

2

eggs

(at room temperature)

140

ml

full fat lactose-free milk

(at room temperature)
For the Filling
100

gr

salted peanuts

150

ml

caramel sauce

(see my recipe for low FODMAP caramel sauce here)
For the Peanut Butter Frosting
70

gr

unsalted butter

(softened at room temperature)

200

gr

smooth peanut butter

110

gr

confectioners sugar

80

ml

lactose free heavy cream

1

teaspoon

vanilla extract

¼

teaspoon

salt
For Decoration
Low FODMAP caramel sauce

(optional)

chopped salted peanuts

(optional)

chopped dark chocolate

(optional)
Instructions
For the Cupcakes
Preheat the oven to 180C. Line a 12-cup muffin pan with cupcake liners and set it aside.

Start by making the cupcakes: In a large bowl whisk the cocoa powder, the gluten free flour, baking soda, baking powder, salt and sugar.

Create a well in the center and add the oil, eggs, milk and whisk to combine well. The batter should be smooth and relatively thin. 

Pour the batter into the prepared cupcake liners- fill only hallway to avoid spilling over the sides.

Place the muffin pan in the center of your preheated oven and bake for about 19 to 20min or until the cupcakes spring back when pressed lightly on the center. Remove from the oven and allow to sit in the pan for at least 10 minutes before transferring to a wire rack to cool completely. Allow the cupcakes to cool complete before frosting.
For the homemade low FODMAP caramel sauce check out this recipe
To make the peanut butter frosting
Using a handheld or stand mixer fitted with a whisk attachment beat the softened butter on medium speed for 2 minutes until completely smooth and creamy. Add the peanut butter, confectioners' sugar, heavy cream, vanilla extract, and salt with the mixer running on low. Increase to high speed and beat for 4 minutes. Add up to ¼ cup more confectioners' sugar if frosting is too thin or another Tablespoon of cream if frosting is too thick.
To fill the cupcakes:
Insert a paring knife into the top of the cupcake at an angle. Hold the blade so that the flat side is facing the edge of the cupcake. It should at a 45-degree angle to the cupcake. Don't push the blade too deep into the cupcake, otherwise the frosting will come out the bottom.If you don't have a paring knife, you can use a teaspoon instead.Aim the hole to be about 1 inch (2.54cm) wide.

Pull the cone shape out of the cupcake. Cut the cone in half and discard the pointed part. You will use the top, flat part to plug the hole at the end.

Fill the cupcakes with the chopped peanuts and the caramel sauce. And  then close the hole with the top(flat part) of the cone.

Frost the cooled cupcakes. Decorate with the remaining of the caramel sauce, chopped peanuts and chopped dark chocolate.