Recently I had to make a few desserts that needed a caramel sauce. At first, I didn't think of it for too long, I just assumed that it is one of those things that you don't really need to make at home and that you can just buy it ready to use in the local supermarket. However, soon I realized that the ready-to-use caramel sauces are by no means low in FODMAP, on the contrary, they are high in FODMAPs. At least the ones that were available in my local supermarkets. So if I wanted to make those desserts that required a Caramel Sauce I had to make it myself. And to be honest, I'm so happy I did. This homemade low FODMAP caramel sauce is so so good. I don't know if it is the best since I haven't tried all the caramel sauces in the world. But to me, it tastes like heaven! And just for comparison, I bought a few from the supermarket, but without a doubt, the homemade one was the best. Firstly because it wasn't overly sweet like the store-bought ones and secondly it tasted much more like caramel.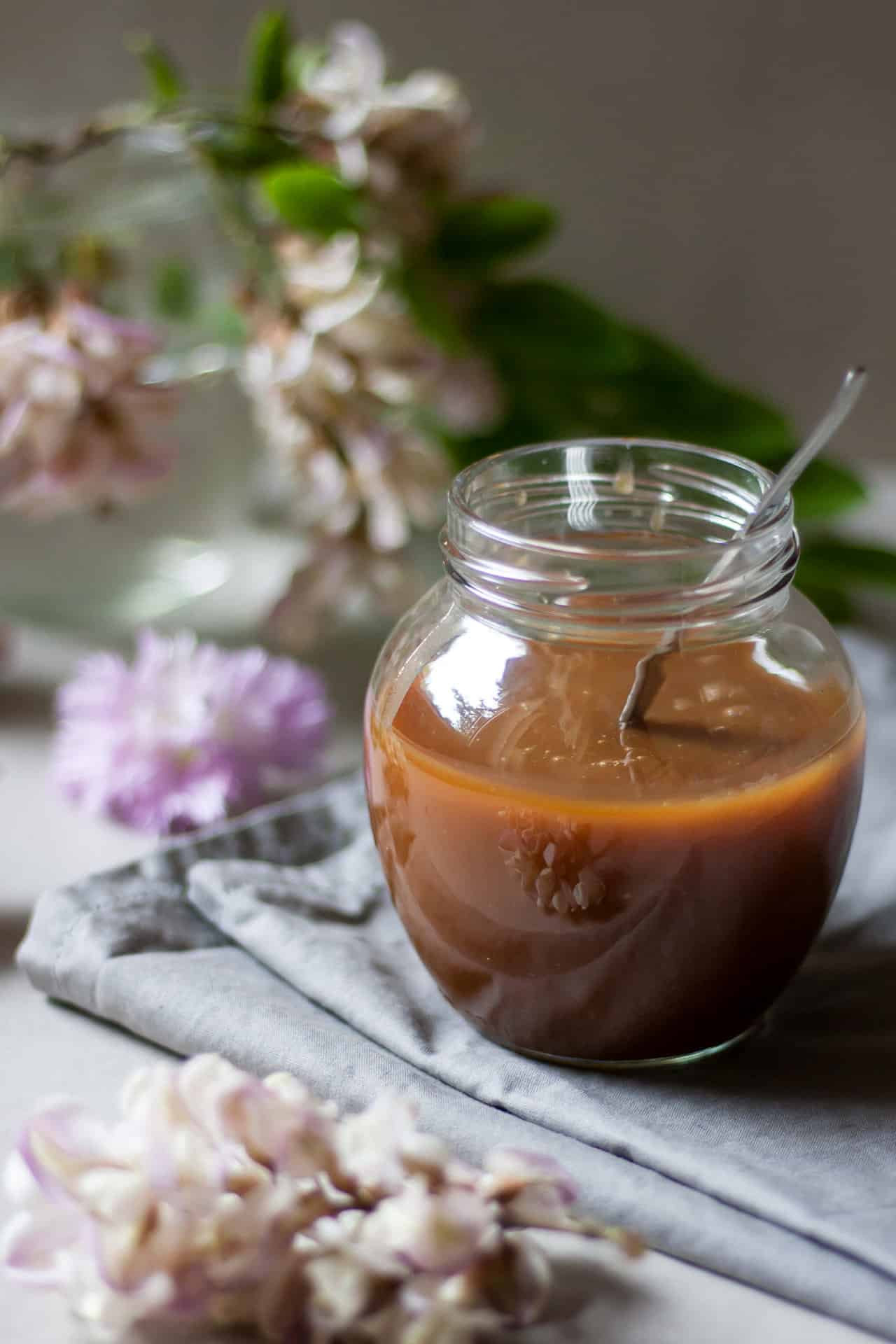 Low FODMAP Caramel Sauce Recipe
This caramel sauce is perfectly sweetened and very flavorful with a super silky texture. It is definitely healthier and friendlier to your stomach than the store-bought ones. And what's most important is bursting with a flavor of real caramel.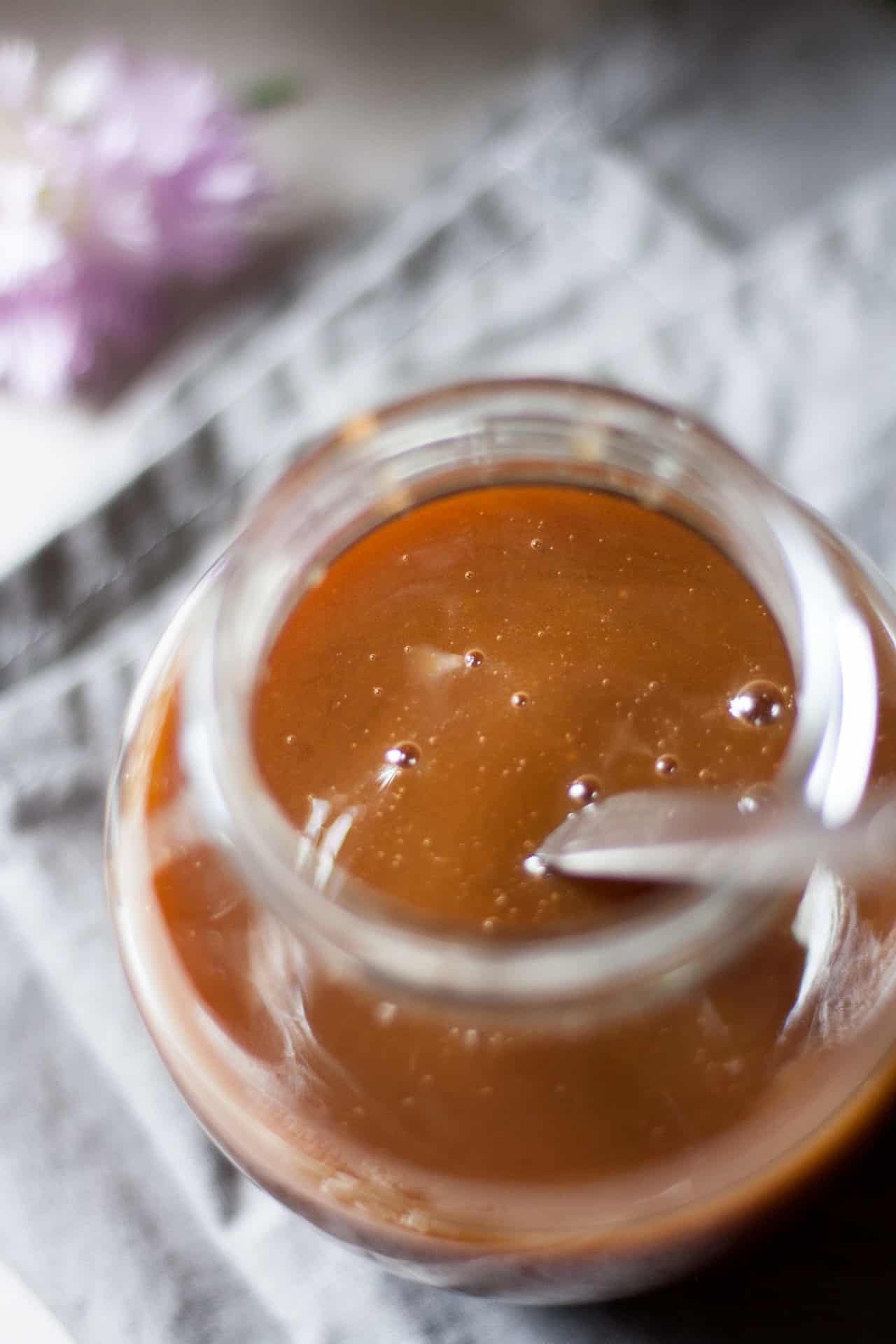 How to make this Caramel Sauce.
It might look like one of those luxurious recipes that are quite difficult to make but it is actually the opposite. It is super simple, you don't need some special skills or appliances and it only asks for a few simple ingredients. Doesn't that sound great?
For detailed step-by-step instructions scroll to the end of this page.
Can I make this caramel sauce completely dairy-free?
I have never tried making this caramel sauce completely dairy-free. However, you can always do an experiment of your own, but I can't guarantee the results. When I try to make a dairy-free version I'll update it here.
How to store it?
First, you need to let it cool down. After it is cooled down pour it into a glass jar or a container. You can refrigerate for up to a month. The caramel solidifies as it cools so you need to reheat it in the microwave or the stove to make liquid again. You can also freeze it for up to 3 months. Thaw in the refrigerator or at room temperature, then warm up before using.
Recipe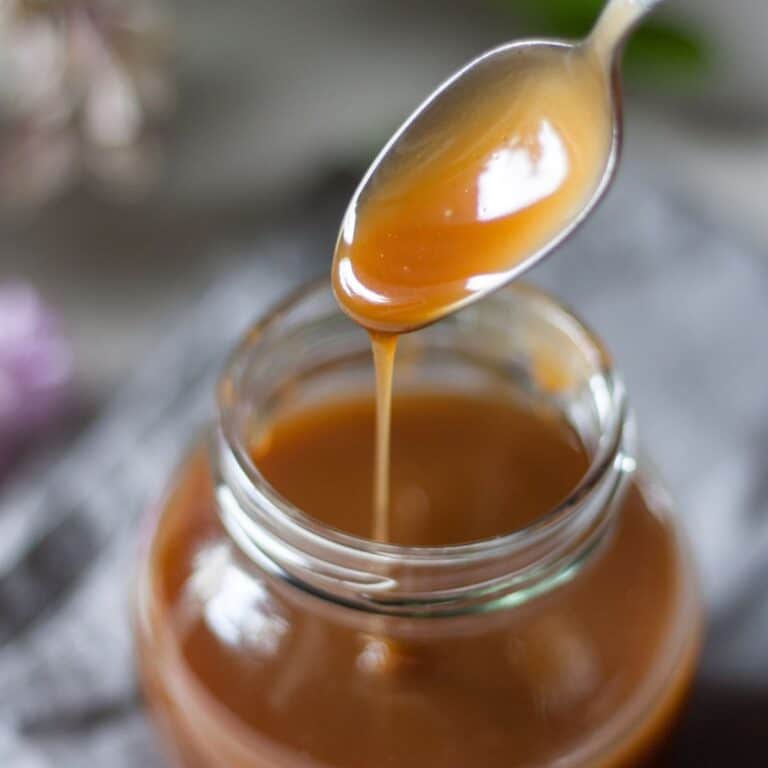 Low FODMAP Caramel Sauce
This FODMAP Caramel Sauce is only 3 ingredients, naturally lactose-free, perfectly sweetened and super flavorful with a nice silky texture.
Ingredients
200

gr

granulated sugar

100

gr

butter

(at room temperature and cut in small pieces)

120

ml

lactose free heavy cream

1

teaspoon

salt
Instructions
Heat the granulated sugar in a medium saucepan over medium heat, stirring constantly. Sugar will form clumps and eventually melt into a thick brown liquid as you continue to stir. Be careful not to burn.

Once the sugar is completely melted, immediately add the butter. Watch out in this step because the caramel will bubble rapidly when the butter is added.

Stir the butter into the caramel until it is completely melted. If you notice the butter separating, remove from heat and whisk to combine it again. 

Very slowly drizzle in the lactose-free heavy cream while stirring. Allow the mixture to boil for 1 minute. Because the heavy cream is colder than the caramel, the mixture will rapidly bubble when added.

Remove the caramel sauce from heat and stir in 1 teaspoon of salt. Allow it to slightly cool down before using. The Caramel sauce thickens as it cools.

Covered the caramel sauce can be stored for up to 1 month in the refrigerator. You can reheat in the microwave or on the stove for the desired consistency.