When it comes to fruit cakes, the strawberry cake is my favorite one! And preferably made with fresh strawberries! Because in my opinion, a strawberry cake that comes from a box and has artificial strawberry flavorings is just not a strawberry cake. So today I'm sharing the recipe for my favorite homemade gluten-free strawberry cake. This cake requires simple ingredients and has easy steps to follow, so anyone can make it!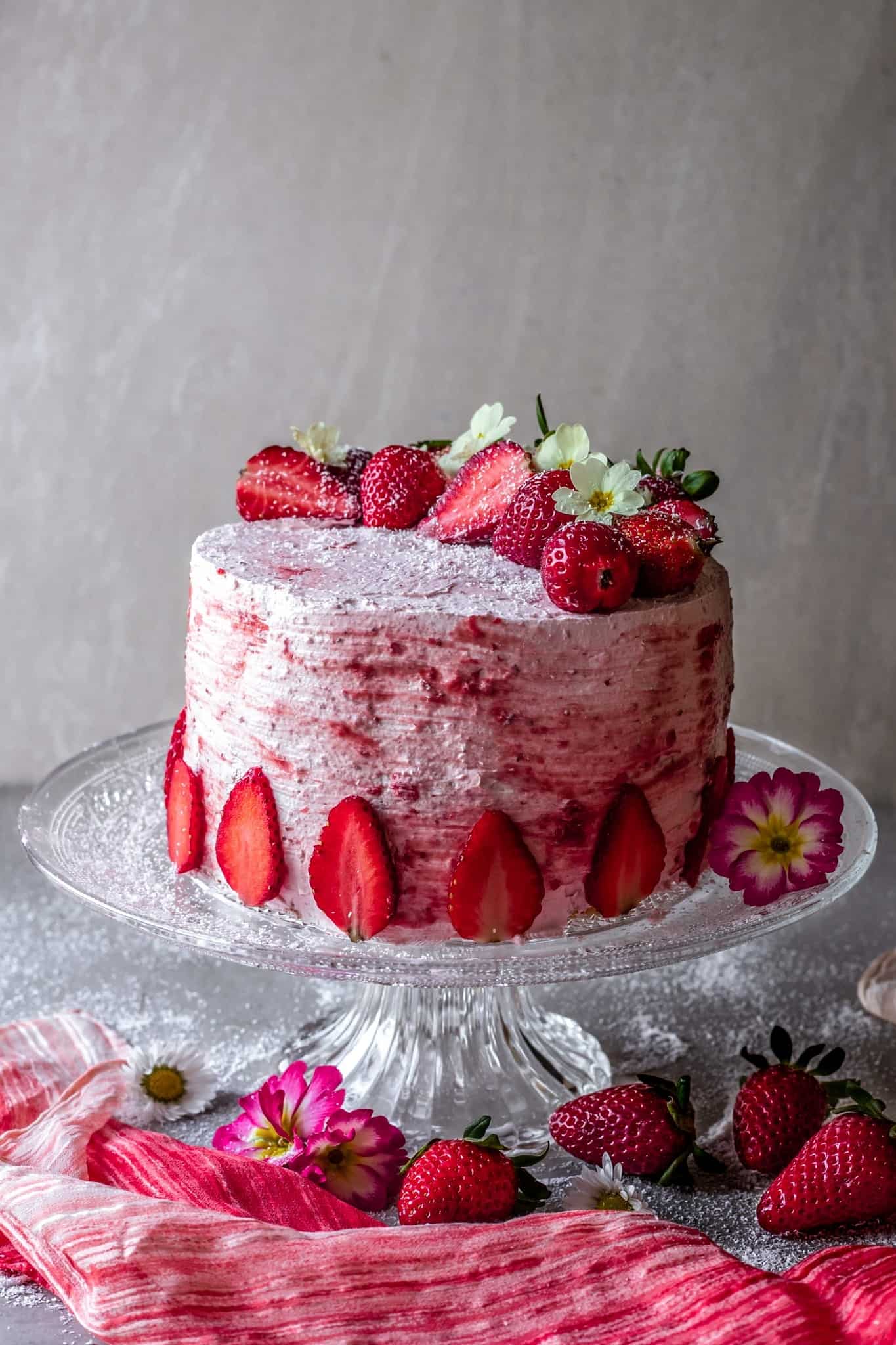 Gluten-Free Strawberry Cake Recipe
This cake has an amazing sponge cake texture, tender, fluffy, and soft. The strawberry cream cheese frosting is light, perfectly sweet, strawberry-infused, and just so yum! This is THE CAKE to make to impress your guests!
How to make this Gluten-Free Strawberry Cake?
This cake might look fancy but trust me it is very easy to make! It requires ONLY 10 INGREDIENTS and 1 HOUR TO MAKE! Yes, so believe me when I say, anyone can make this cake! Even if you've never made a cake before, you can make this cake!
There are 3 things that you will need to make for this cake:
1.Make the cake sponges.
2.Make the strawberry spread
3.Make the Strawberry Cream Cheese Frosting
Assemble and your cake is ready! The decoration is optional (the simplest way to decorate your cake is to top it with fresh strawberries)
To find the exact amount of the ingredients and step-by-step instructions, scroll to the end of this page.
what flour to use to make it?
I like to use my universal homemade gluten-free flour blend. Which is a mix of the following flours :
3. Sweet Rice Flour (Glutinous Rice aka Sticky Rice)
4. Tapioca Flour (tapioca starch is the same as tapioca flour)
5. Xanthan Gum
If you can't make that one, you can try with any gluten-free flour mix (just make sure it contains xanthan gum because that helps in binding the dough). The final result using different flour mix might vary slightly, depending on what flours your mix contains.
To find the recipe for my gluten-free flour mix click, HERE.
*FODMAP tips:
*To make sure that your flour mix is fodmap friendly I recommend that you make your own gluten-free flour mix, I always make this one. Or always read the ingredients of the store-bought gluten-free flour mixes. Make sure your mix doesn't contain soy flour, chickpea/besan/gram/garbanzo bean flour, lentil flour, coconut flour, amaranth flour, or lupin flour.
*All the ingredients used in this recipe are FODMAP friendly, however, As a general rule always read the labels of the ingredients that you use as there can be sneaky FODMAP's in any product. To educate yourself on which foods are high in FODMAP's I'd strongly recommend downloading Monash Unversity FODMAP Diet.
Recipe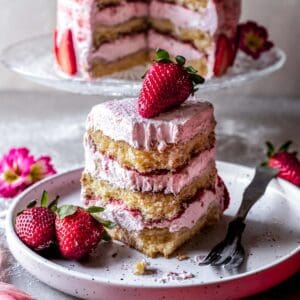 Gluten-Free Strawberry Cake
This Gluten-Free Strawberry Cake requires ONLY 10 INGREDIENTS & 1 HOUR to make. It is spongy, tender, flavorful and so delicious!
Ingredients
For the cake:
60

g

white sugar

3

eggs

1

teaspoon

pure vanilla extract

60

g

gluten-free flour
For The Strawberry Cream Cheese Frosting:
150

g

Fresh or Frozen Strawberries

300

g

lactose-free full-fat block cream cheese

(softened to room temperature)

150

g

unsalted butter

(softened to room temperature)

370

g

confectioners sugar

1

teaspoon

pure vanilla extract
For the Strawberry Spread:
200

g

Fresh or frozen Strawberries

1

tablespoon

Sugar

1

teaspoon

Lemon Juice

1

tsp

Lemon Zest

1

teaspoon

pure vanilla extract

1

tablespoon

Cornstarch

3

tablespoon

water
For Decorating:
100

g

fresh strawberries 

(optional)
Instructions
To make the cake:
Preheat the oven to 350F (175C ) degrees and grease and flour three 6-inch cake pans. Set aside.

In a bowl of a stand mixer, cream together the eggs, sugar, and vanilla extract. Mix until you get light, double in size creamy mixture. Then add the flour and baking powder and mix shortly on low speed just to combine everything.

Divide the batter evenly among the cake pans. Smooth the batter evenly into each pan with the back of a spoon.

Bake the cakes on 350F (175C ) for about 15 minutes, or until a toothpick inserted into the middle comes out with only a few crumbs attached.

Allow cakes to cool in the pan for 10 minutes and turn out onto a wire rack to cool completely before frosting.
To Make the Strawberry Cream Cheese Frosting:
Add the strawberries in a saucepan and let them simmer over low heat.

Once the strawberries are softened, blend them to get a smooth strawberry puree. set it aside to cool down.

In a large bowl using a handheld or stand mixer fitted with a paddle or whisk attachment beat the cream cheese and butter together on high speed until smooth and creamy. Add the confectioners' sugar and vanilla. Beat on low speed for 30 seconds, then switch to high speed and beat for 2 minutes. In the end, add 2 tablespoon of the strawberry Puree and mix shortly just to combine it. If you want the frosting a little thicker, add an extra of ¼ cup confectioners sugar. 
To Make Strawberry Jam:
In a saucepan, add the strawberries, sugar, Vanilla Extract, Lemon Juice, and Lemon Zest.

Let it simmer over medium heat.

Stir frequently mashing the strawberries as you stir.

After 5min, mix the cornstarch with the water (aside) and then add it to the saucepan.

Continue stirring frequently. Cook for another 5min, or until the spread starts to thicken

When it is done, remove it from the heat and let it cool about 10min.
To Assemble the Cake:
Place one cake layer on your cake stand. Spread a generous, about ¾ cup, frosting over top of the first layer, then spread a thin layer of the strawberry jam.

Put the next sponge on top and repeat the same step. Then put the last sponge on top and spread the remaining frosting all over the top and the sides of the cake.

Decorate with fresh strawberries.