Gluten-free, Yeast-Free Pizza Crust, that tastes better than a normal one!
Pizza is definitely my ultimate comfort food. And how can it not be? Pizza is one of the best things in this world. Thanks, Italy!
But when having food intolerances, being on a low fodmap diet or both, having pizza can become a quite stressful and unpleasant situation. I know because I've been there.
Picture this, it is a date movie night, you are tired and not up for cooking and all you want is some nice comforting pizza. You grab your phone to order. But where do you call, I mean you can't have gluten, yeast, and lactose and it also needs to be low fodmap (so no onions and garlic and the list goes on and on..) Yep too risky to order.
You go to the kitchen, roll up your sleeves, it's time to do some baking! After a few disastrous attempts to make the pizza crust you stop! You are tired and starving so you grab some rice crackers and you put your pizza toppings and pretend you are having a pizza! I know I've been there.
It took me nearly 2 years to come up with good gluten-free and yeast free pizza crust, which is soft and crispy at the same time while having the authentic Italian pizza flavor and texture. That was a celebration worthy event!
Gluten-free yeast free pizza crust recipe
This is a super-thin Italian style pizza crust with the perfect texture. (soft and crispy at the same time) with authentic pizza flavor (without strong taste from the gluten-free flours). It holds any topping very well without becoming soggy or crumbly. It's super friendly for your tummy as it has only a few simple ingredients and no yeast. The crust is also vegan, and as for the toppings if you don't want to use dairy or meat just swap it for vegan cheese and veggies. You can also omit the cheese altogether, it's gonna taste just as delicious!
How to make this Gluten-Free Yeast-free Pizza crust?
It is very very easy! You literally need only 6 ingredients (I'm counting the salt here, so only 5 🙂 ), 1 bowl, and 1 h from start to finish. It really can't get any simpler. You also don't need any special kitchen appliances or skills. Just roll up your sleeves and take out your rolling pin. And let's go make some pizza!
For the step by step instructions scroll at the end of this page.
What flour to use to make it?
I like to use my universal homemade gluten-free flour blend. Which is a mix of the following flours :
3. Sweet Rice Flour (Glutinous Rice aka Sticky Rice)
4. Tapioca Flour (tapioca starch is the same as tapioca flour)
5. Xanthan Gum
If you can't make that one, you can try with any gluten-free flour mix (just make sure it contains xanthan gum because that helps in binding the dough). The final result using different flour mix might vary slightly, depending on what flours your mix contains.
To find the recipe for my gluten-free flour mix click, HERE.
*Low FODMAP tip:
*To make sure that your flour mix is fodmap friendly I recommend that you make your own gluten-free flour mix, I always make this one. Or always read the ingredients of the store-bought gluten-free flour mixes. Make sure your mix doesn't contain soy flour, chickpea/besan/gram/garbanzo bean flour, lentil flour, coconut flour, amaranth flour, or lupin flour.
*As a general rule always read the labels of the ingredients that you use as there can be sneaky FODMAP's in any product. To educate yourself of which foods are high in FODMAP's I'd strongly recommend downloading Monash Unversity FODMAP Diet App
*Gluten-Free Tip:
If you are celiac or highly sensitive to gluten, buy certified gluten-free baking powder. Baking powder is naturally gluten-free, however, depending on the manufacturing place and process it could be cross-contaminated.
Recipe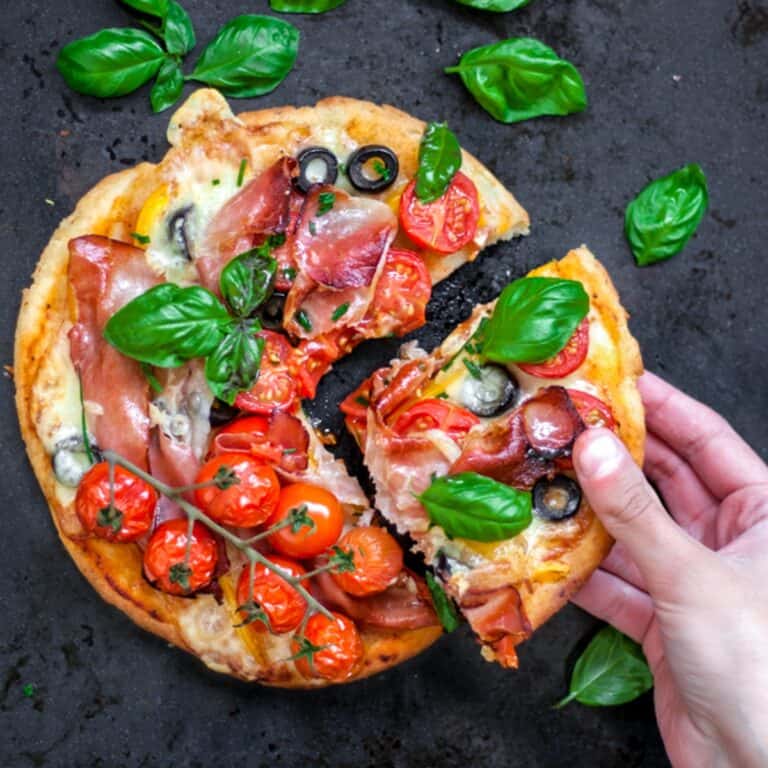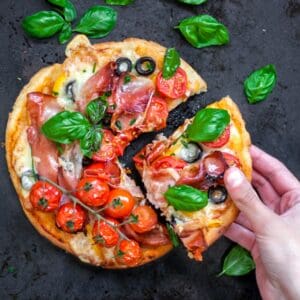 Gluten Free, Yeast Free Pizza Crust
5 ingredient simple and easy Gluten-Free Yeast-Free Pizza Crust. Allergy-friendly and completely vegan.
Ingredients
150

g

boiled mashed potatoes

150

g

gluten-free flour

1

tsp

baking powder

salt

(according to taste)

3

tablespoon

cooking oil

40 to 50

ml

water

(toppings of choice)
Instructions
Preheat the oven to 200 degrees C (or 400F)

In a big bowl start by mix all the dry ingredients, then add the mashed potatoes, cooking oil and water, and with your hands start kneading the dough.

Knead for about 5min. The dough will become stretchy and shouldn't be too sticky. If it is too sticky add a bit more flour and if it is too crumbly and dry add more water and knead for another 5min.

Place the pizza dough on a lightly floured baking paper, shape into a smooth ball and using well-floured hands and a rolling pin, pat and roll out dough on a lightly floured surface rotating the dough and flouring it frequently, to prevent sticking. Roll and pat the dough more thickly as you work from the center of the dough to the edges to create a crust. Make your pizza crust as thin as desired. (I like my pizza crust quite thin). Put your favorite toppings and transfer the pizza with the baking paper on which you rolled it out, to a baking tray (or I sometimes use baking rack).

Bake for 20 to 25min. Serve while it is warm