Who doesn't like Stuffed Baked Potatoes? They are one of the simplest meals to make, plus they are so flavorful and are probably one of the best comfort foods. When the clouds covered the sun and the air got crispy, my cravings for comfort food increased. So I decided to make a tummy-friendly version of my all-time favorite autumn food. This recipe for Low FODMAP Stuffed Baked Potatoes is one of the best that I've had in my life!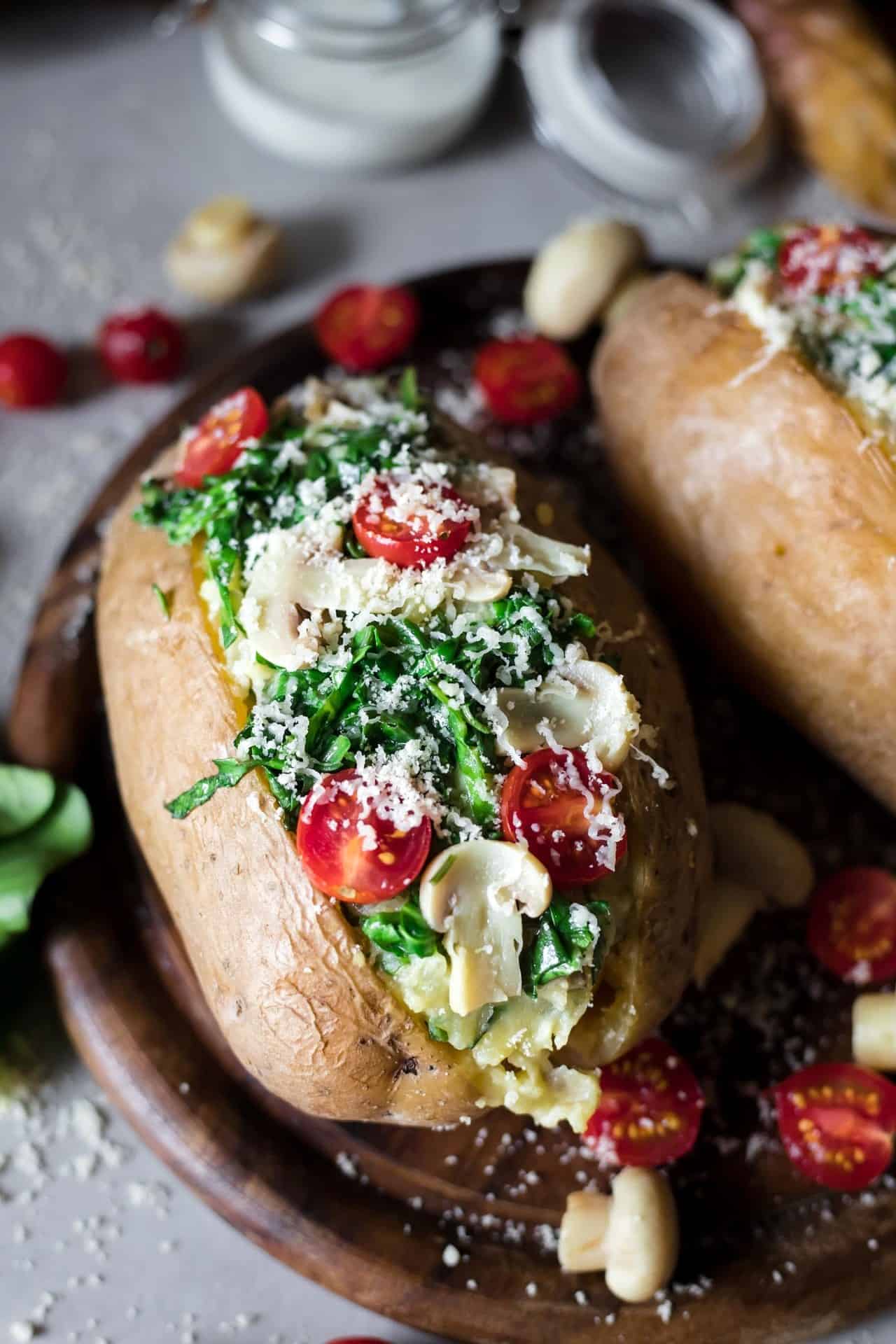 Low FODMAP Stuffed Baked Potatoes Recipe
These stuffed potatoes are bursting with flavor. They are so delicious, creamy and easy on the stomach. They are best served warm while the cheese is still melted. Besides the main ingredients, I like adding spinach, but if you are not a fan of spinach you can try adding another veggie instead.
How to make this Low FODMAP Stuffed Baked Potatoes.
Did you look for an easy satisfying dinner idea? I got you! These Stuffed potatoes are super simple to make. You will only need 5 simple ingredients. Baking the potatoes is the only step that takes longer (that is only because this recipe asks for bigger potatoes). The next step is cutting the baked potatoes lengthwise and scooping out the soft part and frying it with butter, mushrooms, cheese, and spinach (or another veggie of choice).
For the detailed step-by-step instructions scroll at the end of this page.
How to make these stuffed potatoes vegan?
To make these potatoes vegan, replace the butter for a dairy-free spread and the cheese for vegan cheese. And to make the dip vegan, use vegan mayonnaise and a plant-based alternative to sour cream or Greek-style yogurt.
*Make ahead tip:
You can bake the potatoes ahead of time and prepare them later. Baked they would keep good in the fridge for up to 2 or 3 days. When in a mood for stuffed potatoes just take them out of the fridge, cut them lengthwise, scoop out the soft part and start preparing the stuffing with the rest of the ingredients. Place the stuffed potatoes in the oven to bake for 10 to 15min.
*FODMAP Tip:
*Use canned champignon mushrooms. The mannitol & fructans in the champignon mushrooms leach into the brine, lowering the overall FODMAP content of the mushrooms themselves. Just remember to buy champignon mushrooms in brine (NOT sauce) and rinse them well before using.
Recipe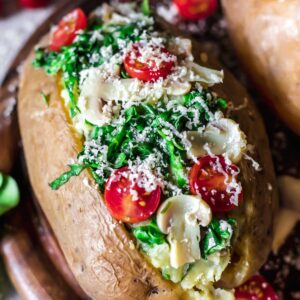 Low FODMAP Baked Stuffed Potatoes
Simple to make, 5 ingredient Low FODMAP Stuffed Baked Potatoes. They are super flavorful, cheesy, creamy, healthy and easy on the stomach.
Ingredients
2

big size potatoes

30

g

unsalted butter

150g

canned mushrooms

150

g

lactose-free cheese

(gouda or cheddar)

150

g

spinach
For the white herby dip (optional)
3

tablespoon

Mayonnaise

2

tablespoon

lactose-free sour cream

½

teaspoon

lemon juice

a handful of fresh coriander

a handful of chives
Instructions
Preheat the oven to 180C. Wash the potatoes and prick several times with a fork. Bake for about 1 hour or until soft.

Once the potatoes are baked. Melt butter in a pan and saute the mushrooms for a couple of minutes. In the meantime cut the potatoes lengthwise, scoop out the soft part and add it in the pan with the mushrooms, then add the spinach and cheese and let it fry over low heat for a couple of minutes.

Spoon the filling back in the potatoes and place them back in the oven for another 10minutes.

I like having them with fresh tomatoes and the white herby dip. (optional)