Oh, the love I feel for brownies! Anyone else feeling the same way? I mean how can you not love brownies? I tried brownies for the first time about 8 years ago, when I moved to France. And I fell in love with that first bite! I remember they were super fudgy chocolatey brownies with walnuts. And I think my latest experiment at making gluten-free brownies that tasted just like those that I tried in France was an absolute success!
Gluten-Free Brownies Recipe
These brownies are super chocolaty, fudgy, rich, crunchy from the walnuts, super easy to make and utterly delicious! I love eating them with fresh berries like raspberries or strawberries because the acidity of the berries goes so well with the chocolate!
How to make these Gluten-Free Brownies?
These brownies are super simple to make, they require only 9 ingredients and 40min to make!
To make these brownies you need to start by melting the butter with the sugar, then you proceed by adding the vanilla extract, the eggs and the rest of the dry ingredients. Once everything is well mixed, you add the chopped chocolate or chocolate chips and the chopped walnuts. The mixture is poured in an 8-inch tin and is baked for about 30min. And there you go, these fudgy yummy brownies are done and ready to serve!
To find the exact ingredients and step-by-step instructions, scroll at the end of this page.
what flour to use to make them?
I like to use my universal homemade gluten-free flour blend. Which is a mix of the following flours :
3. Sweet Rice Flour (Glutinous Rice aka Sticky Rice)
4. Tapioca Flour (tapioca starch is the same as tapioca flour)
5. Xanthan Gum
If you can't make that one, you can try with any gluten-free flour mix (just make sure it contains xanthan gum because that helps in binding the dough). The final result using different flour mix might vary slightly, depending on what flours your mix contains.
To find the recipe for my gluten-free flour mix click, HERE.
*fodmap tips:
*To make sure that your flour mix is fodmap friendly I recommend that you make your own gluten-free flour mix, I always make this one. Or always read the ingredients of the store-bought gluten-free flour mixes. Make sure your mix doesn't contain soy flour, chickpea/besan/gram/garbanzo bean flour, lentil flour, coconut flour, amaranth flour, or lupin flour.
*As a general rule always read the labels of the ingredients that you use as there can be sneaky FODMAP's in any product. To educate yourself of which foods are high in FODMAP's I'd strongly recommend downloading Monash Unversity FODMAP Diet App
*gluten-free tip:
If you are celiac or highly sensitive to gluten, buy certified gluten-free baking soda and cornstarch. Baking soda and cornstarch are naturally gluten-free, however, depending on the manufacturing place and process they could be cross-contaminated.
Recipe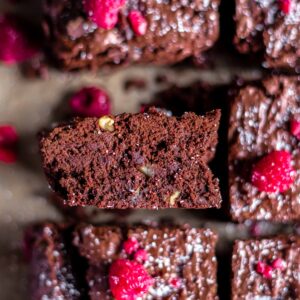 Gluten Free Brownies
These brownies are super chocolaty, fudgy, rich, crunchy from the walnuts, super easy to make and utterly delicious
Ingredients
130

g

unsalted butter

(chopped)

220

g

sugar

1

teaspoon

pure vanilla extarct

2

eggs

(at room temperature)

50

g

gluten-free flour

70

g

cocoa powder

1

tablespoon

cornstarch

⅛

teaspoon

baking soda

150

g

chopped dark chocolate

(or chocolate chips)

100

g

chopped walnuts

(optional, but recommended )

pinch of salt
Instructions
Preheat the oven to 160 C (320 F). Grease and line an 8 inch square baking tin with baking or parchment paper, ensuring two sides overhang.  In a small saucepan, place the butter and sugar, and place over medium heat, whisking occasionally, until melted and simmering. Add the vanilla extract and stir.

In a large bowl, place the eggs and vanilla, and whisk until well-beaten and combined. Add the melted and cooled butter and sugar to the bowl slowly, whisking constantly. Add the cocoa powder and whisk until the cacao powder has been absorbed. Using a handheld mixer, beat until very well-combined. Add the flour, cornstarch, baking soda, and salt, and mix with a spatula or spoon until just combined. Add the chopped chocolate or chocolate chips and the chopped walnuts. Mix until just evenly distributed throughout the batter. The batter will be thick and sticky.

Pour the brownie batter in the prepared tin and place in the oven. Bake brownies for approximately 30-35 minutes or until they no longer wet in the center.

Remove the brownies from the oven and allow them to cool in the pan at room temperature until the pan is no longer hot to the touch. For clean lines when you slice the brownies, place the brownies, still in the pan, in the refrigerator to chill for about an hour before removing them from the pan. These brownies are freezer friendly.