My favorite recipes are the ones that are easy to make, require a few simple ingredients and take no more than 30min to make. Well, these easy tuna burgers check all the boxes.
Easy Tuna Burgers Recipe
These Tuna Burgers have the perfect meaty texture, plus they are super flavorful, satisfying, hearty and seriously delicious! They are great for lunch or dinner, I like putting them in a gluten-free bun with salad, cucumber and the coriander & mayo sauce which I can't recommend it enough. That sauce goes so well with these burgers and takes them to a whole new level!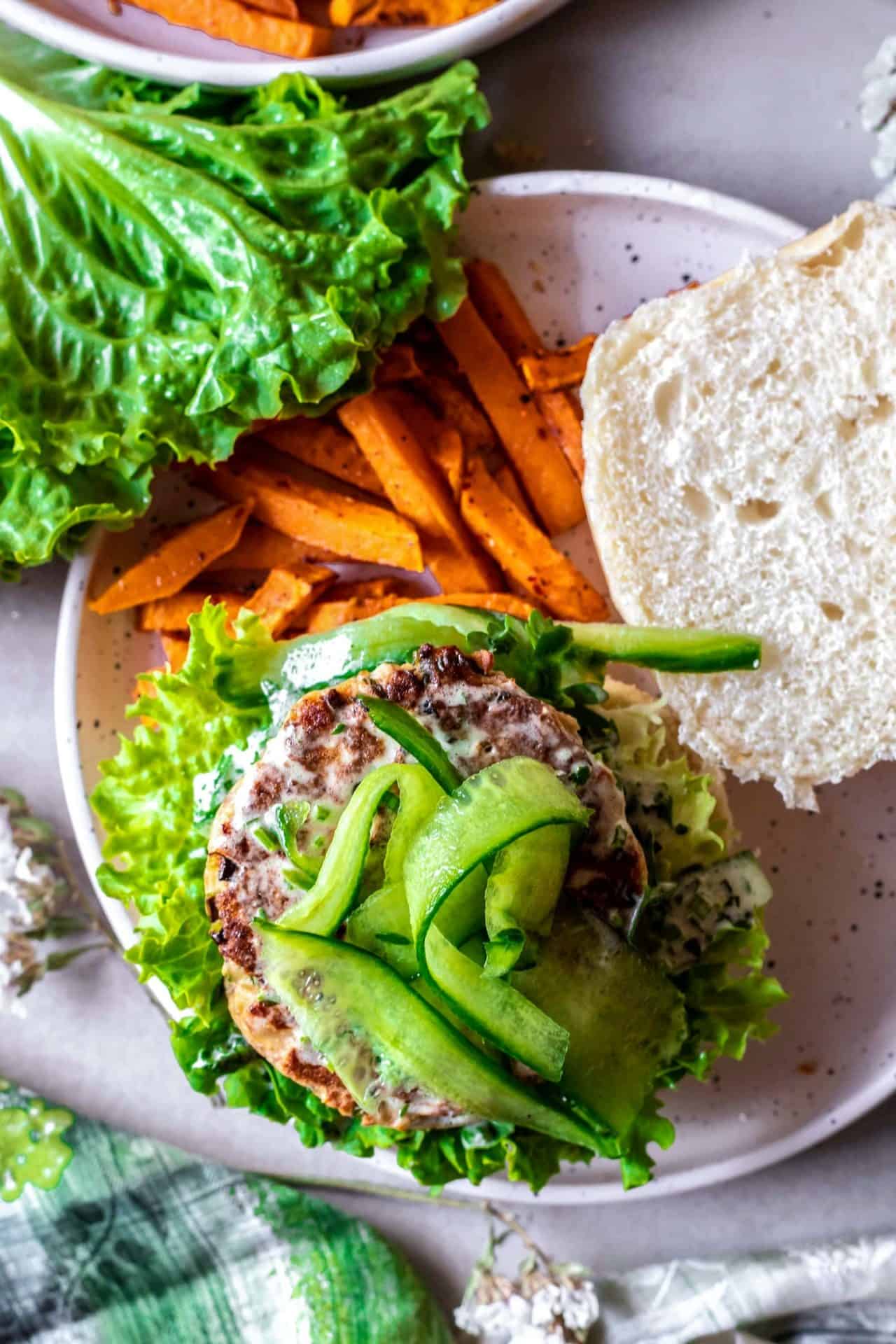 How to make these Easy Tuna Burgers
These are seriously the simplest and easiest burgers to make. To make them you will only need 6 ingredients and 20min of your time!
There are 3 steps in making these burgers:
1.Chop the coriander and chives or the green parts of spring onion.
2.Mix everything with the rest of the ingredients.
3.Fry them! And that's it! Your burgers are done!
Ingredients in these Tuna Burgers.
1.Canned Tuna, use the one with bigger chunks. Drain the tuna very well before using it.
2.The Green Parts of Spring Onion. According to Monash University, only the green parts of the spring onion are low FODMAP. In case you don't have or you don't like using spring onions you can substitute it with chives.
3.Coriander. It goes very well with tuna, but if you are not a fan you can omit it.
4.Gluten-Free Bread. The bread is very important in this recipe as it makes the burgers hold shape and not fall apart. You might be able to substitute it with gluten-free bread crumbs, however, I haven't tried making it with breadcrumbs yet, so I can't guarantee the result.
5.Gluten-Free Flour. Same as the bread, a very important ingredient as it also contributes to making the burgers hold their shape.
6.Eggs. Also very important, it binds all the ingredients and helps the burgers hold shape.
To find the exact amount of the ingredients and step-by-step instructions, scroll at the end of this page.
what flour to use to make them?
I like to use my universal homemade gluten-free flour blend, if you can't make that one, you can try with any gluten-free flour mix (just make sure it contains xanthan gum because that helps in binding the dough). The final result using different flour mix might vary slightly, depending on what flours your mix contains.
what bread to use in this recipe?
For this recipe, I used a gluten-free wholesome white loaf bread from Schar. This bread is certified to be low FODMAP under the Monash University.
Schar is one of the biggest gluten-free brands in Europe, now they also have a line of products that are certified to be low FODMAP too.
You can also use different gluten-free bread.
How to freeze these tuna burgers?
These Burgers are freezer friendly. Cooked burgers once cooled, you can put in freezer bags and place them in the freezer.
To reheat: Bake them in the oven on 180C degrees for 15min or until heated throughout.
*fodmap tips:
*To make sure that your flour mix is fodmap friendly I recommend that you make your own gluten-free flour mix, I always make this one. Or always read the ingredients of the store-bought gluten-free flour mixes. Make sure your mix doesn't contain soy flour, chickpea/besan/gram/garbanzo bean flour, lentil flour, coconut flour, amaranth flour, or lupin flour.
*Use only the green parts of the spring onion as according to Monash University that's the part that is low FODMAP.
*As a general rule always read the labels of the ingredients that you use as there can be sneaky FODMAP's in any product. To educate yourself of which foods are high in FODMAP's I'd strongly recommend downloading Monash Unversity FODMAP Diet App
Recipe
Easy Tuna Burgers
These Tuna Burgers have the perfect meaty texture, plus they are super flavorful, satisfying, hearty and seriously delicious!
Ingredients
100

g

canned tuna

(drained from the oil)

2

eggs

2

green parts of spring onion

(or handful of chives)

50

g

fresh coriander

(chopped)

2

slices of gluten-free bread

(soaked in water and drained well)

40

g

gluten free flour

light oil for frying

½

teaspoon

salt

(or according to taste)

½

tsp

pepper

(or according to taste)
For the sauce
50

g

coriander

(chopped)

2

tablespoon

apple cider viniger

1

tablespoon

olive oil

3

tablespoon

Mayonaise

salt & pepper according to taste
Instructions
In a medium bowl add the tuna,eggs, soaked and drained bread, coriander, spring onions and flour.

Mix everything well to incorporate.

Divide the mixture in 4 and start forming your patties. For smaller burgers you can divide it in 5 or 6.

Heat skillet over medium heat. Once skillet is hot, add just enough oil to lightly coat the bottom of your skillet,

Cook the burgers over low heatfor 4-5 minutes on one side or until well browned, then flip gently. Reduce heat if cooking/browning too quickly. Cook for another  3-4 minutes on other side.

Serve the burgers with sweet potato fries, coriander and mayo sauce, gluten free buns, salad, cucmber, or any other toppings of choice.
To make the coriander and mayo sauce
Simply mix the choped coriander with oilve oil, apple cider viniger and mayonaise. Season with salt and pepper according to taste