I was so happy when I made a low FODMAP version of my favorite Mexican dish. Yes, I'm talking about Low FODMAP Chili Con Carne. The original version of Chili Con Carne is far from low FODMAP and easy to digest so when I made one that I can tolerate well, without feeling sick afterward, I was over the moon!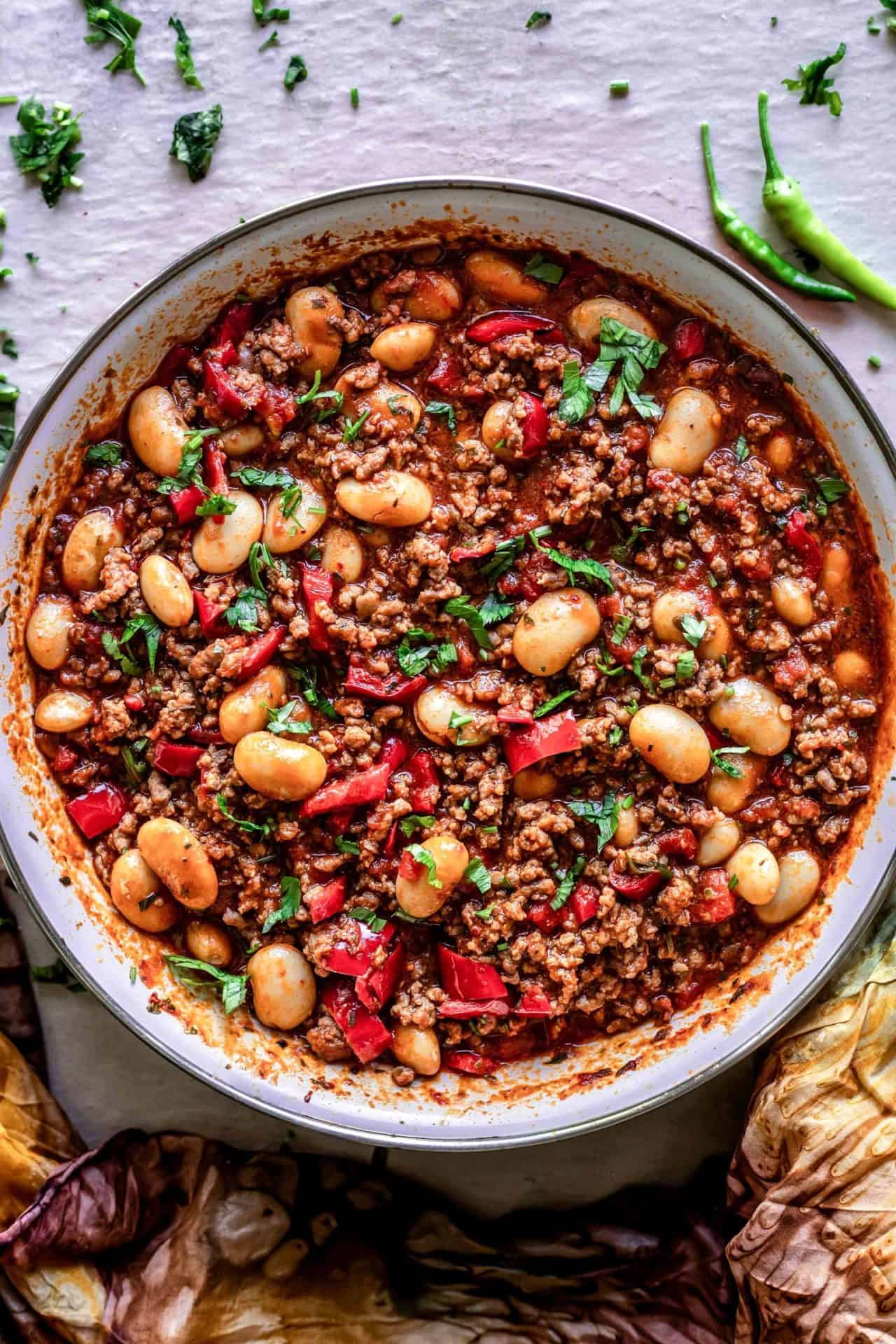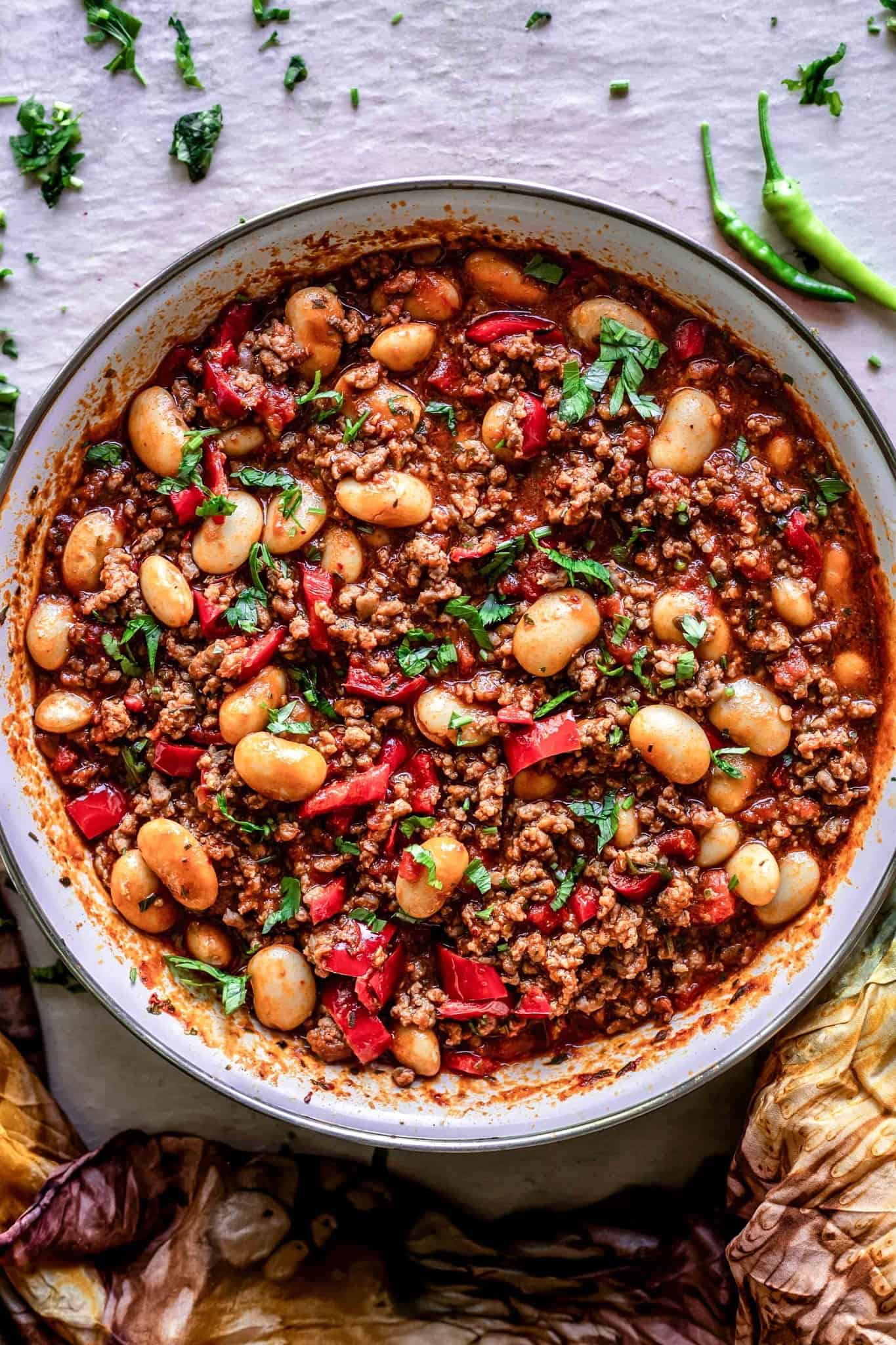 Low FODMAP Chili Con Carne Recipe
This chili con carne is hearty, super flavorful, satisfying, comforting, not too spicy, healthy and so simple!
Perfect to make for a crowd, as it's especially great for hosting. Or make a batch over the weekend and enjoy it for lunch throughout the week.
How to make this Low FODMAP Chili Con Carne?
This is such a simple meal to make. It requires only 1 pot and 30min to make!
First, you need to fry the meat, add the spices, bell pepper, tomato cubes, beef broth, and beans. Simmer for about 20min. And that is it!
To find the exact amount of the ingredients and step-by-step instructions, scroll to the end of this page.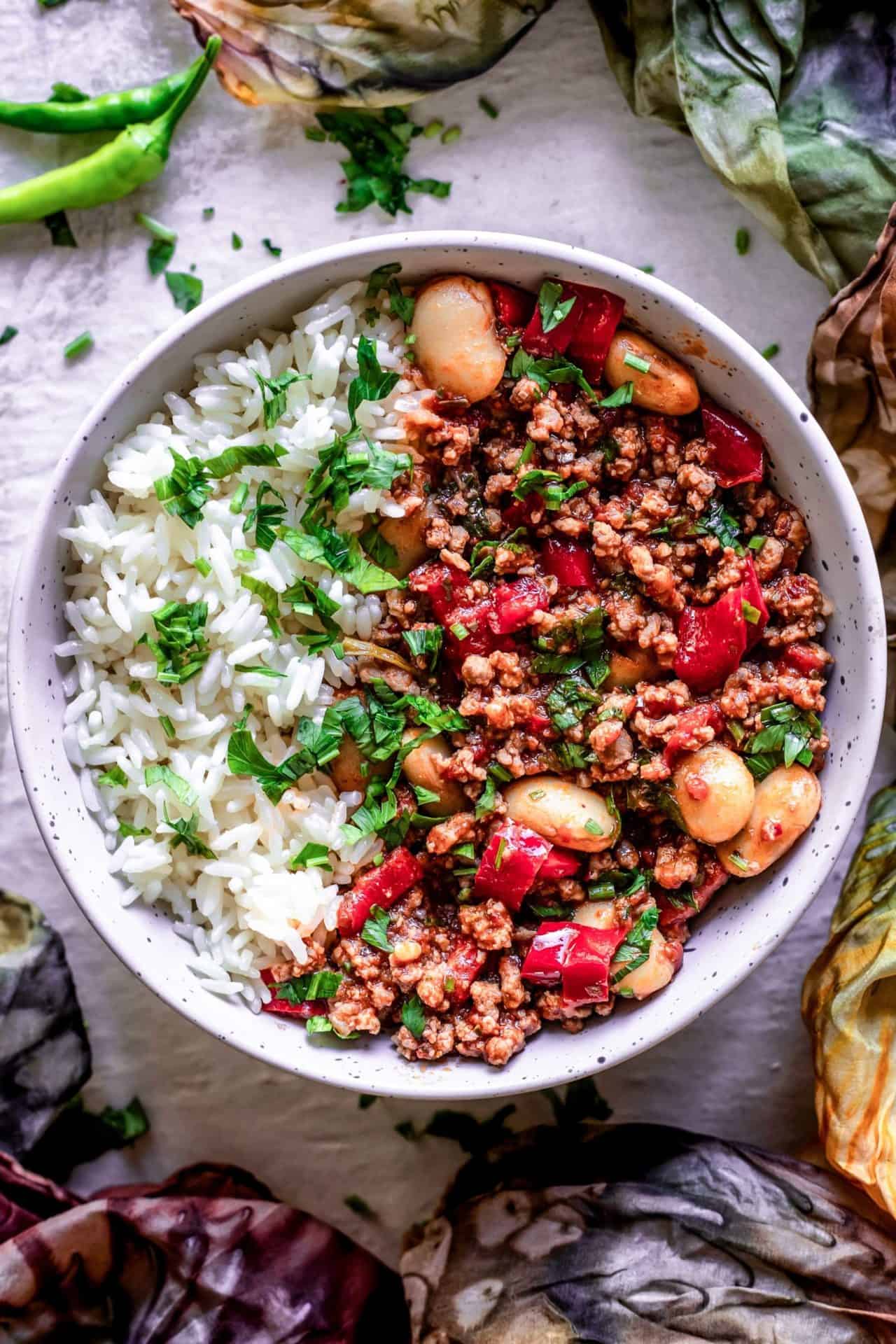 *freezing tip:
This Chili Con Carne is perfect for meal prepping and it is freezer friendly. You can make a big batch in advance, freeze portions and defrost when desired. To freeze simply place in a freezer-friendly dish. To defrost cook it in the stove for a couple of minutes until thoroughly warmed.
* FODMAP tip:
*Using beans in this recipe is optional however I prefer it much more when it has beans. Canned butter beans are low FODMAP in 35g per portion and canned black beans are low FODMAP in 40g per portion (you can use whichever you prefer). In this recipe I used 100g canned butter beans, this recipe serves 4 portions, so that is 25g butter beans per portion.
*Use only the green parts of the spring onion as according to Monash University that's the part that is low FODMAP.
*All the ingredients used in this recipe are FODMAP friendly, however, As a general rule always read the labels of the ingredients that you use as there can be sneaky FODMAP's in any product. To educate yourself on which foods are high in FODMAP's I'd strongly recommend downloading Monash Unversity FODMAP Diet.
Recipe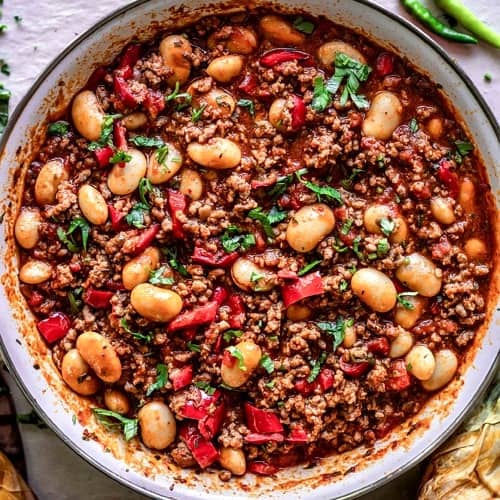 Low FODMAP Chili Con Carne
This Low FODMAP Chili Con Carne is hearty, super flavorful, satisfying, comforting, not too spicy, healthy and so simple!
Ingredients
2

tablespoon

garlic infused olive oil

500

g

minced beef

1 /1/2

teaspoon

ground paprika

1 ½

teaspoon

cumin

1

teaspoon

oregno

1

teaspoon

crushed chili paste (or chili powder)

1

bell pepper

2

stalks of spring onion

(only the green part)

1

tablespoon

tomato puree

400

g

canned cubed tomatoes

150

ml

beef broth (you can also use vegtable or chicken)

*make sure it is low FODMAP

100

g

canned butter beans (or black beans)
Serve with
rice

cheese

(lactose free or dairy free)

gluten-free tortilla chips
Instructions
Heat a large pot over medium heat. Once hot, add oil, and the minced beef and fry over medium heat. Add the ground paprika, cumin, oregano, and crushed chili paste or chili powder. Season with salt and pepper and let it cook until the meat is browened.

Cut the bell pepper into pieces and the spring onion into rings. Add them to the minced beef and cook for another couple of minutes

Add the tomato pure, cubed tomatoes, and the broth and let it simmer for about 10min on low heat.

Rinse and drain the beans and add them to the pan. Cook for another 10min on low heat.

Taste, if you prefer more spicy add more chili paste or powder.

Serve with rice, lactose-free cheese, lactose-free crème fraîce or gluten-free tortilla chips.