I love Italian food and I love Calzone. But who doesn't right? Italian is one of the best cuisines and Calzone is just a dream come true. I think I can move to Italy just for the food. Recently I made this gluten-free Calzone and it turned out amazing! Probably one of the best Calzones I've had in my life! I'm so obsessed with it, I've been having Calzone for lunch every day in the past few days.
Gluten-Free Calzone Recipe
This Calzone is low FODMAP, light and easy to digest, it makes a perfect simple lunch or dinner. The texture is crispy on the outside and soft and chewy on the inside. The filling is super flavorful and takes this calzone on an entirely new level!
How to make this Gluten-Free Calzone?
It might look like a fancy and difficult recipe to make, but it is actually very simple and easy. First, you need to make the dough and let it rise for about 40min. Once it is finished rising, roll it out and add the filling. The filling is only 4 simple ingredients and it takes less than 5min to prepare.
For the detailed step-by-step instructions scroll at the end of this page.
what flour to use to make it?
I like to use my universal homemade gluten-free flour blend. Which is a mix of the following flours :
3. Sweet Rice Flour (Glutinous Rice aka Sticky Rice)
4. Tapioca Flour (tapioca starch is the same as tapioca flour)
5. Xanthan Gum
If you can't make that one, you can try with any gluten-free flour mix (just make sure it contains xanthan gum because that helps in binding the dough). The final result using different flour mix might vary slightly, depending on what flours your mix contains.
To find the recipe for my gluten-free flour mix click, HERE.
* fodmap tip:
*To make sure that your flour mix is fodmap friendly I recommend that you make your own gluten-free flour mix, I always make this one. Or always read the ingredients of the store-bought gluten-free flour mixes. Make sure your mix doesn't contain soy flour, chickpea/besan/gram/garbanzo bean flour, lentil flour, coconut flour, amaranth flour, or lupin flour.
*Make sure to use marinara sauce that doesn't contain garlic, onion or other FODMAPs.
*As a general rule always read the labels of the ingredients that you use as there can be sneaky FODMAP's in any product. To educate yourself of which foods are high in FODMAP's I'd strongly recommend downloading Monash Unversity FODMAP Diet App
Recipe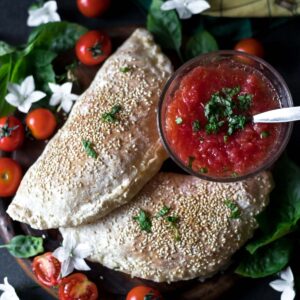 Gluten Free Calzone
This Gluten-Free Calzone is low FODMAP and easy to digest. It is super flavorful and has a perfect texture crispy on the outside and chewy on the inside.
Ingredients
For the Dough
200

g

gluten-free flour

1

teaspoon

Instant Yeast

1

tablespoon

sugar

30

g

softened butter

1

tablespoon

cooking oil

170

ml

warm milk

(full fat, lactose-free)
For the Filling
100

g

mozzarella cheese

100

g

grated lactose-free Cheddar cheese

100

g

low FODMAP marinara sauce

1

teaspoon

Italian herbs mix

fresh basil
(Extra - Optional)
1

egg yolk

(for brushing the calzones)

sesame seeds

(to sprinkle on top)
Instructions
In a big mixing bowl add the gluten-free flour, yeast, butter, sugar, salt, oil, and warm milk. Mix to combine all the ingredients, and then transfer the dough on a lightly floured surface and kneed for 5 to 6 minutes. The dough should be a little sticky. *Tip: After the dough rises, before rolling it out you can add a bit more flour if it is too sticky to be rolled out. (I've noticed that with gluten-free flours the dough rises better, if it is a bit looser and sticky, if your dough is too hard it may not rise very good)

Place the dough in an oven friendly dish, cover it with a towel, and place it in the oven on 30C degrees. Let the dough rise for about 40 minutes or until doubled in size

Once the dough rises, take it out from the oven.

Preheat the oven to 180C.

Lightly dust your work surface with flour. Divide the dough into 3 parts. Take one part and roll it in a circle shape.

On one side of the dough add the filling of marinara sauce, mozzarella cheese, grated lactose-free cheese, Italian herb mix, and fresh basil.

Fold the dough over and pinch to seal the edges.

Repeat the same with the second piece of dough.

Place the calzones over a baking tray lined up with a baking paper.

Place them in the oven and bake for 30 to 35min