I'm gonna be honest with you here. I only tried making my own naan bread 2 weeks ago. The reason why I never tried making it earlier is fear. Yes! I was afraid to make my own naan bread. Writing this, I see how silly that sounds. But yes, I'm one of those people that fears failure. And to make my own gluten-free naan bread always seemed very difficult. I thought it's one of those recipes that you really need to be a skilled baker to be able to make it. Well to my surprise, I was shocked to discover this is the simplest and easiest bread to make! I still can't get over how simple it is and how amazing it tastes. I've been making it every single day for the past two weeks.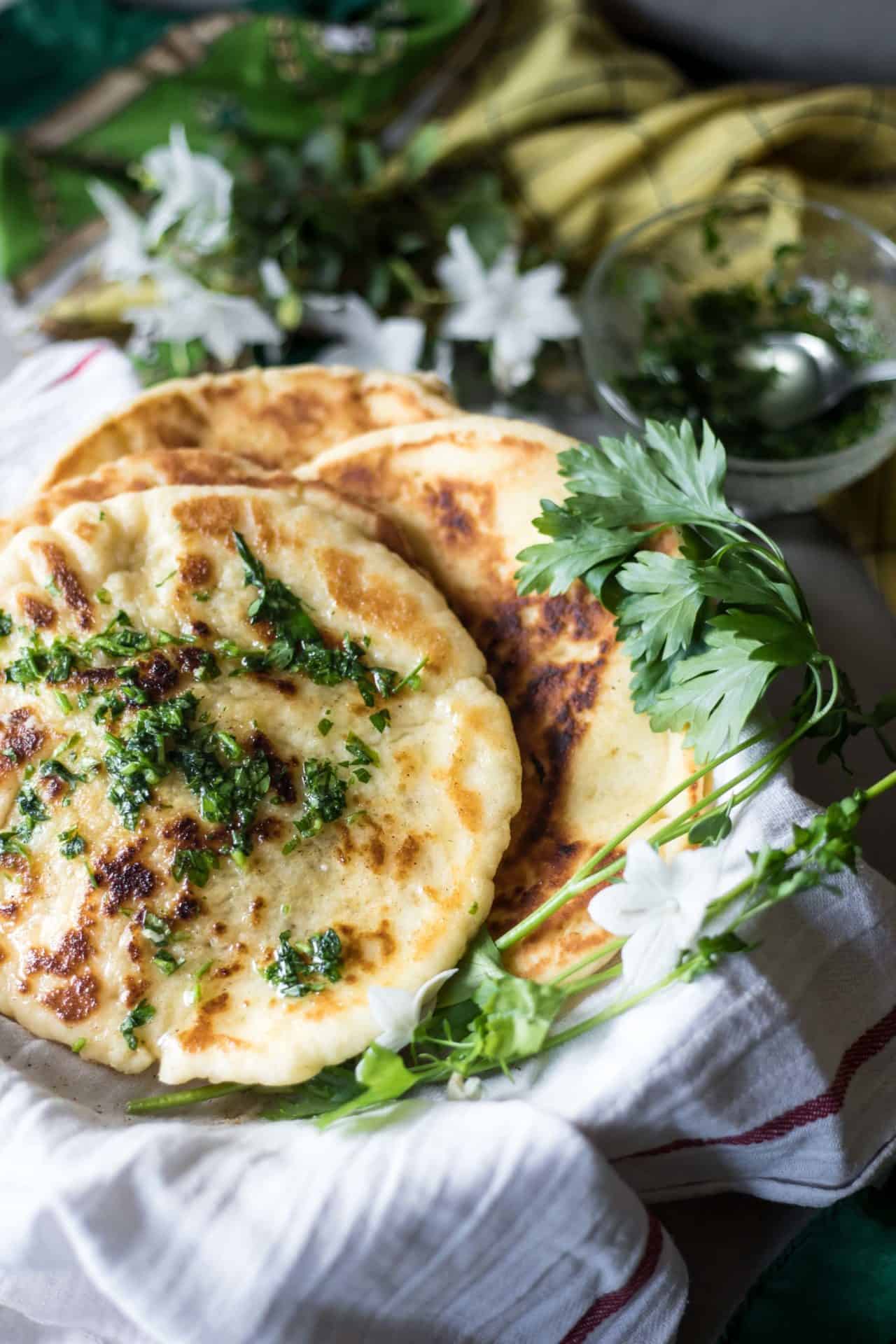 Gluten-Free Naan Bread Recipe
This gluten-free naan bread is everything a good naan bread should be. Soft, tender and chewy. That right there is a perfect texture! The taste is neutral, and it is very similar to the original, not gluten-free naan bread. I like it so much that I even eat it on its own or dipped in this low FODMAP herby butter or olive oil dip.
How to make this Gluten-Free Naan Bread?
Do you remember how I said this is one of the easiest bread that you can make? Well, here is what I mean by that. It requires only 7 ingredients and 1 hour to make! Yes, I guess you have one hour to make this gorgeous bread right? I promise you will fall in love at the first bite 🙂 plus your house will smell like freshly homemade bread. And that's one of the best smells that there is. You really don't need to have any skills, nor to be good at kneading or baking bread, to make this one. Trust me it is super super easy.
Do you wanna make it together? Check my Instagram stories (GF Naan 🍞), to see me making it.
For the detailed step-by-step instructions scroll at the end of the page.
How to make this gluten-free naan bread vegan?
You can easily make this naan bread vegan. Just substitute the butter for vegan butter and the yogurt for a dairy-free alternative yogurt.
what flour to use to make it?
I like to use my universal homemade gluten-free flour blend. Which is a mix of the following flours :
3. Sweet Rice Flour (Glutinous Rice aka Sticky Rice)
4. Tapioca Flour (tapioca starch is the same as tapioca flour)
5. Xanthan Gum
If you can't make that one, you can try with any gluten-free flour mix (just make sure it contains xanthan gum because that helps in binding the dough). The final result using different flour mix might vary slightly, depending on what flours your mix contains.
To find the recipe for my gluten-free flour mix click, HERE.
* fodmap tip:
*To make sure that your flour mix is fodmap friendly I recommend that you make your own gluten-free flour mix, I always make this one. Or always read the ingredients of the store-bought gluten-free flour mixes. Make sure your mix doesn't contain soy flour, chickpea/besan/gram/garbanzo bean flour, lentil flour, coconut flour, amaranth flour, or lupin flour.
*As a general rule always read the labels of the ingredients that you use as there can be sneaky FODMAP's in any product. To educate yourself of which foods are high in FODMAP's I'd strongly recommend downloading Monash Unversity FODMAP Diet App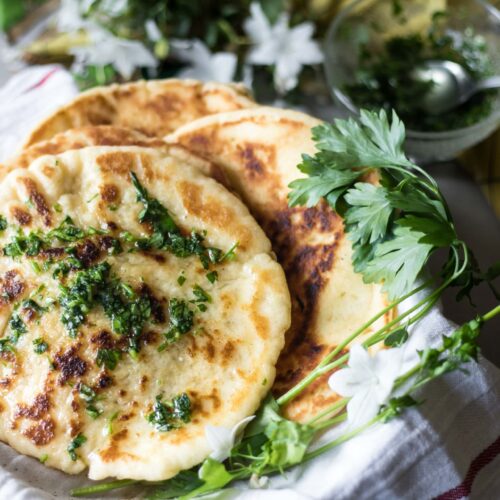 Easy Gluten Free Naan Bread Recipe
This gluten-free naan bread is everything a good naan bread should be. Soft, tender and chewy. Plus low FODMAP, easy on the stomach and very simple to make.
Ingredients  
350

g

gluten-free flour

1/2

tsp

cream of tartar

2

Tbsp

white granulated sugar

7

g

instant yeast

85

ml

lactose-free yogurt (at room temperature)

* for vegan, use plant-based

40

g

melted butter

* for vegan, use plant-based

180

ml

warm water

1/2

tsp

salt

oil or more butter for frying
For the Low FODMAP Herby Butter or Olive oil Dip
3

Tbsp

butter or olive oil

1

garlic clove

freshly chopped parsley, rosemary or any other herbs of choice.
Instructions 
In a medium bowl add the flour, cream of tartar, salt, and sugar and whisk to combine well. Add the yeast and whisk one more time. Add the yogurt, melted butter and water, and either with your hands or with a stand mixer fitted with the paddle attachment mix on medium speed for about 3 minutes. The dough should be a little bit sticky. If you are using a mixer you will need to pull away from the sides of the bowl in spots. Because It will not turn into a fully integrated ball of dough on its own.

Press the dough into a ball, cover it and place it in a warm spot to rise until it doubles in volume (for about 40 minutes)

Once the dough has finished rising, turn it out onto a lightly floured surface and sprinkle lightly with more flour. Divide the dough into 8 pieces. Working with one piece of dough at a time, lightly flour it and roll it into an oval shape about 3/8 inch thick.

If you are using butter for frying. First, melt it in a separate pan. Then brush one side of the bread. Place the bread buttered side down on a heated skillet. While it is frying on the side brush the top side with butter or oil. Fry on one side until large blisters begin to form (about 30 seconds) then flip it on the other side for another 20 to 30 seconds.

Remove to a paper towel or tea towel, and cover the dough to retain the heat and moisture.

Repeat with the remaining pieces of dough.

Stack the pieces of naan one on top of another, keeping them covered with a tea towel to maintain freshness
To make the For the Low FODMAP Herby Butter or Olive oil Dip
Add the butter or the olive oil in a pan over medium heat. Chop the garlic clove roughly and add it in the pan. Fry over medium heat, stirring frequently. Once the garlic starts to soften. Take out the garlic bits (make sure you take all of them). Now add your fresh herbs of choice.