I love homemade Cinnamon Rolls. The smell of freshly baked cinnamon rolls is probably my favorite smell! Somehow my cravings for cinnamon rolls increase in the colder months. That's why now I'm sharing my favorite recipe for these Gluten-Free Cinnamon Rolls. I'm absolutely obsessed with them at the moment. Watch out! You will be too! After the first bite.
Gluten-Free Cinnamon Rolls Recipe
These Cinnamon Rolls are tender on the inside and flaky on the outside.
Cinnamon-spiked, perfectly sweet and so delicious!
How To Make These Gluten-Free Cinnamon Rolls?
They are super simple to make! To make them softer is important to let them rise 2 times.
For the detailed step-by-step instructions scroll at the end of this page!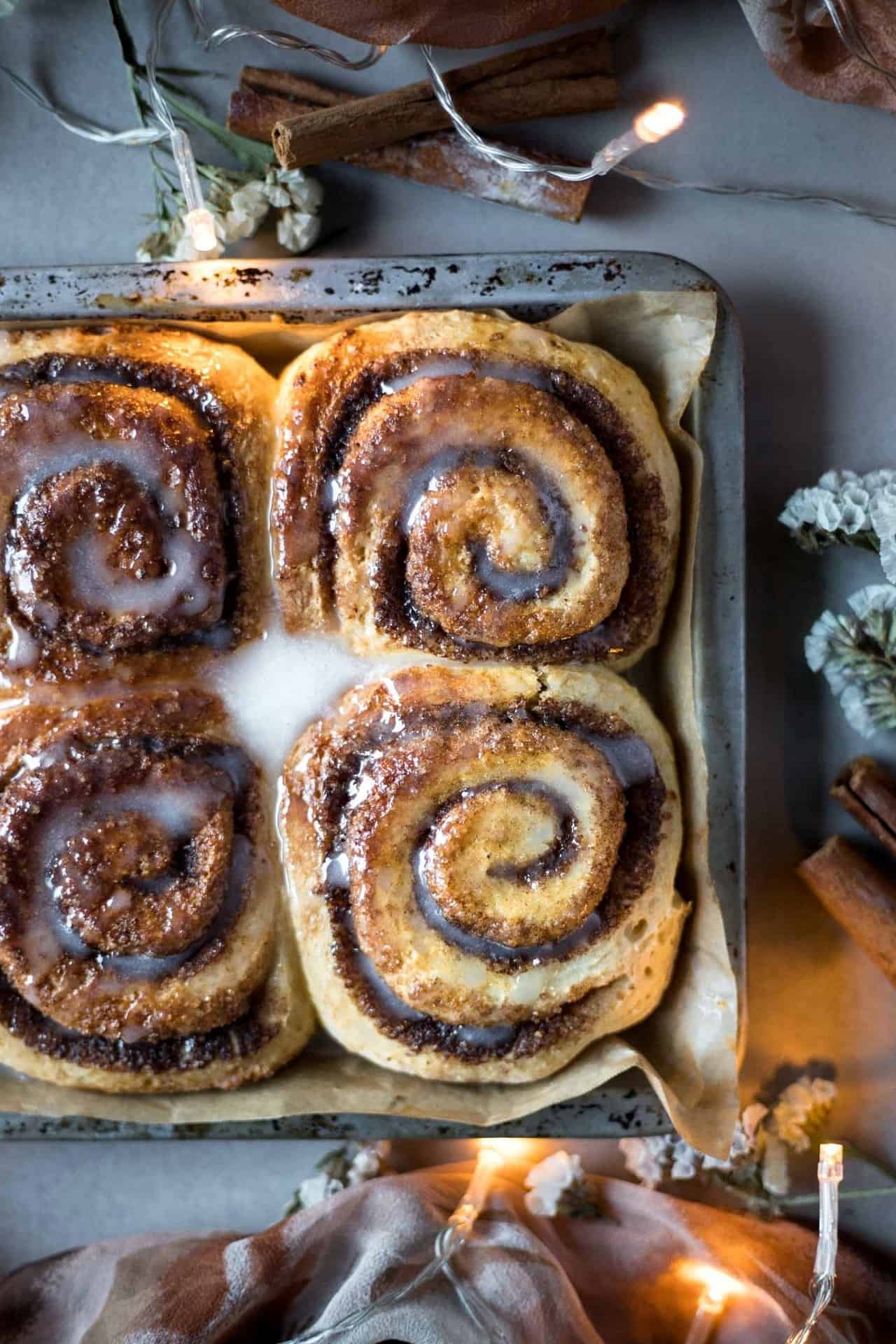 Can you make them ahead of time?
Yes, if you wanna have freshly baked cinnamon rolls for breakfast, you can prepare them completely the night before. And instead of baking them, place them in the fridge overnight, the next morning take them out and put them in the oven. By the time the oven heats up the rolls will have time to rise. Another method is to freeze them when they are already baked and reheat when you want to have them.
To freeze them: Place them in an airtight container or freezer-friendly bags.
To reheat them: Bake on 180C degrees for 10min.
what flour to use to make them?
I like to use my universal homemade gluten-free flour blend. Which is a mix of the following flours :
3. Sweet Rice Flour (Glutinous Rice aka Sticky Rice)
4. Tapioca Flour (tapioca starch is the same as tapioca flour)
5. Xanthan Gum
If you can't make that one, you can try with any gluten-free flour mix (just make sure it contains xanthan gum because that helps in binding the dough). The final result using different flour mix might vary slightly, depending on what flours your mix contains.
To find the recipe for my gluten-free flour mix click, HERE.
* fodmap tip:
*To make sure that your flour mix is fodmap friendly I recommend that you make your own gluten-free flour mix, I always make this one. Or always read the ingredients of the store-bought gluten-free flour mixes. Make sure your mix doesn't contain soy flour, chickpea/besan/gram/garbanzo bean flour, lentil flour, coconut flour, amaranth flour, or lupin flour.
*As a general rule always read the labels of the ingredients that you use as there can be sneaky FODMAP's in any product. To educate yourself of which foods are high in FODMAP's I'd strongly recommend downloading Monash Unversity FODMAP Diet App
Recipe
Gluten-Free Cinnamon Rolls
These Cinnamon Rolls are tender on the inside and flaky on the outside.
Cinnamon-spiked, perfectly sweet and so delicious!
Ingredients
Dough
8

g

Instant Yeast

3

tablespoon

Sugar

500

g

gluten-free flour

(4 cups)

½

teaspoon

Salt

2

eggs

100

g

unsalted butter

(room temperature)

200ml

lactose-free milk (full-fat)

(lukewarm)

½

teaspoon

cinnamon

1

whisked egg

(for brushing)
Filling
113

g

butter, at room temperature

(½ cup)

3

tablespoon

cinnamon

100

g

light brown sugar
Icing
120

g

powdered sugar

1

teaspoon

Vanilla Extract

2

tablespoon

lactose-free milk
Instructions
Prepare the dough. Add 1 teaspoon of sugar over the yeast and ⅓ cup of the milk. Stir to dissolve.

In a large bowl combine flour, rest of the sugar, salt, and ½tsp cinnamon. Add melted butter, dissolved yeast, eggs and the rest of the milk.

Stir to combine and knead until the dough is soft, a bit sticky but quite elastic and pulls away from the side of the bowl. If it feels too soft, you can add extra flour and if it is not soft enough add a bit milk.

Cover the dough with a plastic wrap, place it in a warm place and let it rise for about 40min or until double in size.

In a small bowl combine butter with cinnamon and sugar.

On an oiled or floured surface roll the dough in a 12x18 inch (30x45cm) rectangle. Spread butter cinnamon mixture over the top of the rectangle. Roll the dough, seal the seam with water and cut into 12 equal size rolls. Place on a parchment paper-lined tray with ½ -1 inch (2 cm) distance between them to allow them to rise.

Cover with plastic wrap and let the rolls rise in a warm place for about one hour, until doubled in size. (if the tray is not too tall you might need to grease the plastic wrap so it doesn't stick).

Preheat oven to 350F (180 C).

Bake the rolls for about 15-20 minutes until lightly browned.

Prepare the glaze. Mix powdered sugar with vanilla and milk and before serving drizzle over the rolls.