What is Christmas without gingerbread men cookies? Right? If I could describe how Christmas tastes, that would be like gingerbread men cookie! These are definitely my favorite Christmas cookies. But for a long time, I was put off from making them because of the Molasses syrup. In the Monash University app, Molasses syrup has the red light which means it is high in FODMAP's (fructans and fructose to be more precise). But if you click to read more about Molasses syrup in the app, you will see that in small servings (5g per serving) Molasses syrup has a green light. And even though that is quite little I'm happy because that meant I could have some gingerbread cookies for Christmas! The recipe for these Low FODMAP Gingerbread Men Cookies that I'm sharing here is definitely by far my favorite gingerbread cookie recipe.
Low FODMAP Gingerbread Men Cookies Recipe.
These gingerbread cookies are crispy on the edges, tender and slightly chewy in the center, packed with flavor and so delicious! They are the best Gingerbread Men Cookies that I have tried!
How to make these Low FODMAP Gingerbread Men Cookies.
They are super simple and quick to make! The dough is super simple to make, the only thing with this dough is that it is very important to refrigerate at least 3 hours. But I prefer doing it overnight as it allows the flavors to develop and the dough to get firm and be easier to work with.
For the detailed step-by-step instructions scroll at the end of this page!
what flour to use to make them?
I like to use my universal homemade gluten-free flour blend. Which is a mix of the following flours :
3. Sweet Rice Flour (Glutinous Rice aka Sticky Rice)
4. Tapioca Flour (tapioca starch is the same as tapioca flour)
5. Xanthan Gum
If you can't make that one, you can try with any gluten-free flour mix (just make sure it contains xanthan gum because that helps in binding the dough). The final result using different flour mix might vary slightly, depending on what flours your mix contains.
To find the recipe for my gluten-free flour mix click, HERE.
* fodmap tip:
*To make sure that your flour mix is fodmap friendly I recommend that you make your own gluten-free flour mix, I always make this one. Or always read the ingredients of the store-bought gluten-free flour mixes. Make sure your mix doesn't contain soy flour, chickpea/besan/gram/garbanzo bean flour, lentil flour, coconut flour, amaranth flour, or lupin flour.
*Molasses syrup is low FODMAP in 5g per serving. For these cookies, I use 80gr and this recipe makes about 30 cookies. That's about 3gr molasses syrup per cookie.
*As a general rule always read the labels of the ingredients that you use as there can be sneaky FODMAP's in any product. To educate yourself of which foods are high in FODMAP's I'd strongly recommend downloading Monash Unversity FODMAP Diet App
*gluten-free tip:
If you are celiac or highly sensitive to gluten, buy certified gluten-free baking soda. Baking soda is naturally gluten-free, however, depending on the manufacturing place and process it could be cross-contaminated.
Recipe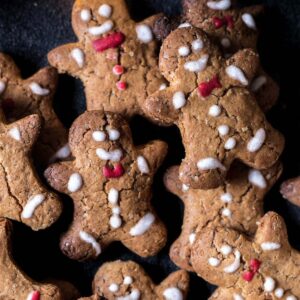 Low FODMAP Gingerbread Men Cookies
These Low FODMAP Gingerbread Men Cookies are crispy on the edges, tender and slightly chewy in the center, packed with flavor and so delicious!
Ingredients
280

gluten-free flour

¼

teaspoon

baking soda

1 ¼

teaspoon

ground cinnamon

1 ¼

teaspoon

ground ginger

½

teaspoon

salt

100

g

brown sugar

80

g

unsalted butter

at room temperature, cut into tablespoon-sized pieces

80

g

Molasses Syrup

1

tsp

Maple Syrup

2

eggs

 at room temperature, beaten

½

teaspoon

Vanilla Extract
Instructions
In a large bowl, place the flour, baking soda, cinnamon, ginger and salt, and whisk to combine well. Add the brown sugar and whisk again to combine, working out any lumps. Create a well in the center of the dry ingredients and add the butter, molasses, maple syrup, eggs, and vanilla, mixing to combine after each addition. The dough will be thick and a little sticky.

Divide dough in half and place each onto a large piece of plastic wrap. Wrap each up tightly and pat down to create a disc shape. Chill discs for at least 3 hours and up to 3 days. Chilling is mandatory for this cookie dough. I like to chill mine overnight.

Preheat oven to 350°F (177°C). Line baking sheets with parchment paper.

Remove 1 disc of chilled cookie dough from the refrigerator. Generously flour a work surface, as well as your hands and the rolling pin. Roll out disc until ¼-inch thick. dip a gingerbread man cutter in gluten-free flour or cornstarch, and use it to cut out shapes from the cookie dough. Repeat with the remaining disc of dough.

Bake cookies for about 9-10 minutes. Allow cookies to cool for 5 minutes on the cookie sheet. Transfer to a cooling rack to cool completely. Once completely cool, decorate as desired.

Cookies stay fresh covered at room temperature for up to 1 week.