Are you a pancake or a crepes fan? I'm both! And when I made these gluten-free crepes, I was having a hard time stopping myself from eating them every day, all the time! Because they are that good! And they taste exactly like the normal crepes, so you wouldn't even know that they are gluten-free!
Gluten-Free Crepes Recipe
These gluten-free crepes are light, spongy, tender, satisfying, so easy to make and super delicious! They are the perfect breakfast for lazy Sundays and go great with both savory or sweet fillings! I love having them with my Low FODMAP Strawberry Spread, chocolate spread or fresh fruit.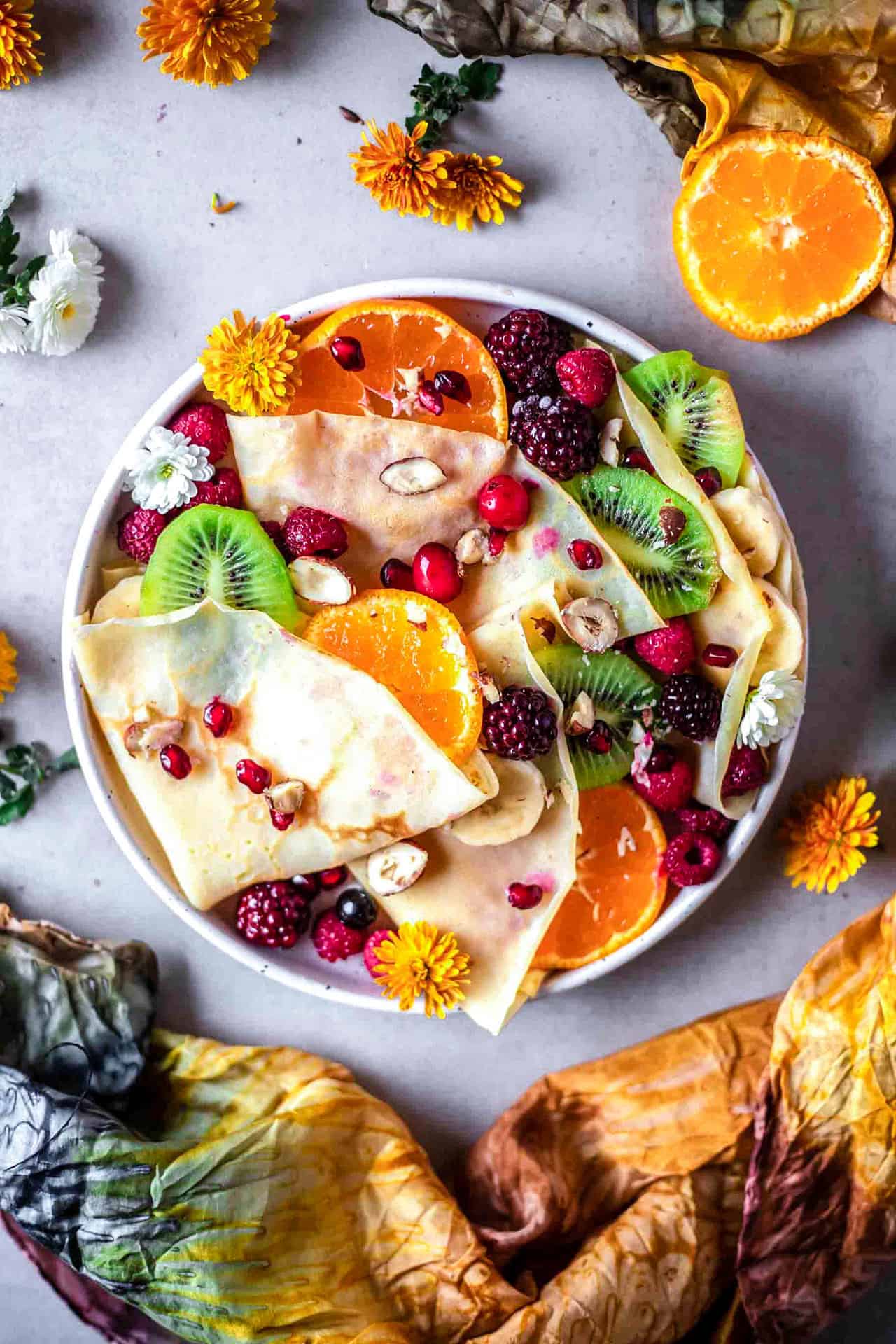 How to make these Gluten-Free Crepes?
They are super easy to make and require only 4 simple ingredients and 15min to make!
what flour to use to make them?
For this recipe, you will need to use a gum-free gluten-free flour blend. If you wanna make your own for this recipe mix: (70g white rice flour, 20g potato starch, and 10 tapioca flour/starch.)
How to make these gluten-free crepes completely dairy-free?
To make it completely dairy-free just replace the lactose-free milk with dairy-free milk (like almond milk).
* make-ahead tip:
You can make these crepes for up to a couple of hours before serving and serve them at room temperature.
You can also freeze them. Just place the stack of crepes in an airtight zip bag and freeze on a flat surface. Defrost by placing them in the refrigerator or kitchen counter. You can warm them in a hot skillet, or add your favorite fillings and warm them in the oven or microwave.

* fodmap tip:
*To make sure that your flour mix is fodmap friendly I recommend that you make your own gluten-free flour mix. Or always read the ingredients of the store-bought gluten-free flour mixes. Make sure your mix doesn't contain soy flour, chickpea/besan/gram/garbanzo bean flour, lentil flour, coconut flour, amaranth flour, or lupin flour.
*If you are making it dairy-free, choose milk that is low fodmap, the ones to avoid are, soy milk (made from the soybeans) or oat milk.

*As a general rule always read the labels of the ingredients that you use as there can be sneaky FODMAP's in any product. To educate yourself of which foods are high in FODMAP's I'd strongly recommend downloading Monash Unversity FODMAP Diet App
*gluten-free tip:
If you are celiac or highly sensitive to gluten, buy certified gluten-free baking soda and baking powder. Both are naturally gluten-free, however, depending on the manufacturing place and process there can be cross-contamination.
Looking for more gluten-free pancakes? I think you would love these ones:
Low FODMAP Chocolate Banana Pancakes (Vegan)
Gluten-free Dutch Baby Pancake
Recipe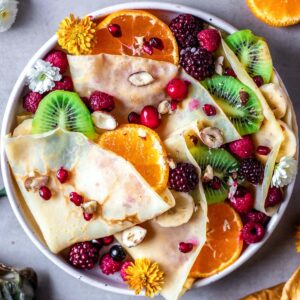 Gluten Free Crepes
These gluten-free crepes are light, spongy, tender, satisfying, so easy to make and super delicious!
Ingredients
245

g

gum-free gluten-free flour

30

g

melted butter

( or substitute light oil for dairy-free option)

480

ml

full fat lactose-free milk

( or almond milk)

3

eggs

½

teaspoon

salt

1

teaspoon

Sugar
Instructions
In a mixing bowl, whisk the eggs with the milk and the melted butter.

Then add the flour and continue whisking, until everything is well combined.

Cover the batter and let it rest for at least 20 minutes. The batter can be kept in the fridge overnight as well.

Preheat a 10-inch non-stick pan over medium heat.

Brush a layer of butter on the heated pan.

Always mix the batter first, before you make each crepe. This is to make sure the batter is uniformly mixed.

Pour ¼ cup of the batter into the hot pan, and swirl to coat the bottom of the pan. Swirl and spread the batter along the edge of the pan first and then fill the middle with the remaining crepe batter. Make sure the batter is as evenly spread as possible.

Place the pan back on the heat to let the crepe cook.

Cook the crepes until the edges are starting to brown become a little crisp (about 40 seconds). Flip the crepes over and cook for a further 10 – 15 seconds on the other side until the crepes have caramelized spots.

For extra soft crepes – cook the crepes only until they are just set at the surface (about 30 seconds) and there's no browning on the edges. You can flip over the crepe gently, and cook for a few seconds on the other side (optional), or remove the crepe from pan and place it on a plate.

Repeat until all the batter is used up.

Stack the cooked crepes on a plate or wire rack.

Serve with your preferred sweet or savory fillings.