Gluten-Free Pop-Tarts. These pop tarts are filled with cream cheese and strawberry jam, require only 8 simple ingredients, and are done in no time!
Are pop-tarts considered to be a dessert? I usually have them as a mid-day snack or even breakfast! So I try to make them healthier by using less sugary homemade strawberry jam. Because it's Valentine's day soon, I thought I'd cut them into heart shapes. And I think this is my new favorite pop tart form! I mean look how cute they are.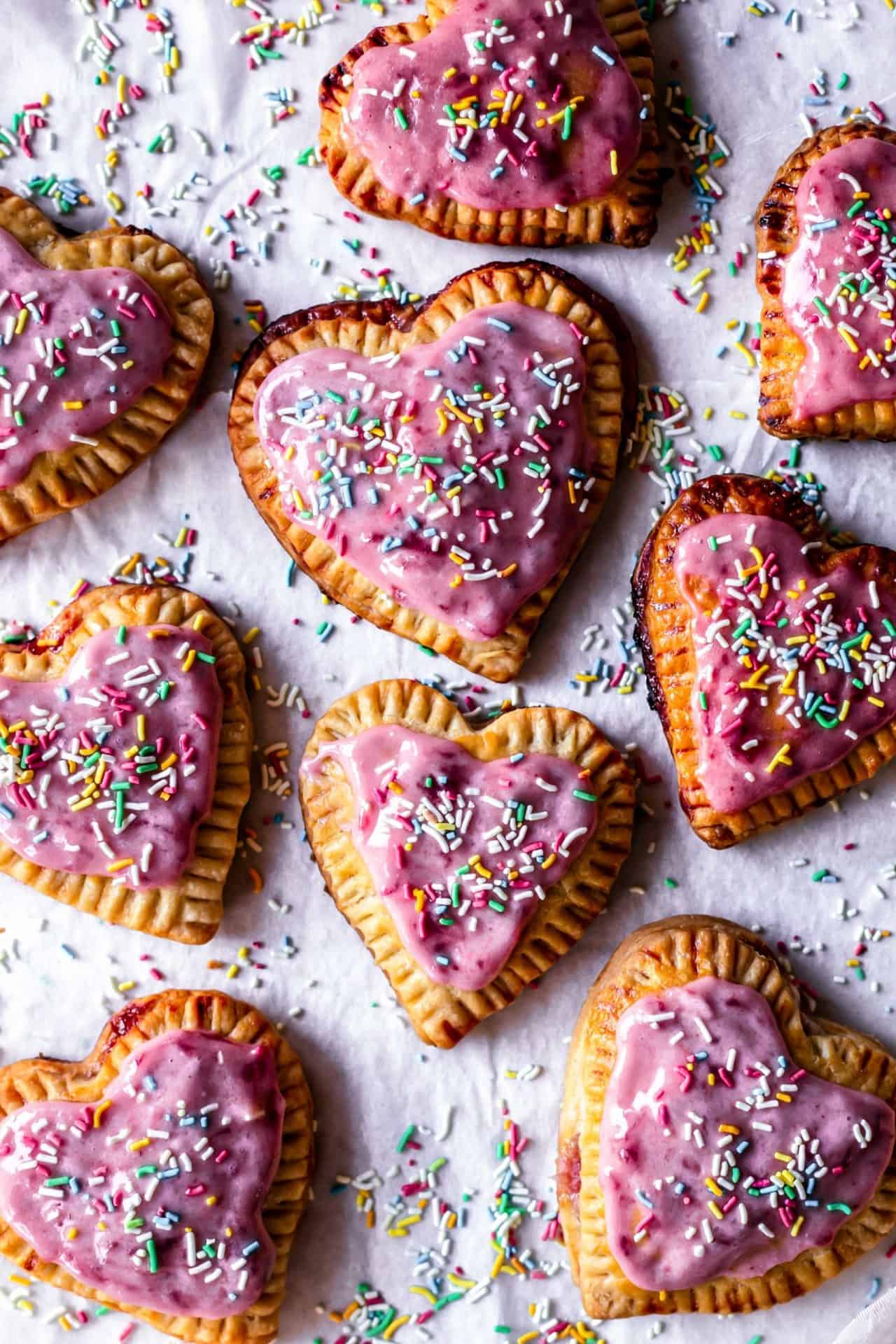 Gluten-Free Pop-Tarts Recipe.
These pop-tarts are made from a super crispy, flaky, and buttery gluten-free crust and filled with a layer of cream cheese and perfectly sweetened strawberry jam. If you haven't tried strawberry jam and cream cheese together, let me introduce you to the best combo ever! It tastes pretty close to a strawberry cheesecake!
How to make these Gluten-Free Pop-Tarts?
They are incredibly easy to make! You will only need to make this gluten-free pie dough, which is super simple to make and requires only 5 ingredients!
When you have your pie dough ready, your pop tarts are almost done! Just roll out the dough, cut the desired shapes for your pop tarts (for mine I used heart-shaped cookie cutters), and fill them with a layer of lactose-free cream cheese and a layer of this homemade strawberry spread. I prefer using homemade strawberry jam, most of the store-bought jams are not low FODMAP and are very sugary which is not good for my IBS symptoms. This homemade spread is sweetened only with maple syrup and contains only natural ingredients. And if you think that making homemade jam is difficult, well let me just tell you it takes ONLY 10min to make!
To find the exact amount of the ingredients and step-by-step instructions, scroll to the end of this page.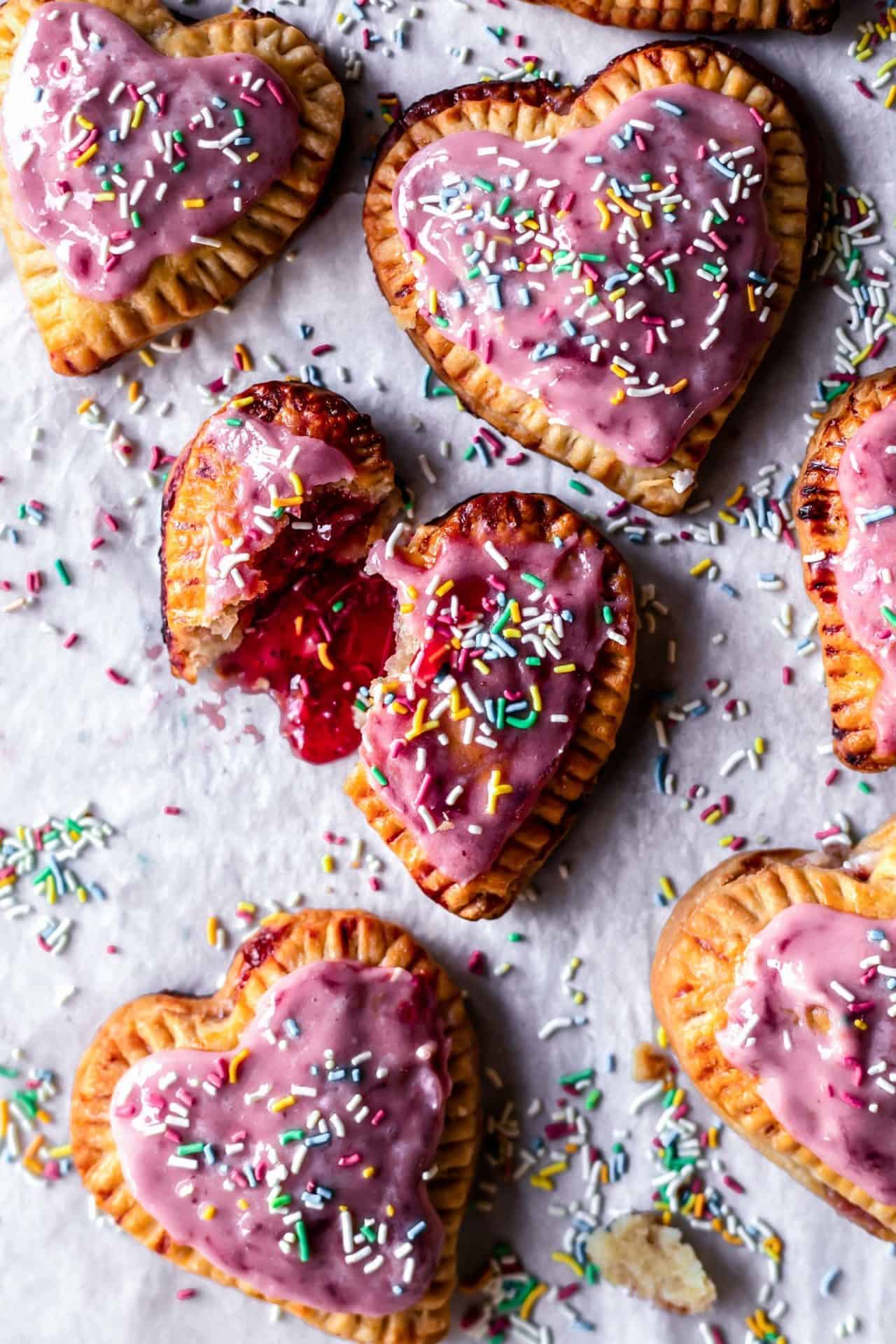 what flour to use to make it?
I like to use my universal homemade gluten-free flour blend. Which is a mix of the following flours :
3. Sweet Rice Flour (Glutinous Rice aka Sticky Rice)
4. Tapioca Flour (tapioca starch is the same as tapioca flour)
5. Xanthan Gum
If you can't make that one, you can try with any gluten-free flour mix (just make sure it contains xanthan gum because that helps in binding the dough). The final result using different flour mix might vary slightly, depending on what flours your mix contains.
To find the recipe for my gluten-free flour mix click, HERE.
*FODMAP tips:
*To make sure that your flour mix is fodmap friendly I recommend that you make your own gluten-free flour mix, I always make this one. Or always read the ingredients of the store-bought gluten-free flour mixes. Make sure your mix doesn't contain soy flour, chickpea/besan/gram/garbanzo bean flour, lentil flour, coconut flour, amaranth flour, or lupin flour.
*For the jam, I recommend that you use a homemade one such as this one. Store-bought jams can be high FODMAP.
*All the ingredients used in this recipe are FODMAP friendly, however, As a general rule always read the labels of the ingredients that you use as there can be sneaky FODMAP's in any product. To educate yourself on which foods are high in FODMAP's I'd strongly recommend downloading Monash Unversity FODMAP Diet.
Recipe
Gluten-Free Pop Tarts
These Gluten-Free Pop Tarts are flaky, buttery and filled with the most delicious combo of cream cheese and strawberry jam
Ingredients
Gluten-Free Pastry
250

g

gluten-free flour mix

100

g

cold unslated butter

140

g

lcold actose-free sour cream

¼

teaspoon

baking powder

1 to 2

tablespoon

ice cold water

½

teaspoon

salt

1

tablespoon

sugar

(optional for sweet pastry)
For the filling
100

g

lactose-free cream cheese
Homemade and Low FODMAP Strawberry Jam
450

g

fresh or forzen strawberries

150

ml

Maple Syrup

(or sugar)

3

tablespoon

Lemon Juice

1

teaspoon

lemon zest

1

teaspoon

pure vanilla extract

1

teaspoon

Cornstarch

3

tablespoon

Water (for dissolving the cornstarch)
Egg Wash
1

egg

2

tablespoon

lactose-free milk or cream
For the Icing
100

g

cream cheese

50

g

strawberry jam
Instructions
To make the pastry
Start by cutting the butter in cubes.

In a bowl mix the flour, baking powder, salt, and sugar (if using). Add the butter cubes and work the flour into the butter with your hands. Flatten each chunk of butter between your thumb and forefinger. Add the sour cream and mix to moisten the dry ingredients with the sour cream. Knead the dough together adding ice water by the teaspoon only if necessary for the dough to hold together. Place the dough onto a sheet of plastic wrap, and press into a disk as you close the plastic wrap around the dough. Place the dough in the refrigerator to chill for 30 minutes.
To make the strawberry jam
In a saucepan, add the strawberries, Maple Syrup, Vanilla Extract, Lemon Juice, and Lemon Zest. Let it simmer over medium heat, stirring frequently mashing the strawberries as you stir. After 5min, mix the corn starch with the water (aside) and then add it to the saucepan. Continue stirring frequently. Cook for another 5min, or until the spread starts to thicken. When it is done, remove it from the heat and let it cool down for 5min.
To make the pop tarts
When you have your pie dough ready. Dust your work surface lightly with flour. Remove one portion of dough from the refrigerator and let sit for 5-10 minutes to soften. Carefully roll into a 9x12-inch rectangle, dusting with flour and flipping to keep it from sticking. Repair any cracks as you roll. Cut your desired pop tart shapes, you can do the regular rectangle shapes or use a cookie cutter like I did and cut them in heart shapes.

Brush egg over the entire surface on one side of a cut-out shape doug and place 1 teaspoon chilled lactose-free cream cheese and 1 teaspoon strawberry jam in the middle. Carefully place a second cut-out shape on top and press the edges to seal, being careful not to press the jam out of the sides. Use the tines of a fork to crimp the edges. 

Repeat with remaining cut-out shapes, laying each on a parchment-lined baking sheet about 1-inch apart.

Use the end of a chopstick or thick skewer to poke a few holes in the top of the pastry to vent out the steam. Chill the pop tarts for 15 minutes while you preheat the oven to 200°C or (400°F). When the oven is done preheating, brush the top of each pop tart with the remaining egg wash.

Bake for about 20 minutes or until the tops are golden brown and crisp. Remove from heat and using a clean cloth, paper towel, or flat spatula, gently press the pop tarts down to remove any steam and flatten them a bit. Let cool completely before icing.
To make the icing
Simply mix the cream cheese with the strawberry jam

Put 1 teaspoons of glaze on a pop tart and use a spoon to gently spread it around. Top with sprinkles and repeat with remaining pop tarts.