Today I'm sharing a recipe for a super simple homemade tomato low fodmap pasta sauce. During my student days, I had pasta almost every day, back then I always used those jars of readymade pasta sauce. I thought that making my own pasta sauce is very difficult and requires being in the kitchen for a long time. WRONG! Since I started being on the low FODMAP diet I could not find a readymade low fodmap pasta sauce in my local supermarkets, so I was forced to make my own. And guess what?! It is so so simple and easy. Plus it is much healthier!
Low FODMAP Pasta Sauce Recipe
The readymade pasta sauces might seem like a good choice but most of them are full of questionable ingredients. And sugar, yes there is sugar in pasta sauce. I was shocked when I saw how many readymade pasta sauces contain sugar. Making your own pasta sauce using wholesome ingredients is much healthier and better for your tummy! The recipe that I'm sharing today is so simple to make, it requires only 6 simple ingredients and 15minutes to make.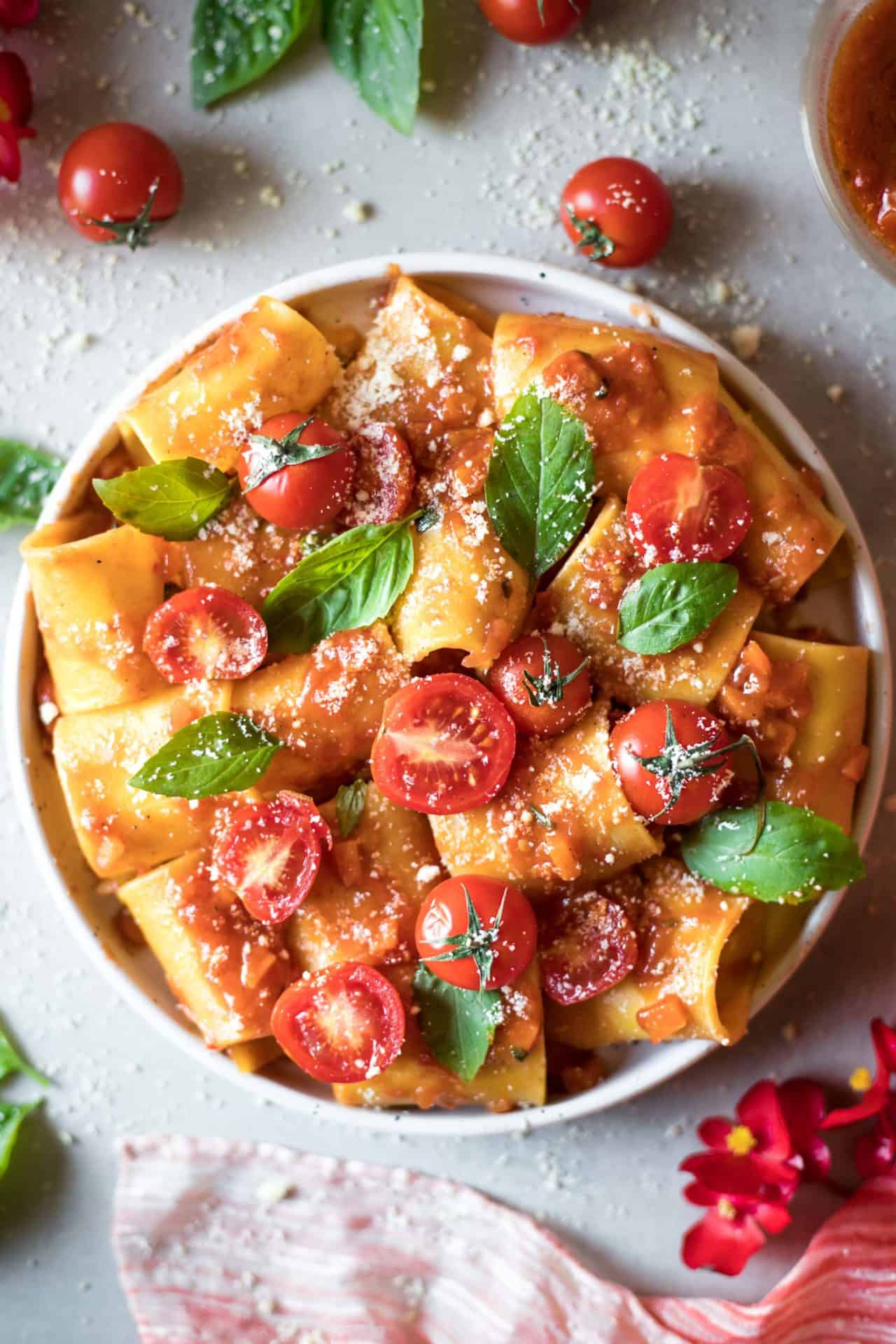 How to make this Low FODMAP Pasta Sauce.
This pasta sauce is super simple to make. You can make it while the pasta is boiling as it takes only 15min to make!
For the detailed step-by-step instructions scroll at the end of this page
*fodmap tip:
*If you are using store-bought garlic-infused olive oil, make sure there are no floating bits of garlic in it. You can also make Garlic Infused olive oil at home by frying garlic cloves in the olive oil until they are golden and fragrant. Then remove them from the oil and continue cooking your meal.
*As a general rule always read the labels of the ingredients that you use as there can be sneaky FODMAP's in any product. To educate yourself of which foods are high in FODMAP's I'd strongly recommend downloading Monash Unversity FODMAP Diet App
Low FODMAP Pasta Sauce
6 ingredient Low FODMAP Pasta Sauce. This sauce is super simple and quick to make, wholesome, healthier than the readymade ones and easy to digest!
Ingredients
500

gr

fresh tomatoes

200

ml

tomato passata

3

tablespoon

garlic-infused olive oil

2

teaspoon

Italian herbs mix

1

tablespoon

red wine vinegar

Fresh Basil

(optional)

1 or 2

tablespoon

Maple Suryp or Sugar

(optional)
Instructions
For this sauce, you can choose to remove the skin from the tomatoes or to leave it on. I prefer removing the skins as that way I get a smoother sauce.

If you are going to remove the skin: make an x in the bottom of the tomatoes with a knife and put them into a pot with boiling water for half a minute. Fish them out of the water with a spatula and put them into a bowl with cold water immediately. After that, you can easily remove the skins.

Cut the tomatoes into small cubes and put them in a pan with some garlic-infused olive oil. Let them cook over low heat until they start to soften. Then add the tomato passata, salt, pepper, Italian herbs mix and 1 tablespoon of red wine vinegar and let it simmer over medium heat for about 10 minutes.

You can serve it as it is or if you want a smoother consistency you can blend it.

If the tomatoes that you are using are too sour you can add 1 or 2 tablespoons of maple syrup or sugar(according to taste).