This low FODMAP Hummus is nutty and tangy with a lusciously smooth and creamy texture! And the good news is that this Middle Eastern spread is safe to eat on a low FODMAP diet.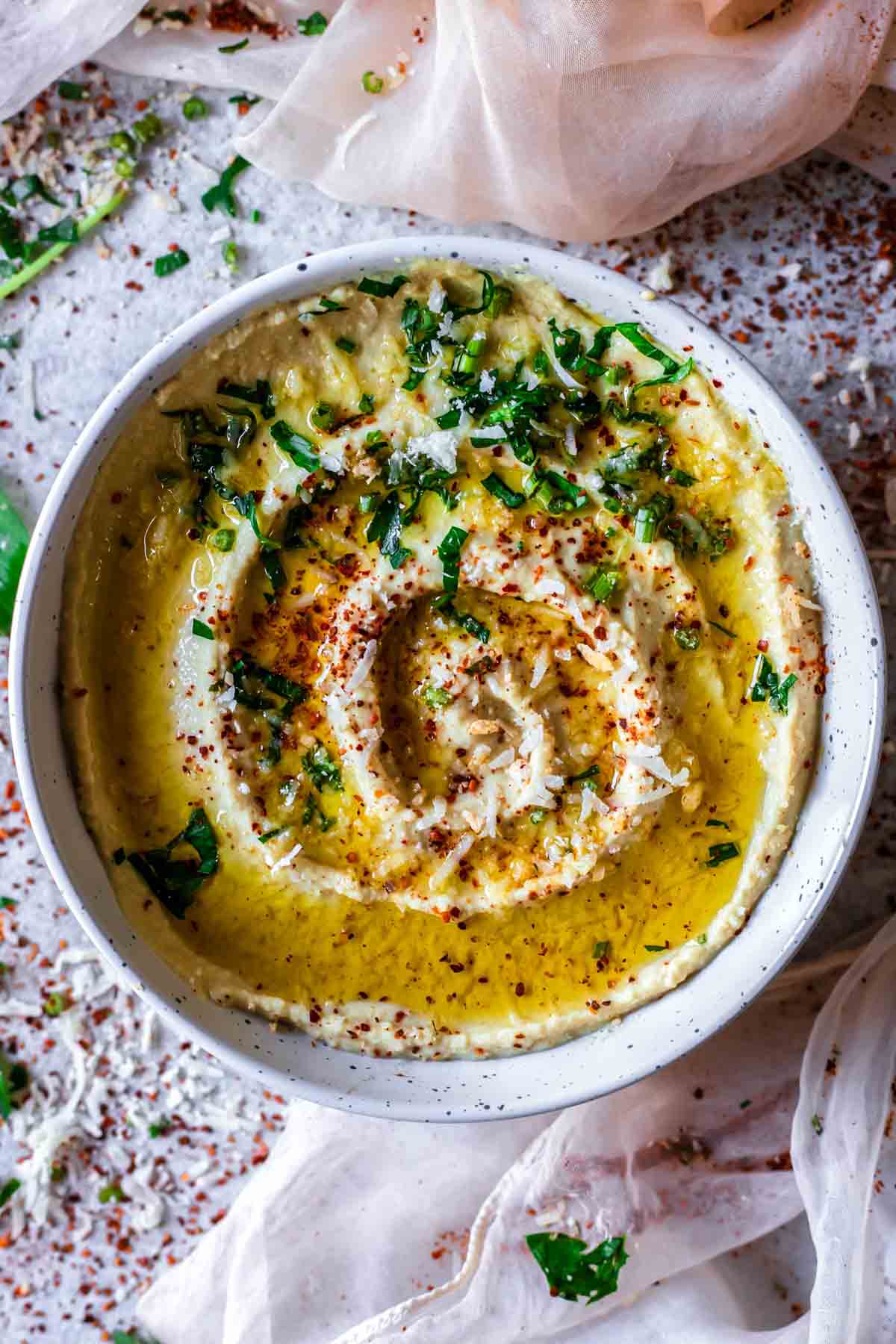 Jump to:
💬 Is hummus low FODMAP?
It depends! Traditional hummus is made with garlic, aquafaba, and cooked chickpeas instead of canned. But a homemade hummus such as this one is low FODMAP, as the problematic ingredients are omitted and replaced!
🌟 How is this hummus recipe low FODMAP?
Here are 5 reasons why this hummus recipe is safe to eat on a low fodmap diet:
It uses canned chickpeas(garbanzo beans) which are well-rinsed and drained. Canned chickpeas are lower in FODMAPs because the FODMAPs from the chickpeas have leached into the brine. That's why it is very important to rinse them well!
It doesn't use aquafaba. Aquafaba is the brine from the canned chickpeas or the leftover water where the chickpeas have been cooked. And this is where all those FODMAPs have leached into.
It uses garlic-infused olive oil instead of garlic. Garlic is not low FODMAP, not even in small amounts.
It's only low FODMAP in small portions. According to Monash University, canned chickpeas are Low FODMAP at 42g (¼ cup) per meal. From this recipe, you will have about 8 portions. One serving shouldn't be more than 50 grams (¼ cup)
🥣 Ingredients & Substitutes
Canned Chickpeas - Don't replace them with cooked chickpeas as they are not low in FODMAP.
Tahini. Tahini is a sesame paste and it gives the hummus that nutty flavor. Only 2 tablespoon is low FODMAP. If you don't like tahini you can just omit it.
Garlic Infused Olive Oil. Make sure that there are no garlic pieces in the oil as garlic is not low FODMAP. Plus the oil makes the texture of the hummus so luscious
Fresh lemon juice. I don't recommend replacing it with bottled lemon juice as fresh lemon juice tastes much better.
Ice Cubes. I recommend using ice cubes instead of water. Ice cubes make the hummus extra light and fluffy.
Spices (cumin, paprika, black pepper) - if you don't like some spice you can omit it.
👩🏻‍🍳 How to make this hummus
Step 1: Add the ingredients to a blender
Add the garlic-infused olive oil, tahini, lemon juice, chickpeas, and 3 ice cubes. 
Step 2: Blend the ingredients together
Process until it forms a smooth paste. If the hummus is too thick add a little bit of water to it. Continue to process until smooth. 
Step 3: Serve
Serve the hummus with pita chips, pita bread, or veggies.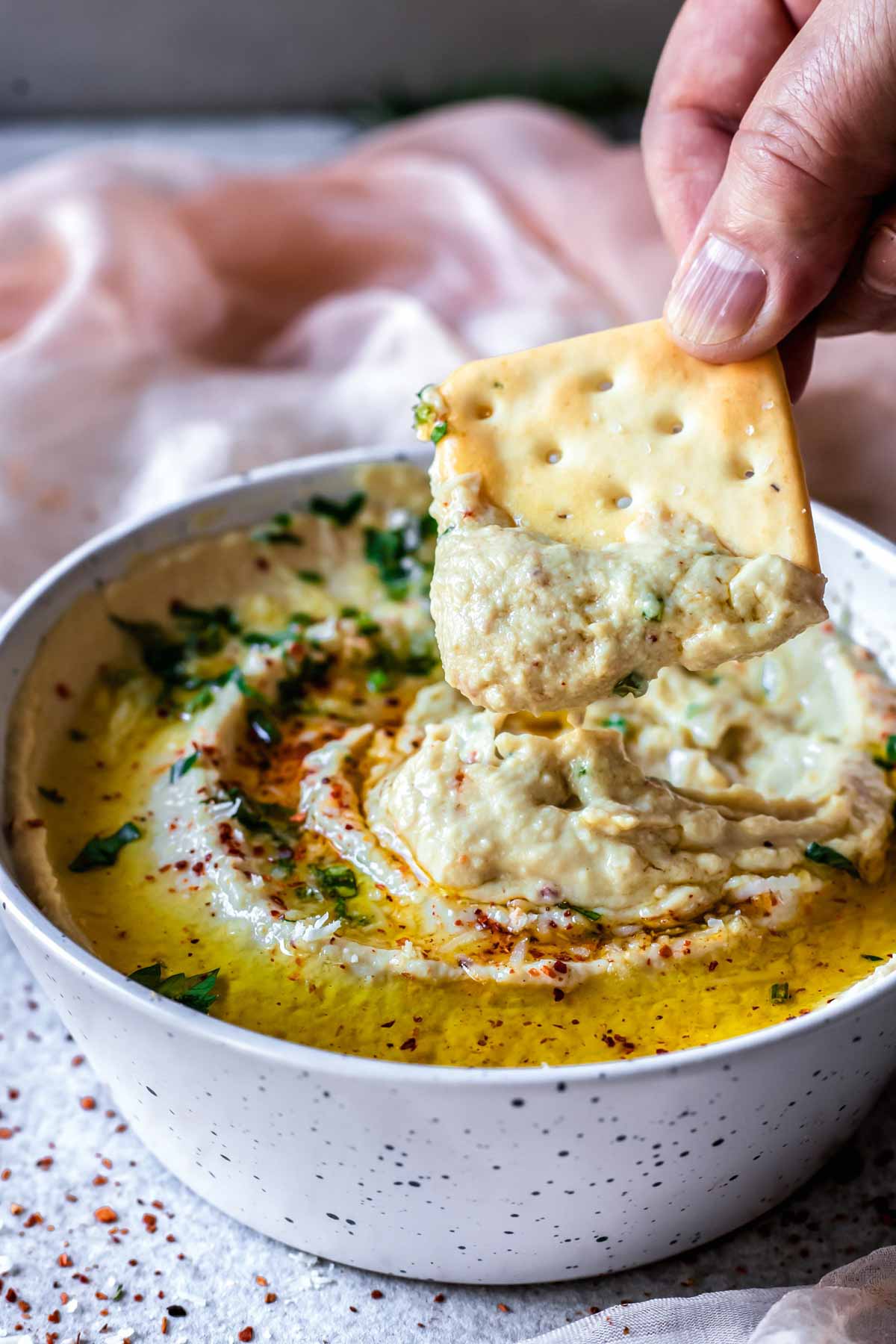 📖 Low FODMAP hummus variations:
Kalamata Olives - add ¾ cup pitted kalamata olives.
Parmesan Hummus - add 1 cup of freshly grated parmesan cheese
Roasted sweet potato hummus- add 1 small baked sweet potato.
💭 FAQ:
How long can I store homemade hummus?
Hummus stored in a well-sealed air-tight container can last in the fridge for up to 5 days.
Can you freeze this hummus?
Yes, you can freeze this hummus. Place it in a freezer-safe container or zip bag and put it in the freezer. Thaw the frozen hummus in the refrigerator overnight. 
Can you recommend any store-bought low fodmap brand?
I haven't been able to find any low fodmap hummus brands. Also at the moment, this post is published the Monas app has not listed any certified low FODMAP hummus brands.
💡What to serve with hummus?
Easy Gluten-Free Focaccia Bread
Did you make this? Tell me about it! Leave a ⭐ REVIEW and COMMENT below!
Recipe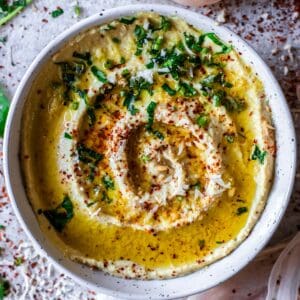 Low FODMAP Hummus
This Low FODMAP Hummus is extra creamy and smooth, super flavourful, very simple to make and so delicious!
Ingredients
1

can (15oz)

canned chcikpeas

(rinsed and drained)

2

tablespoon

Tahini Paste

3

tablespoon

Garlic Infused Olive Oil

(plus extra for drizzling at the end)

3

tablespoon

Lemon Juice

½

teaspoon

salt

¼

teaspoon

cumin

(optional)

¼

teaspoon

smoked paprika

3

ice cubes
Instructions
Process until it forms a smooth paste. If the hummus is too thick add a little bit of water to it. Continue to process until smooth.

Serve the hummus with pita chips, pita bread, or veggies.