Low FODMAP Hummus. Learn how to make restaurant-style, tummy-friendly hummus that is super creamy and smooth. The secret to making smooth hummus is one simple technique!
Hummus is one of my favorite dips, so I was the happiest when I figured out a FODMAP friendly way to have it back in my diet.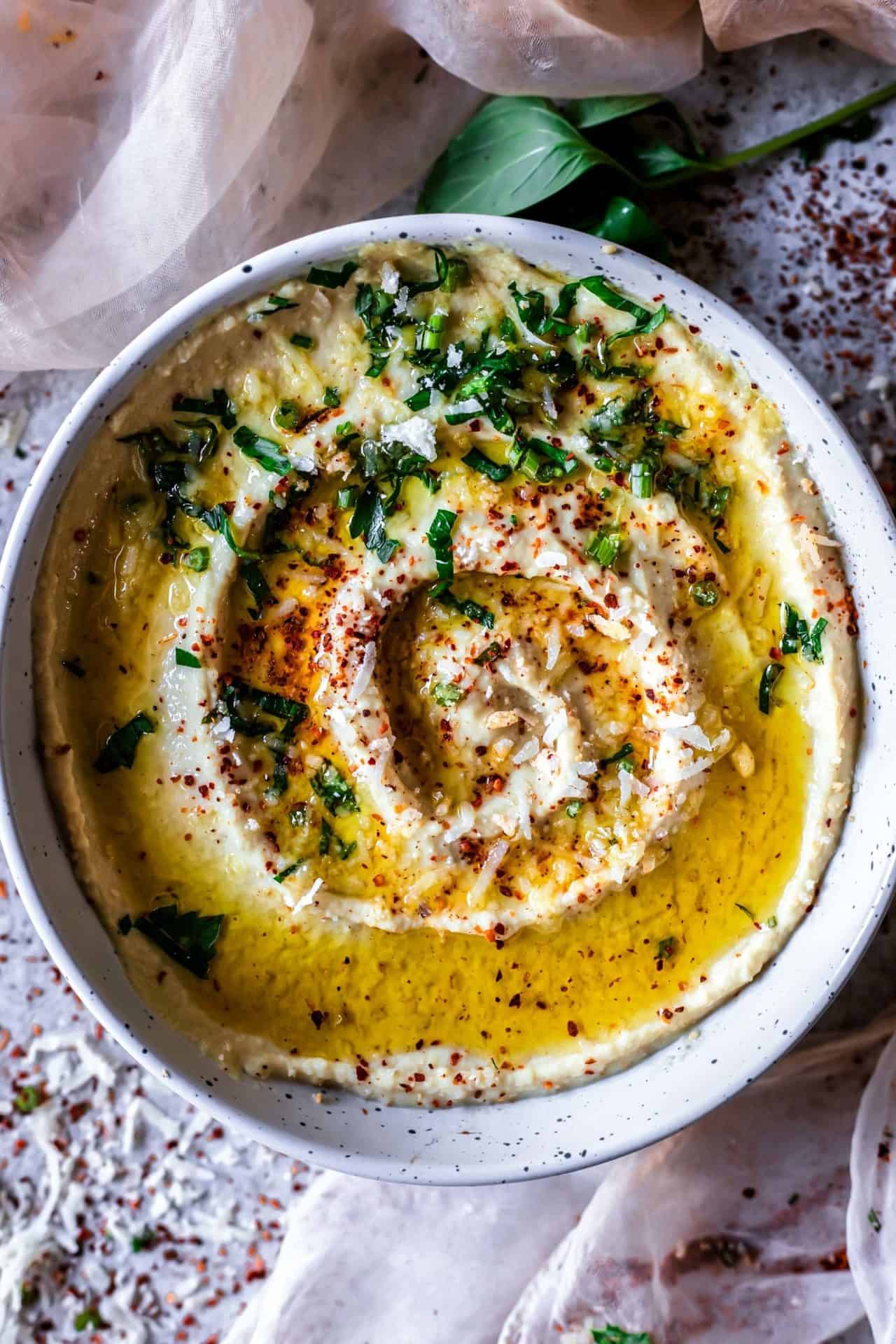 Is Hummus Low FODMAP?
Yes, hummus is low FODMAP in smaller amounts. For the hummus to be low FODMAP it needs to be made from canned chickpeas. Canned chickpeas are low FODMAP in 42g (1/4 cup) per serving.
Low FODMAP Hummus Recipe
This Hummus is extra creamy and smooth, flavourful, very simple to make and so delicious! My favorite things to dip in hummus are veggies and gluten-free crackers.
How to make extra smooth Hummus?
The secret to making perfectly smooth hummus is using a teaspoon of baking soda and boiling the chickpeas for 10 minutes once you drain them from the can.
This step doesn't take much time and it makes so much difference in the texture of your hummus!
Hummus Ingredients:
Chickpeas (or garbanzo beans) are the base for hummus. The softened beans breakdown into a smooth paste. According to Monash University, only canned chickpeas are low FODMAP, therefore, if you are following a low FODMAP diet I recommend that you use only canned chickpeas.
Tahini is a paste made from ground sesame seeds and it makes the hummus taste incredible. You can buy tahini at the store or you can make it yourself. According to Monash University, Tahini Paste is low FODMAP in 2 tablespoons per serving. However, if you don't like or don't have tahini you can easily make delicious hummus without tahini. Simply omit the tahini paste and add more olive oil or replace it with natural, unsweetened creamy peanut butter.
Fresh lemon juice is really important for excellent hummus. Bottled lemon juice does not taste nearly as good.
Garlic-Infused Olive oil. This is a very important ingredient for flavourful hummus. Traditional hummus uses fresh garlic cloves, however, because garlic is not low FODMAP, in this recipe, I replaced it with garlic-infused olive oil. If you can't find garlic-infused olive oil in your supermarket, you can easily make it at home. Also, the olive oil makes the texture of the hummus luxurious and smooth. I like adding extra drizzle to the top of the swirly hummus when serving it.
Ground cumin and salt help to make it taste amazing and the cumin add a little more spice and richness.
*FODMAP tips:
*According to Monash University, canned chickpeas are low FODMAP in 42g (1/4 cup) per serving.
*If you are using store-bought garlic-infused olive oil, make sure there are no floating bits of garlic in it. You can also make Garlic Infused olive oil at home by simmering garlic cloves in olive oil over very low heat for about 15min or until they are golden and fragrant (but watch out, you don't want to burn them). Remove the garlic pieces and there you have your garlic-infused olive oil!
*All the ingredients used in this recipe are FODMAP friendly, however, As a general rule always read the labels of the ingredients that you use as there can be sneaky FODMAP's in any product. To educate yourself on which foods are high in FODMAP's I'd strongly recommend downloading Monash Unversity FODMAP Diet.
Low FODMAP Hummus
This Low FODMAP Hummus is extra creamy and smooth, flavourful, very simple to make and so delicious!
Ingredients
1

can (439g)

canned chcikpeas

(rinsed and drained)

1

tsp

baking soda

3

Tbsp

Tahini Paste

3

Tbsp

Garlic Infused Olive Oil

(plus extra for drizzling at the end)

3

Tbsp

Lemon Juice

1/2

tsp

salt

1/2

tsp

cumin

(optional)

water if needed
Instructions
BOIL: Add the drained chickpeas to a saucepan and cover with 3 cups of water. Add the baking soda and bring the chickpeas to a boil over high heat. Once boiling, lower the heat to medium-low and allow the chickpeas to simmer for 10-12 minutes until you see the chickpea peels floating to the top. It is ok if the chickpeas get very soft, we're processing them anyway!

DRAIN: Drain the chickpeas in a colander or mesh strainer and remove all the peels that you can easily take off the chickpeas. You could also just rub the chickpeas in the colander to help loosen up more peels and remove them. Rinse the chickpeas under cold running water and continue to remove any peels that may have released from the chickpeas.

PROCESS: Add the garlic-infused olive oil, tahini, lemon juice and ½ of the chickpeas, along with the olive oil, salt, ground cumin, and 2 tablespoons of the water in a food provessor. Process until it forms a smooth paste. Then, add the remaining chickpeas and 1 tablespoon of water (or more if needed). Continue to process in the food processor until smooth. Serve the hummus with pita chips, pita bread or veggies.
IF YOU HAVE PINTEREST, YOU CAN FIND ME HERE. AND DON'T FORGET TO PIN THIS FOR LATER! ????