This Polenta pizza is a delicious and gluten-free alternative to traditional pizza crust. To make it you will only need 4 simple ingredients and 15 minutes of your time, which makes it a perfect dish for a cozy night in.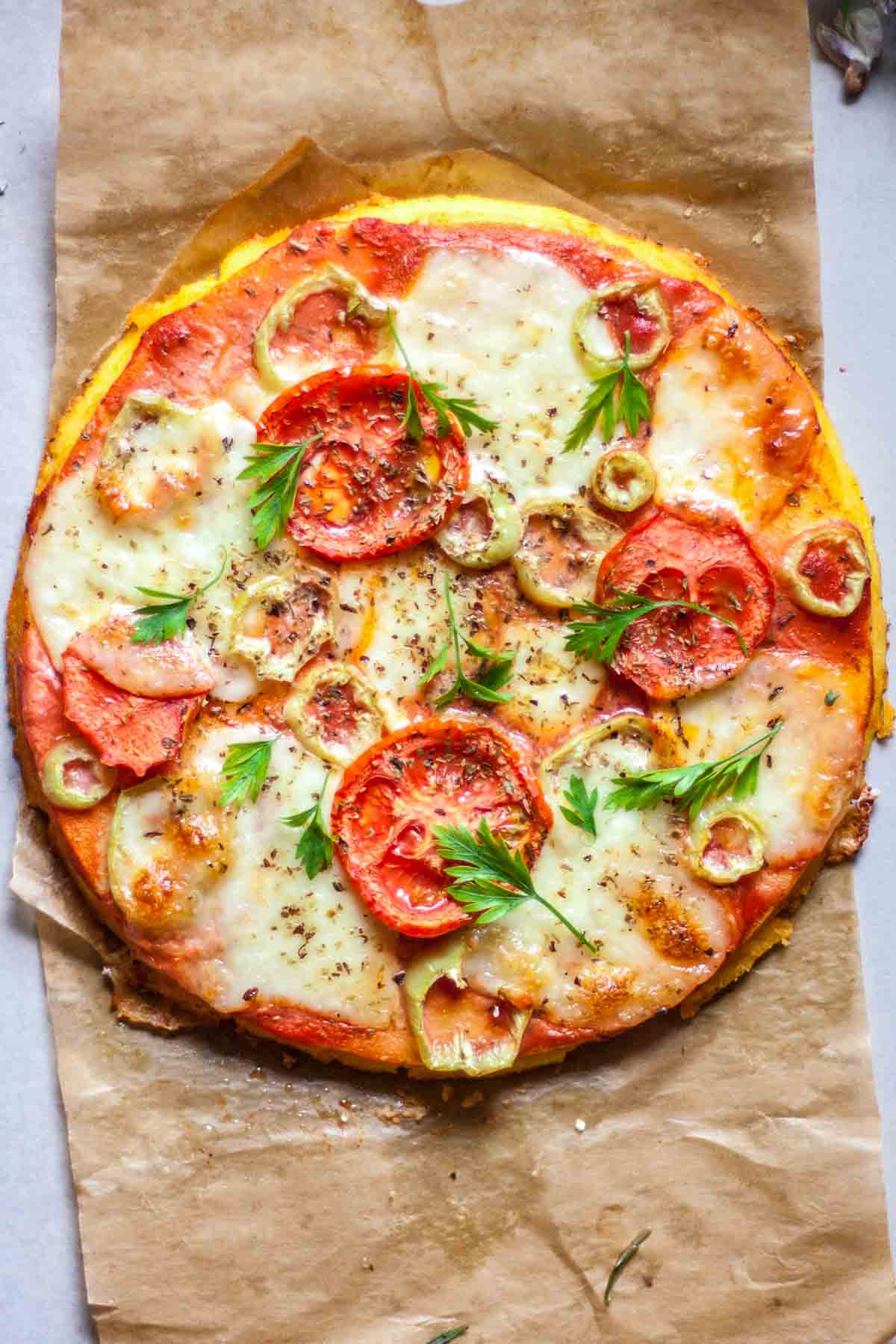 Jump to:
👩🏻‍🏫 What is Polenta Pizza?
The pizza base is made with ground dried corn kernels to form coarse yellow cornmeal, it is a delicious alternative to traditional Italian-style pizza that pairs the soft dense texture and nutritional benefits of ground corn with the savory flavors we all love. This gluten-free pizza base has become one of my favorite homemade pizza doughs without flour, alongside this potato crust pizza and gluten-free yeast-free pizza. They have made it to my weekly rotation.
❤️ Why you will love this recipe
Easy to make and delicious- every bite of this polenta pizza has a delectable combination of marinara sauce and mozzarella cheese with olives.
Naturally gluten-free- Polenta is by nature gluten-free and made from yellow corn kernels
Versatile- This pizza crust can incorporate different delicious flavors from traditional Italian flavor with Italian seasoning to plant base toppings for vegetarian pizza
🍅 Ingredients and substitutes
Detailed measurements are in the recipe card at the bottom of this post, you can use the jump-to button.
For the pizza crust:
Polenta: This is our hero ingredient for the gluten-free pizza and substituting it will change the entire recipe.
Milk: You can use regular milk or plant-based milk for special dietary requirements. You are welcome to use water as well.
Parmesan cheese will help bind and keep the crust together as well as add extra cheesy flavor to the pizza.
Butter: While butter ensures a creamy and smooth consistency in the polenta, olive oil is a great substitute for it.
For Margarita toppings:
Marinara Sauce
Mozzarella Cheese
Freshly Grated Parmesan Cheese
Olives or Extra Veggies (Like Bell Peppers) optional
🥦 Variety topping ideas
For meat lovers, here are a few ideas for your perfect toppings
Sweet and savory with chicken and pineapple toppings
Bacon with BBQ sauce
Pepperoni and ground beef
For the seafood lovers
Smoked Salmon
Tuna Mayo
Bay Scallops
Vegetarian toppings
Try roasted peppers and zucchini with red onions.
Another mouthwatering vegetarian Pizza option is kale pesto toppings.
Honey chili veggie pizza, load your polenta pizza with cherry tomatoes, red onion, and jalapeno peppers balanced with a dash of honey then topped with mozzarella cheese.
Vegan pizza toppings ideas
Sauteed bell peppers with a generous amount of tomato paste topped with plant-based parmesan cheese.
Sauteed mushrooms with roasted garlic
Sun Dried Tomatoes with fresh arugula
📖 How to make Polenta Pizza
Step 1: Cook the Polenta
On high heat, bring the milk to a boiling point or water if you prefer to use water. Before you add the polenta, lower the heat then start adding polenta to the boiling liquid. Whisk frequently while adding the polenta at the same time. Add other ingredients, butter or an alternative of your choice, the grated parmesan cheese, and season with salt. Continue stirring frequently until you reach the desired consistency which should be thick.
Step 2: Make the pizza crust
If you are happy with how the polenta has thickened then remove it from heat and let it cool down for a short while. Next, place baking paper over a baking tray then transfer the polenta from the saucepan to the baking pan and lay it out using a spoon or spatula into a round shape. How thick or how thin it will be based on your preference.
Step 3: Bake the pizza
Place the baking tray in the fridge for the polenta to cool down and set. Meanwhile, preheat the oven to 350 F (180 C) and prepare your toppings of choice. Once that is ready then you can take the pizza crust from the fridge and top it with your pizza toppings and bake for 25 to 30 minutes at 180 C or until the crust is crispy and golden on the outside.!
🌟 How to cook perfect Polenta
Use a whisk to stir the polenta. Hold the whisk with one hand while the other hand holds your cornmeal, whisk constantly as you pour in the polenta slowly and steadily. This will prevent the polenta from having any lamps.
Once you get a thicker consistency you may switch to a wooden spoon.
Always bring your liquid to a boil before adding polenta to avoid having to stir for a long time before it reaches a thick consistency.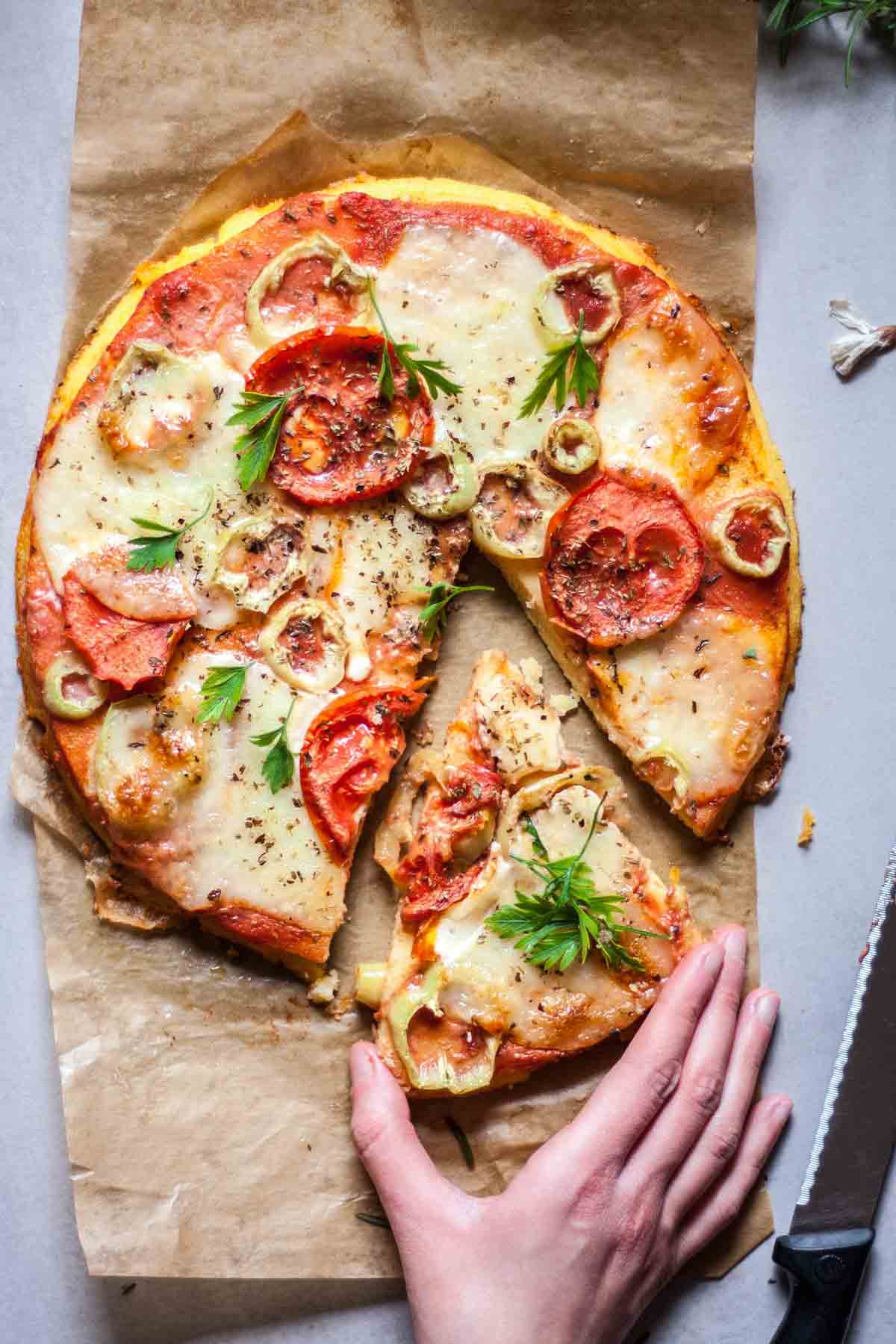 👩🏻‍🍳 Expert Tips
When laying out your crust, apply cooking oil on your surface to avoid it sticking if you don't have baking paper.
Sautee any veggie toppings for easy baking and avoid liquid released from the veggies onto the polenta which might make it soggy.
Apart from refrigerating the polenta to make it firm, you can also pre-bake the polenta before adding any toppings
📔 Storage Tips
You can store the Polenta crust in the fridge for up to 3 days, and cover it with parchment paper or baking paper.
You can store the baked Polenta pizza leftovers in an airtight container in the fridge for up to 2 days.
I don't recommend storing it for a long period because the crust will lose its original texture and it might become soggy when it comes out of the freezer.
💬 FAQ
Can polenta be reheated?
Yes, you can reheat your polenta pizza in the microwave or back in the oven.
Is polenta pizza supposed to be soggy?
Absolutely not. Your polenta pizza base will be firm, not soggy, just don't use a very wet topping because the liquid will make your pizza soggy.
How to keep the polenta from sticking to the cooking pan?
The trick here is to lower your heat once your water or milk starts to boil and regularly stir the polenta. 
Why is my polenta not thickening?
It could be that you have added too much liquid ratio to your cornmeal polenta, the ratio depends on how thick you want your polenta to be. You can fix runny polenta by adding more cornmeal to the cooking pan.
🍕 More Gluten-Free Pizza Recipes
Traditional Gluten-Free Pizza Crust
Gluten-Free Pizza Crust without Yeast
Did you make this? Tell me about it! Leave a ⭐ REVIEW and COMMENT below!
Recipe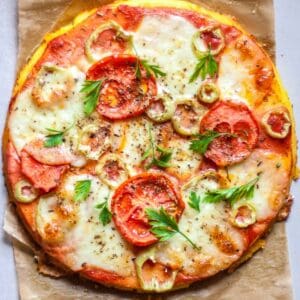 Polenta Pizza (with Different Topping Ideas)
This Polenta pizza is a delicious and gluten-free alternative to traditional pizza crust. To make it you will only need 4 simple ingredients and 15 minutes of your time, which makes it a perfect dish for a cozy night in.
Ingredients
For the polenta crust
1

cup

polenta

3

cup

milk of choice

⅓

cup

freshly grated parmesan cheese

1

tablespoon

butter or olive oil
For the Margarita Topping
4

tbsp

marinara sauce

½

cup

grated mozarella

¼

cup

freshly grated parmesan cheese

a handful of fresh basil

½

cup

olives

optional
Instructions
Preheat the oven to 180C degrees.

Put the lactose-free milk in a large saucepan and bring it to boil. Once boiling lower the heat and add the polenta, stirring frequently. Continue by adding the butter or oil and the freshly grated parmesan. Season with salt and continue stirring frequently.

Once the polenta starts to thicken, remove it from the heat.

Place a baking paper over a baking tray and pour the warm polenta over. Make it in a circle shape (it can be as thick/thin as you prefer).

Place the baking tray in the fridge to cool down and set. In the meantime prepare your toppings of choice. Once your toppings are ready, take out the baking tray from the fridge and add them to your pizza.

Bake for 25 to 30min on 180C. Or until the crust is crispy and golden on the outside.
Nutrition
Serving:
1
pizza
Calories:
1785
kcal
Carbohydrates:
181
g
Protein:
81
g
Fat:
83
g
Saturated Fat:
44
g
Polyunsaturated Fat:
4
g
Monounsaturated Fat:
26
g
Trans Fat:
0.5
g
Cholesterol:
231
mg
Sodium:
3086
mg
Potassium:
1988
mg
Fiber:
6
g
Sugar:
52
g
Vitamin A:
3630
IU
Vitamin C:
4
mg
Calcium:
2224
mg
Iron:
3
mg