Another delicious way to include vegetables within your pasta is with this easy Beet Pasta Sauce. Tender beets blended with creme fraise, feta cheese, sautéed onion, and garlic until smooth is perfect for any type of pasta.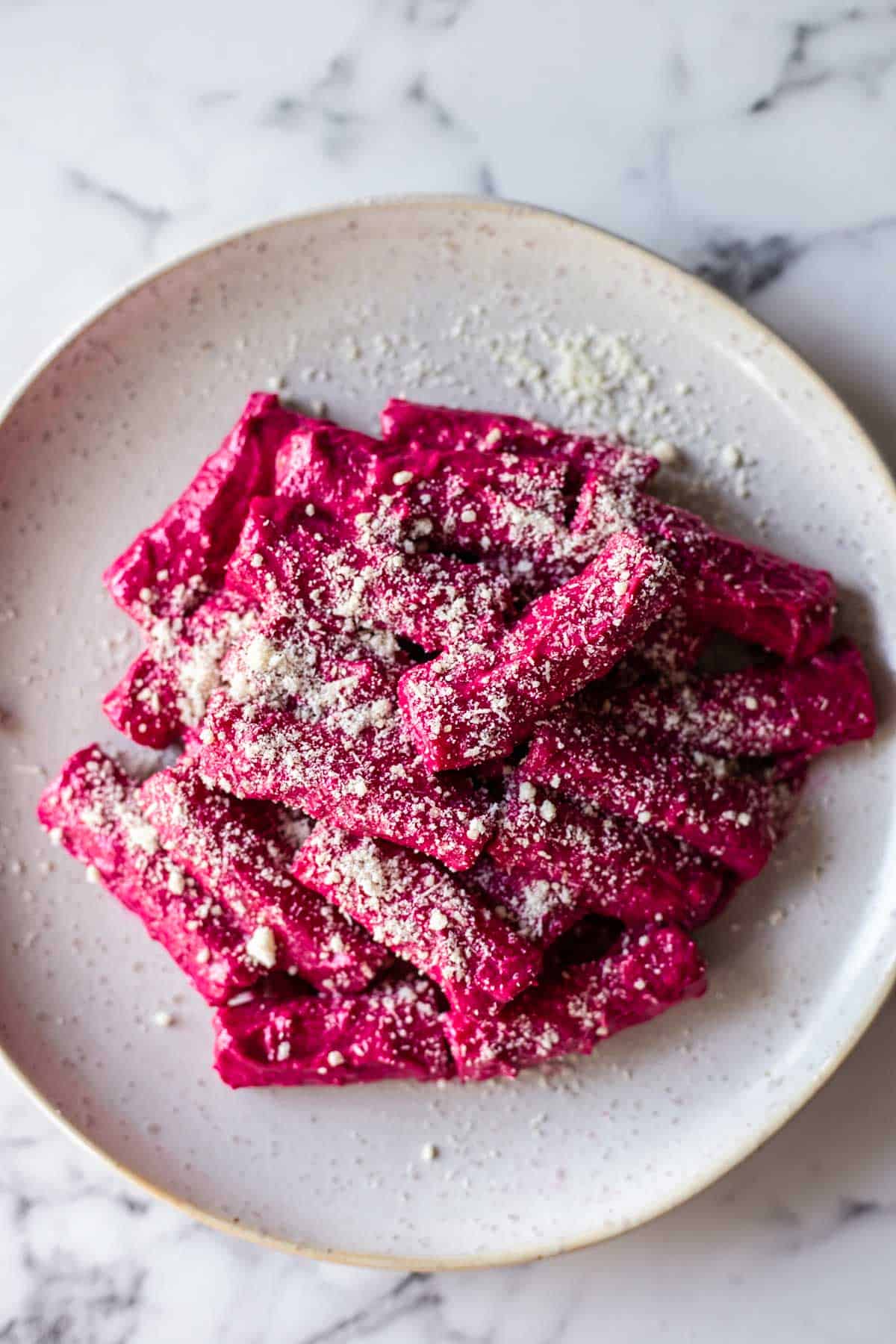 I have been looking for more ways to incorporate vegetables in my pasta and this Beet Pasta Sauce was inspired by this Creamy Spinach Pasta which was so delicious and comforting. Who said you can't have healthy comforting food anyway? They were totally wrong.
Why you will love this pink pasta sauce
It's easy and quick to make, with only 5 easy to get ingredients your beet pasta sauce will be ready in 20 minutes max.
The color is vibrant and inviting, the pink-like color from the beet on your pasta topped with crumbled feta cheese gives it that colorful presence.
It's delicious and healthy, sauteed onions, garlic, and beetroot blended with creme fraiche and feta cheese can only result in a nutritious, delicious creamy pasta sauce.
This recipe uses easy-to-get ingredients, this recipe calls for ingredients that you may already have in your fridge or pantry. They can also be substituted without compromising the taste of the sauce.
Ingredients & substitutes
Detailed measurements of the ingredients are on the recipe card at the bottom of the post, you can use the jump to recipe button as well.
Beets: This is the hero ingredient, it can be cooked or roasted. You have to chop it into small chunks for easy blending.
Onions: Here I used yellow onions, but you can easily substitute it for red onions, shallots or green onions.
Olive oil: This is to sauté the onions and garlic but you can use avocado oil or coconut oil instead.
Garlic cloves are finely chopped, this will give your sauce that delicious aroma.
Creme fraiche: Our creamy agent but you can substitute this with sour cream or greek yogurt
Feta cheese for garnish which is optional.
Equipment and tools needed
How to make Beetroot Pasta Sauce?
Step 1
Sauté the onion and garlic on a skillet over medium-high heat for about 5 minutes or just until they are soft and translucent. You may want to start with the onions first and add the garlic at about 3 minutes because it might burn.
In your blender, add the beets, creme fraiche, sautéed onions, and garlic. Please ensure that your beets are cooked or roasted until tender and they are not in big chunks so that the blending process can run smoothly.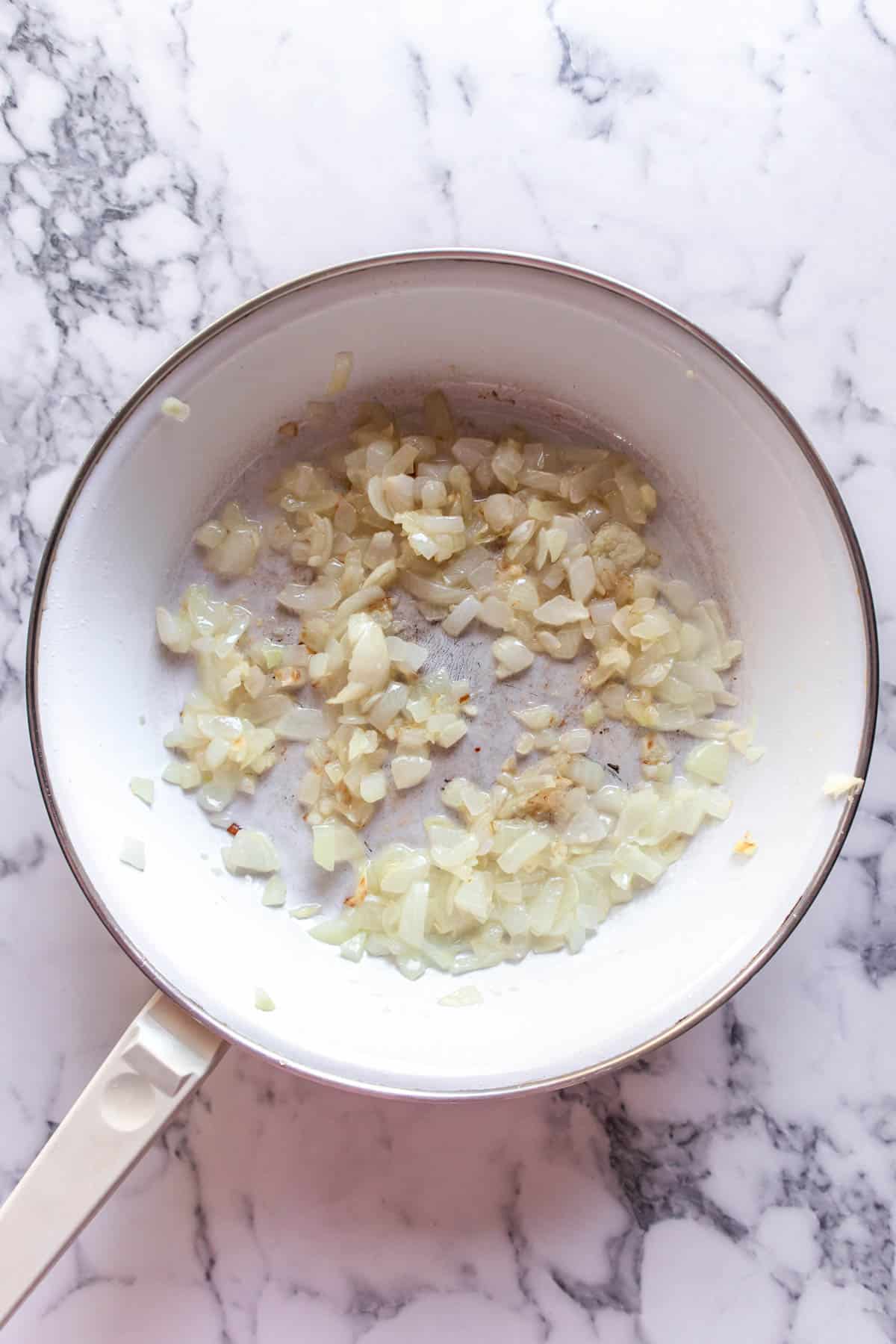 Step 2
Blend at a high speed until all the ingredients are well incorporated and the sauce looks smooth. Serve on top of pasta, and garnish with crumbled feta cheese or grated parmesan cheese. The garnishing is totally optional.
Recipe Variations
Make this recipe vegan by using vegan-friendly cheese that is made from vegetable proteins such as nuts, soy, and vegetable oils. There are plant-based creme fraiche alternatives as well.
You can also add walnuts to your beetroot pasta sauce, it will give it a crunchy taste and healthy fats.
Storage Tips
For any leftover sauce, transfer it into an airtight container and put it in the fridge. Use within 3 days. Make sure it has completely cooled down before putting it in the fridge.
For extended storage, transfer the pasta sauce into a ziplock bag and keep it in the freezer for up to 3 months. Remember not to fill up the bag to the top because liquids turn to expand when they freeze
How to reheat frozen pasta sauce?
There are multiple ways you can do this:
Thaw the sauce overnight then reheat in a microwave for a normal 1 to 2 minutes or even in a saucepan over medium heat.
If the frozen sauce is in a microwave-friendly container then you can thaw it in the microwave and reheat it there as well.
If you don't want to use the microwave thawing then put water in a large bowl and then put the container of frozen pasta sauce in it. Thereafter it can be reheated on the stovetop or microwave.
Recipe Tips
Beet can easily stain anything, be sure to wear an apron and kitchen gloves for your hands because they can get stained as well. To remove stubborn beet stains from your hands, rub your hands with baking soda and lemon juice vigorously before rinsing off with water.
FAQ
Can pasta sauce be left out overnight?
I don't think leaving pasta sauce out of the refrigerator overnight is a great idea as it may spoil or harbor dangerous bacteria growth. Maybe during cold winter nights.
How long does beetroot take to cook?
Depending on the size of the beetroot you can cook it for anything between 30 to 45 minutes. You can cut the beets into halves for them to cook quicker. Test it with a fork or toothpick for doneness.
What kind of pasta to use?
I used rigatoni while testing this beet sauce recipe, you can however use any pasta of your choice. 
More Creamy Pasta Recipes:
Did you make this? Please RATE THE RECIPE below!
Recipe
Beet Pasta Sauce
Another delicious way to include vegetables within your pasta is with this easy Beet Pasta Sauce. Tender beets blended with creme fraise, feta cheese, sautéed onion, and garlic until smooth is perfect for any type of pasta.
Ingredients
2

medium beets

peeled, cooked, and chopped.

2

yellow onions

chopped ( you can also use red onions, shallots or green onions)

2

garlic cloves

minced

1

cup

creme fraiche

(or greek yogurt)

½

cup

feta cheese
Instructions
Sauté onions and garlic in a large pan over medium heat until they are soft and translucent.

To a high speed blender add the cooked onions and garlic, cream fraiche, feta cheese and beets (make sure they are well cooked and chopped before you add them to the blender, because otherwise you might have a difficulty blending them).

Blend on high until the sauce is smooth and creamy.

Serve over freshly cooked pasta, optionally top it with crumbled feta cheese or freshly grated parmesan cheese.
Nutrition
Serving:
1
serving
Calories:
274
kcal
Carbohydrates:
17
g
Protein:
7
g
Fat:
20
g
Saturated Fat:
11
g
Polyunsaturated Fat:
1
g
Monounsaturated Fat:
5
g
Cholesterol:
67
mg
Sodium:
355
mg
Potassium:
404
mg
Fiber:
3
g
Sugar:
9
g
Vitamin A:
603
IU
Vitamin C:
9
mg
Calcium:
230
mg
Iron:
1
mg