I'm so happy to finally share this recipe here! I've been working on making a gluten-free puff pastry for the past 3 months. And after a lot of trials and errors, I did it! I made gluten-free puff pastry and it's better than any store-bought puff pastry that I've tried! Plus it is very simple to follow. If you have ever thought that homemade puff pastry is something that you need baking skills to make, you are wrong. This is one of the easiest doughs that you can make, the only thing that gives puff pastry its reputation for being difficult is that it takes time. But that's as complicated as it gets!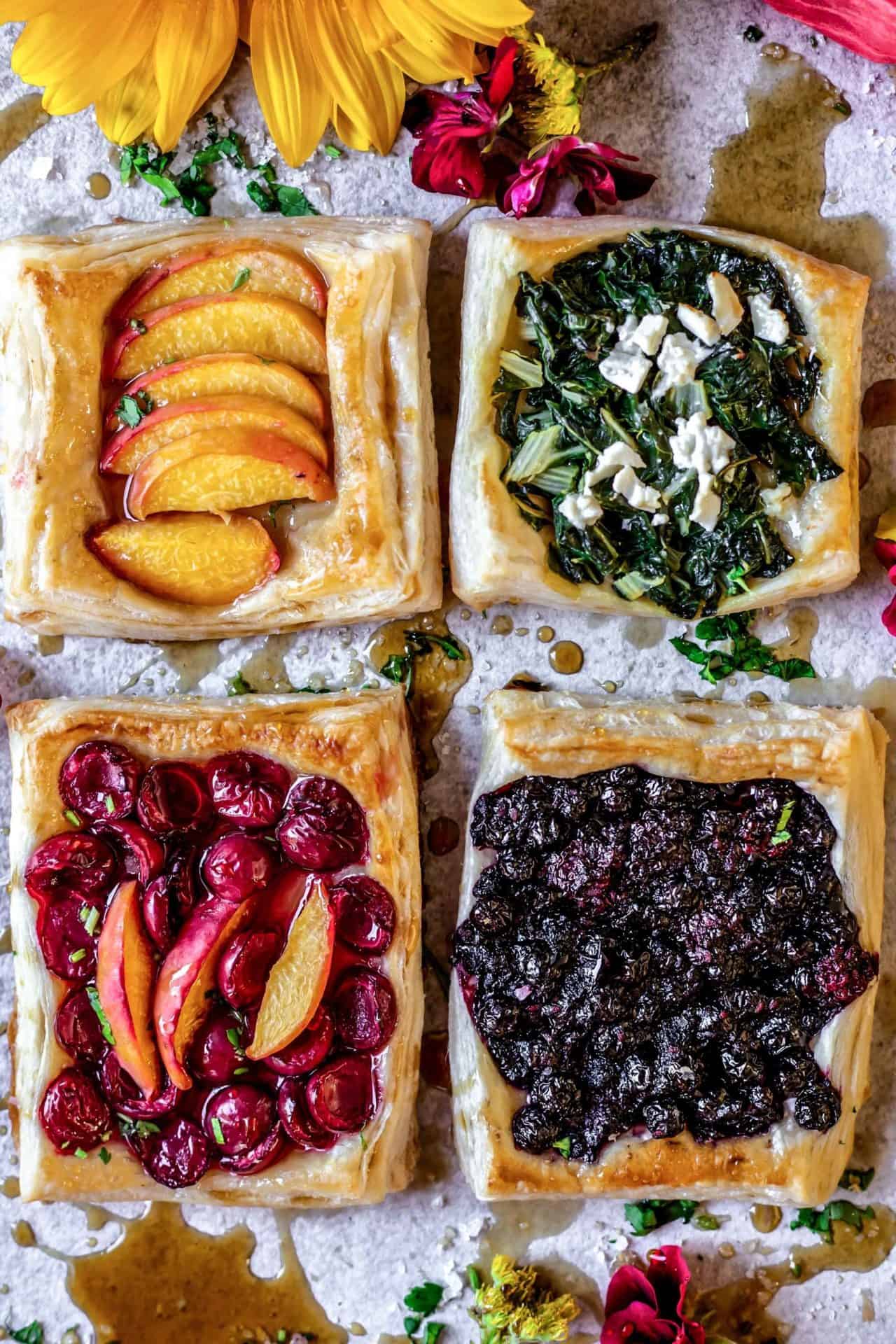 Gluten-Free Puff Pastry Recipe
This puff pastry is flaky, buttery, crunchy on the top, soft in the middle, flavorful and so delicious! It's SO GOOD, you can't even tell that it is gluten-free!
It goes great with both sweet and savory fillings!
How to make this gluten free puff pastry?
Puff pastry is in the category of doughs called "laminated" doughs.  This means it is made up of layers.  Laminated doughs involve three steps: 
1. Preparing a base dough détrempe;  this is usually made of flour and ice-cold water. However, because gluten-free flour makes the dough tear I added lactose-free sour cream. Sour cream gives moisture and contains fat, which works perfectly with the gluten-free flour.
2. Enclosing fat beurrage ("butter packet") inside the dough; this is essentially a fat pocket that gets folded in the dough.
3. Rolling, folding, and layering the resulting dough; After you enclose the beurrage in the détrempe, you then roll and fold the dough several times to create layers of dough separated by layers of butter. The fold is a key step to making puff pastry.  You roll and fold the dough several times to make layers. There are two types of classic folds used in puff pastry.  I like to use the "single" fold in which you fold the dough as you would a letter. The other type of fold is called "double" or "book" fold.  This type of fold accomplishes twice the fold (hence the name) as the single fold.
To find the exact amount of the ingredients and step-by-step instructions, scroll at the end of this page.
what flour to use to make it?
I like to use my universal homemade gluten-free flour blend. Which is a mix of the following flours :
3. Sweet Rice Flour (Glutinous Rice aka Sticky Rice)
4. Tapioca Flour (tapioca starch is the same as tapioca flour)
5. Xanthan Gum
If you can't make that one, you can try with any gluten-free flour mix (just make sure it contains xanthan gum because that helps in binding the dough). The final result using different flour mix might vary slightly, depending on what flours your mix contains.
To find the recipe for my gluten-free flour mix click, HERE.
*freezing tip:
This gluten-free puff pastry is freezer friendly. To freeze it simply wrap the puff pastry in foil and place it in a freezer friendly bag or container. When ready to use it, thaw in the fridge or room temperature.
* fodmap tip:
*To make sure that your flour mix is fodmap friendly I recommend that you make your own gluten-free flour mix, I always make this one. Or always read the ingredients of the store-bought gluten-free flour mixes. Make sure your mix doesn't contain soy flour, chickpea/besan/gram/garbanzo bean flour, lentil flour, coconut flour, amaranth flour, or lupin flour.
*As a general rule always read the labels of the ingredients that you use as there can be sneaky FODMAP's in any product. To educate yourself of which foods are high in FODMAP's I'd strongly recommend downloading Monash Unversity FODMAP Diet App
Gluten-Free Puff Pastry
This Gluten-Free Puff Pastry is flaky, buttery, crunchy on the top, soft in the middle, flavorful and so delicious!
Ingredients  
For the dough
180

g

gluten-free flour

3/4

tsp

salt

150

g

lactose-free sour cream

(cold)*

3 to 5

Tbsp

ice cold water
For the butter packet
80

g

butter

Additional gluten-free flour for rolling the dough
Instructions 
To make the dough
In a large mixing bowl, stir together flour and salt.  Add the water and sour cream and stir the mixture until it comes together. The dough should hold together well but shouldn't be wet and sticky. (if it is crumbly add more water if it is too wet add more flour)

Wrap the dough in a foil and place it in the fridge, while you prepare the butter packet.
To make the butter packet
Using your rolling pin, beat the butter into an evenly-thick square.  You may need to mess around with it a bit to get this into a uniform thickness.

Set the butter packet aside. It should be cold and firm but not hard (also, if it's getting too soft, put in the refrigerator) while you roll out your dough.

Flour your rolling surface well with gluten-free flour.  Take the dough out of the refrigerator and unwrap from the foil.  Place the dough on the rolling surface.  Starting from each of the 4 sides, roll out flaps from each side, leaving a roughly 4″x4″ square of thick dough in the center.  

Remove the butter packet from its plastic wrap and place it on top of the thick part of the dough. The butter packet and the dough should be roughly the same length and width.

Carefully fold the flaps of dough over the butter, one at a time.  When all four flaps are over the butter, it will look like an envelope.Press the dough around the butter packet to seal it in.

Make sure that the butter is completely encased in the dough.  You don't want any of the butter to squeeze through any holes.

Now you are ready to do the first "turn."  Add some more flour to your rolling surface (make sure it is well floured at all times).  Also, make sure your rolling pin is floured, as well.  Now carefully roll your dough out in a long rectangle. (The rectangle should be roughly 1/2 inch thick and about 3 times as long as it is wide.)

And now you do the first fold. I recommend doing the single fold method. (Simply take one end of your dough and fold roughly a third of it onto the top of the dough.) Then take your other end and fold it on top of the already folded dough–as you would with a letter.

With a floured knuckle, make one single impression on the dough, to represent the completion of one turn. Cover the dough with plastic wrap and place in the refrigerator until firm, about 15 minutes.

Once the dough is firm, remove it from the refrigerator, flour the outside and once again, with a long side of the folded dough facing you, roll away from you and into a long rectangle about 1/2 inch thick. Fold once more, and mark the dough twice with your knuckle, to represent two completed turns. Refrigerate until firm, and repeat the process of rolling, folding, marking and chilling for at least 4, and up to 6, turns.

Once you've repaired your dough and have made it look as neat as possible, wrap tightly in plastic wrap and refrigerate or freeze until ready to use. If you freeze the puff pastry, defrost overnight in the refrigerator before using.