If I love apple pie and if I love muffins, how much do I love these gluten-free apple pie muffins? A LOT! Yes, that's the correct answer! These are probably some of my favorite muffins.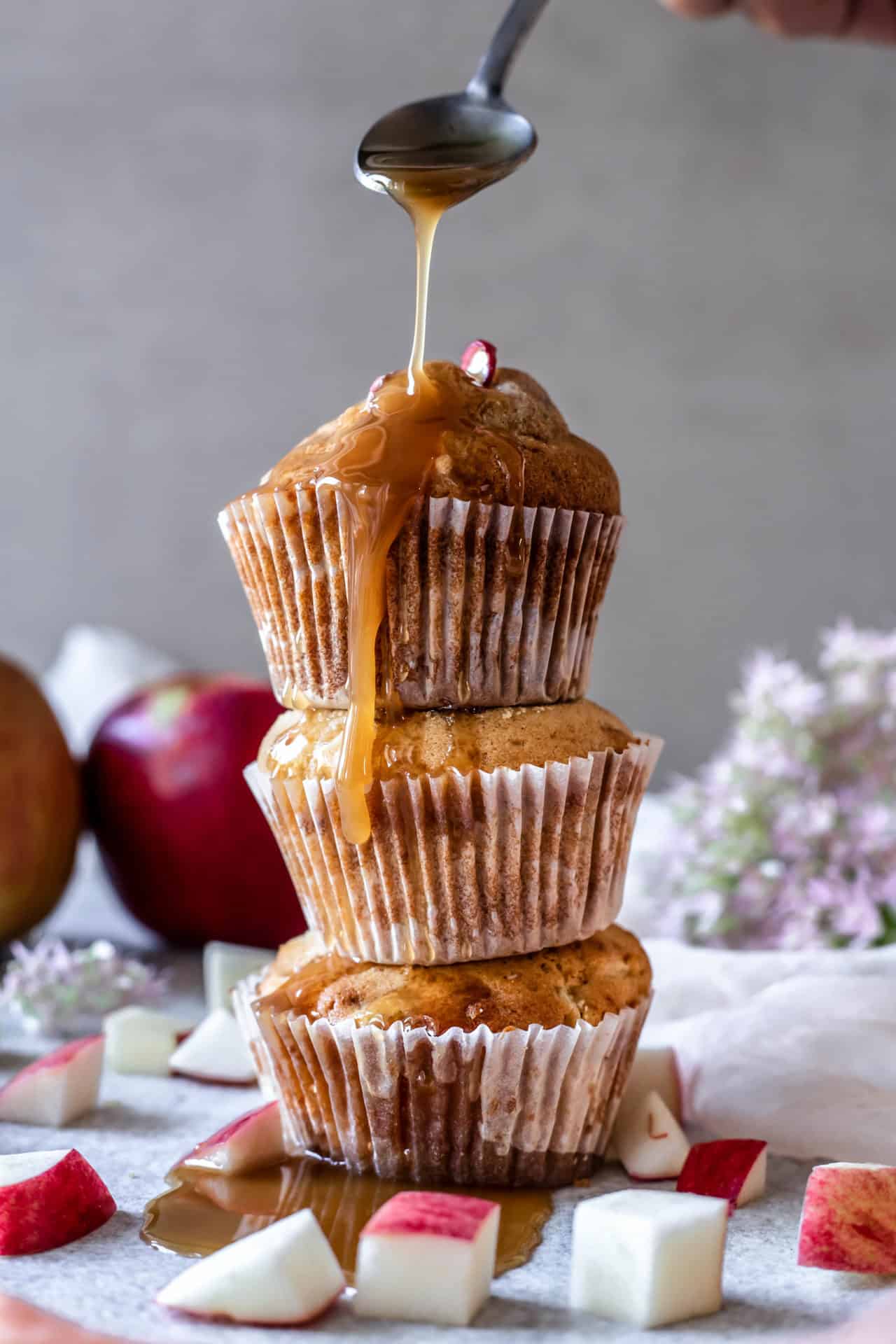 Gluten-Free Apple Pie Muffins Recipe
These muffins are tender and light, fluffy, loaded with apple, perfectly sweet, hearty, satisfying and so simple to make!
Apart from being the yummiest dessert, they are great for a mid-day snack or even breakfast (if you like your breakfasts sweet).
How to make these Apple Pie Muffins?
They are incredibly simple to make. First, you need to beat brown sugar with butter, then you add eggs and the rest of the wet ingredients, and beat again. Add the dry ingredients and at the end cubed apples. Mix well, and fill your prepared muffin tins. Bake. And your muffins are ready!
They are perfect on their own, but I also love having them with a caramel sauce. It just takes them to an entirely new level! I use this recipe to make a Low FODMAP Caramel Sauce
To find the exact amount of the ingredients and step-by-step instructions, scroll at the end of this page.
what flour to use to make them?
I like to use my universal homemade gluten-free flour blend. Which is a mix of the following flours :
3. Sweet Rice Flour (Glutinous Rice aka Sticky Rice)
4. Tapioca Flour (tapioca starch is the same as tapioca flour)
5. Xanthan Gum
If you can't make that one, you can try with any gluten-free flour mix (just make sure it contains xanthan gum because that helps in binding the dough). The final result using a different flour mix might vary slightly, depending on what flours your mix contains.
To find the recipe for my gluten-free flour mix click, HERE.
*freezing tip:
These Gluten-Free Apple Pie Muffins are freezer friendly. To freeze these muffins simply wrap them in plastic foil and place it in a freezer-friendly bag or container. To defrost it, thaw in the fridge or room temperature or warm it up in the oven at 180C (350F) degrees.
*FODMAP tip:
*According to Monash University apples are low FODMAP in 20 to 25g (depending on the apples you use) per serving. For this recipe, I used 2 medium size apples which weigh approximately 100g each. In total that was 200g apples. This recipe makes 12 muffins, which means 200 divided in 12 is around 17g per muffin.
*To make sure that your flour mix is FODMAP friendly I recommend that you make your own gluten-free flour mix, I always make this one. Or always read the ingredients of the store-bought gluten-free flour mixes. Make sure your mix doesn't contain soy flour, chickpea/besan/gram/garbanzo bean flour, lentil flour, coconut flour, amaranth flour, or lupin flour.
*As a general rule always read the labels of the ingredients that you use as there can be sneaky FODMAP's in any product. To educate yourself on which foods are high in FODMAP's I'd strongly recommend downloading Monash Unversity FODMAP Diet App
*gluten-free tip:
If you are celiac or highly sensitive to gluten, buy certified gluten-free baking soda, baking powder, and cornstarch. Baking soda baking powder and cornstarch are naturally gluten-free, however, depending on the manufacturing place and process they could be cross-contaminated.
Recipe
Gluten-Free Apple Pie Muffins
These Gluten-Free Apple Pie Muffins are tender and light, loaded with apple, perfectly sweet, hearty, satisfying and so simple to make!
Ingredients
110

g

butter

(7 tabelspoons)

100

g

brown sugar

(½ cup)

2

eggs

120

g

thick lactose-free yogurt

(8 tablespoons)

60

ml

lactose-free milk

(¼ cup)

220

g

gluten-free flour

¼

teaspoon

baking soda

1

teaspoon

baking powder

½

teaspoon

cinnamon

¼

teaspoon

ground nutmeg

¼

teaspoon

ground ginger

¼

teaspoon

ground allspice

2

medium size apples, peeled and cubed

(approximetly 200g)

2

tablespoon

Cornstarch

low FODMAP caramel sauce (recipe in the instructions)

(optional)
Instructions
Preheat your oven to 175°C (350°F). Grease or line the wells of a standard 12-cup muffin tin and set it aside.

In a medium-size bowl mix the flour with, baking powder, baking soda, cinnamon, nutmeg, ground finger and geound allspice and set aside.

In another bowl, toss the apples in cornsatrch.

In another bolw beat butter with sugar, add the eggs and the wet and conutine mixing. Add the dry ingredients and mix again. In the end, stir in the apples.

Fill the prepared wells of the muffin tin all the way with the batter, and smooth the tops with wet fingers

Place in the center of the preheated oven and bake until lightly golden brown all over and firm to the touch,(about 20 minutes). A toothpick inserted into the center should come out with no more than a few moist crumbs attached. Allow the muffins to cool in the pan for 5 minutes before transferring to a wire rack to cool completely.

Store in a sealed container at room temperature. They are also freezer friendly, (read the freezing tip in the blog post above)

I love having them with caramel sauce. Use this recipe to make a low FODMAP caramel sauce