Oreo cookies were the cookies that I missed the most since I started with the gluten-free diet. But not long ago I found a gluten-free version of them, so life is good again! And I was so happy that I can finally make a gluten-free oreo cake! I've seen people making oreo cakes all the time and I was dreaming of the moment that I can make a gluten-free one! (p.s for those that don't know me, I love making cakes, and yes my dreams often consist of cakes)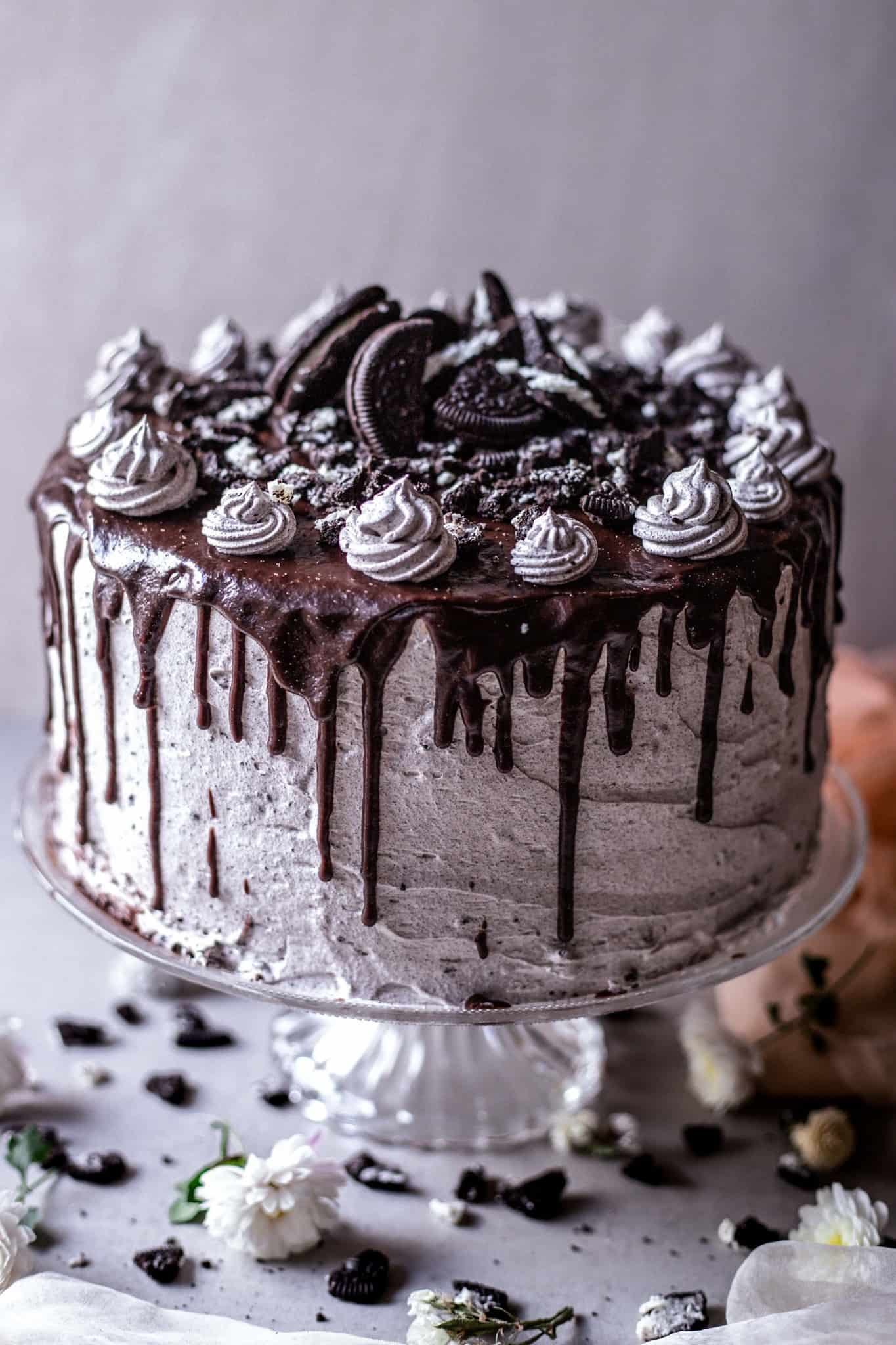 Gluten-Free Oreo Cake Recipe
This cake is spongy, tender, super flavorful, oreo infused, silky, light, festive and so yummy! The oreo cookies add both crunch and creaminess which takes everything to another level. It's the cake to make to impress your guests. It's great for any occasion but looks super festive so it's perfect for birthdays or any other celebrations.
If you are looking for something more fruity, you should check out this Gluten-Free Black Forest Cake.
How to make this Gluten-Free Oreo Cake?
First, you need to make the cakes, for that you will need 10 simple ingredients. You need to start by beating the butter with a mixer until light un fluffy, then beat the dry ingredients into the butter until well incorporated. In a separate bowl mix the wet ingredients together and then add them to the butter and flour mixture. Mix until just combined and then add and fold in the crushed oreo cookies. Pur the mixture in 3 9-inch cake tins and bake at 180C degrees (340F) for about 25 to 30min.
To make the oreo buttercream you will need only 4 ingredients. This is the classic buttercream with a twist of adding crushed oreo cookies.
And for the chocolate ganache, you will only need 2 ingredients.
Decorating and making the chocolate drip is actually not hard at all. Even though, if you have never made chocolate drip cake, you might be thinking it's the most difficult thing in the world. So here are some videos I watched on youtube before I made my first chocolate drip cake to learn a few tricks and tips.
How To Drip the Perfect Drip-Cake – Full Icing Recipe & Technique!
To find the exact ingredients and step-by-step instructions, scroll to the end of this page.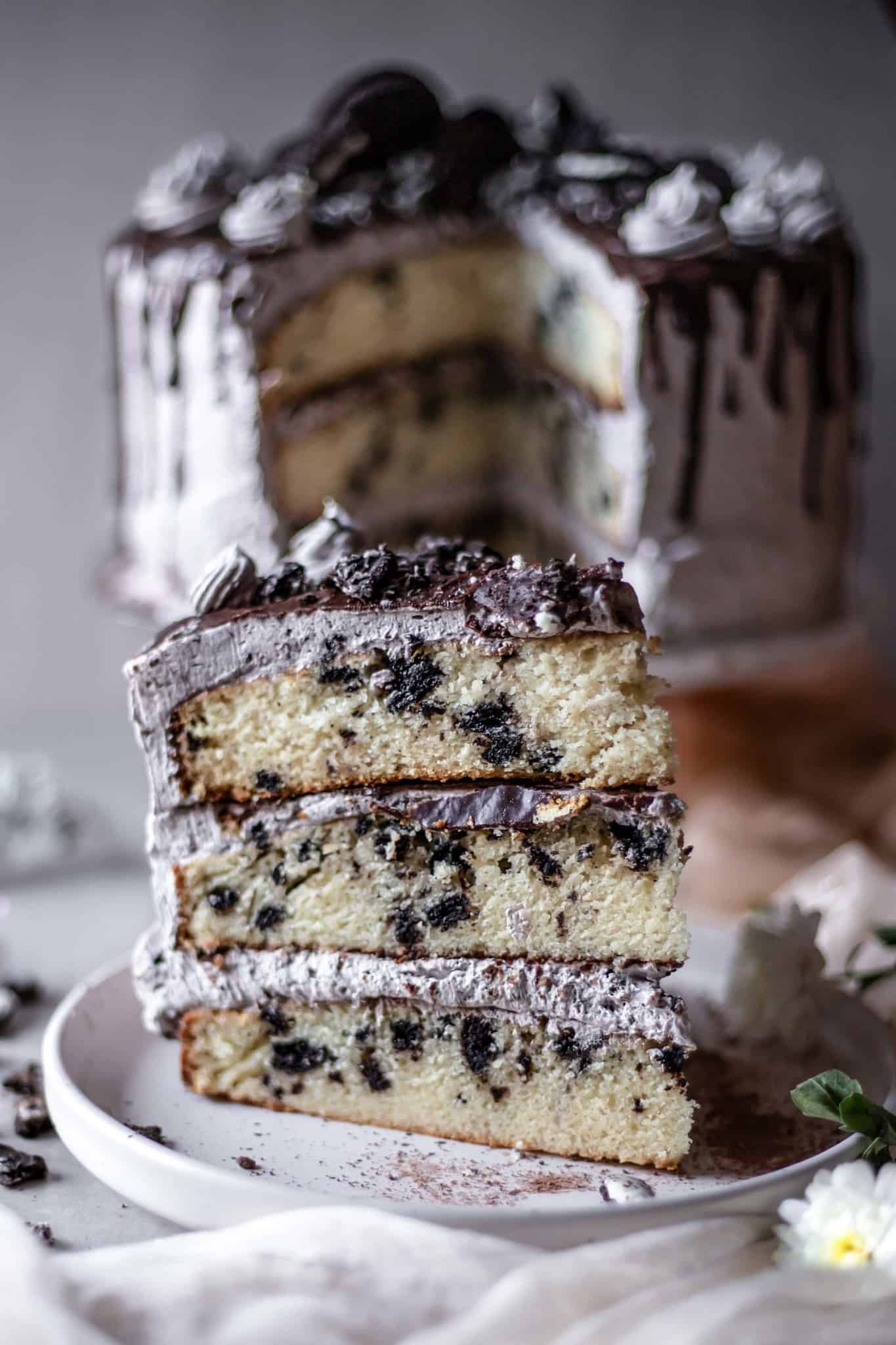 What flour to use to make this cake?
I like to use my universal homemade gluten-free flour blend. Which is a mix of the following flours :
3. Sweet Rice Flour (Glutinous Rice aka Sticky Rice)
4. Tapioca Flour (tapioca starch is the same as tapioca flour)
5. Xanthan Gum
If you can't make that one, you can try with any gluten-free flour mix (just make sure it contains xanthan gum because that helps in binding the dough). The final result using different flour mixes might vary slightly, depending on what flours your mix contains.
To find the recipe for my gluten-free flour mix click, HERE.
* fodmap tip:
*Make sure that the gluten-free oreo cookies that you are using are dairy-free as well.
*To make sure that your flour mix is fodmap friendly I recommend that you make your own gluten-free flour mix, I always make this one. Or always read the ingredients of the store-bought gluten-free flour mixes. Make sure your mix doesn't contain soy flour, chickpea/besan/gram/garbanzo bean flour, lentil flour, coconut flour, amaranth flour, or lupin flour.
*As a general rule always read the labels of the ingredients that you use as there can be sneaky FODMAPs in any product. To educate yourself on which foods are high in FODMAP I'd strongly recommend downloading Monash Unversity FODMAP Diet App
*gluten-free tip:
If you are celiac or highly sensitive to gluten, buy certified gluten-free baking powder. Baking powder is naturally gluten-free, however, depending on the manufacturing place and process it could be cross-contaminated.
More Gluten-Free Cakes
Recipe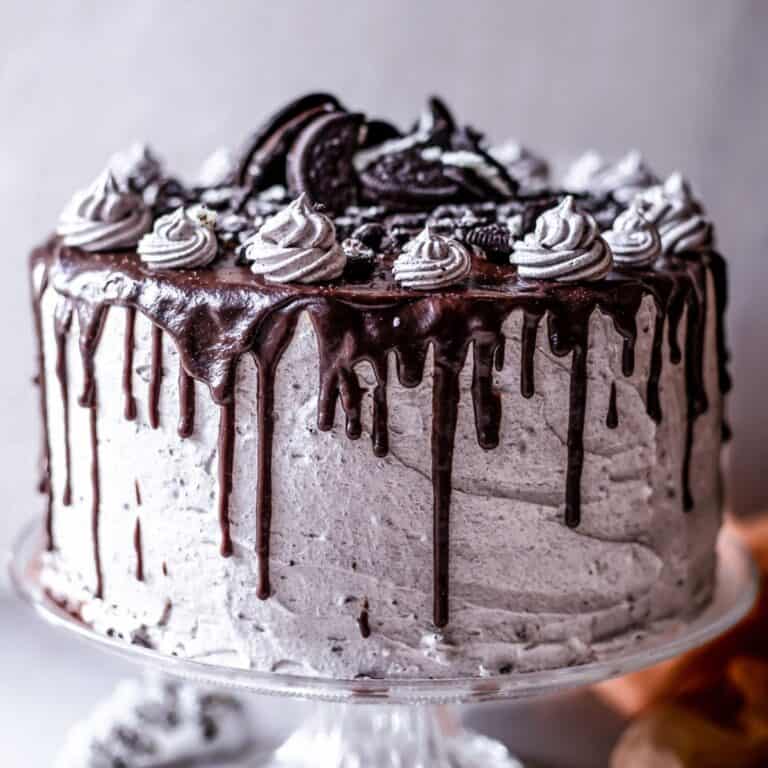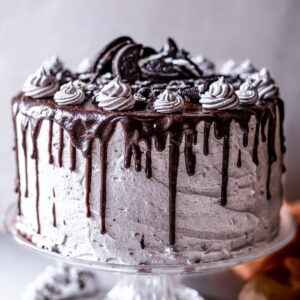 Gluten Free Oreo Cake
This gluten-free oreo cake is spongy, tender, super flavorful, oreo infused, silky, light, festive and so yummy!
Ingredients
240

g

gluten free flour

( 2 cups)

200

g

granulated sugar

(1 cup)

¼

teaspoon

baking soda

1

teaspoon

baking powder

180

g

unsalted butter(at room temperature)

(¾ cup)

3

eggs

1

teaspoon

pure vanilla extract

140

g

lactose-free sour cream

(½ cup)

120

ml

lactose-free milk

(½ cup)

120

g

chopped gluten free oreo cokies

(1 cup)

¼

teaspoon

salt
For the Buttercream
340

g

unsalted butter(at room temperature)

(1 ½ cup)

600

g

confectioners sugar

(5 cups)

170

g

crushed gluten free oreo cookies

(1 ⅓ cup)

60

ml

lactose free heavy cream

(¼ cup)

pinch of slat
For the Chocolate Ganache
200

g

quality dark chocolalate

(1cup)

100

ml

lactose free heavy cream(heated)

(½ cup)
Instructions
To make the cakes
Preheat the oven to 350F (175C ) degrees and line up 3 (6-inch, 15cm) cake tins with parchment paper.

In a bowl of a stand mixer, beat butter until light and fluffy.

Beat the dry ingredients into the butter until well incorporated, scrape the bowl at least once.

Beat the wet ingredients together in a separate bowl.

Add the wet to the butter mixture and mix until just combined. Fold in the crushed gluten -free Oreos at the very end and mix until just combined.

Divide the mixture evenly into the cake pans. Smooth the batter evenly into each pan with the back of a spoon.

Bake at 350F (175C) degrees for about 25-30 minutes or until a toothpick inserted into the middle comes out with only a few crumbs attached.

Allow cakes to cool in the pan for 10 minutes and turn out onto a wire rack to cool completely before frosting.
To make the Buttercream
Using a handheld or stand mixer fitted with a whisk attachment beat the softened butter on medium speed for 2 minutes until completely smooth and creamy. Add confectioners' sugar, heavy cream, vanilla extract, and salt with the mixer running on low. Increase to high speed and beat for 4 minutes. Mix in the crushed Oreos into the large batch of buttercream. Add up to ¼ cup more confectioners' sugar if frosting is too thin or another Tablespoon of cream if frosting is too thick.
To Make the Chocolate Ganache
Put the dark chocolate in a bowl and heat the cream in a small pan until just steaming. Pour the cream over the chocolate and leave to melt for 5-10 mins. Stir to make a glossy ganache, then set aside to firm up a little – you want the ganache to be pourable but not too runny, to make drizzly droplets down the side of the cake.
To Assable The Cake
Place one cake layer on your cake stand. Spread a generous, about ¾ cup, frosting over top of the first layer, then pour a little bit of the chocolate ganache over the frosting. (Don't go overboard with the ganache as it will overpower the other flavors.)

Put the next sponge on top and repeat the same step. Then put the last sponge on top and spread the remaining frosting all over the top and the sides of the cake.Reserve about a cup of the buttercream for the dollops. 

When the ganache is the correct consistency, spoon the ganache over the top edge of the cake. Fill in the middle of the top of the cake with chocolate too.
To Decorate
Optionally, make pipes on top of the cake with the remaining buttercream frosting and decorate with the crushed gluten free oreo cookies.

The cake is best served within 2-3 hrs of assembling, but will still taste delicious for up to 3 days. Store leftovers in the fridge and allow to come back to room temperature before serving.