I have never been a big fan of salads. But if there is pasta in the salad, I'm in! This Low FODMAP Italian Pasta Salad checks all my marks of what a perfect salad should be! It's been my go-to super simple dinner choice through the entire summer. However, only recently I feel that I have perfected the recipe so that I can share it with you!
Low FODMAP Italian Pasta Salad Recipe
This is probably my favorite salad. It is super simple and easy to make yet very flavorful and delicious. The cherry on the top, in this case, is the dressing, which takes this salad on a whole new level. It makes it super refreshing and adds even more flavor and depth.
The word delicious doesn't even do justice to describing how yummy this salad is. You need to try it to understand what I'm talking about and why I've been totally obsessed with it for the entire summer.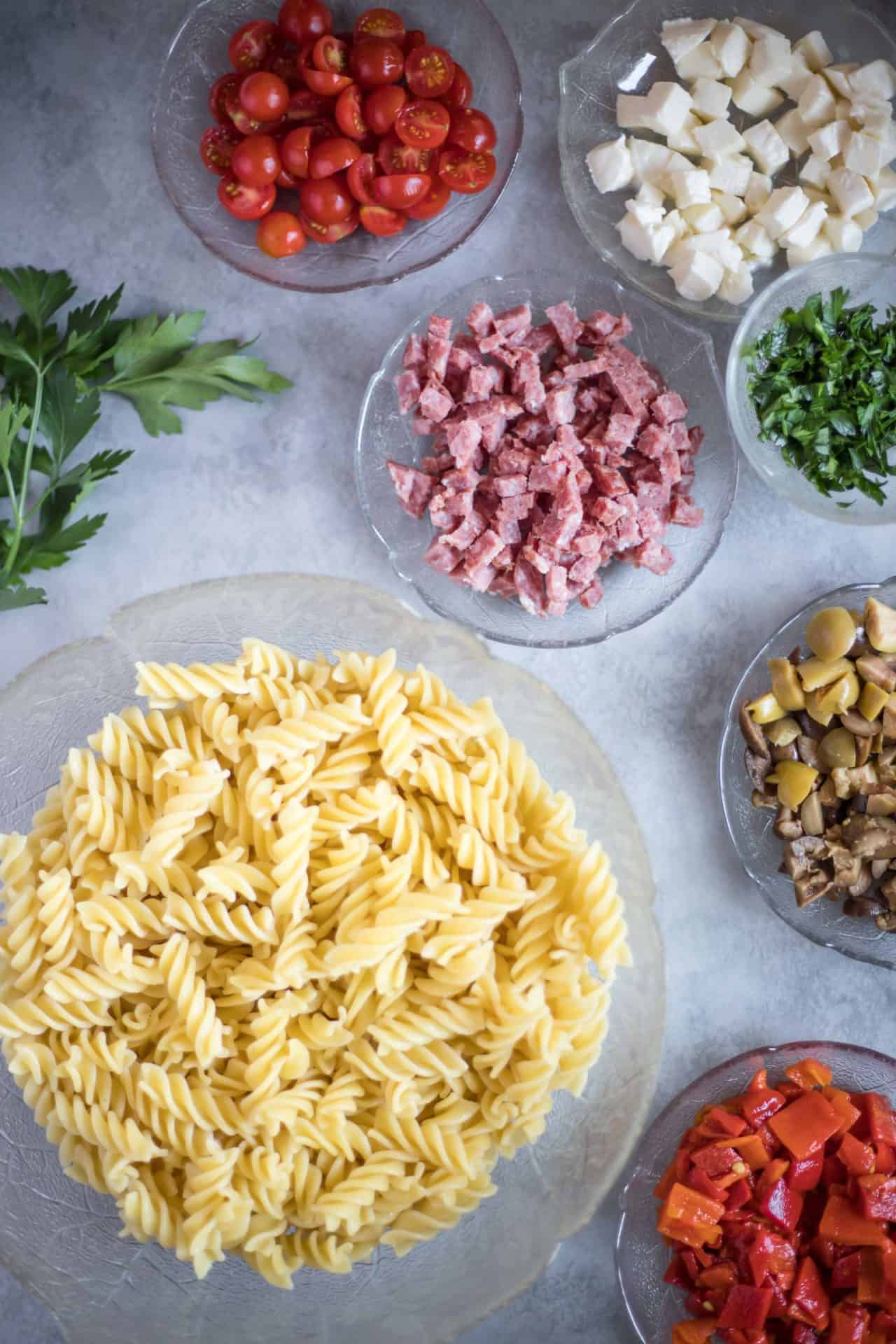 How to make this Italian Pasta Salad?
It's one of the easiest salads. It literally takes 30min to make. You don't need any special appliances and it only uses simple and easily accessible ingredients.
Scroll at the end of the page for the step-by-step instructions.
How to make this salad vegan?
You can replace the salami for chickpeas (customize portion size to make it low FODMAP), and instead of mozzarella use a vegan version or another vegan cheese (like vegan feta cheese)
*Make-Ahead Tip:
You can keep this salad in the fridge for up to 3 days. I'd say that for me it tastes better the next day when the flavor of the dressing has marinated all the ingredients. A little tip if you plan on making a batch and are planning on having it for a few days. Don't over boil your pasta. Gluten-free pasta can be quite fragile and if you over boil it can become soggy quickly.
*FODMAP Tip:
*Make Sure that you use a salami that doesn't contain onions, garlic or dehydrated vegetables.
*If you are using store-bought garlic-infused olive oil, make sure there are no floating bits of garlic in it. You can also make Garlic Infused olive oil at home by frying garlic cloves in the olive oil until they are golden and fragrant. Then remove them from the oil and continue cooking your meal.
*Make sure there is no garlic or onion in the Italian herb mix.
*As a general rule always read the labels of the ingredients that you use as there can be sneaky FODMAP's in any product. To educate yourself of which foods are high in FODMAP's I'd strongly recommend downloading Monash Unversity FODMAP Diet App

Looking for more simple, easy and refreshing low FODMAP salads? Check out my:
Roasted Aubergine and Courgette Salad
Low FODMAP Italian Pasta Salad
Simple and Refreshing Low FODMAP Italian Pasta Salad, with an option to make it vegan. It's super easy to make, healthy, and IBS Friendly.
Ingredients  
500

gr

gluten-free pasta

( I like to use Fusilli)

250

gr

cherry tomatoes

(cut in half)

300

gr

mozzarella cheese balls

250

gr

salami

FODMAP Friendly*

150

gr

roasted peppers

chopped

200

gr

olives

a handful of

chives

chopped

a handful of

parsley

chopped

100

g

grated parmesan cheese
For the Dressing
150

ml

garlic-infused olive oil

20

ml

white vinegar

20

ml

water

1

Tablespoon

sea salt

1

Tablespoon

sugar or maple syrup

1

tsp

Italian herb mix

(or a mix of dried oregano and basil)

black pepper

(according to taste)

chives

(according to taste)/ (optional)

fresh parsley

(according to taste)/ (optional)

fresh basil

(according to taste)/ (optional)
Instructions 
While the pasta boils, prepare the rest of the ingredients. (chop the salami, roasted peppers, chives, parsley, and cherry tomatoes)

Prepare the dressing for the salad by mixing all the ingredients together.

Once the pasta is boiled. Rinse it and drain it, and let it cool down.

Put the pasta in a salad bowl, add the rest of the ingredients together with the salad dressing. Toss all the ingredients together.

Keep it in the fridge for 2 to 3 days.